What are vanity metrics?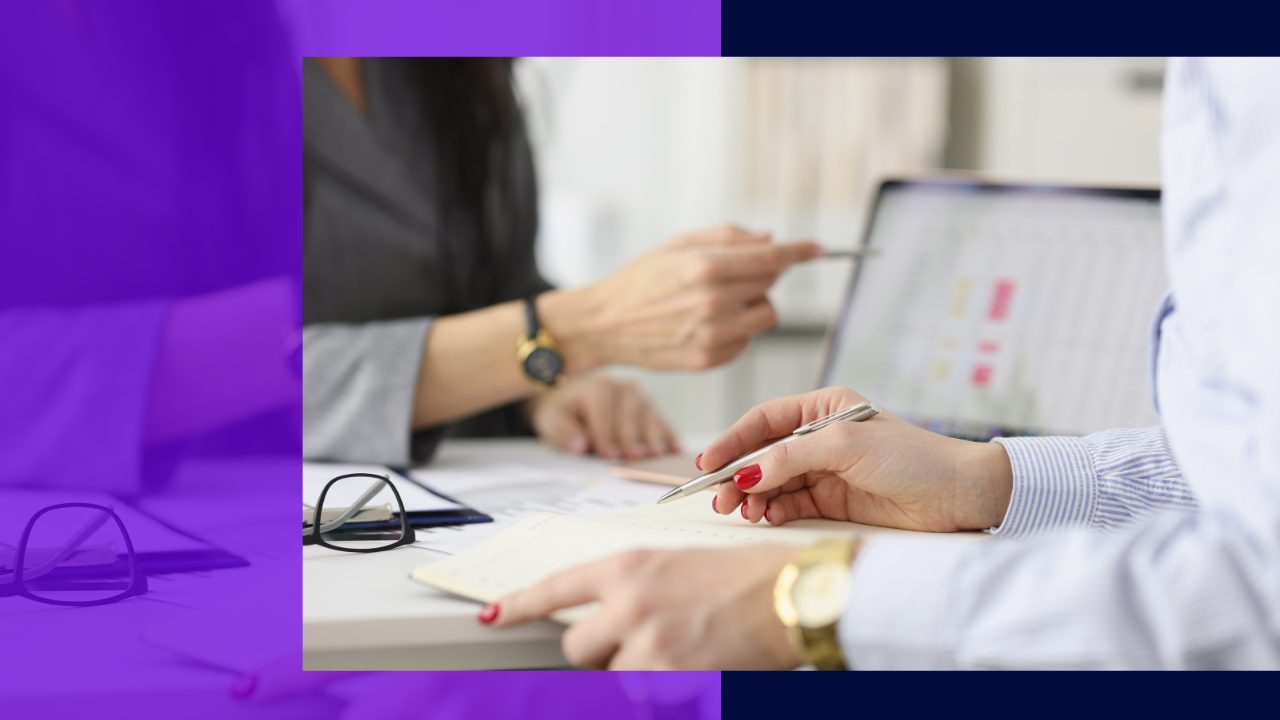 In the world of digital marketing[1], marketing professionals spend a lot of time tracking various metrics for each website, social media, or marketing campaign. 
These metrics may sound big, impressive, and look appealing, but they mayust be volatile, misleading, and can lead to flawed decisions. 
We call these benchmarks vanity metrics[2]. Often, vanity metrics are easy to obtain. However, they do not usually offer value to businesses. 
This article will define and discuss vanity metrics in digital marketing, their distinction from actionable metrics, and ways to identify them. 
Defining vanity metrics 
To put simply, vanity metrics are measurable but don't produce valuable data or don't have actionable applications. 
In a recent study conducted by Viant, 36% of CFOs listed the use of vanity metrics as one of their organization's biggest concerns in terms of digital marketing.
Vanity metrics may look spectacular, but they don't ultimately contribute to an overall understanding of performance or help influence future decision-making. 
Such metrics include likes, follows, comments, views, open rates, downloads, traffic, and bounce rates. Thus, these are nonsense impressions unless it has clicks or conversions.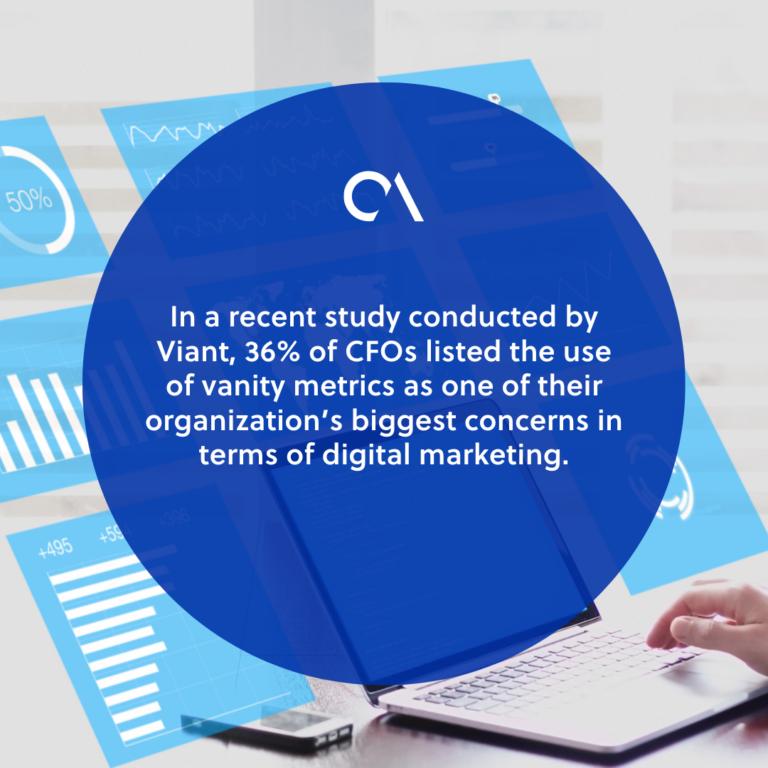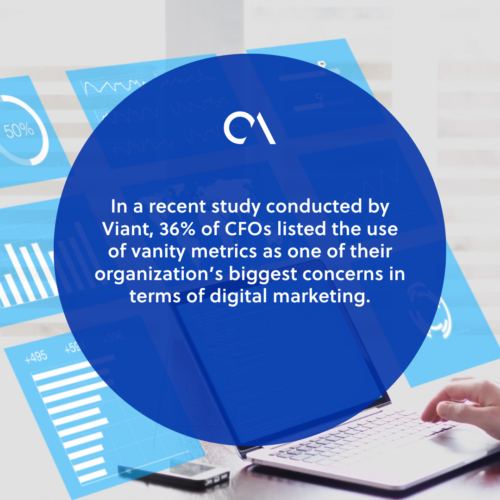 Actionable metrics vs vanity metrics  
As vanity metrics are misleading and don't really mean anything important, some companies tend to look more at actionable metrics. 
Actionable metrics are the statistics that companies can use to present the actual progress of the business. These benchmarks include: 
Engagement and click-through rates

Key performance indicators (KPIs)

Case studies

User experience surveys
Unlike vanity metrics, actionable metrics provide more context or information about how users engage with the business's content or product. 
Most marketing experts resort to actionable metrics than vanity metrics since they usually influences sales and revenue and can be useful in decision making.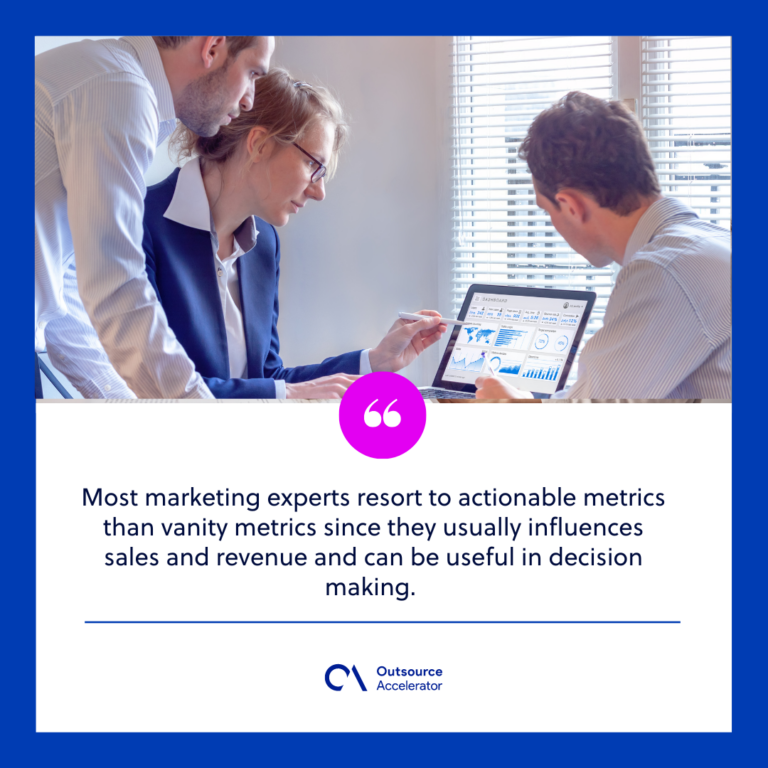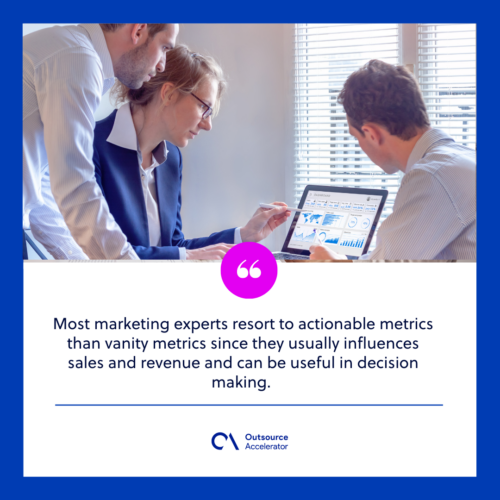 Vanity metrics in digital marketing
Vanity metrics don't really matter in business. In terms of digital marketing, here are some vanity metrics that digital marketers should try to avoid:
Social media followers
It is worth noting that having huge numbers of social media followers can suggest that a business's brand is regularly creating helpful and entertaining content. 
Followers are vanity metrics in which impressions are nothing, meaning they don't matter without engagement. 
Vanity metrics like social media followers can be deceiving for business. Most of the time, having a million followers doesn't necessarily mean it is also equivalent to having millions of interactions. 
Total website visits
Website visits or page views indicate that users are finding your brand's content. Website traffic doesn't necessarily correspond with conversions or revenue. 
The good thing about this is that website visits can turn into actionable metrics related to business goals. Measuring engagement metrics shows the visitor's interest in the brand. 
Email open rate 
Email open rate is a reasonable metric to keep track of the effectiveness of an email's subject line and timing. However, it does not mean the email was read or given any attention.
Another thing, there are technical constraints because, for some emails, clients need to load images to count them as open. 
Keyword rankings 
Keyword rankings don't have connections with higher traffic numbers. In essence, keywords can be useful in seach engine optimization (SEO) metrics. 
Even though these numbers would lower over time, this metric can be extremely misleading due to branded keywords, keyword volume, and relevance. 
Number of subscribers 
An increase in subscribers doesn't necessarily mean it reflects the brand's growth. Newsletters are sometimes published without a coherent strategy or a sales pitch. 
Although newsletters are essential in educating the customer about the brand, focusing on the new leads is more important. These new leads may influence the production revenue of a business. 
Three ways to identify vanity metrics
Vanity metrics can be too deceiving, but some companies turn them into actionable metrics. Adhering to SMART goals is essential to prevent the company's common metric pitfalls. 
Before turning vanity metrics into actionable metrics, here are three ways businesses can identify them: 
Can they lead to a course of action or help make business decisions?
The first thing businesses need to assess is whether the metrics they're measuring can lead to business decisions. 
And if the metrics answer the question with "no," they should probably reconsider it cause this might not be actionable. Thus, keeping track of and using data would help the business better. 
Can these metrics purposely reproduce?
The second way to identify vanity metrics is to assess if they consistently reproduce the same results. For instance, if a content has gone viral and earns page views, it's unlikely to repeat and expand on its success. 
Thus, if the result cannot be repeated, this variable and its results might not help improve a process in the future. 
Are the metrics reliable?
Huge amounts of data are generated online, and there is a chance that these might be manipulated, which can make results more appealing. 
If the source data is inconsistent and can easily be manipulated, such as unintentionally acquiring bots to boost followers, then these numbers are vanity metrics. 
Wrapping up
Numbers are essential for determining a brand's progress, but not all of data might help, or they might not be good for business. 
As such, vanity metrics are data that will certainly not help increase sales and revenue. With actionable metrics in place, they can help businesses understand their performance better. Actionable metrics can also aid companies in creating strategies that can truly contribute to their goals. 
Article References:
[1] Digital marketing. Giantari, I., Yasa, N., Suprasto, H. and Rahmayanti, P. (2022). The role of digital marketing in mediating the effect of the COVID-19 pandemic and the intensity of competition on business performance. International Journal of Data and Network Science, [online] 6(1), pp.217–232.
[2] Vanity metrics. Rogers, R. (2018). Digital Traces in Context| Otherwise Engaged: Social Media from Vanity Metrics to Critical Analytics. International Journal of Communication, [online] 12(0), p.23.‌