10 best trouble ticketing software for 2024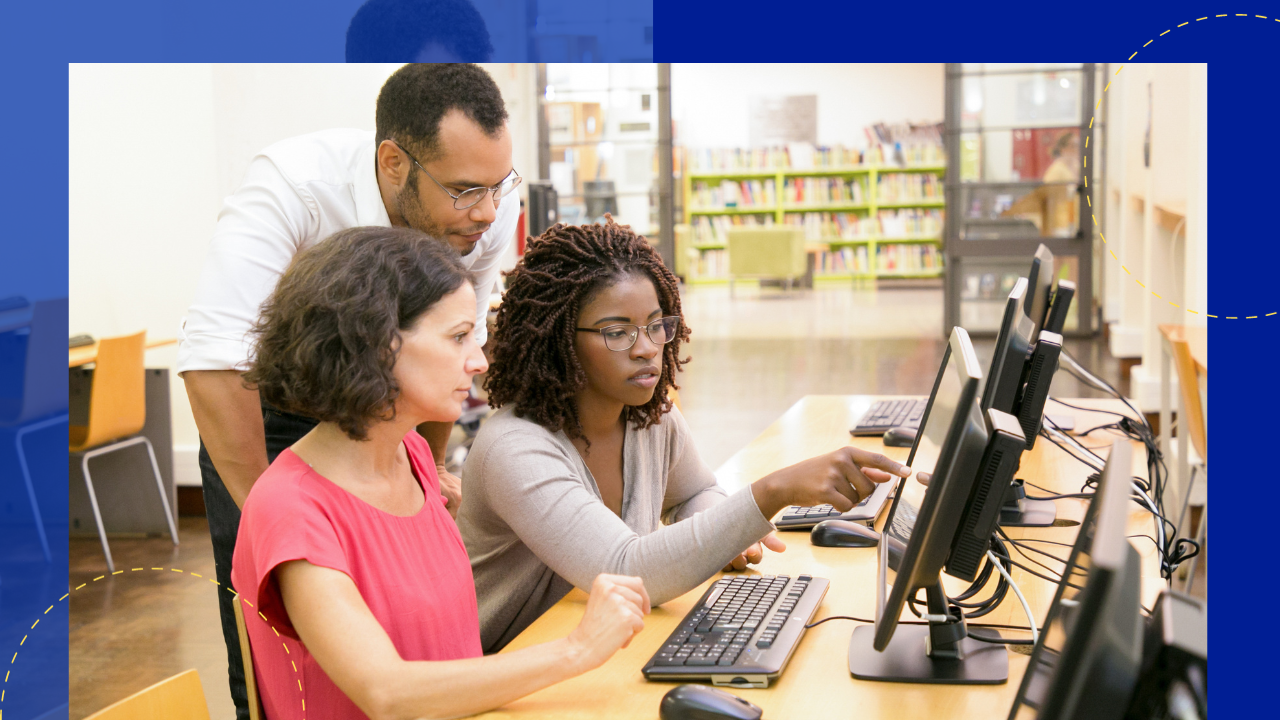 List of best trouble ticketing software
Effective management of customer inquiries is crucial for businesses, as these inquiries directly reflect the quality of customer service.
Trouble ticketing systems enable businesses to create, track, and prioritize customer support tickets, ensuring each inquiry receives the attention it deserves.
They not only prevent inquiries from falling through the cracks but also enable support teams to access historical information.  As a result, this can profoundly influence a company's reputation and success.
As we enter 2024, the demand for efficient trouble ticketing software is higher than ever.
In this article, we will explore the top ten trouble ticketing solutions, understand their features and benefits, and how to choose the best one for your organization.

What is trouble ticketing?
Trouble ticketing, also known as "help desk ticketing," is a systematic approach to managing and resolving customer issues, inquiries, or problems.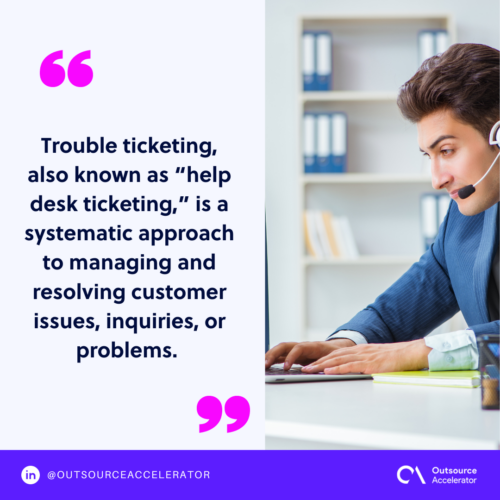 It involves creating, tracking, and managing tickets, which serve as records of customer requests and support incidents. These tickets enable organizations to prioritize and assign tasks, ensuring customer issues are resolved promptly and efficiently.
Features of trouble ticketing software
Trouble ticketing software provides a structured process for handling customer inquiries related to technical problems, billing questions, or general support requests. These systems ensure that each customer concern is addressed systematically. 
Some key features to look for in trouble ticketing software include:
Ticket management

– The core feature of any trouble ticketing software is the ability to create, assign, and manage tickets. It should allow for easy ticket creation, automated assignment, and tracking of ticket statuses.

Automation

– Automation can significantly enhance efficiency. Look for software that automates ticket routing, categorization, and responses, reducing manual effort and ensuring a rapid response to customer inquiries.

Self-service portals

– Many customers prefer self-service options. Trouble ticketing software should include a self-service portal enabling customers to create and track their tickets, access knowledge bases, and find solutions to common issues.

Knowledge base

– A comprehensive knowledge base in trouble ticketing software allows agents to access relevant information quickly and helps customers find answers to common questions without contacting support.

Multi-channel support

– Customers use various communication channels, including email, chat, phone, and social media. Ensure the trouble ticketing software supports multiple channels, making managing all customer interactions in one place easier.

Reporting and analytics

– Ensure the trouble ticketing software can generate reports and analyze data for tracking

support team

performance and identifying areas for improvement.

Integration

– A good trouble ticketing software can be integrated into other systems. Integration can streamline processes and provide a holistic view of customer interactions.

Customization

– Every business is unique, so the ability to customize the trouble ticketing software to align with your specific workflow and branding is vital.

Mobile accessibility

– Trouble ticketing software should be accessible via mobile devices, enabling support agents to respond to customer inquiries on the go.

Security

– Robust security features of excellent trouble ticketing software are critical to protect sensitive customer data and ensure compliance with privacy regulations.
Benefits of trouble ticketing software
Implementing trouble ticketing software offers numerous advantages to organizations of all sizes.
Some of the key benefits include:

Improved efficiency

– Trouble ticketing software streamlines support operations, ensuring customer issues are addressed promptly and efficiently.

Enhanced customer satisfaction

– Trouble ticketing software boosts customer satisfaction significantly with your support services with faster response times and accurate issue resolution.

Centralized communication

– Trouble ticketing software serves as a centralized hub for all customer interactions. It simplifies the management of inquiries from various channels for support agents.

Knowledge sharing

– Trouble ticketing software features a knowledge base, enabling support agents to share information and solutions efficiently. It effectively reduces response times for recurring issues.

Data-driven decision-making

– Trouble ticketing software equips organizations with insightful reporting and analytics tools that offer a deeper understanding of support operations. These tools facilitate data-driven decisions, leading to continuous process improvement.

Cost savings

– Efficiency enhancements achieved through trouble ticketing software often lead to cost savings by minimizing errors in support processes.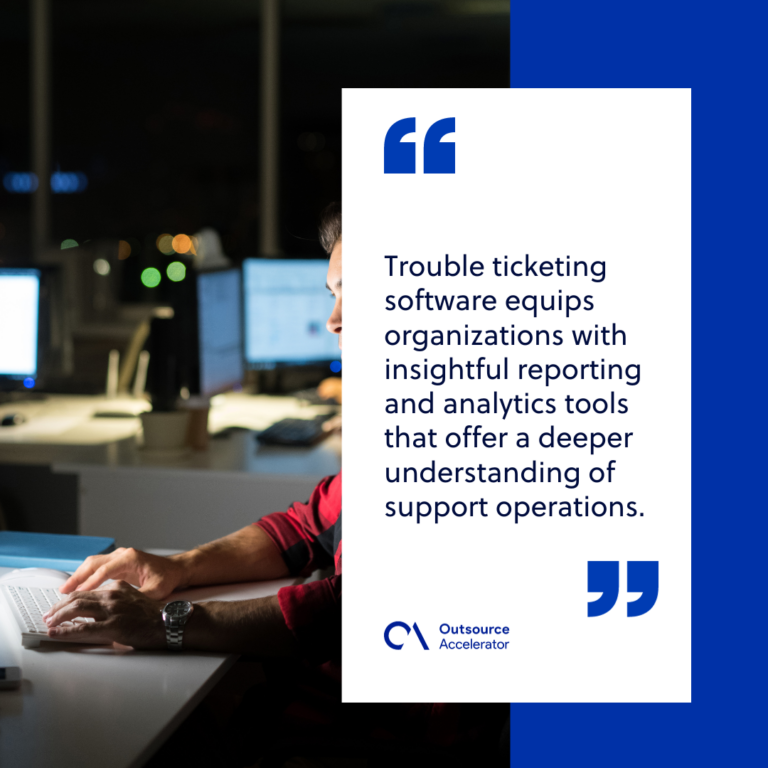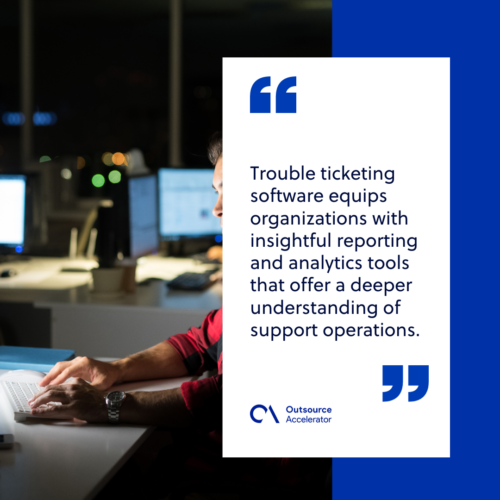 How to choose the best trouble ticketing software
Choosing the best trouble ticketing software for your organization is a critical decision that should be based on a thorough evaluation of specific factors like:
Consider your organization's size and unique requirements. Smaller businesses may not need the extensive features of enterprise-level solutions. 

Assess your budget and compare it with the pricing of different software options to ensure it aligns with your financial constraints.

Usability is another critical factor, and the software must be user-friendly for both support agents and customers.

You should also prioritize data security by ensuring the trouble ticketing software complies with industry standards and regulations, such as GDPR. This is to safeguard sensitive customer data.
Evaluating these factors will help you decide and choose the best trouble ticketing software that aligns with your organization's specific needs and goals.
10 best trouble ticketing software
Having the right trouble ticketing software can make all the difference in streamlining your customer support. 
In no particular order, here are the ten best trouble ticketing software for 2024:
HappyFox Help Desk is a comprehensive customer support and trouble ticketing software designed to streamline customer inquiries and issue resolution.
HappyFox Help Desk offers the following essential features:
Automated ticket routing

Knowledge base management

Integration with popular help desk software solutions
With its mobile accessibility and reporting capabilities, HappyFox Help Desk is an excellent choice for businesses of all sizes.
LiveAgent is a versatile customer support platform catering to various customer service needs. It excels in various areas, offering essential features like:
Ticket management

Automation

Live chat support

Social media integration
The platform's user-friendly interface simplifies the support process, allowing agents to navigate and manage customer inquiries easily.
What sets LiveAgent apart is its capability to handle multiple communication channels effectively.  It ensures that these interactions are streamlined into a unified system. This makes it simpler for support teams to address customer inquiries across different platforms.
Freshdesk has earned a solid reputation as a popular help desk software and for good reason. It is renowned for its user-friendly interface, making it an excellent choice for support agents and customers.
This trouble ticketing software goes beyond traditional support management by providing multi-channel support. This allows businesses to connect with customers through their preferred communication channels.
It also offers self-service options, enabling customers to find answers to common questions independently. 
Zoho Desk is a standout component of the extensive Zoho business software suite, offering a holistic and comprehensive solution for customer support and trouble ticketing.
What sets Zoho Desk apart is its seamless integration with other Zoho applications, providing a unified ecosystem for business operations. This integration ensures that customer support is well-aligned with other functions and simplifies data sharing and access across the organization.
Automation is a key feature of Zoho Desk, allowing businesses to streamline their support processes, automate routine tasks, and reduce response times.
This trouble ticketing software's multi-channel support ensures that customers can engage through various communication channels.
Zendesk has established itself as a renowned name in the help desk and customer support industry.
It stands out for its rich feature set, which includes robust ticket management, automation, analytics, and extensive integration options.
Zendesk is particularly appealing to organizations seeking a highly customizable and scalable solution. Its trouble ticketing software capabilities provide a structured and efficient approach to handling customer inquiries, ensuring no requests go unanswered.
Automation features allow businesses to optimize support processes, reduce manual workload, and accelerate response times.
With detailed analytics, organizations can gain valuable insights into their support operations, enabling data-driven decisions and continuous improvement. 
Spiceworks Cloud Help Desk is an excellent, cost-effective, and cloud-based trouble ticketing software specially designed for IT professionals.
What makes this platform a standout choice is its simplicity and ease of use, making it particularly attractive for small to medium-sized IT teams.
While it may lack some advanced features in more comprehensive solutions, Spiceworks Cloud Help Desk excels in essential areas, such as ticket management and email integration.
IT professionals can efficiently manage their support operations and track customer inquiries within the system.
For smaller IT departments or organizations seeking a straightforward and free solution, Spiceworks Cloud Help Desk provides a valuable tool to streamline support operations. This is without the complexities and costs associated with larger help desk systems.
SolarWinds Web Help Desk is a robust and highly customizable trouble ticketing software specifically engineered to meet the complex support needs of IT and technical support teams.
SolarWinds Web Help Desk offers various features, including ticket management, multi-channel support, and customization. These features allow IT teams to streamline their support processes and ensure efficient handling of technical inquiries. 
Asset management is another key feature of this trouble ticketing software that allows for efficient tracking and management of IT assets, optimizing resource allocation.
Jitbit Helpdesk is a user-friendly, web-based ticketing system that simplifies customer support for smaller businesses and organizations.
This trouble ticketing software offers essential features and a knowledge base, which aids in creating a repository of solutions to common issues. It is particularly well-suited for smaller teams that require an easy-to-adopt system to handle customer support efficiently.
ProProfs Help Desk is a user-friendly trouble ticketing software known for cost-effectiveness. It provides the essential features for efficient support operations, including ticket management, automation, and knowledge base capabilities.
ProProfs Help Desk appeals to organizations that aim to enhance customer support operations without a hefty price tag.
Its user-friendly design and streamlined features make it a practical choice for businesses looking to optimize their customer support experience.
Mojo Helpdesk is a cloud-based trouble ticketing software specially designed for IT support teams. It offers ticket management, asset tracking, and knowledge base management features.
This platform empowers IT support teams by providing robust ticket management capabilities and a knowledge base.
Mojo's asset tracking ensures that IT resources are managed effectively, reducing downtime and streamlining operations.