Top 20 HR SaaS companies in 2023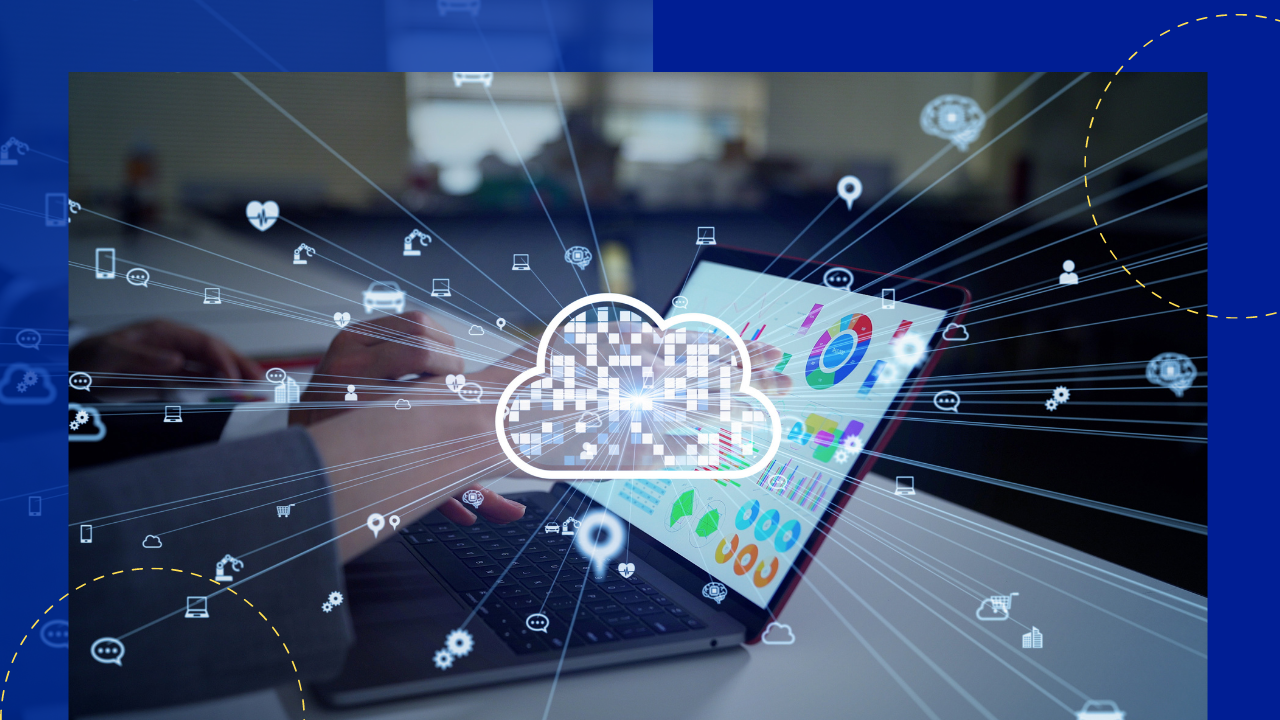 Human resources are the lifeblood of companies.
The business function that takes care of the needs and welfare of employees – human resources (HR) management – is equally important.
A smooth-functioning human resource management system ensures that a company's employees – from managers to rank-and-files – are looked after for maximum efficiency. And its importance hasn't gone unnoticed by the corporate world.
Soon, numerous HR software-as-a-service (SaaS) companies have sprouted. These companies market HR software solutions to other companies.
The massive success of these companies now serves as proof of the effectiveness of HR SaaS solutions and the importance of the business function they cater to.
List of the top 20 HR SaaS companies in 2023
What are HR SaaS companies?
As discussed earlier, HR SaaS (pronounced "sass") companies are companies that provide other business organizations with HR software solutions.
These vendors offer business-to-business (B2B) HR software solutions to other companies or to platform-as-a-service (PaaS) companies that can host their software for different business organizations.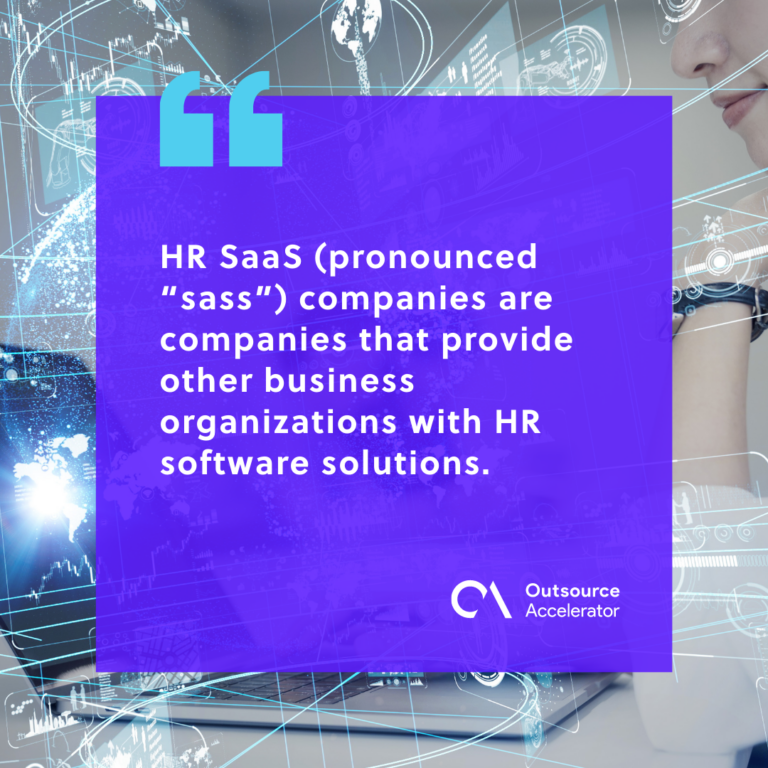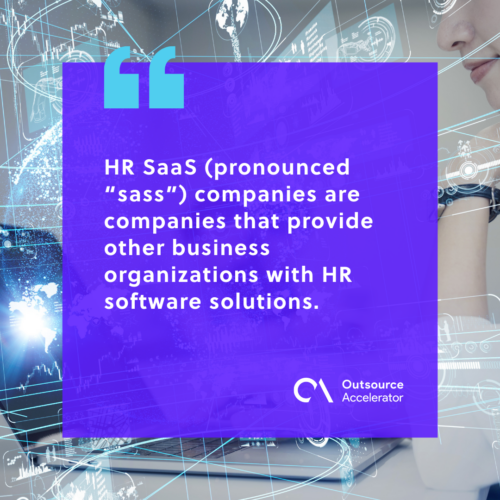 How do HR SaaS solutions work?
While all HR SaaS solutions are made to facilitate a smoother operation of HR management functions, not every HR SaaS has the same functionality.
While one HR SaaS might have onboarding and payroll management capabilities, another may have attendance tracking, electronic signing, and other combinations of functions or all in one platform.
These differences in functionalities differentiate the two types of HR SaaS solutions: best-of-breed and all-in-one SaaS.
Best-of-breed SaaS
This type of HR SaaS solution focuses on a single aspect of human resource management, such as payroll management, attendance tracking, or applicant tracking.
Best-of-breed SaaS solutions make up for their limited functionality by being the best in the functions they're meant to do.
Developers of best-of-breed solutions devote their time and effort to creating the best possible software for a specific task instead of one that performs a wide range of them.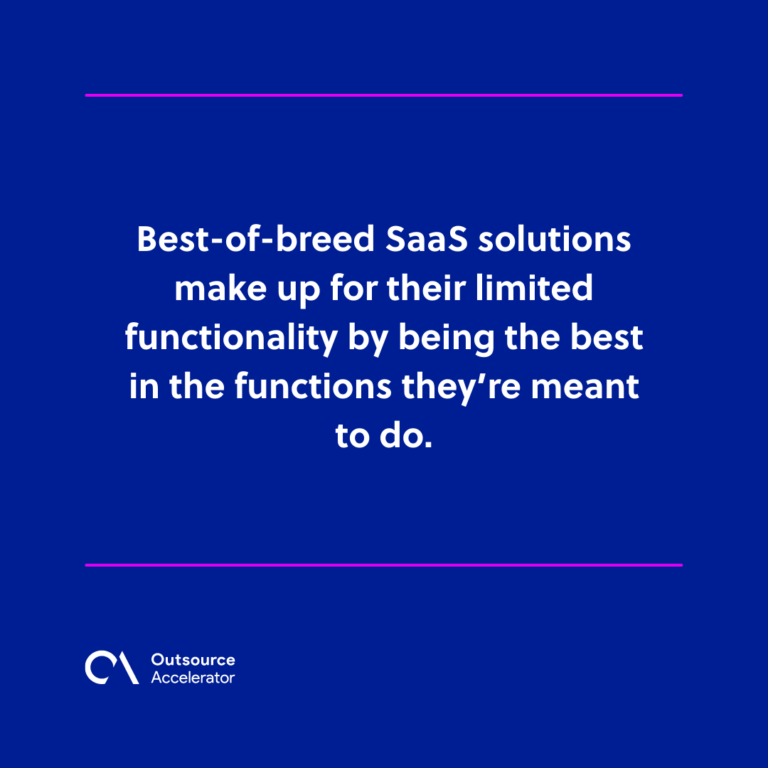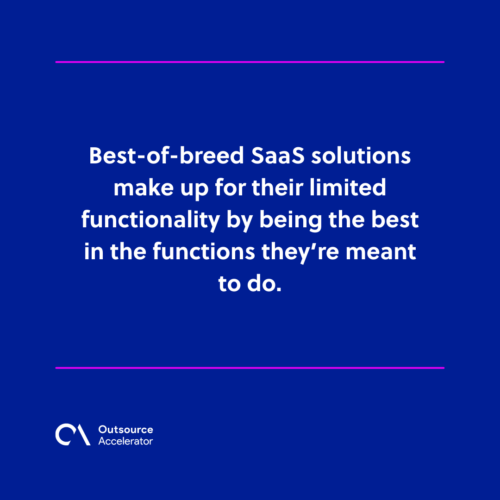 All-in-one SaaS
In contrast with best-of-breed software, all-in-one SaaS solutions are the proverbial jacks of all trades and masters of none.
These software solutions carry out multiple HR functions that would take several best-of-breed solutions to execute. However, an all-in-one SaaS solution's flexibility comes at the expense of specialization.
A best-of-breed software would always outperform an all-in-one solution in the area for which the former was made.
20 leading HR SaaS companies in 2023
Plenty of HR SaaS companies are already competing in the market, and the pandemic has only intensified competition as business organizations turn to software solutions to cope with restrictions.
As with any market competition, some companies have risen to the top and gained recognition as being the best in some aspect or the other.
Below are the best-performing HR SaaS companies of the year.
Workday is a leading provider of cloud-based financial, HR, and management applications for many industries.
Among the features of Workday's HR SaaS solution are payroll and time tracking, talent management, workforce planning, analytics and reporting, and human resources management.
Ultimate Kronos Group – UKG for short – is a philanthropic SaaS provider catering to companies of all sizes. UKG counts Tesla, Yamaha, Samsung, and Marriott among its clientele – a testament to its software solution's well-oiled performance.
This firm offers HR SaaS solutions capable of executing tasks relating to human resources, payroll, and scheduling management, talent acquisition, time and attendance tracking, compliance, and reporting and analytics, among others.
Oracle is another household name in the SaaS industry.
This global industry leader's HR SaaS solution has some of the most advanced and sophisticated features among its competitors to date.
This powerful SaaS solution is the result of the unification of Oracle's Human Resources, Talent Management, Workforce Management, and Oracle HCM Payroll.
ADP offers an all-in-one and cloud-based HR SaaS solution to help companies make business-driven decisions.
This vendor's HR software solution lets users manage their human resources, talent, payroll, benefits, and learning and analytics in one platform.
Moreover, ADP's HRMS platform allows adding other functionalities as needed.
Paycom is a SaaS provider focusing on turnkey payroll management solutions.
This firm's best-of-breed SaaS solution drastically reduces time spent on payroll administration while simultaneously delivering top-notch accuracy and transparency levels.
Aside from its renowned payroll management software, Paycom also offers SaaS solutions for talent acquisition and management, time and labor management, and HR management.
Namely is an award-winning SaaS provider founded in 2012 that caters only to medium-sized businesses.
This firm's SaaS solution includes two human resources information systems (HRIS), talent management, benefits administration, payroll and time management and tracking, compliance, and HR analytics.
It also has unique features such as an anonymous reporting tool and a company news feed.
Sage's end-to-end human resources SaaS solution helps businesses achieve smoother salary processing, talent acquisition and management, attendance and performance tracking and management, as well as recruitment, staffing, training, and development.
This firm's human capital management (HCM) solution allows companies to overcome challenges in human resources through a centralized and reliable system.
Grove HR is a SaaS human resources management software that helps organizations automate and streamline their HR processes.
The platform aims to empower teams by providing them with the tools and information they need to manage HR tasks efficiently and effectively.
With Grove HR, companies can manage employee information, track time off requests, onboard new hires, and more, all in one central location. This can help save time and improve the overall HR experience for both employees and HR teams.

Some of the key features of Grove HR include:

●        Recruitment: able to create a career site in seconds, centralize all incoming CVs and easily drag and drop the hiring pipeline.
●        Employee database management: A centralized database to store and manage employee information, including contact details, contracts, payslips, position growth, and performance review data.
●        Time attendance: this information will link with payroll to calculate monthly salary.
●        Time off management: An easy-to-use system for tracking time off requests, including vacations, sick days, and personal days.
●        Onboarding/Offboarding: An automated onboarding/offboarding process.
●        Performance review management: A tool for setting and tracking employee performance goals, providing 360-degree reviews from peers and line managers.
●        Reporting and analytics: A suite of reports and analytics tools to help HR teams monitor key metrics and make data-driven decisions.
Trusted by more than 10,000 companies and over 400,000 employees, this fast-growing HR software solutions firm offers many of the same features as other HR SaaS solutions, such as onboarding, payroll, and scheduling functions.
What makes Zenefits stand out is its benefits administration package, with its automated system and streamlined platform easily accessible through its mobile application.
Rippling is an all-in-one HCM solution that allows payroll and benefits management, among other functions.
Its cloud-based platform lets business organizations smoothly manage their workforce around the globe with its next-generation HR solution capable of multiple software integration and handling over 2,000 employees.
Rippling's digital training program feature is also a valuable function for the virtual work setup adopted by many companies.
Zoho People is another all-in-one HR SaaS solution for small and medium-sized enterprises.
It offers plenty of functionalities, from workforce and leave management and attendance tracking to analytics and HR workflows.
With a wide range of necessary tools for successful HR management and new ones constantly added, this software helps companies do away with massive piles of paperwork and keep up with the latest trends.
Additionally, Zoho's platform is free to use for businesses with five or fewer employees.
Cornerstone's HR SaaS solution focuses on talent management and related aspects of human resources – recruiting, learning, performance, career, and content management.
This multi-awarded firm's SaaS solution simplifies workforce processes and is considered one of the most innovative software in the present market.
Cornerstone's solution is also easily customizable for use in various industries and comes with pre-built dashboards and reports.
Paycor markets its cloud-based HCM solution to businesses of all sizes.
This firm's all-in-one HRIS lets users execute and complete tasks on the same platform equipped with all the features needed for HR management, such as attendance tracking and schedule management.
Paycor's solution also boasts a built-in tax management system along with its payroll function.
This SaaS company's software solution is perfect for small and medium-sized businesses.
BambooHR's personalized HRIS platform can be utilized for five essential HR aspects – hiring, onboarding, data and analytics, culture, and compensation.
Among its features are ATS and mobile hiring, onboarding and offboarding, payroll, PTO, and time tracking.
Formerly known as ZenPayroll, Gusto has served over 200,000 businesses in the US. This firm offers a cloud-based, all-in-one HR SaaS solution for business organizations of all sizes.
Gusto's software automatically processes employee taxes and benefits, tracks time and attendance, and provides reports and insights.
It also has hiring and onboarding functionalities, as well as built-in tools for talent management.
Deputy is a SaaS solution provider that offers small to medium-sized businesses workforce management and time tracking software.
Aside from the functions mentioned above, Deputy's HR SaaS solution also includes labor laws compliance tools, a time clock application that works on any device, as well as a mobile application for on-the-go schedules and timesheets.
Moreover, it also allows integration with other third-party software for payroll, POS, or HR.
Workable offers a best-of-breed SaaS solution focusing on ATS and recruitment.
This leading recruitment and ATS software provider has satisfied over 20,000 partner companies and helped hire more than 1.3 million employees since  2012.
With Workable's automated and AI-powered tools, candidate sourcing is made easier, and employers can make better decisions with the streamlined recruitment process.
Among the functionalities of Workable's SaaS solution are self-scheduling interview links, a mobile application for on-the-go recruitment, an advanced referral and internal mobility portal, and a built-in passive candidate sourcing feature.
Culture Amp's best-of-breed SaaS solution focuses on providing the best employee experience and helping employers make better decisions thru the insights that its software provides.
More than 5,000 companies worldwide trust Culture Amp's employee experience improvement platform. Household names include McDonald's, Canva, and even Oracle, another big name in the SaaS industry.
Culture Amp's platform features feedback and development tools, as well as continuous listening during the entire employee journey.
Like Culture Amp, Remote's HR SaaS solution is a best-of-breed software that helps business organizations manage payrolls and employee benefits.
Whether local or international payrolls for full-time or contractual employees, Payroll manages these along with the corresponding taxes and benefits.
Another good thing about Remote's SaaS solution is the lack of a minimum lock-in – that is, users can utilize it for just a single employee and use the platform for just a month.
Lattice's SaaS solution is another best-of-breed with a focus on performance management.
This HR software helps managers track employee performance and provides insights that will help increase productivity and foster career development.
It lets users manage performance reviews, conduct one-on-ones, give employees public recognition, and share feedback and updates.
Lattice's platform features include tools designed for employee engagement using surveys and employer net promoter scores (eNPS), setting OKRs, and integration with other applications, among others.
Why companies should invest in HR SaaS solutions
An efficient human resource management system ensures a smoother flow of operations for the entire business organization.
With streamlined HR functions, companies can avoid issues commonly faced by businesses with legacy HCMs, such as difficulty in scaling and the inability to integrate modern software.
Aside from sidestepping potential problems associated with legacy systems, modernizing the HR department of business organizations also brings long-term benefits, including funds saved from finding solutions to the issues avoided.