Top 15 accounting BPO firms in the Philippines [2023]
Top 15 accounting BPO firms in the Philippines
Accounting processes are among the essential functions of businesses.
The importance of tracking income and expenditures, ensuring statutory compliance, and creating accurate financial reports cannot be overstated.
However, the amount of work associated with accounting processes can be cumbersome for companies without a dedicated accounting department. 
Such companies often outsource their accounting functions to accounting BPO firms.
As the world's outsourcing capital, the Philippines has no shortage of such firms.
This article lists the top accounting BPO firms in the country.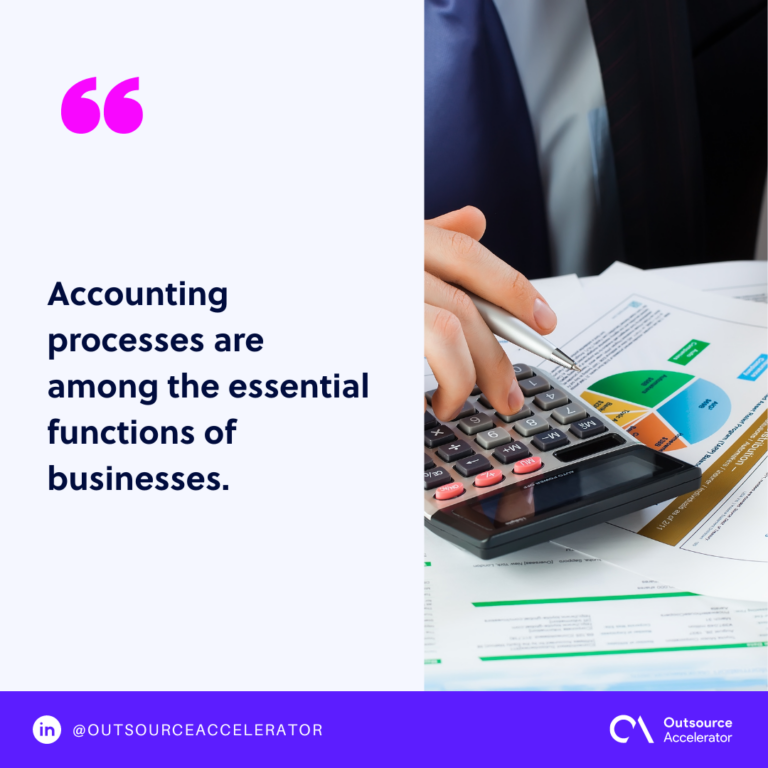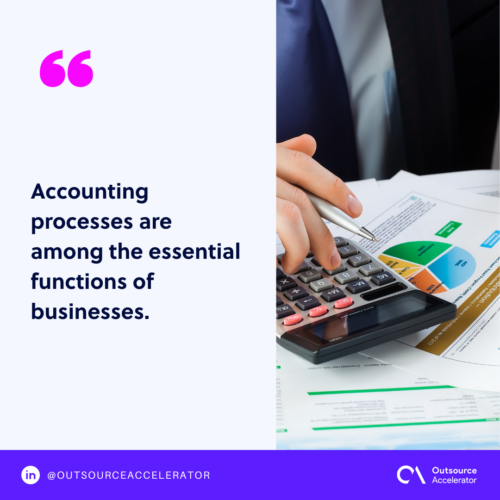 Why businesses outsource accounting services to BPOs in the Philippines
The Philippines is home to thousands of BPO firms catering to virtually every industry in the market.
As a global outsourcing powerhouse – and recognized as the world's outsourcing capital – the Philippines has become a go-to for many companies seeking outsourcing solutions.
The country's outstanding reputation for being an ideal outsourcing destination is due to a number of factors:
Cost reductions
Significantly lower labor costs and other overhead expenses savings are one of the main selling points of outsourcing to the Philippines.
Investors outsourcing to the Philippines save as much as 70% on salary costs due to the differences in living costs between their country and the Philippines.
Aside from a cheaper labor market, outsourcing to the Philippines also saves investors time and money on end-to-end recruitment, hiring, and onboarding of new employees.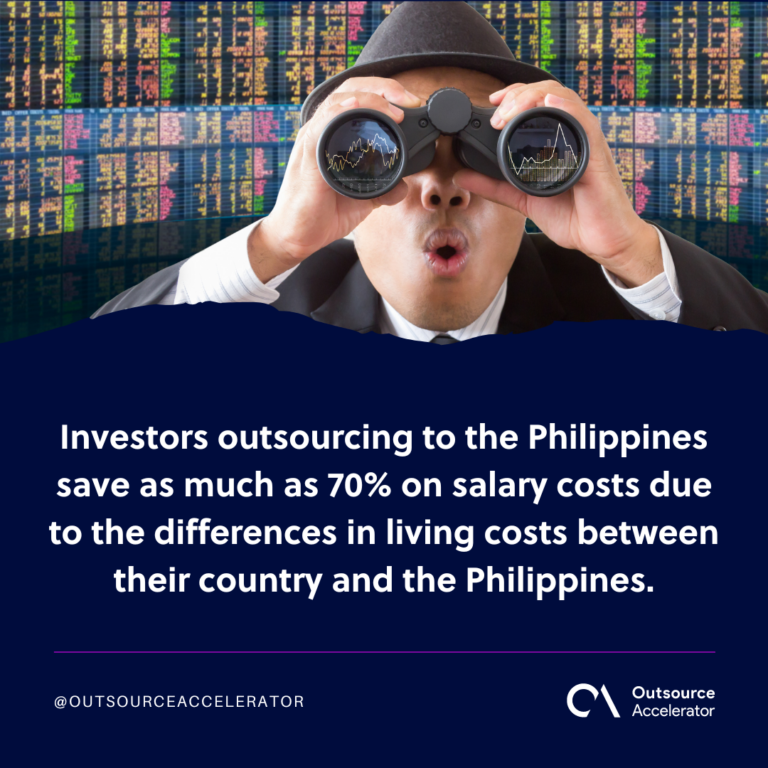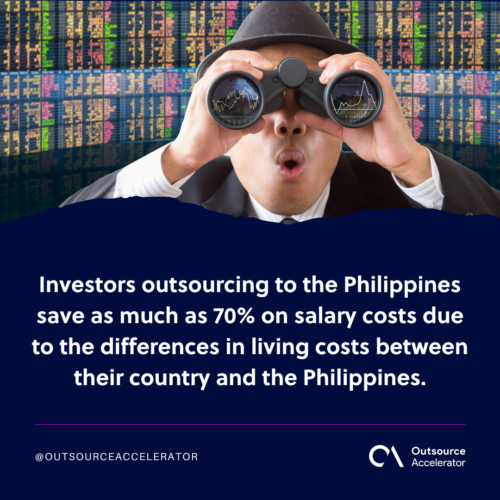 Strong government support
The Philippines' national government recognizes the economic gains that the BPO industry brings to the country.
The country's government has gone to great lengths to make the Philippines even more appealing to BPO investors.
BPO firms in the country are granted tax perks and other business incentives, provided they comply with the minimum requirements for PEZA accreditation.
BPO-conducive environment and infrastructure
Besides enjoying strong support from the government, the BPO industry also benefits from the Philippines' BPO-friendly environment.
The country's existing infrastructures are conducive to BPO operations. 
Though it remains second to India, the Philippines remains committed to investing in creating more infrastructures to support BPO operations.
Cultural alignment with Western countries
Compatibility with Western culture – the US, in particular – is another selling point of the Philippines to BPO investors.
Being a former colony of the US, Spain, and Japan, cultural adaptability has become ingrained in the Filipino people.
Top 15 accounting BPO firms in the Philippines
D&V Philippines is a professional finance and accounting services provider located in Ayala, Makati City, the national capital region (NCR) of Metro Manila.
The firm offers tailored solutions for small and medium enterprises (SMEs), accounting firms, shared services centers, and chief financial officers (CFOs) or large companies.
D&V's financial services include:
General accounting and bookkeeping

Management accounting

Audit and insurance

Financial planning and analysis

Payroll services

Statutory compliance
TOA Global is a BPO firm that offers accounting services that help other companies thrive and scale more efficiently.
The firm's Philippines operations center is located in Mandaluyong City, Metro Manila.
TOA Global counts 3,000 Filipino professionals under its employment and supports more than 1,000 accounting and bookkeeping firms worldwide.
The company's accounting solutions include outsourced roles, such as:
Accountants

Administrators

Bookkeepers

CPAs

Payroll assistants

Auditors

Mortgage brokering and financial planning assistants
OPKO Finance is an accounting, HR and tax assistance, BPO, and advisory services provider that caters to SMEs.
It helps these businesses optimize their operations by leveraging their support functions, such as accounting, HR, and other administrative roles.
OPKO Finance has offices in Cebu City, Hong Kong, Paris, Shanghai, and Singapore, bringing international expertise to its clients.
The firm's accounting services include:
Accounting

Payroll

Tax declarations

Treasury and other administrative functions

Audit

Transaction services
KG Consult Group Inc. is an accounting and consulting firm that caters to startups, MSMEs, multinational companies, and investors wanting to do business in the Philippines.
The Group provides outsourcing solutions for other companies' accounting and bookkeeping needs. It is headquartered in Makati City, Metro Manila.
KG Consult Group's outsourced accounting and bookkeeping services include:
Full accounting and bookkeeping services

Financial statements preparation

Assistance in collecting accounts receivable

Accounting system design and implementation

Financial controller services

CFO services

Accounting and auditing firms back-office support

Accounting policy preparation

Complete package accounting, tax, payroll, and compliance services
Davao Accountants is a homegrown boutique professional services firm founded by a CPA lawyer with extensive experience in the government, corporate, academia, and public sectors.
This Davao-based boutique firm's staff is comprised of experienced CPAs, lawyers, and other business experts.
Davao Accountants' services include:
Outsourced digital accounting 

Payroll outsourcing 

Outsourced accounting team

Accounting and bookkeeping for eCommerce businesses

General bookkeeping 

Tax compliance

Accounting training and workshop

Accounting for freelancers

Business consultancy

Business organization
TrendStatic Corporation is a business solutions provider in the heart of the Ortigas Center business district in Pasig City, Metro Manila.
The company caters to SMEs, startups, and other enterprises.
TrendStatic's services include:
Outsourced accounting services

Payroll software and outsource services

Finance supervision

Business process review

Financial statement analysis

Tax compliance
This company utilizes its expertise in the fields of IT and accounting to help other businesses achieve their goals and objectives.
Accubooks Inc. adds the expertise of Certified Accountants to the benefits gained when companies outsource.
This outsourced accounting solutions provider has offices in Makati City, Metro Manila, and Toronto, Canada.
This firm's management is headed by senior-level certified accountants with extensive experience in both accounting and business process outsourcing.
Accubooks Inc.'s services include:
Accounts receivable/payable reconciliation

Bank reconciliation

Other ledger account reconciliation

Payroll and bookkeeping services

Financial analysis and reporting

Management reporting

24/7 support services

Specialized accounting functions

Business continuity plan
Tiu and Associates Group is a management consulting and CPA firm specializing in helping privately held companies and family businesses.
The Group assists these companies by providing accurate accounts reporting and business advisory.
It helps in restructuring debt and accounting systems, tax advisory, and audit and management consultancy.
Tiu and Associates Group's services include:
Accounting

Assurance and advisory

Corporate tax

Company incorporation

Sole proprietorship
Innovature BPO is a service provider helping businesses in North America, Australia, and the Asia-Pacific grow through outsourcing services.
This Vietnam-based outsourcing firm also has operations in Cebu City and Richardson, Texas. It has been the recipient of several awards for delivering quality services.
Innovature's accounting BPO services include:
General accounting

Closing and reporting

Accounts payable and receivable

Bookkeeping

Financial planning and analysis

Payroll processing 

Audit services

Treasury

Tax services
OutsourceYourAccounting is a subsidiary of Clark Outsourcing International, operating in the Philippines' Clark Economic Zone.
Starting out as an experimental offshoot into accounting BPO, OutsourceYourAccounting now has a small team of nine certified accountants.
The firm's services include:
Payroll services

Accounts payable and receivable 

Tax preparation

Accounting consulting
MPM Consulting Services Inc. is a provider of software-as-a-service (SaaS) and outsourcing solutions for micro and small enterprises (MSEs).
It offers outsourced accounting and payroll services to other businesses to help them focus on their core business processes.
The company's accounting and payroll services include:
Digitizing sales receipts and invoices

Printable BIR accounts book

Automated tax preparation and filing

Monitoring of receivables, payables, and assets depreciation

Employee records and documents management

Computation of leaves, tardiness, absences, etc.

Computation of government deductions, payroll, recurring earnings, etc.
Magellan Solutions is a BPO dedicated to providing world-class outsourcing solutions across various industries.
This firm primarily focuses on SMEs, but it also caters to large enterprises, including one Fortune 50 Telco company.
Its Philippines headquarters are located in Mandaluyong City, Metro Manila.
Magellan Solutions' accounting BPO services include:
Accounts receivable services

Accounts payable services

Debt collection services
Profitmaster BPO is a Philippines-based provider of remote accounting, administration, and digital marketing staff.
As a BPO firm specializing in accounting services, Profitmaster BPO possesses leading-edge accounting software, such as XERO, Quick Books, MYOB, Cashflow, and Banklink.
Profitmaster BPO's outsourced accounting services include:
Accounts preparation

Bookkeeping

Credit control

Debt collection

Expense claims

Invoicing

Payment chasing and processing

Payroll

Year-end preparation
Outsourced is a BPO firm that offers outsourced accounting along with a wide range of other services. Its office is located in Quezon City, Metro Manila.
The firm helps its clients fulfill their accounting needs by providing them with skilled accounting professionals.
Outsourced's accounting roles include:
Accountant

Bookkeeper

Accounting manager/supervisor

Accounts payable/receivable specialist

Payroll specialist/manager/supervisor

Financial analyst/advisor

Claims analyst

Payroll processors

Debt collection specialist
Deployed is another outsourcing solutions provider operating in the Ortigas Center business hub of Pasig City, Metro Manila.
This firm offers various outsourcing services for businesses, including accounting and payroll operations.
Deployed helps its clients meet their accounting needs through outsourced roles, including management accountants with a minimum experience of three years.