Welcome to Inside Outsourcing: The Outsourcing Week in Review
THE WEEK IN REVIEW
Serving you hot-off-the-press news on outsourcing's labor and employment market trends – from employees not caring about losing their jobs to new executive appointments. We got you covered!
An atonishing 72% of employees worldwide are not concerned about losing their jobs, said recruitment company The Adecco Group. In a poll of 34,200 workers across 25 countries, most respondents believe they still have power over companies. Of those who said they would quit in the next 12 months, 17% stated that other companies are already recruiting them. Adecco said these findings show a "clear need for companies to focus on retention solutions" to avoid high turnover.
Meanwhile, the global Information Technology and Business Process Management (IT-BPM) industry's attrition rate reached 25.2% in 2022 and is projected to increase further. Professional services platform TeamLease Digital reported that many tech employees are moving from traditional companies to non-IT industries as digitalization creates more opportunities and jobs in these sectors. TeamLease Digital CEO Sunil Chemmankotil added that tech talent in non-tech firms will grow three-fold, opening up approximately one million new tech jobs by 2025. In Canada, voluntary turnover in the tech space this year hit 18.5% despite a significant increase in salaries, benefits, and other incentives. According to a study conducted by the non-profit association Tech and People (TAP) Network, this figure is almost double that of the previous years, with e-Commerce experiencing the most turnover at 32.5%. TAP Network CEO Stephanie Hollingshead said that strong sector growth, record-breaking levels of venture capital, and remote roles in international firms put significant pressure on Canadian companies to retain capable talent.
Despite the high turnover rates, expansion and collaboration in the outsourcing sector continue!
Multinational firm Infosys recently opened a new office in Calgary, Canada to expand the company's operations in the country. Infosys President Ravi Kumar said that Calgary's IT innovation potential is unlimited and the company's expansion in the area will allow them to  scale work with clients across key industries — including energy, natural resources, and agriculture. This development is said to generate 1,000 job vacancies over the next two years. At the same time, Singapore-based IT solutions provider Win-Pro is doubling its offshore outsourcing capabilities by opening an office in Johor Bahru, Malaysia. In a press release, the firm shared that they have "forged many collaborative partnerships" with IT schools in Johor Malaysia in the past few months to develop future talent. Win-Pro added that they expect more Malaysian cities — such as Malacca, Kuala Lumpur, and Penang — to support more outsourced IT support agencies next year.
State-owned Bangladesh Power Development Board (BPDP) signed an agreement with ICT training providers Digicon Technologies Limited to build a call center facility. BDBP said this deal would deliver exceptional customer service to their 3.60 million over the next two years. Digicon Technologies will operate the system to four distribution zones across the country– Chattogram, Sylhet, Mymensingh, and Cumilla. The firm will also develop the necessary software to train new manpower. Publicly-listed meal kit company HelloFresh announced its collaboration with customer and employee experience management firm Medallia Inc. to transform its contact center experience. HelloFresh US Director of CX Maureen Kamaishah said they selected Medallia due to its "best-in-class technology" and knowledge in the CX space. Medallia's contact center suite will monitor and capture 100% of customer and agent interactions while leveraging artificial intelligence (AI) to provide comprehensive customer analysis.
Lastly, the software-as-a-service (SaaS) Zendesk is partnering with outsourcing management platform ArenaCX to expand the global reach of the latter's "Get Labor" app. The app will allow Zendesk customers to access a worldwide network of outsourcing partners certified by ArenaCX and hand-selected by Zendesk. It will also help small and medium enterprises accelerate growth and access international outsourcing providers. Jason Dichter, head of AMER BPO Partnerships at Zendesk, said that using the Get labor app will boat customer confidence in choosing the right BPO partner for their organization.
IT service management company Concentrix reported a 13.1% year-on-year revenue growth in Q3. In its latest financial results, Concentrix CEO and President Chris Caldwell said that the company "executed well in the third quarter, delivering solid revenue growth and profit improvements even in the uncertain macro environment." Concentrix closed "two very large deals" in the quarter and upped the ante in their acquisitions. All these promising results have led Concetrix executives to remain confident for the rest of the year, estimating a nine per cent full-year revenue growth at the end of 2022.
Next-generation CX solutions provider Alorica recently promoted its Asia Pacific (APAC) President Bong Borja to COO as part of its global transformation strategy. In this new position, Borja will oversee global operations across APAC, Latin America & The Caribbean, and North America. He will also continue directly managing the APAC region until his successor is named in Q4. Alorica CEO Greg Haller said that Borja's "trailblazer mentality" will help them maintain their lead in the industry. Concurrently, cloud technology provider Acumatica appointed Jim Desler as its new VP of Communications. Desler will lead the company's integrated communications efforts, bringing over 20 years of industry experience. Todd Wells, chief marketing officer at Acumatica, said that he is confident that Desler will be a "tremendous partner" in their continued growth.
Tech outsourcing provider VXI Global Solutions will abandon its offices in Canton, Ohio, as more area employees begin working from home. According to the VXI Senior VP of US operations Debbie Burgess, the firm offers all its employees an opportunity to move into the company's virtual work program. Erika Bogar King, VXI Chief Human Resources Officer, added that the company wants the WFH transition "to be as smooth as possible," adding that their operations, HR, and management teams are ready to help their workforce. Similarly, e-commerce giant Amazon is urging its call center employees in the United States (US) to continue working from home as part of its plan to close several customer service facilities. Amazon spokesman Brad Glasser said they offer their customer service employees "increased flexibility that comes with working virtually." An article from Bloomberg highlighted that remote work would help Amazon solve its high turnover rates in its call centers, access a wider pool of talent, and save on real estate costs.
Multinational technology firm IBM is collaborating with twenty historically black colleges and universities (HBCUs) to build Cybersecurity Leadership Centers across the US. IBM Corporate Social Responsibility and ESG VP Justina Nixon-Saintil said that this partnership epitomizes their commitment to the Black community and STEM education and builds on their pledge to train150,000 people in cybersecurity over three years. Faculty and students at participating schools will also have free access to cybersecurity coursework, lectures, immersive training experiences, certifications, cloud-hosted software, and professional development from IBM.
Employees across global facilities of Business Process Outsourcing (BPO) firm ibex raised more than $50,000 for people affected by heavy floods in Pakistan. ibex CEO Bob Dechant said that he is proud of their employees' efforts in supporting the people of Pakistan, adding that "it is overwhelming to see their compassion and commitment to helping those in need." Torrential monsoons triggered the flooding in Pakistan — the worst in the country's recent history. According to data from UNICEF, the disaster had claimed more than 1,500 lives, including 528 children, and affected approximately 16 million children in the country.
Our thoughts are with those affected by the floods.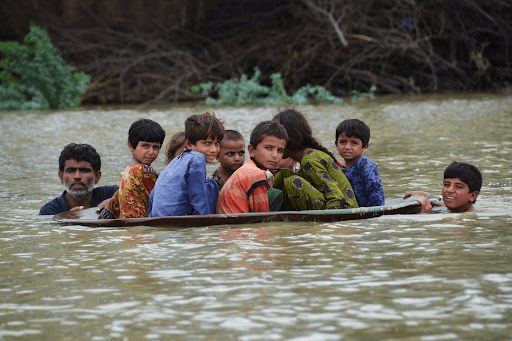 Tuesday, October 04, 2022
NEWS THIS WEEK
03 October 2022
30 September 2022
29 September 2022
28 September 2022
27 September 2022
Read more Inside Outsourcing Newsletters here: