Telework vs telecommute: Understanding the differences, pros, and cons
Telework and telecommuting are the two terms that have been gaining popularity as remote working has become a favored option for employees.
Both terms have many similar aspects. More and more professionals working on a regular basis are still finding the best work arrangements for them. 
In most cases, this sometimes leads to uncertainty about the differences between telecommuting vs teleworking. 
This article discusses the definitions of these terms as well as their pros and cons. 
What is the difference between teleworking and telecommuting? 
Both telework and telecommuting have been widely used in many industries for decades. But both are often used interchangeably. 
While these two words closely mean the same thing, there are some subtle differences between them. 
Teleworking is a form of work that occurs via a person's home or any other location outside their place of employment. It is often used as an umbrella term for all remote work.[1] 
According to the OECD.org report, teleworking rates during the COVID-19 pandemic were higher among workers in large companies than in small ones.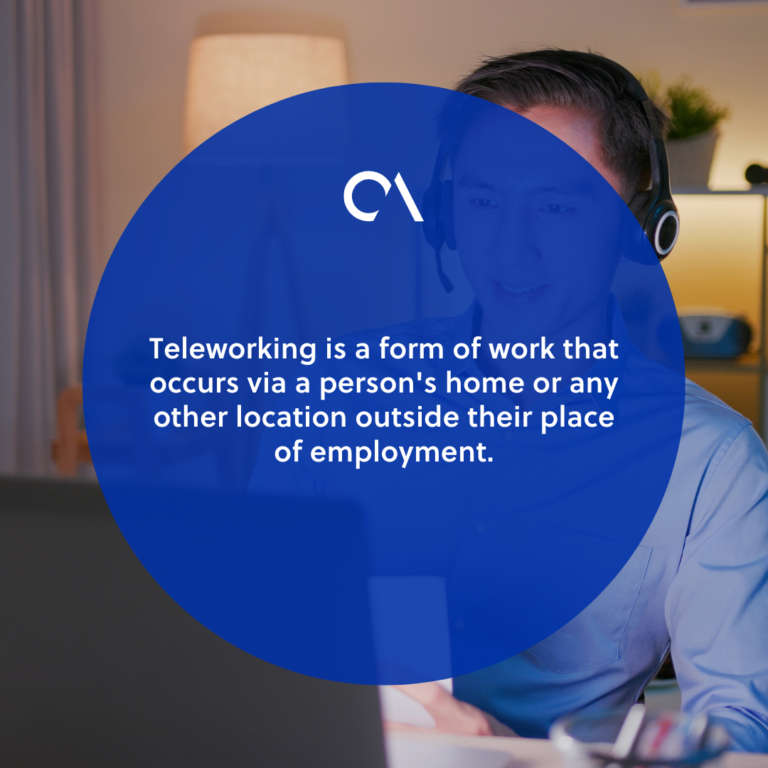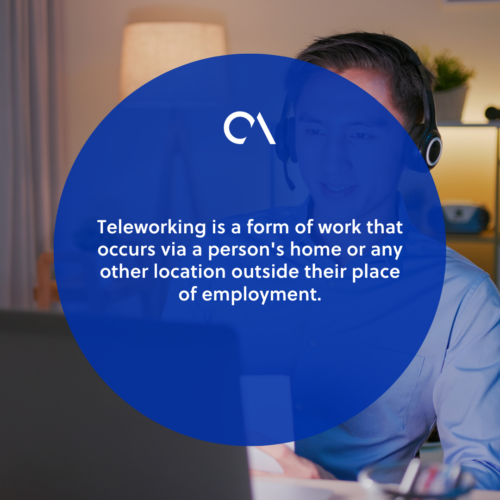 On the other hand, telecommuting doesn't necessarily involve working at home. 
It is defined as using telecommunications systems[2] to enable employees to work away from the office (e.g., in the field).
In telecommuting, the remote location should be somewhere that reduces an employee's normal commute.
For instance, teleworking is working in the same building as the rest of the team, but they aren't physically there at the same time. Telecommuting, on the other hand, is working from a different building altogether.
Understanding the distinction between telework vs telecommute helps business owners implement communication strategies that capitalize on these innovative working opportunities.
Telework vs telecommute: Pros and cons  
Telecommuting and telework are both work arrangements that serve as great solutions for helping employees work remotely. 
Here we have their pros and cons: 
Pros of telework and telecommuting
Below are some of the advantages of telework and telecommuting:
Promote work-life balance 
With telework and telecommuting, employees can schedule their hours and improve their work-life balance. 
When people have more control over their schedules, it allows them to determine when they'll be available for calls or meetings. 
They are able to set their own hours of availability rather than having someone else dictate when they must be present on company premises. 
This also allows them to focus on important tasks rather than being distracted by non-work-related activities. 
In addition, it reduces the stress associated with feeling obligated to go into the office everyday or "face time" with the team even though it's not necessary to complete projects or tasks at hand. 
Saving time and money 
With telecommuting options, there is no need to spend high travel costs or expenses associated with commuting and traveling. 
This can save a lot of time and money compared to having to drive or take public transportation into the office everyday.
Moreover, employees can increase employee satisfaction through remote locations instead of heading into an office everyday.
Foster productivity
Teleworkers and telecommuters are able to spend more time on tasks that require concentration or focus; thus, it can help increase productivity. 
When people work remotely, they tend to work longer hours because they have more flexible schedules. They don't have any distractions while trying to get things done.
A research conducted by Egotron reveals that 40% of remote employees are more productive than their counterparts as they work longer hours. 
Enhances efficiency
Employees who telework or telecommute tend to be more productive, which can result in fewer mistakes being made. 
Essentially, it saves time and money for both employers and employees. They can spend more time completing important daily tasks without distractions from other co-workers or traffic jams.
Work independently 
One of the biggest pros of teleworking and telecommuting is that staff doesn't have to report to the office daily. 
Working from home also gives greater flexibility when it comes to scheduling meetings or appointments with coworkers and clients.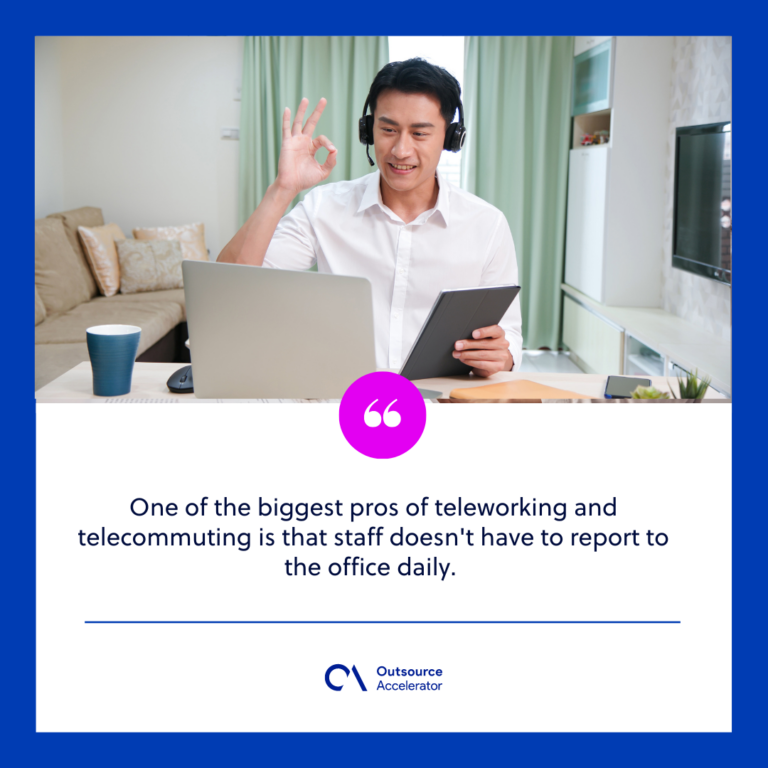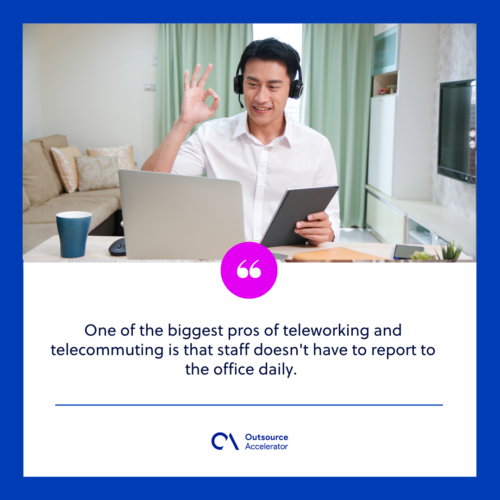 Cons of telework and telecommuting
While telework and telecommute have great perks, they also have a few disadvantages: 
Leads to isolation 
One of the drawbacks of telework and telecommute is isolation for employees. 
Working remotely can be isolating — especially if an employee doesn't have any coworkers nearby who also work remotely. 
Teams won't get that daily interaction with colleagues and clients, which is important for building relationships, networking, and staying current on industry trends. 
Without regular contact with others, it's also harder to build trust in a virtual environment.
Lack of collaboration between work teams 
Teleworkers and telecommuters are often separated from their colleagues and may lack access to resources like printing stations or meeting rooms that help them collaborate effectively. 
In addition, this can lead to feelings of isolation and decreased morale among employees who cannot attend meetings and interact with their colleagues regularly.
Increases security risks 
Security risks are a major concern when employees work remotely. They are more susceptible to various security risks, such as phishing attacks, malware attacks, and social engineering scams. 
Influences the work culture 
Rather than talking face-to-face about problems or issues, communication via emails or other channels is the only way to interact with colleagues. 
This can lead to misunderstandings and frustration among coworkers who may not feel comfortable discussing sensitive topics via email. 
Streamline your business through teleworking and telecommuting 
Telework vs telecommute are both remote work methods. 
Both have their benefits and disadvantages, but understanding the differences can help make an informed decision about which is best for a business.
Telework and telecommuting help businesses in many ways. Both have become integral to every business model today due to their various advantages. 
That said, teleworking and telecommuting ensure improved productivity, increased employee satisfaction, and enhanced business efficiency relevant to achieving business success. 
Article References:
[1] Remote work. Bailey, D.E. and Kurland, N.B. (2002). A review of telework research: findings, new directions, and lessons for the study of modern work. Journal of Organizational Behavior, 23(4), pp.383–400. 
[2] Telecommunication system. Khujamatov, Kh.E., Khasanov, D.T. and Reypnazarov, E.N. (2019). Research and Modelling Adaptive Management of Hybrid Power Supply Systems for Object Telecommunications based on IoT. [online]