5 significant types of telepharmacy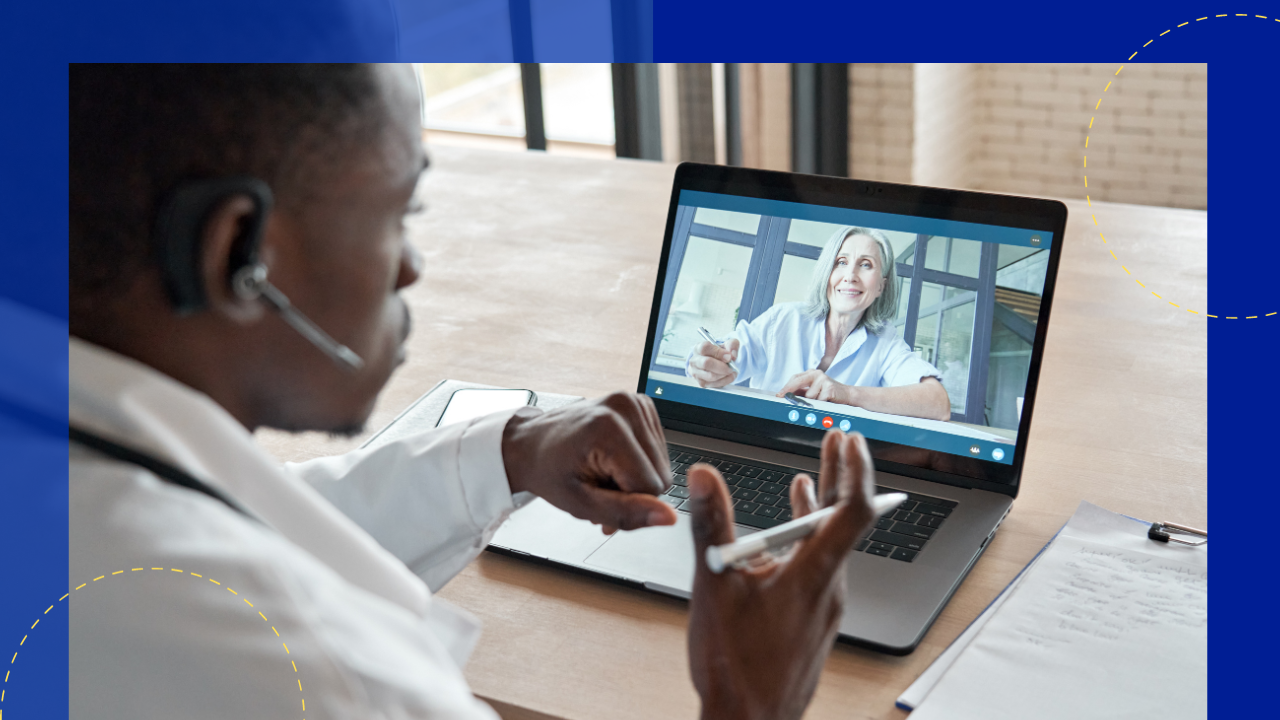 Digital transformation has driven the rapid evolution of healthcare technologies such as telemedicine and telehealth systems, enabling streamlined healthcare access.
Telepharmacy has emerged as one of the essential components of modern healthcare delivery. Even when telepharmacists are located miles away from a physical pharmacy, they can now provide their services to patients needing immediate service.
What is telepharmacy?
Telepharmacy is a specialized field within telemedicine that primarily revolves around the remote delivery of pharmacy services. It relies on electronic communication and digital technologies to facilitate this process.
The core objective of telepharmacy is to bridge geographical gaps. It ensures that pharmaceutical care is readily available to individuals who might be situated in remote regions or face mobility constraints.
This innovative approach connects patients with pharmacists virtually, revolutionizing the accessibility of essential pharmacy services.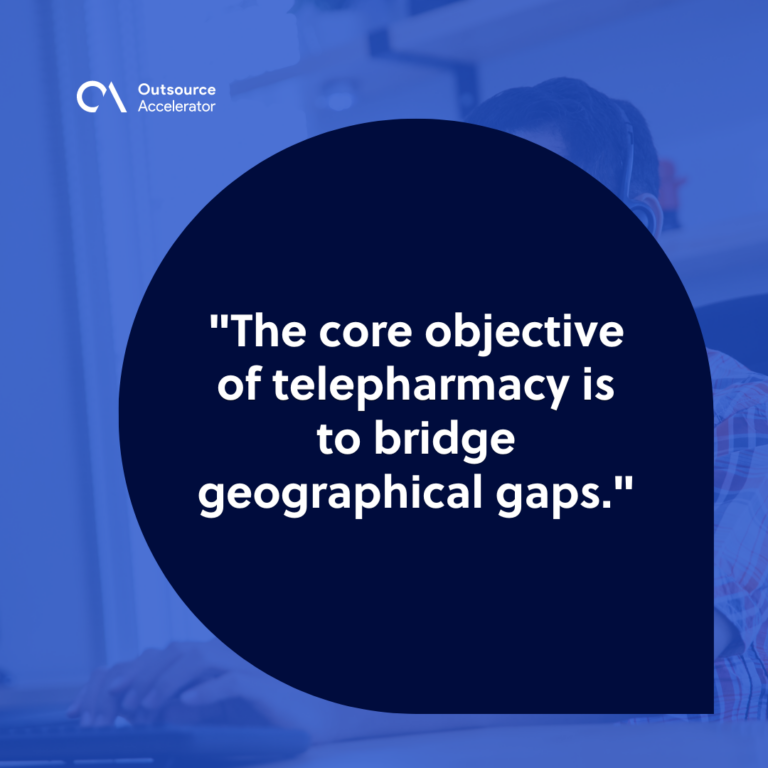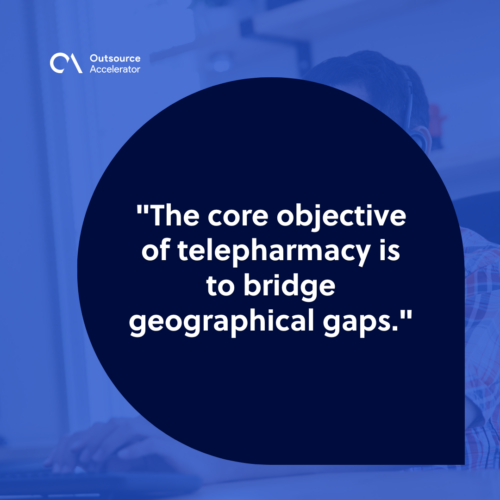 How does telepharmacy work?
Telepharmacy leverages modern telecommunications technology to enable pharmacists and patients to connect and interact remotely.
The process typically begins when a patient initiates contact with a telepharmacy service through various means, such as a: 
Dedicated mobile application

User-friendly website

Simple phone call
Patients may provide the following essential information regarding their medication needs during this initial interaction:
Prescription details

Over-the-counter medication requirements

Any pertinent health information
Following this, a licensed pharmacist steps into the picture to review the patient's information comprehensively.
The telepharmacist conducts a virtual consultation with the patient, often facilitated through video conferencing, phone calls, or secure messaging platforms.
This consultation serves as a critical opportunity for the pharmacist to understand the patient's health condition, medication requirements, and any specific concerns the patient may have.
Once the pharmacist is satisfied that the patient requires the prescribed medication, he can dispense the necessary medications remotely.
This remote dispensing typically occurs from a centralized pharmacy location, which might be geographically distant from the patient.
5 types of telepharmacy
Telepharmacy comes in various roles to serve a wide variety of pharmaceutical needs of patients. 
Here are the five types of telepharmacy:
1. Remote medication dispensing
Remote medication dispensing is one of the fundamental aspects of telepharmacy. It enables patients to obtain their prescribed medications without physically visiting a pharmacy.
This type of telepharmacy benefits patients with chronic conditions who require regular medication refills. It enhances accessibility and adherence to treatment plans.
Here's how it works:
Automated dispensing systems (ADS)

– ADS uses

robotics and automation

to dispense medications accurately. Patients can pick up their medications from a convenient kiosk or deliver them to their doorstep.

Medication packaging

– Pharmacies use specialized packaging that organizes medications by dose and time, making it easier for patients, especially those with complex medication regimens.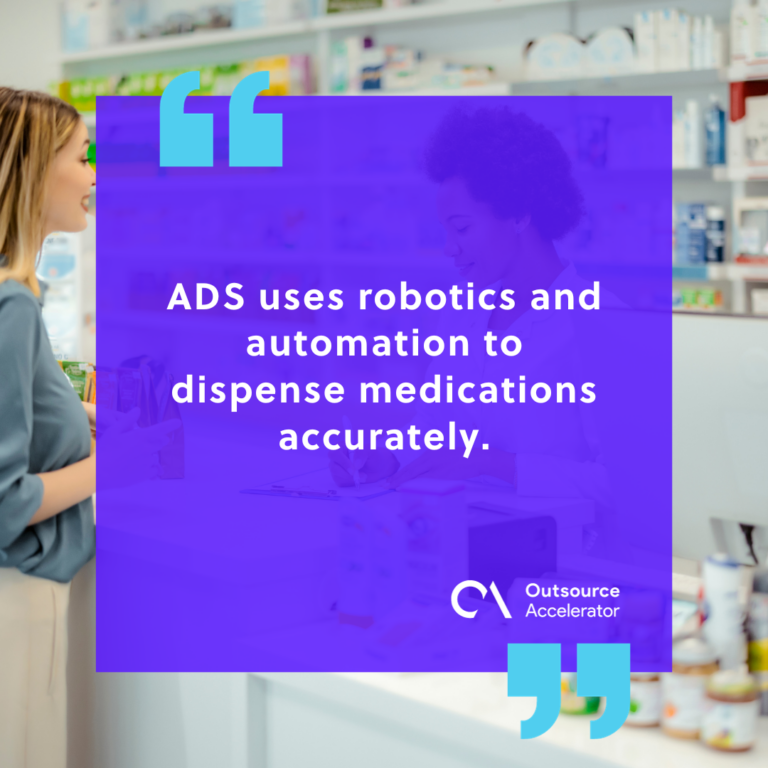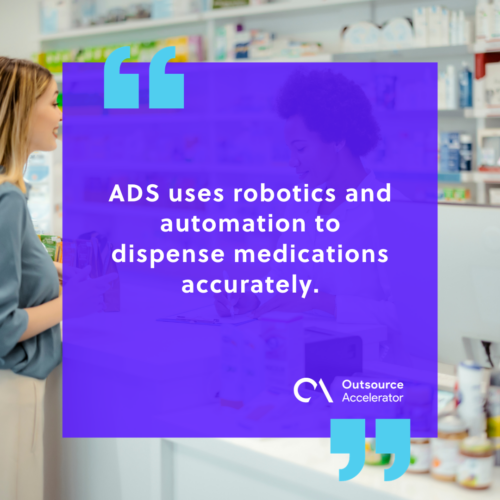 2. Specialized telepharmacy services
Specialized telepharmacy services cater to patients with unique healthcare needs. It offers consultations and support for specific medical conditions or situations, such as:
Geriatric care

– Telepharmacy can provide medication management and consultations tailored to the unique needs of older adults.

Pediatric care

– Pediatric telepharmacy services focus on children's medication requirements, including proper dosages and formulations.

Hospice and palliative care

– Patients receiving end-of-life care can benefit from specialized telepharmacy services to manage symptoms and medications effectively.

Psychiatric medication management

– Telepharmacy supports patients with mental health disorders by providing medication management and counseling services.
Specialized telepharmacy services ensure patients receive expert guidance and care tailored to their health conditions.
3. Medication therapy management
Medication therapy management (MTM) is crucial to patient care, especially for those taking multiple medications.
Key elements of MTM through telepharmacy include:
Medication review

– Pharmacists review patients' medications to identify potential drug interactions, side effects, and opportunities to simplify the regimen.

Patient education

– Pharmacists educate patients about their medications, helping them understand the importance of adherence and proper administration.

Personalized care plans

– MTM services create personalized care plans to address each patient's unique needs, improving medication outcomes.

Regular monitoring

– Telepharmacists also conduct

remote patient monitoring

to ensure the medication therapy remains effective and safe.
MTM, through telepharmacy, enhances medication safety and helps patients achieve better health outcomes by managing their medications more effectively.
4. Medication synchronization
Medication synchronization, often called med sync, is a service that aligns a patient's prescription refills to occur on the same day each month. 
Telepharmacy facilitates med sync by allowing patients to communicate their refill needs remotely.
This coordination offers several advantages:
Improved adherence

– Med sync reduces the likelihood of missed doses and simplifies medication management.

Reduced pharmacy visits

– Med sync under telepharmacy allows patients to make fewer trips to the pharmacy since all medications are dispensed together.

Enhanced convenience

– Through this telepharmacy feature, patients can enjoy the convenience of picking up all their medications at once, saving time and effort.
Moreover, medication synchronization is especially valuable for patients with chronic conditions who take multiple medications.
5. Emergency response telepharmacy
Emergency response telepharmacy is critical in disaster management and remote healthcare access during crises.
This type of telepharmacy offers the following benefits:
Disaster preparedness

– Remote pharmacies can stock essential medications and medical supplies, ensuring they are readily available during emergencies.

Teletriage

– Pharmacists can assess patients remotely during disasters, offering guidance on medication use and advising whether medical attention is necessary.

Access to medications

– Patients in disaster-stricken areas can access essential medications through remote pharmacies, even when local facilities are unavailable.
Emergency response telepharmacy is a lifeline during natural disasters, pandemics, and other emergencies, ensuring that healthcare services remain accessible.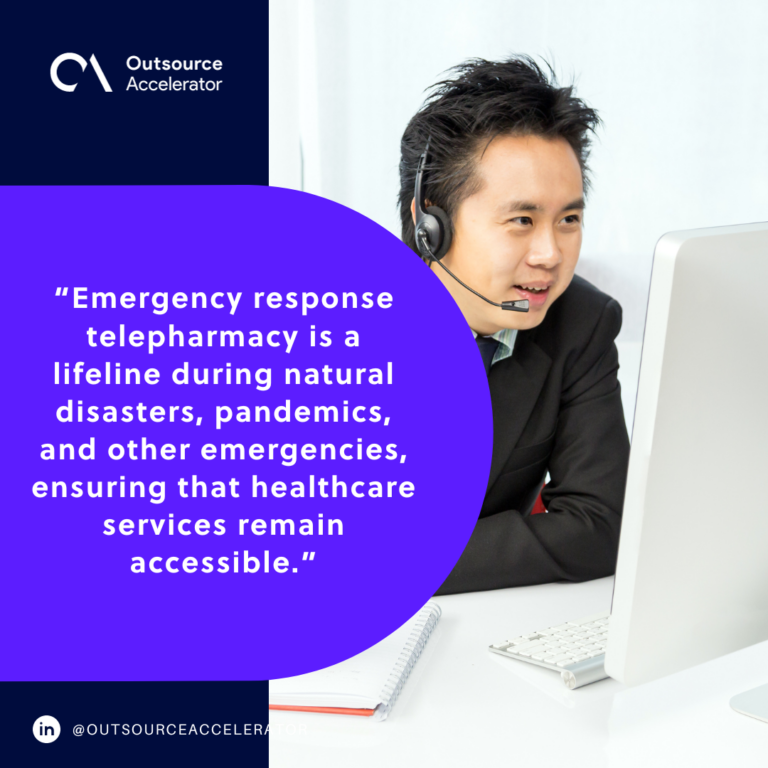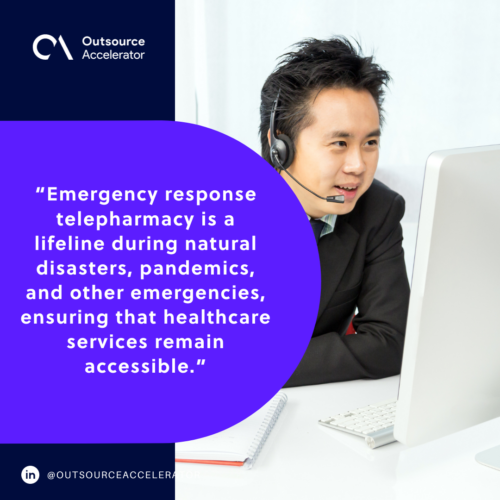 Telepharmacy: Extending healthcare access remotely
Telepharmacy is a transformative force in modern healthcare, exemplifying its ability to extend healthcare access to remote and underserved populations.
As we have explored the five significant types of telepharmacy services, it becomes evident that this innovative approach not only transcends geographical constraints but also extends its operations to different niches.