A walkthrough on technology insurance and reasons to get one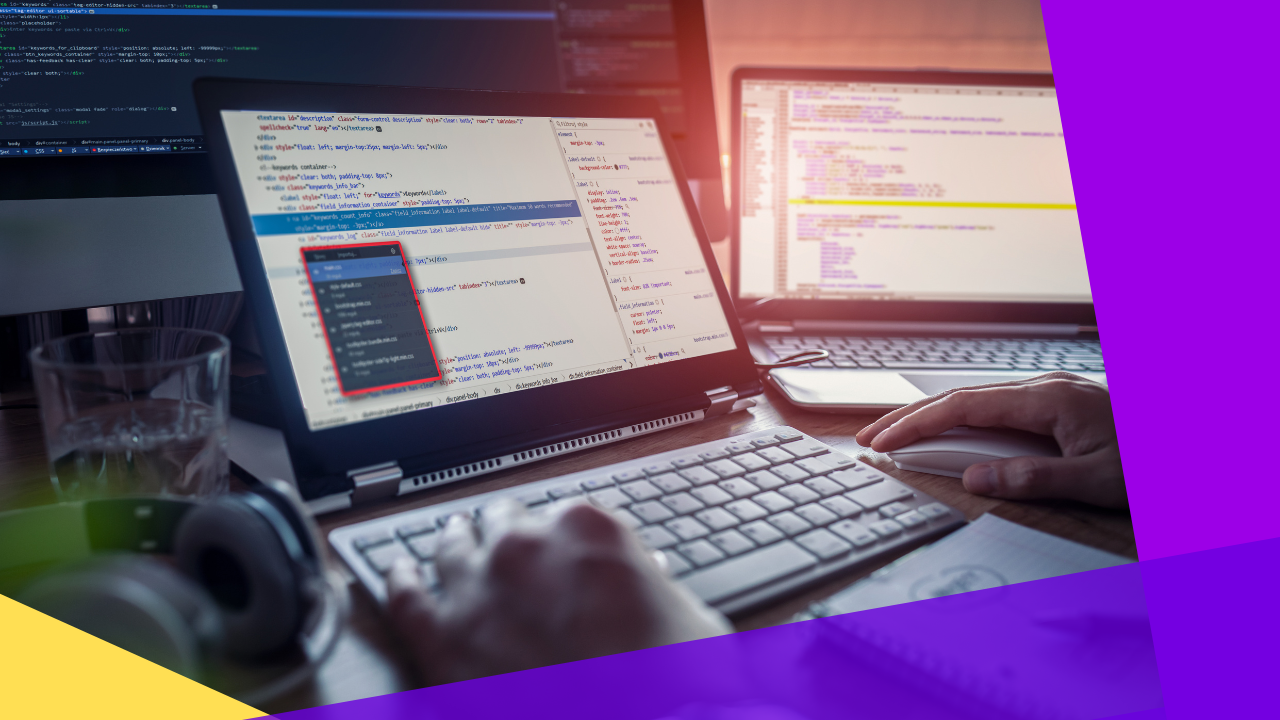 Technology has transformed how we do business by allowing us to streamline operations, enhance productivity, and connect with customers in a single source. 
However, with this increased dependence comes new risks and vulnerabilities that can jeopardize your operations, security, and reputation. 
Businesses face a complex and ever-evolving landscape of threats, including data breaches, cyber-attacks, technology failures, and system errors. 
Fortunately, technology insurance packages are now offered to safeguard against these risks and ensure the smooth functioning of operations.
This article will examine technology insurance, why you should invest in one, and its associated costs.
What is technology insurance?
Technology insurance is insurance that covers risks associated with technology and its related forms. It protects against losses from cyber threats, data breaches, and network liability.
Technology insurance is designed to protect companies that rely on technology to operate, whether for first-party or third-party providers.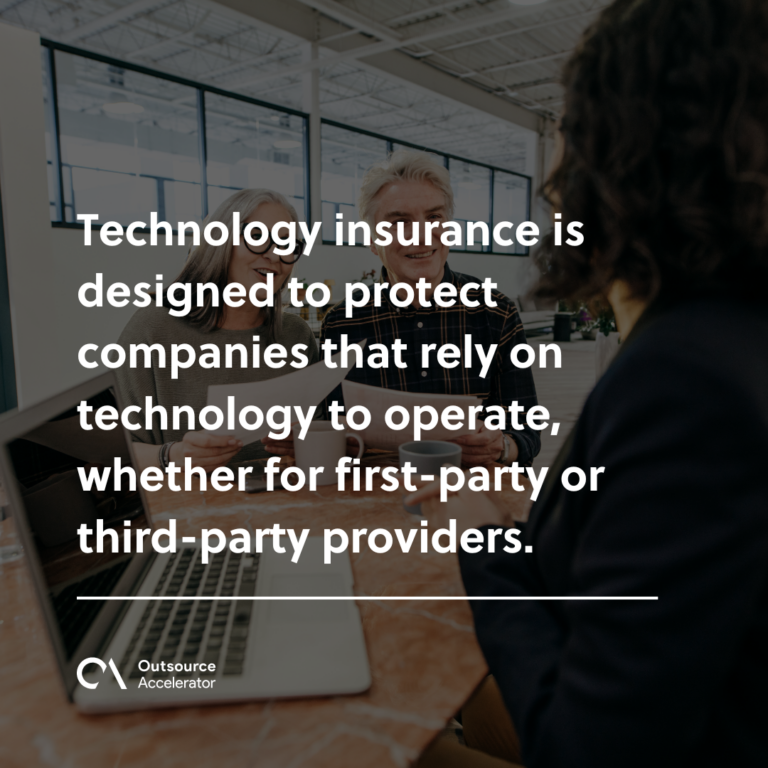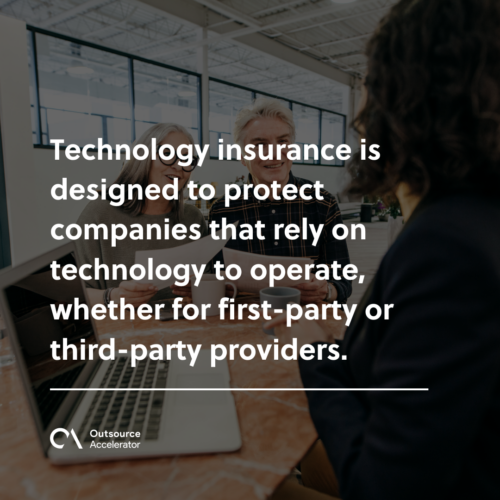 Who needs technology insurance?
Aside from tech companies, online firms and other organizations that rely on technology for their operations need technology insurance. This includes businesses dealing with sensitive customer information, such as financial details, email addresses, or medical records.
Whether you're a small startup or a large corporation, the risks associated with technology apply to everyone. Like in other business aspects, you must have a protection net against these risks.
Types of technology insurance your business needs
Several types of technology insurance are available depending on the business nature and the risks you face. 
Here are the most common types of technology insurance:
Data breach
Data breach insurance provides coverage for losses that may arise due to a data breach. This includes the expenses for notifying customers, credit monitoring, and legal fees.
The latest Cost of Data Breach by IBM and the Ponemon Institute reveals that the cost of a data breach increased by 2.6%, amounting to US$4.35 million. Data breaches can be costly, and having insurance in place can help protect your business from financial losses.
Your insurance company can help you respond quickly to a current or attempted breach through this type. It covers the costs you need in certain situations, including:
Replacing lost income due to the breach

Hiring a PR firm

Extortion, in case the hacker

demands a ransom

Offering monitoring services to victims
Tech errors and omissions (E&O)
Technology is not infallible, and errors or omissions in software development or IT services can have severe consequences for businesses and their clients.
The same Cost of Data Breach report states that human errors account for 21% of data breach reports.
Tech errors and omissions (E&O) insurance covers losses arising from errors or omissions in your services or products. This includes coverage for legal fees and damages in the following situations:
System glitches that caused clients to lose data

Errors in receiving orders or transfers

Failures in

cloud databases

Intellectual property issues
This is particularly crucial for businesses that provide technology-related services, such as software development or IT consulting.
Electronic vandalism
While most hacks are intentional and driven by monetary gains, a rising number of electronic vandalism cases only intend to destroy or put harm a company's system.
Electronic vandalism may come in different forms, such as denial of service attacks, malware attacks, and hacking of social media sites and other platforms.
While perpetrators won't steal money or information from you, this cybercrime may bring reputational damage from delays and interruptions in your operations.
This is what happened to FastCompany when their subscribers via Apple News were hit with obscene push notifications with slurs.
Electronic vandalism insurance provides coverage for losses that may arise due to electronic vandalism. This includes coverage for repairing or replacing damaged equipment and data recovery.
Fraud protection
Fraudulent attacks not only affect consumers. Business fraud gradually affects your operations in terms of the reliability and trust you give to your customers, staff, or third-party providers.
Fraud protection insurance covers losses from fraudulent activities, such as phishing scams or social engineering attacks.  It covers the costs of the steps you need to combat and prevent further fraud activities in your company, such as the following:
Investigating fraudulent activities

Reimbursing affected customers and parties

Defending against legal claims arising from fraudulent incidents
Contractual liability
Many businesses enter into contracts that require them to assume liability for certain technology-related risks.
For instance, you might experience delegating your functions to a fly-by-night service provider that compromises your data and website. Ultimately, you might get strikes for intellectual property with your customer information leaked at some point.
Contractual liability insurance provides coverage for losses that may arise due to a breach of contract. This includes coverage for legal fees and damages incurred by a client or third-party vendor.
General liability
While not specific to technology, general liability insurance is still fundamental for businesses.
This type of insurance covers losses from bodily injury or property damage due to technology-related incidents within company premises.
For example, general liability insurance would cover medical expenses and potential legal claims if a guest trips over a loose network cable and gets injured on your premises.
General liability insurance is still vital for tech businesses that operate in a physical location, such as hardware manufacturers.
Why you should invest in technology insurance
Here are four compelling reasons why you should consider investing in technology insurance.
Protection against financial losses
Technology insurance provides financial protection by covering the costs associated with data breaches, cyber-attacks, system failures, and other technology-related incidents.
This includes expenses such as forensic investigations, legal fees, notification costs, credit monitoring services, and potential fines or penalties.
By having the right coverage in place, businesses can minimize the financial impact of these incidents and ensure their continued operations.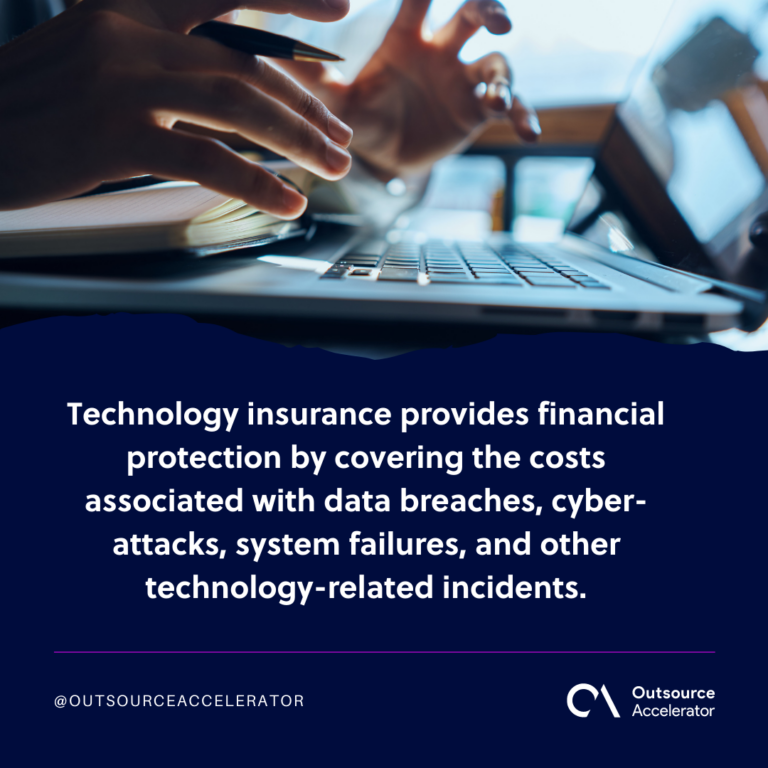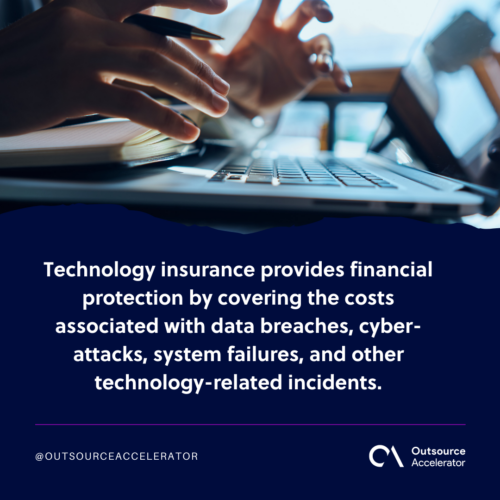 Protection against reputational damage
A technology-related incident can severely damage a business's reputation. A 2019 study revealed that 81% of customers would stop engaging in a company when a data breach occurs. You would not want to lose your customers with a single breach in your system.
Technology insurance often includes resources for reputation management and public relations to help businesses mitigate the negative impact on their brand image.
You can navigate these incidents effectively with a well-structured response plan and financial support. This helps you rebuild trust with their customers and safeguard their long-term reputation.
Compliance with regulations
The introduction of data protection regulations like the GDPR and HIPAA gives you a legal obligation to protect customer data and privacy. You might face significant fines and penalties for non-compliance, adding a burden to your operations.
A recent report by DLA Piper stated that data protection supervisory authorities had released at least US$1.74 billion in fines since 2022.
Technology insurance helps businesses meet their legal obligations by covering the costs of compliance efforts, data breach notification requirements, and necessary requirements to follow compliance.
It gives you the assurance you have the necessary financial support to navigate the complex landscape of data protection regulations.
Business continuity
Technology incidents can disrupt business operations and lead to significant downtime. ITIC's 2022 Cost of Downtime Survey revealed that over 91% of small businesses say a single hour of downtime costs over $300,000.
Technology insurance covers business interruption costs, allowing you to swiftly recover and resume normal operations. It provides financial support for restoring systems, recovering data, and implementing necessary security measures to prevent future incidents.
By minimizing downtime, you can lessen interruptions in your operations, minimizing delays in your functions and ensuring business continuity.
Technology insurance costs
Technology insurance costs will depend on several factors, such as the type of insurance you need, the number of your employees, and the risks you face. 
Comprehensive technology insurance can be great for medium firms and large enterprises that can afford them. However, for small businesses, you can choose which type of insurance fits your operations and invest in it.
For insight, here are the sample costs of each type of technology insurance.
| | |
| --- | --- |
| Insurance type | Average annual cost range |
| All-in comprehensive coverage | US$3,135.00 |
| Data breach | US$1,740.00 |
| Tech errors and omissions (E&O) | US$340.00 – US$1,000.00 |
| Electronic vandalism | US$1,740.00 |
| Fraud protection | US$25.00 – US$60.00* |
| Contractual liability | US$1,740.00 |
| General liability | US$340.00 |
*Average cost for identity theft insurance
Sources: InsureOn, TechInsure, Hartford
Technology insurance protects your operations
In conclusion, technology insurance is a necessity in today's business landscape. It serves as a powerful shield that protects your operations from the ever-present risks associated with the digital world.
With the diverse range of coverage options available, businesses can tailor their technology insurance to meet their specific needs and mitigate the unique risks they face.
Technology insurance provides a comprehensive solution to safeguard your operations. It helps companies by protecting against data breaches, defending against electronic vandalism, mitigating fraud risks, or ensuring general liability coverage.
With technology insurance, you demonstrate a commitment to your business's long-term success and resilience. It allows you to navigate the digital landscape, knowing you are prepared to handle the challenges and threats in today's world.