How technical support outsourcing benefits businesses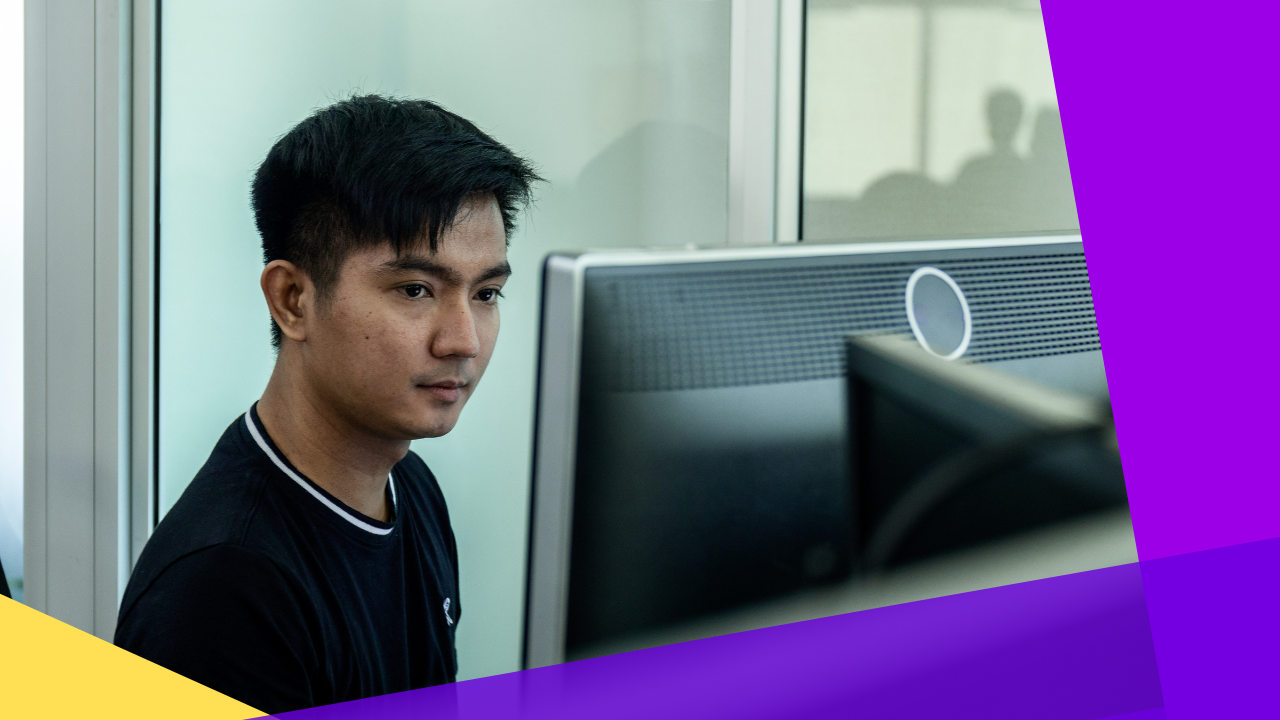 Technical support teams are essential to many businesses — enhancing a company's capabilities, increasing customer satisfaction, and generally ensuring that business operations run as efficiently as possible.
Technical support is indispensable to companies as this is the first line of support that customers will come into contact with when issues arise.
However, not all companies have the resources to run an entire team of technical support staff. They may lack office spaces, necessary training, or human resources. This is a business gap that outsourcing companies fill – by offering technical support outsourcing services.
Outsourcing companies provide other, often overseas, companies with well-trained staff and fully equipped offices ready to meet what they're missing, including technical support staff.
What does technical support outsourcing mean?
Technical support outsourcing is the practice of delegating technical tasks to third-party organizations or outsourcing tech support teams.
Companies can turn to either onshore, nearshore, or offshore service providers for technical support outsourcing, but the latter has become the standard go-to.
These offshore staff are often from countries with a lower cost of living than the hiring company's home country. Among the most popular countries for outsourcing are India, Malaysia, and the Philippines.
Technical support services, or outsourcing in general, were once only utilized as a tactical solution. However, companies have now turned it into a common practice for reducing costs and streamlining customer service.
Companies that outsource technical support from cheaper vendors receive low-quality services often. Meanwhile, Cloudstaff can help you get the most out of your uptime and provide you with a more affordable option without compromising the quality of its service.
Additionally, they provide resources focusing on preventive maintenance, upgrades, and monitoring.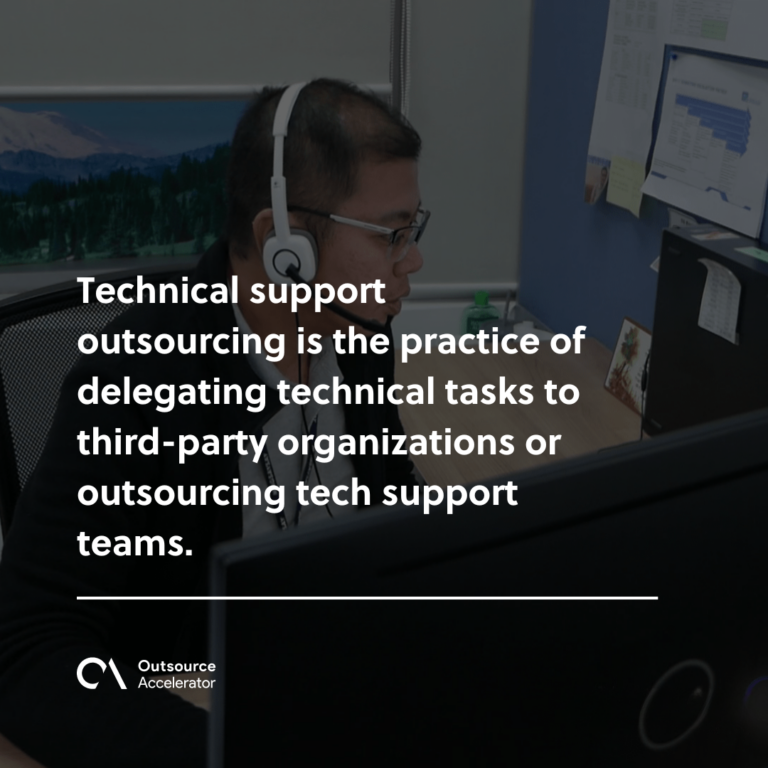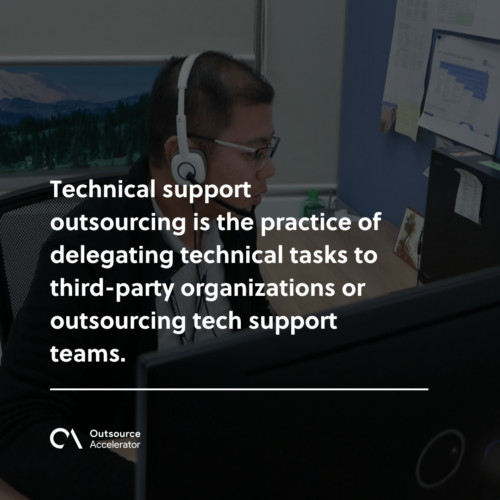 Technical support outsourcing: Pros
Here are the following Pros of technical support outsourcing:
1. Cost reduction
According to Time Doctor, the average annual salary for an IT professional is $62,000. You can avoid incurring this expense altogether by outsourcing your technical assistance.
Outsourcing to low-cost countries such as India and the Philippines may be a smart choice when you have people-centric technical support. 
Moreover, you will not have to manage all of these responsibilities independently, allowing you to focus on other critical company procedures. You will also not be responsible for day-to-day operational expenses such as energy, internet, or office space leasing for your agents.
2. Access to 24/7 support and global talent
Outsourcing technical support gives companies access to globally competitive staff available around the clock.
These outsourced companies also often employ staff on a 24-hour rotational basis. This shifting schedule ensures that the clients they're catering to have access to third-party technical support teams they can call at their convenience and leisure.
Additionally, offshore outsourcing gains companies the advantage of having multilingual staff sans the training expenses.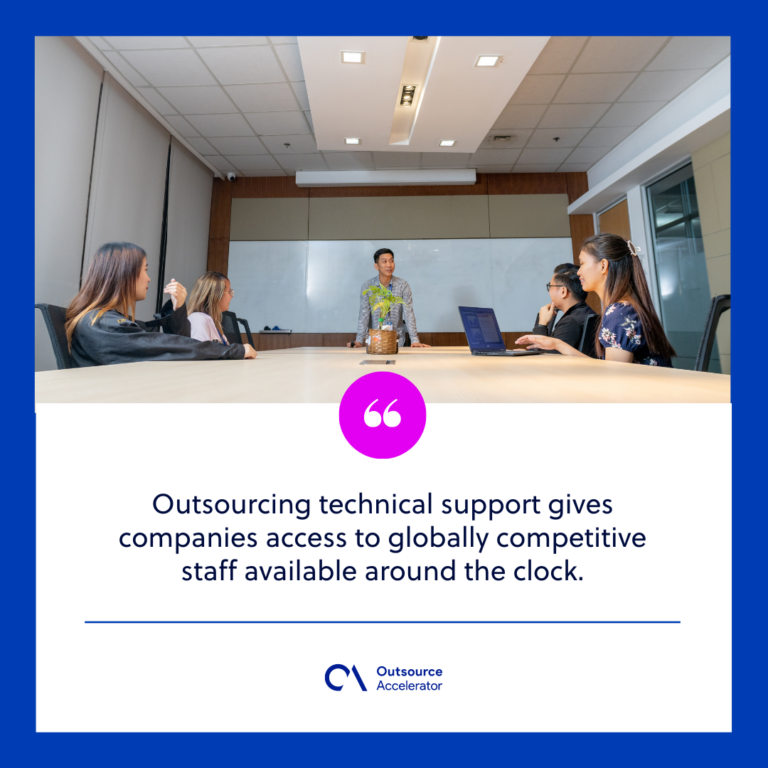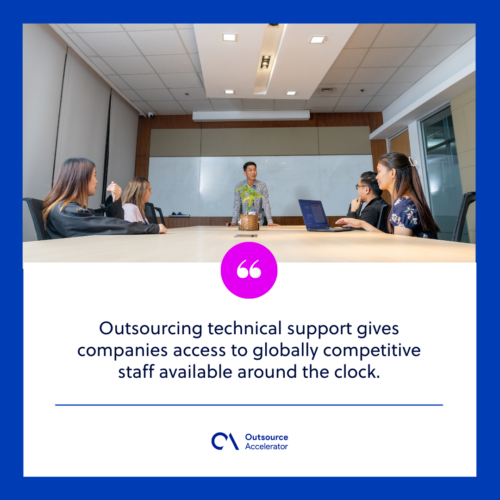 3. Effortless scaling
Expanding businesses require access to a large talent pool with the necessary skills and experience. Most companies lack the resources – often time or money – to scale up independently.
Outsourcing technical support is a proven solution for efficiently scaling up or down as needed. Increasing or decreasing the number of staff via outsourcing companies saves the outsourcer from the hassle and additional costs that scaling incurs.
4. Improved customer satisfaction
By gaining access to a pool of well-trained and equipped technical support staff, companies that outsource their technical support services can provide their customers with a better experience.
Outsourcing companies ensure that the agents they provide their clients can consistently deliver quality service to their customers. These tech support agents possess the necessary skills and experience to quickly and effectively troubleshoot client issues.
Moreover, outsourcing companies spare these customers from the usually long wait times associated with companies employing in-house support staff.
5. Access to advanced technology
Outsourcing companies also offer their offshore clients offices equipped with the latest technology for more efficient and cost-effective operations.
Access to these tech-furnished offices further decreases the operational costs of outsourcers as they no longer need to purchase otherwise expensive equipment.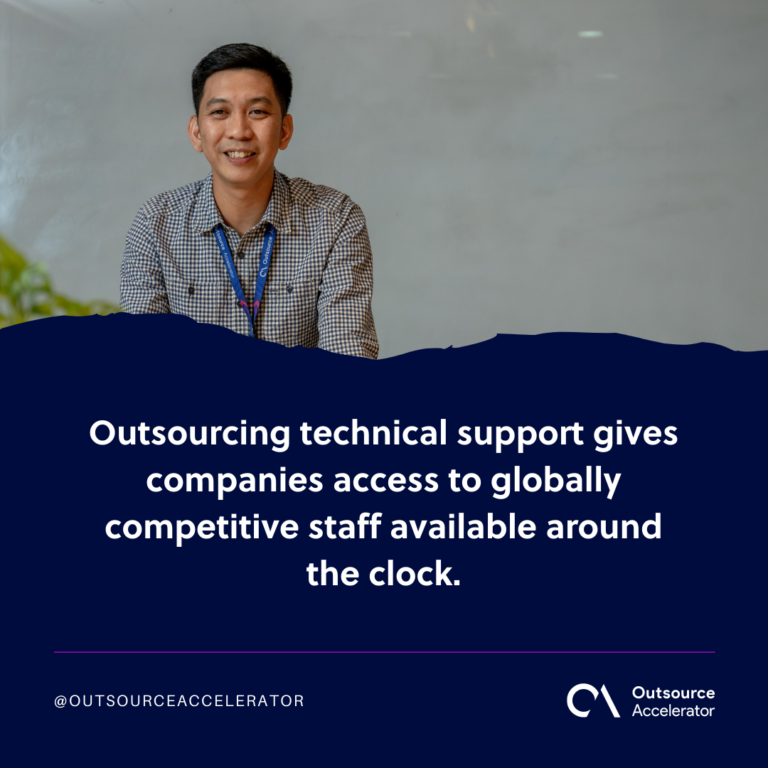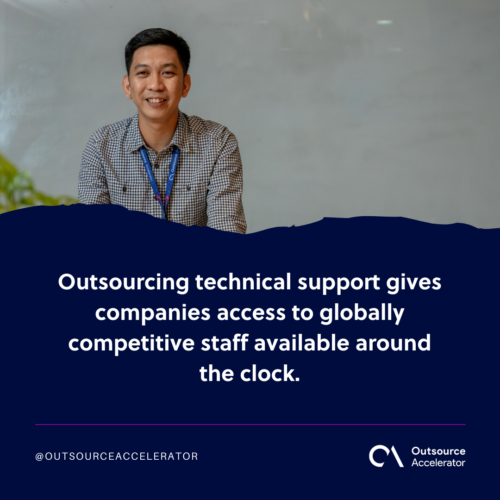 5 most important things to consider before outsourcing technical support
Deciding to outsource your company's technical support staff is not a light decision. As such, there are essential elements you should consider before jumping in.
1. Look at track records
It's important to double-check the reviews and records of an outsourcing company before choosing to outsource from them.
Going over their track record will allow you to glimpse the company's nature and the types of projects they have previously worked on or are still working on.
You can also check on their former and current clients to verify the validity of their records and gain more insight into the benefits of working with a particular company.
2. Have plenty of options
Maintaining a good number of outsourcing company options is a good practice when deciding which one you'll work with.
Doing market research regarding technical support outsourcing will give you an idea of the current market rate. Doing this will help you choose an outsourcing company that can provide you with the best value for your money.
3. Check technological compatibility
Having access to good software and hardware is essential for any technical support staff to achieve desirable results. That's why you need to know what kind of technology an outsourcing company has to offer before doing business with them.
Likewise, infrastructure built to accommodate both the staff and the equipment they'll need is also important.
4. Go over security and legal issues
Your technical support team will undoubtedly handle customer data and other sensitive company information.
Thus, you'll need to ensure that your partner outsourcing company has strong data security and confidentiality protocols to prevent a data breach and other technical issues.
It's also imperative to have your legal team, or an independent one, go over the outsourcing company's security, confidentiality, and legal procedures.
5. Define your budget
Last but not least is budget allocation. Allotting the needed budget is a crucial aspect of any business decision-making.
While browsing through the outsourcing market will give you plenty of options to choose from, not all of those will fit your finances.
It's important to know first how much you'll be willing and able to spend on outsourcing tech support to narrow down your list of options. As said earlier, conducting market research can help you hire the best third-party service provider.