Why your business needs a technical advisor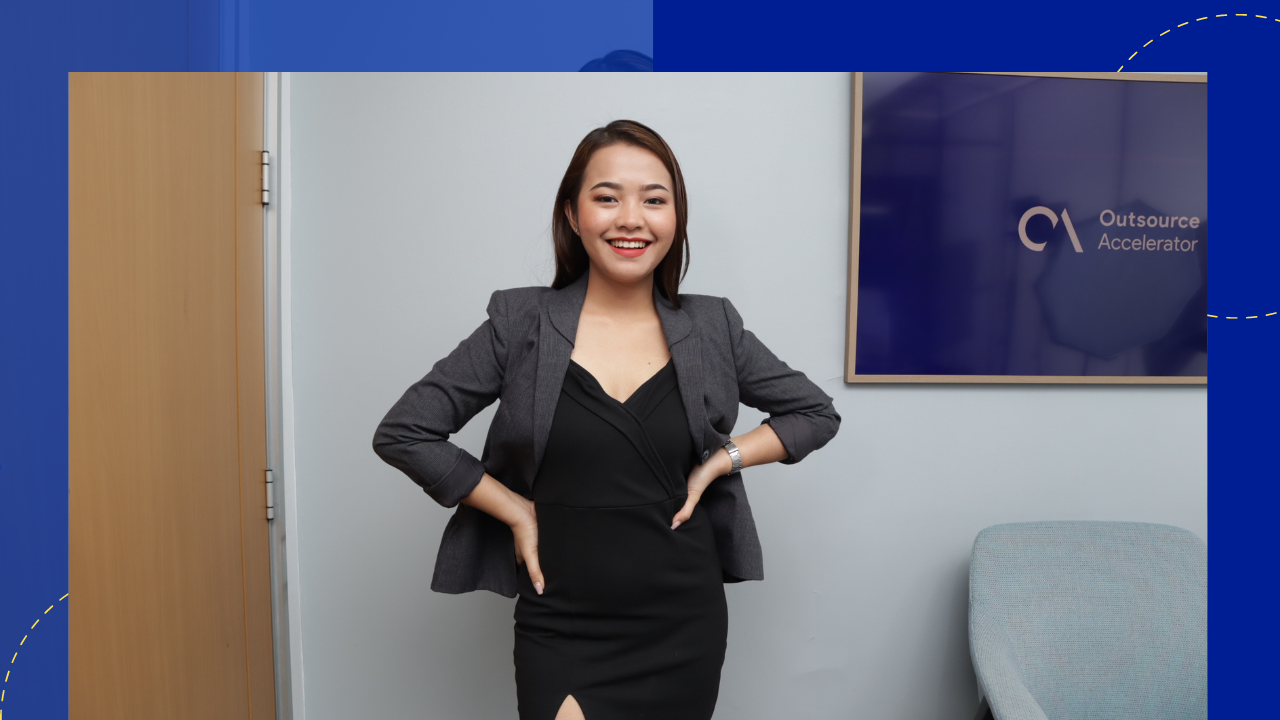 It's becoming increasingly apparent that technology has become a crucial aspect of running a successful business. From managing data to developing software, technology is an integral part of any organization. 
However, not every company has the expertise or resources to handle technical challenges. A strong technical foundation is needed to navigate the complex world of technology and stay ahead of the competition.
That's where a technical advisor comes in. 
Let's explore why businesses need technical advisors, what they do, and how you can find and choose the right one.
What does a technical advisor do?
A technical advisor, also known as a technical consultant, is a technology expert who provides guidance and advice to businesses. 
Technical advisors play a crucial role in helping organizations make informed decisions regarding their technical infrastructure, systems, and processes. In the most basic sense, their core function is to identify technical problems, develop solutions, and implement them. 
Furthermore, their primary goal is to ensure that a business's technical operations align with its overall objectives and contribute to its growth and success.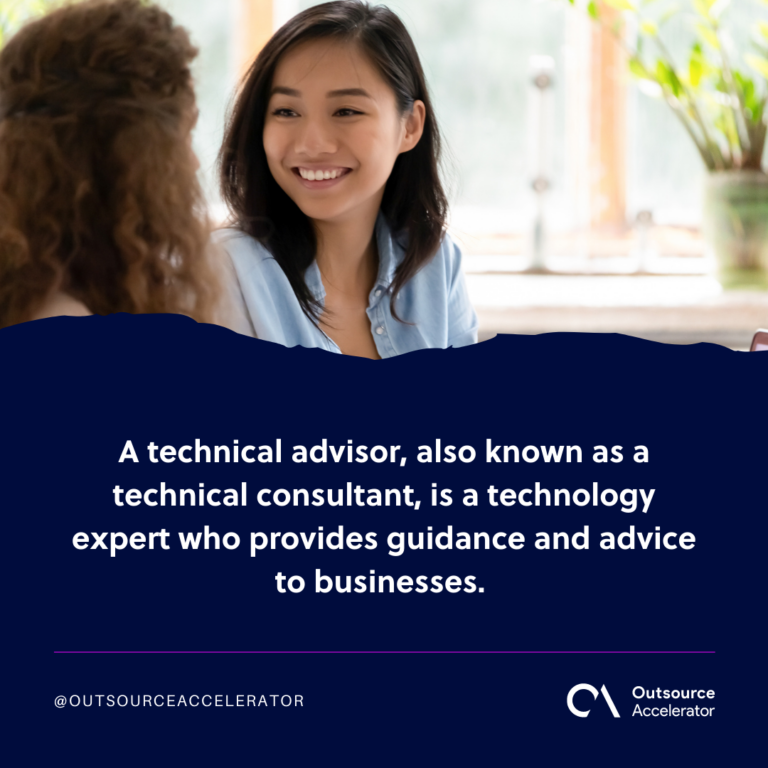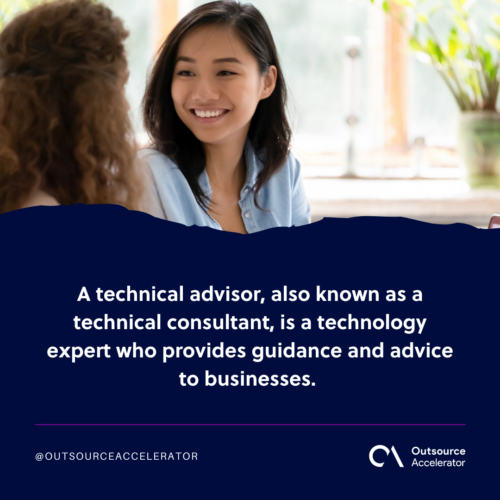 Duties and responsibilities of a technical advisor
A technical advisor's responsibilities may vary depending on the enterprise. Some of the common duties include:
Reviewing and evaluating existing technology infrastructure and identifying areas for improvement

Developing and implementing technology strategies and plans for employees and customer use

Providing guidance on software development, data management, and cybersecurity

Researching emerging technologies and coming up with new solutions

Troubleshooting issues related to equipment and other technologies and fixing them as needed

Liaising and collaborating with other departments to ensure technology aligns with business goals

Providing training and support to employees on new technology implementations
Qualities of a good technical advisor
Now that we have an idea of what a technical advisor is, let's talk about the qualities you should look for when finding a competent one. 
Some of the essential qualities of a good technical advisor include:
Technical expertise
A deep understanding of the latest technologies and trends is needed to fill the role of an excellent technical advisor. 
These specialists should be able to provide expert guidance on software development, data management, and cybersecurity.
Communication skills
A good technical advisor can communicate complex technical concepts in a way anyone can understand. Being able to explain technical issues and solutions in simple terms is a must.
Analytical thinking
Technical advisors analyze complex data and identify patterns and trends. They use their analytical skills to develop insights and make informed decisions that will allow the business to achieve its objectives.
Problem-solving skills
Technical advisors can identify technical problems and develop effective solutions. They are creative thinkers that find innovative solutions to complex problems. 
Business development skills
A technical advisor is someone who is adaptable and open to new ideas — as technology is constantly evolving. They embrace change and are quick to learn about updates in technology and trends. 
Having good business acumen lets technical advisors proactively seek opportunities to leverage technological advancements for the organization's benefit.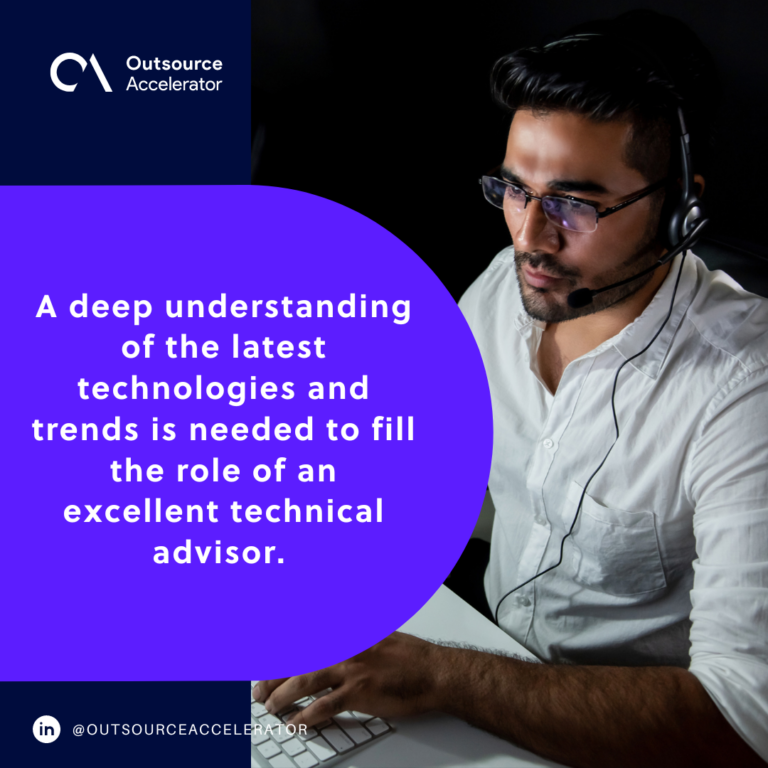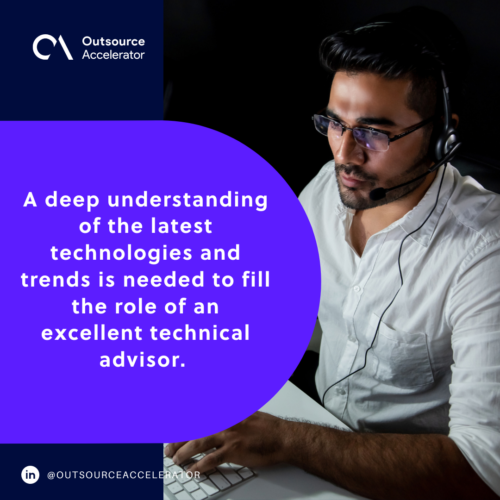 Benefits of having a technical advisor
There are several benefits to having a technical advisor in an organization. Some of the key advantages include:
Improved efficiency
A technical advisor helps streamline technology infrastructure, making it more efficient and effective. This is because they can identify specific areas for improvement and generate solutions that improve productivity and reduce costs.
Enhanced security
An effective technical advisor will help protect your company from cyber threats by developing and implementing robust cybersecurity measures. 
Technical advisors have the ability to identify vulnerabilities in your system and provide solutions to mitigate risks.
Increased innovation
A technical advisor allows your business to stay ahead of the curve by identifying emerging technologies and recommending new solutions. Their expertise facilitates the leveraging of technology to drive innovation and improve your competitive advantage.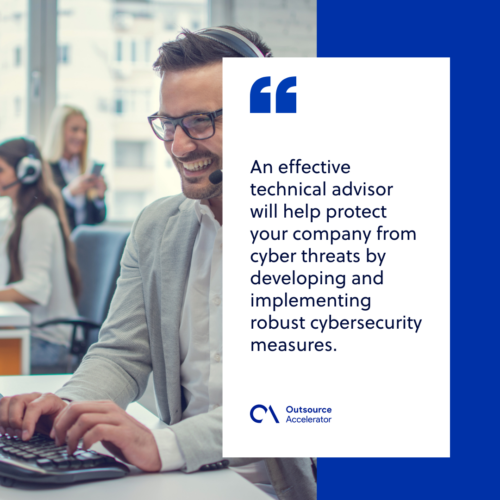 How to find a technical advisor
Employing the right technical advisor for your organization can be challenging. To find the right candidate, here are some tips you can consider:
Define your needs
Determining your organization's needs is important before starting your search. What specific technical challenges do you need help with? What skills and expertise are you looking for in a technical advisor?
Look for experience and recommendations
Look for a technical advisor with a proven track record of success. They should have experience working with firms similar to yours and have a deep understanding of your industry. 
You can also ask for recommendations from trusted enterprises that share a similar way of operating with your company.
Check references
Before hiring a technical advisor, be sure to check their references. Talk to their previous clients and ask about their experience with the advisor.
Consider cultural fit
The technical advisor will be working closely with your team, so it's essential to consider their compatibility with your company. Look for someone who shares your organization's values and has a collaborative working style.
Ultimately, a technical advisor is a valuable asset to any business. Their expertise will help you navigate complex technical challenges, optimize operations, and drive growth.
Now that you understand more about what a technical advisor is and its benefits, you can find the right partner to take your business to new heights.