Strategic staffing with Eclaro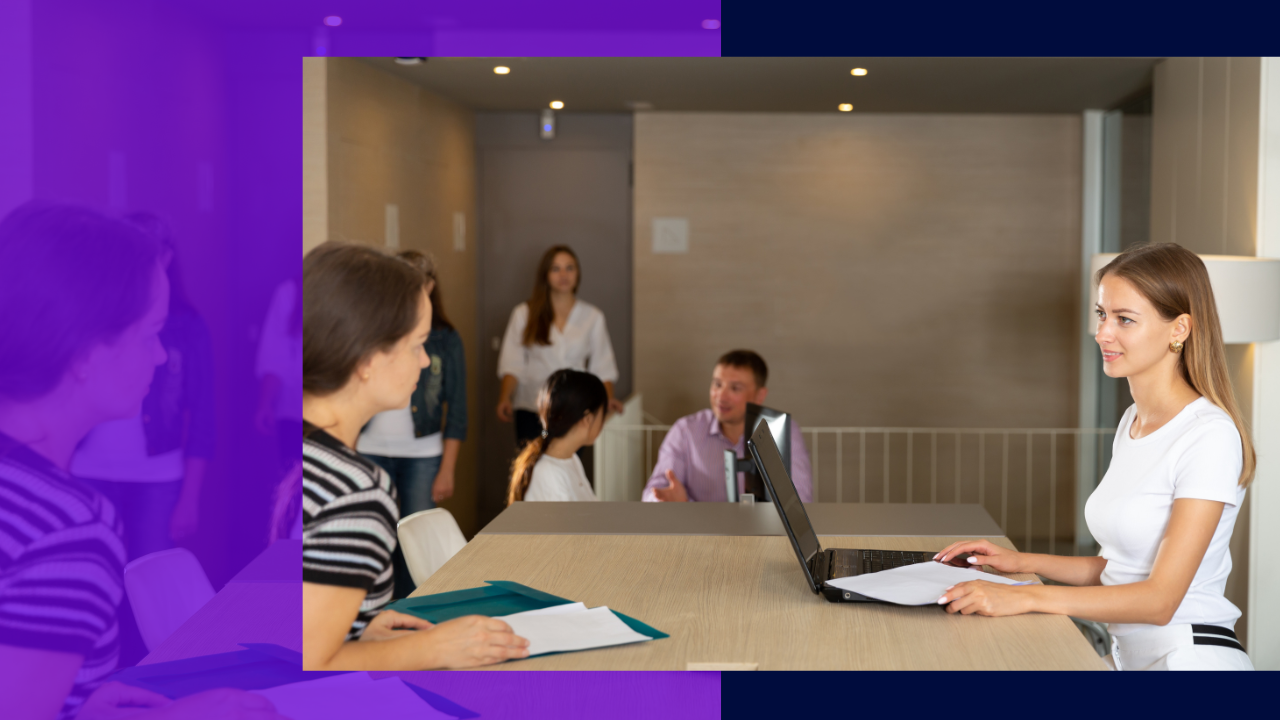 The landscape of work has changed. After a series of world-shifting events, people have begun to realize how much their job means to them and whether or not they fit in. 
A 2022 report by Gartner predicted that the number of US employees who voluntarily quit their jobs would jump nearly 20%, estimating about 37.4 million would leave.
The report addresses misalignment with leaders and flexibility as employees' major issues for quitting. Nowadays, recruiters need a more calculated approach to hiring. Strategic staffing can fulfill this requirement.
Strategic staffing determines where your organization's needs lie, then using that information to decide who should fill those roles. 
It requires understanding how people relate to one another, what each can contribute, and when they're most likely to do so. 
With strategic staffing, you do more than hire a person to fill a role. It also identifies your business's key factors, analyzes them, and develops strategies to address them. 
If you're looking for a firm specializing in this recruiting method, Eclaro is a leading global staffing provider with extensive experience supplementing teams with top talent. 
How strategic staffing works
The most essential component of strategic staffing, especially when recruiting with third-party firms, is collaboration to understand your company culture. 
Each firm may have a technique that works for them, but here are some common steps:

Establish your current people landscape
Before you start filling vacancies, take note of what you're working with. Take stock of all your employee's skills, talents, and experiences. 
You'll want to know what they do well, how they work best, and where their capabilities align with your business needs. 
Strategic staffing also considers what kind of workplace dynamics you currently have. If you're outsourcing this function, a firm that takes time to understand your culture is invaluable. 
This information will be used to craft branding ideas to attract the right talent.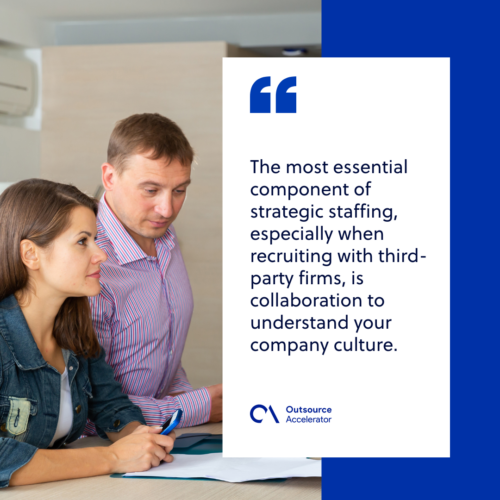 Determine the organization's functional needs
Determining your functional needs (for your IT, sales, or finance departments, for example) is a critical approach in strategic staffing. It identifies the gaps between your present capabilities and what you need to accomplish. 
To pinpoint your functional needs, strategic staffing teams ask these questions:
What are the strengths and vulnerabilities of your current team? What do you need to change?

What are your long-term goals? How can you best align with these goals? 

How will new hires affect your culture and existing team? What differences should you expect when bringing new people on board? 
Create a clear assessment plan
Assessment plans enable you to make strategic staffing decisions based on valid and reliable data. Outsourcing firms also have them serve the dual purpose of outlining adherence to relevant laws and regulations. 
They can include: 
Job descriptions per position

Required proficiencies  

Information-gathering

methods and tools

(e.g., interviews, tests, software)

Assessment interpretation steps



Improving effectiveness with strategic staffing
As companies seek to become more agile, innovative, and competitive, they must quickly adapt their workforce to meet changing needs and a changing workplace. 
Strategic staffing helps organizations to: 
Adapt quickly

– companies can quickly bring in new team members with the right skills and experience when needed. This enables quick reactions when shifting market conditions require new capabilities or technologies.

Build strong teams

– strategic staffing is used to build high-performing teams of employees with complementary skills and experience. These teams can work together effectively as they tackle complex initiatives or projects. 

Make better decisions –

the right people in the right roles can help businesses make better decisions that lead to sustainable growth and profitability over time.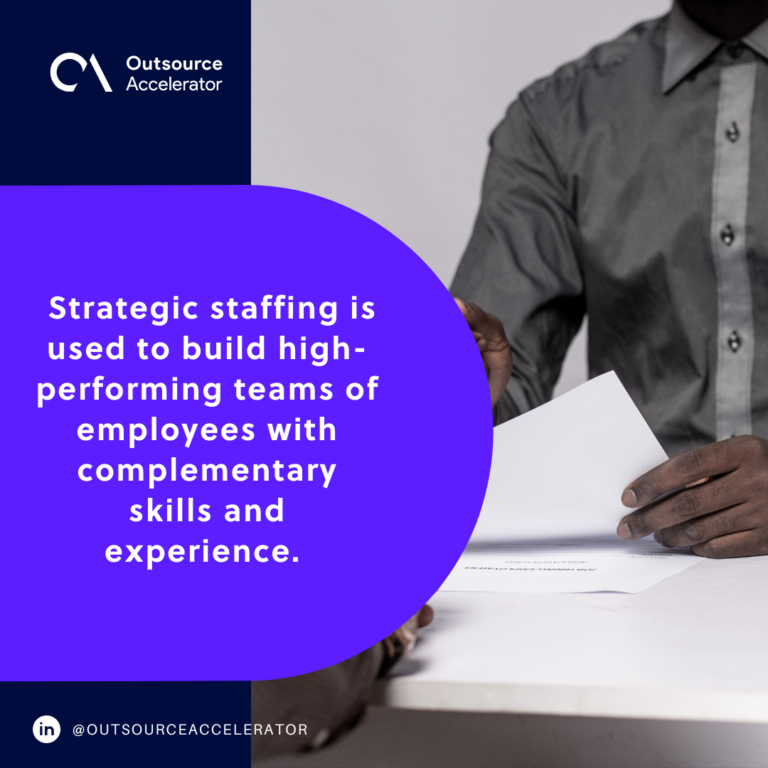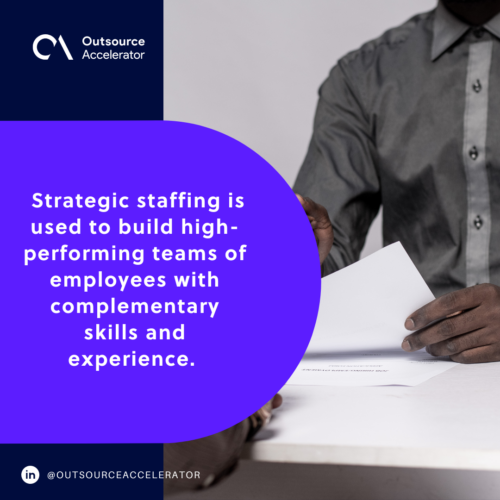 Evolving strategic staffing
Outsourcing recruitment functions has become a viable alternative to finding suitable candidates for your needs. 
Recruitment isn't just a wild stab in the dark anymore. The most comprehensive sourcing deeply understands your culture, needs, and expectations. 
With the rise and implementation of AI in various industries, strategic staffing has also found a place for it as well. Outsourcing firms like Eclaro pair these technologies with their proprietary databases of candidates to find the best fit for your organization.
These databases pipeline employee prospects for both hard-to-find and frequently sourced roles. Contact an outsourcing provider if you want the convenience and long-term benefits of strategic staffing.