What is a staffing agency? Plus other factors you need to know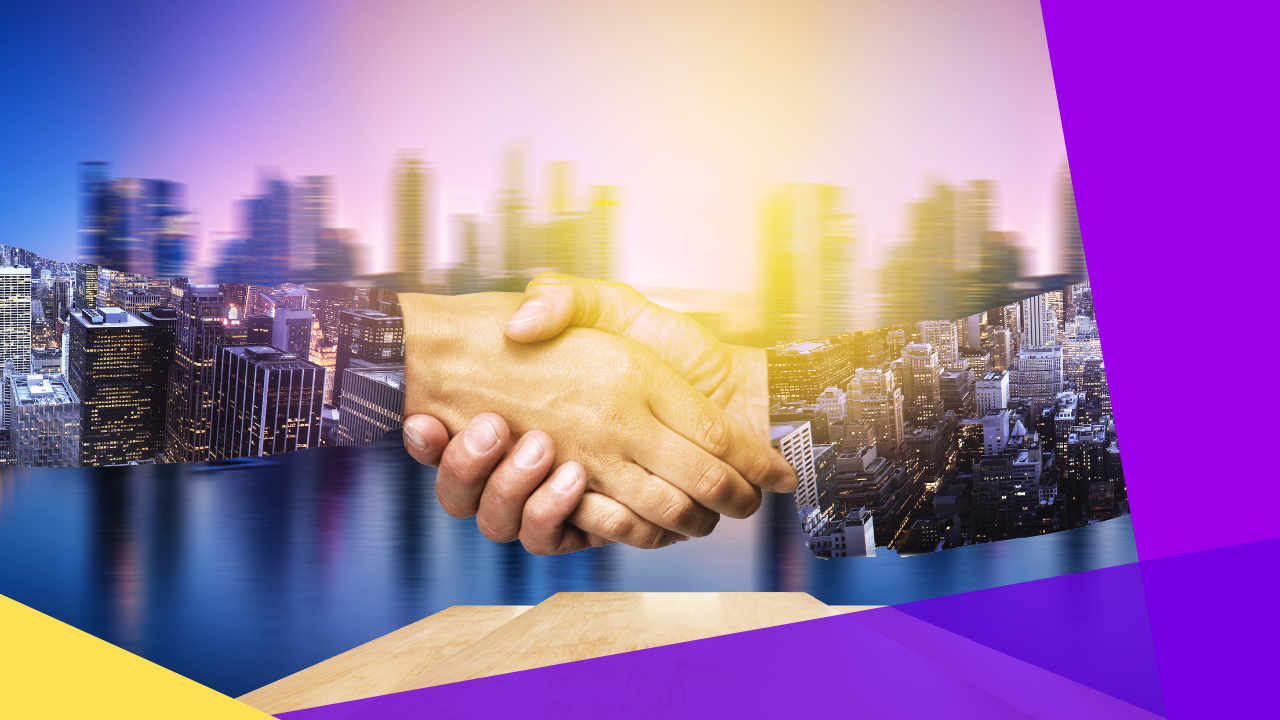 Your employees are your best asset. Without them, your business will not be fully functional or successful. This is why it is very important to hire the right people that suit your type of business and requirements. Having an ideal workforce will definitely take your organization to new heights. 
In terms of recruiting and hiring the right candidates, it can be a long tedious process. Staffing, if done incorrectly will result in time and money lost. Worse case, it may also cause you to lose your reputation. 
Given today's outsourcing practice, organizations are also given the opportunity to outsource to a staffing agency. But what is a staffing agency? What can it bring to your table?
More so, how can you find the best staffing agency in the market? 
A quick overview: What is a staffing agency?
Outsourcing to a staffing agency means that you are delegating your recruitment and hiring processes to a third-party company. Your chosen staffing agency will be responsible for fulfilling your hiring requirements according to the role and skills you need.  
When you outsource your staffing and recruiting, you let expert professionals with experience to find the right talents for your business.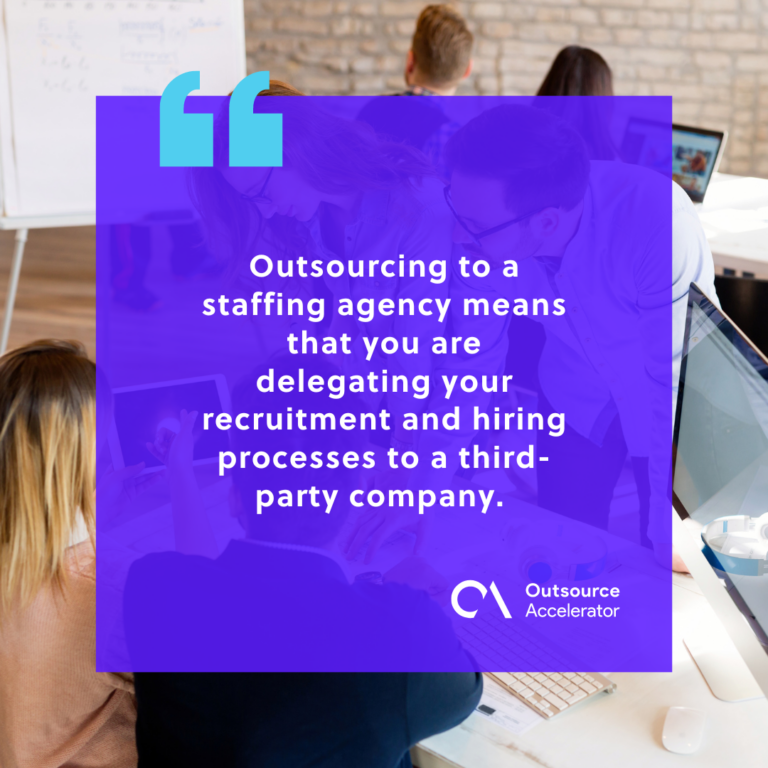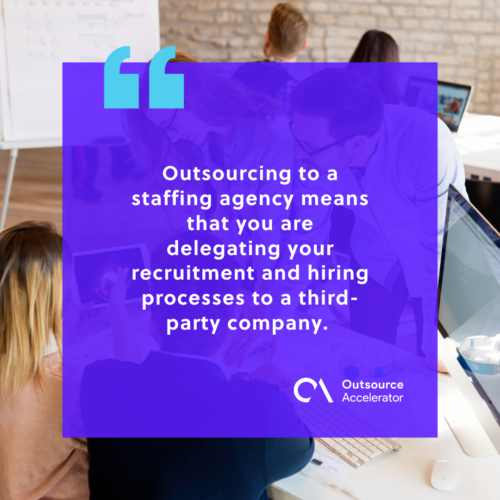 Perks of outsourcing to a staffing agency
A recent study performed by Grand View Research found that the Recruitment Process Outsourcing industry (RPO) was valued at $5.48 billion USD in 2019. It is also seen to reach a growth rate of 18.5% from 2020 to 2027. 
Further, the entire recruitment process requires extensive labor. Outsourcing to a staffing agency helps you and your HR to be free from this administrative function.
In addition, RPO has the following perks:  
Cost reduction
Companies mainly outsource to be able to save on costs. There is a significant difference in expenditures when you outsource than actually hiring and training employees.
Your busy HR team will not be required to pay for recruitment ads or go through long hours of interviewing potential hires. 
Flexibility
Outsourcing staffing services comes in very handy whenever you need it. Meaning, it helps you get a hold of temporary workers while not requiring the financial commitment of having full-time staff. 
Outsourcing lets you easily expand or reduce your workforce according to the volume of work your daily operations require. 
Hire better talents
Staffing agencies have various resources to help you find the best candidate to fulfill your staffing needs.
Besides saving on costs, outsourcing lets you work with well skilled and experienced recruiters.  
Focus on core business
Outsourcing your recruitment process lets your human resource team focus on much more important tasks. It lets your in-house team continue with their daily tasks to run your business operations without any distraction. 
Competitive edge
Outsourcing to a staffing agency gives you access to a larger pool of highly qualified candidates. Being able to hire seasoned talents ultimately gives you a competitive advantage in the market industry.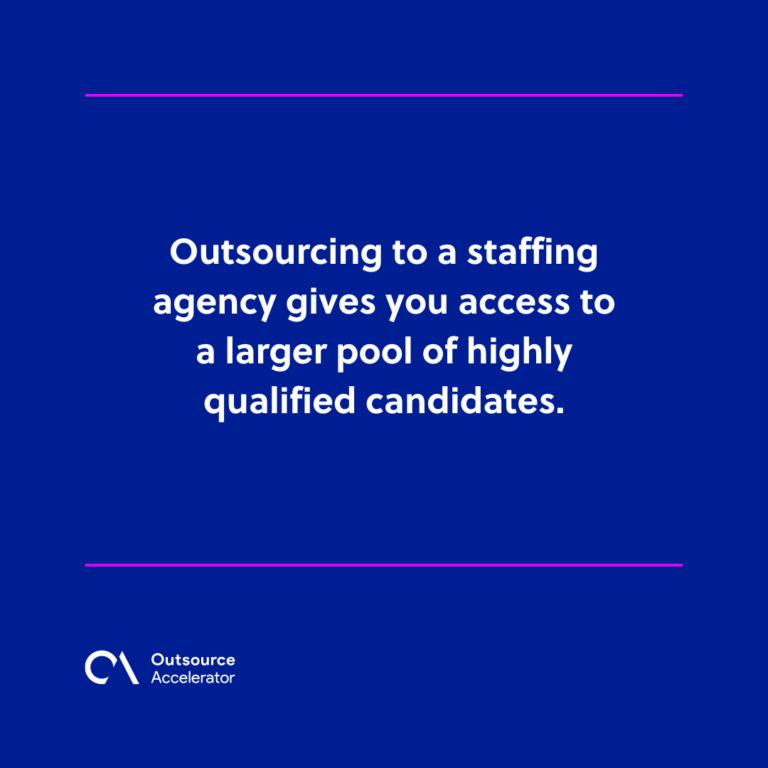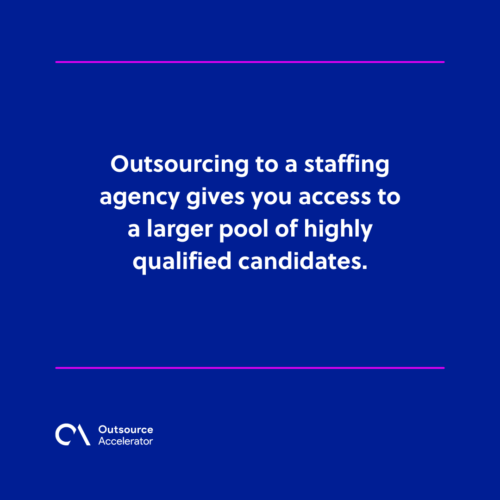 Factors to consider when outsourcing to a staffing agency
Of course selecting the right staffing agency to partner with is crucial in outsourcing. There are thousands of outsourcing providers available in the business world. 
To help you make a decision, here are some factors you need to consider:
Services offered
Not all staffing agencies offer the same services. Some have a wider range of services from sourcing, interviewing, screening and assessment. Others, on the other hand, are more strategic in terms of company culture and branding.
It is best that you look for a provider that fits your type of staffing requirements.   
Recruitment process
Check how they perform their recruitment process. More so, what technologies do they utilize in the processes? Are they similar to what your company is making use of? Are they familiar with Applicant Tracking Systems (APS)? 
Job advertising and marketing strategies
See how they market and advertise jobs for their clients. Do they have their own marketing resources or are you required to use yours? You should also check whether they make use of social media marketing or search engines. 
Metrics and reporting
Some staffing outsourcing providers provide reporting and metrics. Get to know how frequently they provide it, including the kind of reporting they do.
The success of your recruitment processes can't be measured if the staffing agency doesn't provide reporting and metrics on their performance. 
Candidate experience 
It is also essential to determine the kind of recruitment experience staffing agencies will provide. Take note that if potential candidates are not treated well it will greatly impact your employer branding.
You are also risking the possibility of hiring highly qualified candidates to help you grow your business. 
For your staffing outsourcing needs, you may check out our BPO directory to help you look for the best BPO provider for your organization. We currently have over 700+ BPO companies listed in our directory!