The best nearshore software development destinations for Australian companies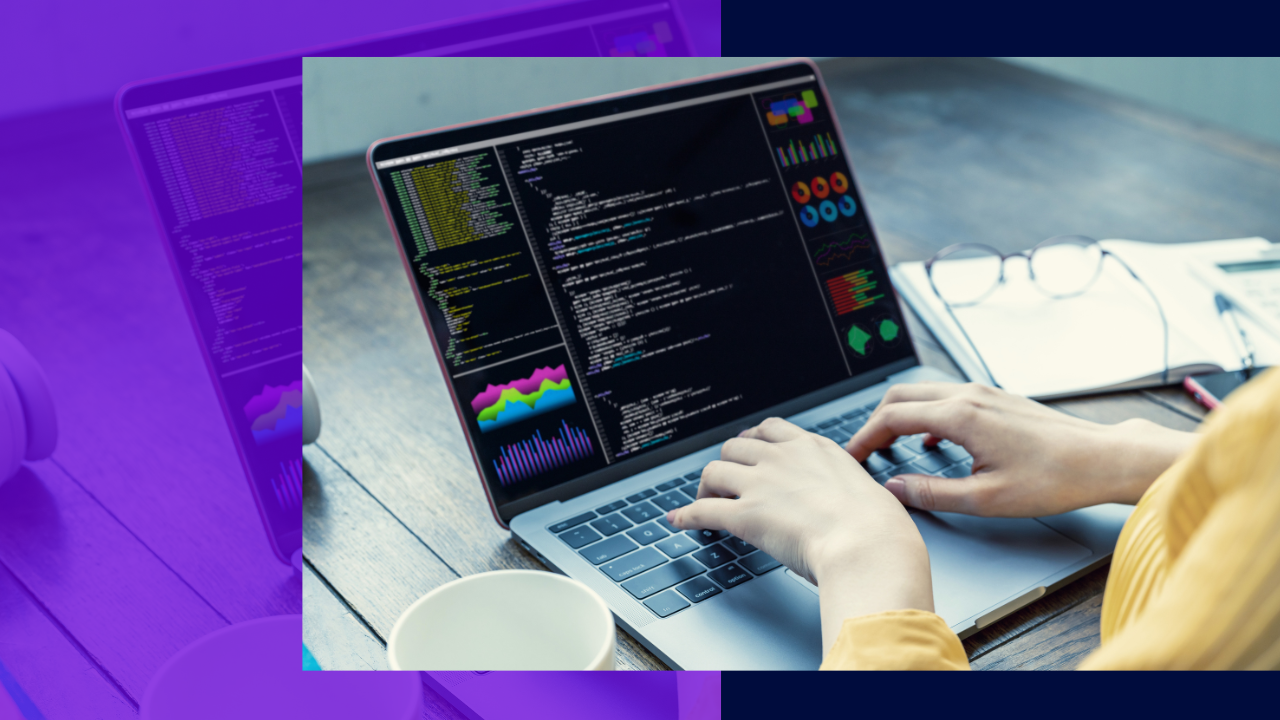 Australian companies that strive to innovate and improve their software development processes look for creative solutions when hiring software developers.
Nearshore software development has emerged as a viable option due to its numerous advantages, especially in the wake of the COVID-19 global pandemic.
Let's delve into the top nearshore software development destinations for Australian companies. But first, let's understand what nearshore software development entails.
Understanding nearshore software development
Nearshore software development involves outsourcing software development projects or roles to nearby countries or regions.
For Australian firms, nearshore destinations would usually be in the Asia Pacific region.
Nearshoring combines the benefits of offshoring and onshoring. This approach offers businesses cost efficiency and convenience. It does so without significant time zone and communication barriers.
This growing trend of remote collaboration allows Australian companies to thrive on a global scale.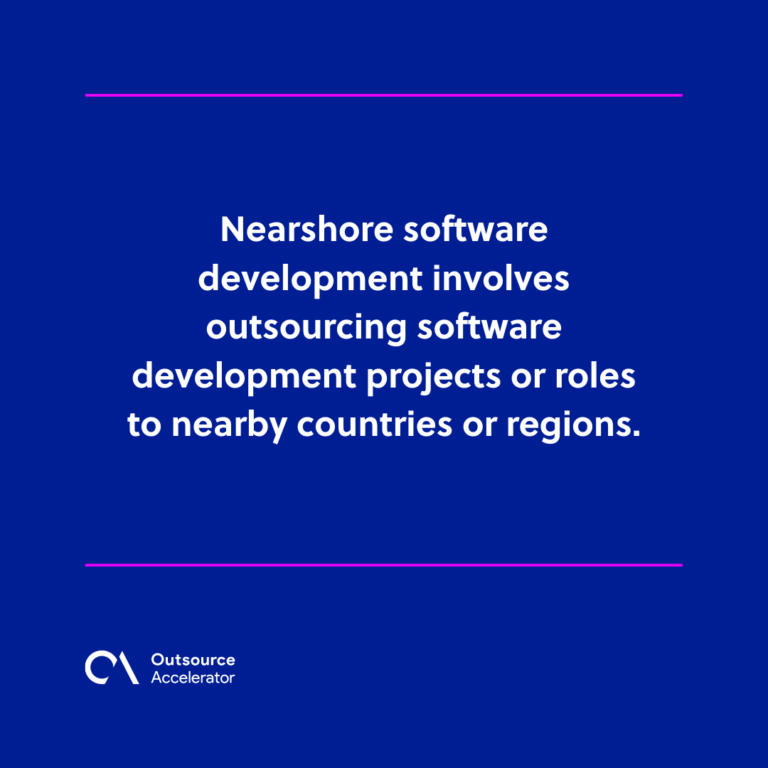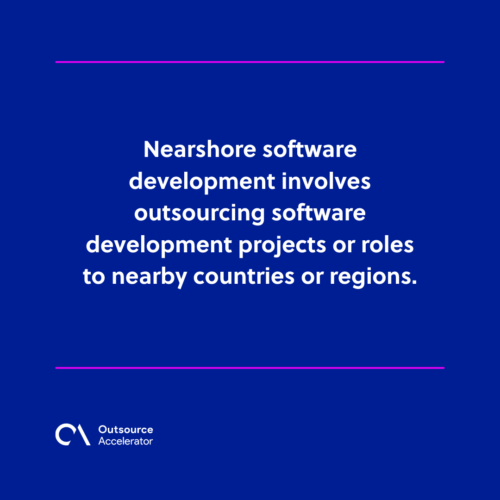 Criteria for selecting nearshore software development destinations
Australian organizations must carefully evaluate various factors when choosing the right nearby software development destinations. 
Here are some essential criteria to consider during the decision-making process:
Proximity to Australia and time zone considerations
Opting for software development destinations with a minimal time zone difference is crucial. 
Working within similar time zones facilitates real-time communication, collaboration, and problem-solving. This reduces delays and ensures a smoother workflow between teams.
English proficiency
Effective communication is the backbone of any successful software development project. 
Choosing a place where English is widely spoken and understood helps cut language barriers. This would then foster seamless collaboration.
Cultural compatibility
Cultural alignment plays a pivotal role in ensuring smooth teamwork and reducing misunderstandings. 
It is important to choose software development destinations with similar work cultures and values because it would foster productive and harmonious collaboration. 
Availability of skilled software developers
The availability of a talented and diverse pool of software developers is a critical consideration. Access to skilled professionals ensures that your projects are handled by experts who deliver high-quality results.
Political stability and a business-friendly environment
A stable political environment and business-friendly policies create a conducive atmosphere for business growth and development. 
Choosing a destination with a stable political climate can mitigate potential risks and uncertainties.
Top nearshore software development destinations for Australian companies
Now that we have outlined the essential criteria for selecting nearshore destinations, let's explore some of the top choices that align with these requirements:

New Zealand
Located just across the Tasman Sea, New Zealand is an attractive nearshore destination for Australian companies. With its shared time zone and cultural affinity, NZ offers streamlined collaboration and effective communication. 
The country boasts an emerging tech sector. It has a highly skilled workforce, particularly in web and mobile app development.
Additionally, its stable political environment and strong intellectual property (IP) protection add to its appeal.
Singapore
Singapore stands as a prominent tech hub in the Asia Pacific region. 
It is known for its robust IT infrastructure, advanced technology sector, and exceptional business environment. It poses as a good location for a talented pool of software developers. 
English is widely spoken in the country, making communication seamless. Moreover, Singapore's stringent IP laws ensure the protection of sensitive software development projects.
Vietnam
Vietnam has rapidly emerged as a go-to nearshore destination for software development. 
Like the other nations, it has a burgeoning tech scene and a vast pool of skilled developers. The country offers practical solutions without compromising on quality. 
Its English proficiency is also on the rise, making communication smoother. In addition, Vietnam's time zone and cultural compatibilities are favorable for Australian collaboration.
Vietnam's government has also made efforts to create a supportive ecosystem for software development companies.
Malaysia
Malaysia's proximity to Australia and diverse talent pool make it an appealing nearshore choice. 
The Malaysian government actively promotes the tech industry, creating a business-friendly environment for foreign companies. 
As with the other nations mentioned, its strategic location, similar time zone, and English proficiency make it an attractive option.

Philippines
The Philippines has long been a preferred destination for nearshoring in Australia. This is due to its highly skilled workforce and economical services. 
With plenty of skilled developers, the Philippines has established itself as a premier nearshore software development destination. 
Outsourcing firm, Arcanys, listed why the PH is the top choice for hiring software developers. It's a testament to how compatible the country is for ANZ businesses.
English proficiency is widespread in this South East Asian country. This means smooth communication between local companies and offshore software development teams. 
The time difference is also minimal, with just around zero to three-hour differences for companies on Australia's East Coast.
Ultimately, the Philippines' strong work ethic also makes it an ideal choice for long-term collaboration.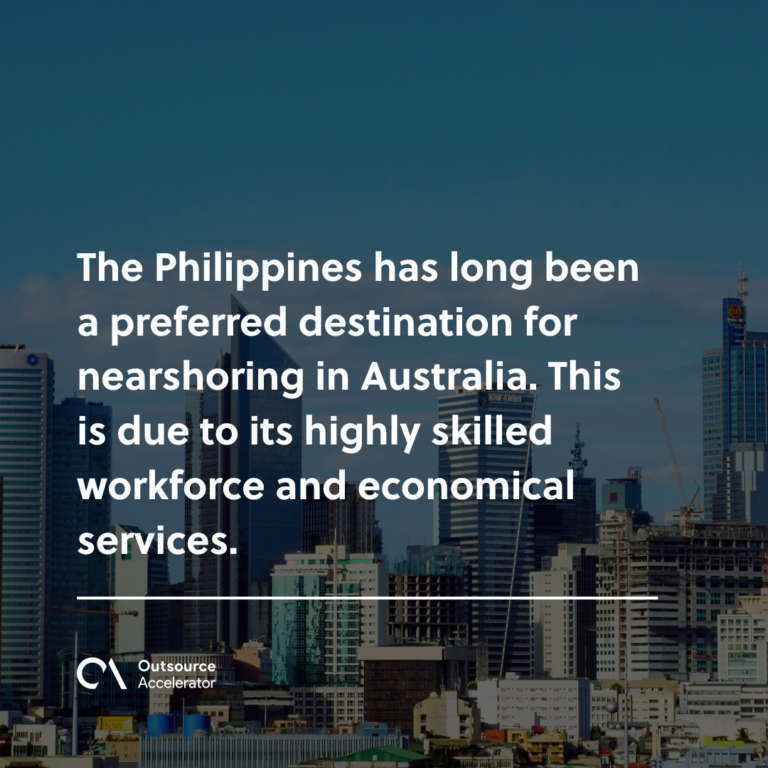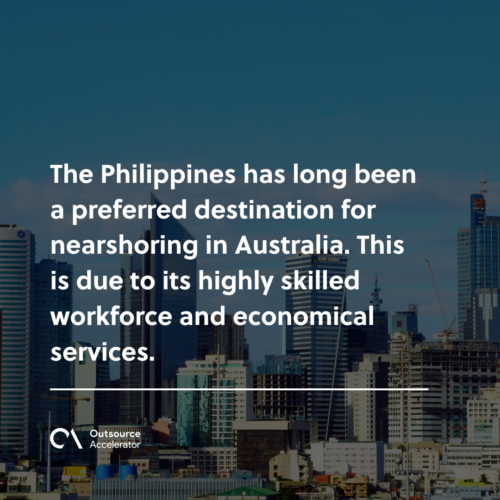 Build a nearshore software development team with Arcanys
When it comes to building a nearshore software development team, Arcanys is a trusted partner for Australian companies. 
As a Certified Great Place to Work company, this outsourcing provider offers the perfect blend of nearshore convenience and top-tier talent. 
The company's skilled developers have a proven track record in various technologies. This ensures the successful execution of your software development projects. 
Get in touch with Arcanys and work with one of the best nearshore development destinations!