What is a software architect?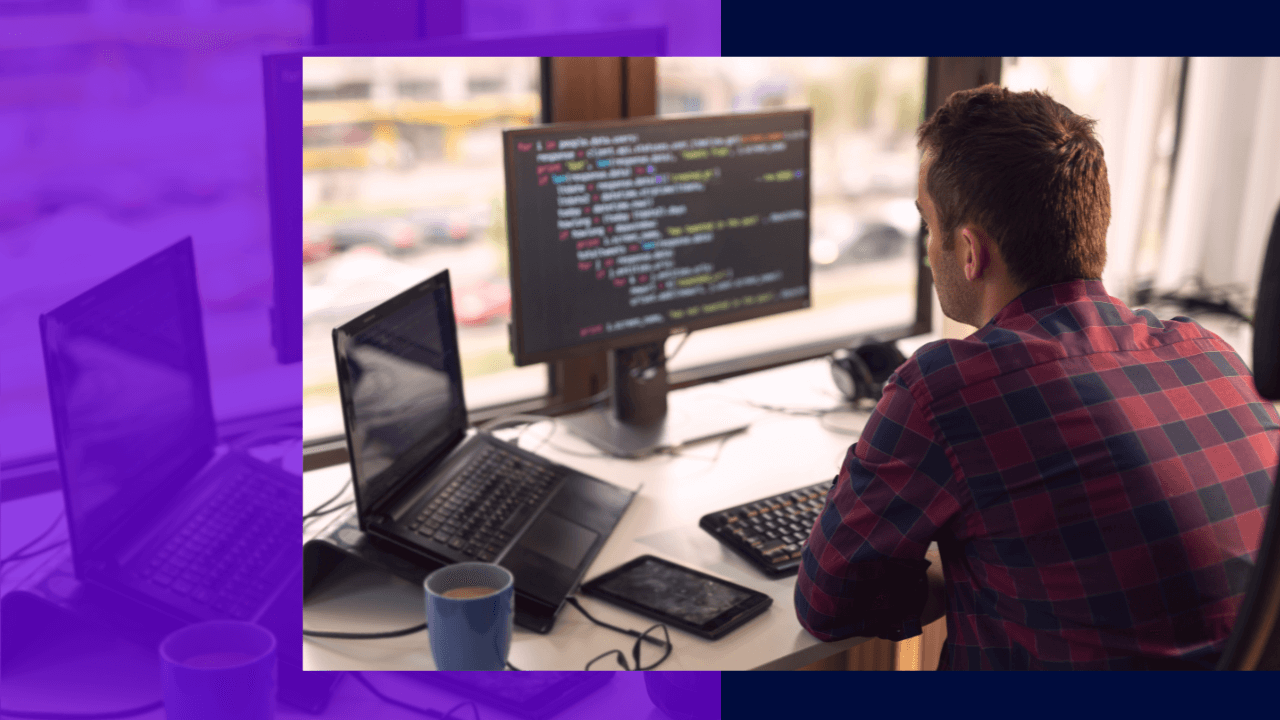 There has been confusion about the software architect's job description, labeling them as software developers or project managers. 
The nature of software architects' duties encompasses many things. As such, they provide vital expertise in developing business solutions for companies as well as for clients. 
In this article, we will feature the definition and types of software architects, a list of roles and responsibilities, and the required skills to become one. 
What is a software architect? 
In most general terms, a software architect is responsible for creating a strategic plan and designing and organizing a high-performance software system. 
They are in charge of creating high-level design choices and collaborating with software engineers for new software products. 
It is important to note that the software architect does not write the code. Thus, they hold critical decisions in choosing optimal tools for custom software development, the platforms to be used, and also dictate software coding standards.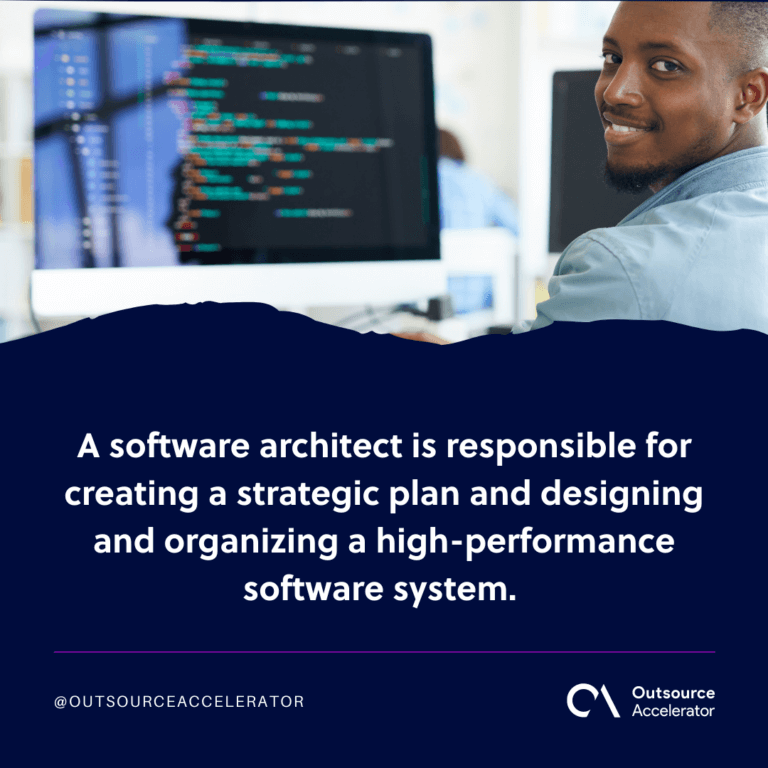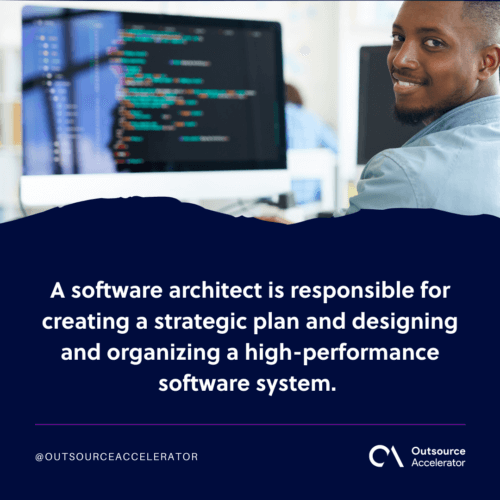 Software architect roles and responsibilities 
Software architects fully function depending on the organizational structure or their business needs and pain points. 
Here is the breakdown of what a software architect can do in a project:
Collaboration with developers and project managers, as well as clients, to envision, devise a plan, and design the software solution. 

Create technical guides and evaluate the needs of the project to determine which tools, technologies, and software standards are the most suitable to use. 

Designing high-level product specifications and documents with attention to feasibility and system integration. 

Testing the final product to ensure the software meets all the requirements of quality and scalability and it can handle security updates. 
Types of software architects
The function of a software architect may vary depending on the organization. Thus, software architects can have a division depending on the tasks they will perform. 
Here are the several types of a software architects. 
Data and information software architect
This individual is more focused on data integration processes. Data and information architects work on how the information moves across the software system, database system, and business intelligence system. 
A data and information software architect sets policies on how data is stored, used, and interpreted. This will help integrate the data technologies into the company's IT infrastructure. 
Enterprise software architect
An enterprise software architect is an expert in ensuring aligning end-to-end technology strategies and supervising the company's IT networks and services. 
This person reports directly to the Chief Information Officer (CIO) or the Chief Technology Officer (CTO). Enterprise software architects are more focused on innovation, security, and optimization.
Solution system architect
Solution system architect creates an overall technical vision. Thus, they develop solutions for the company's business problems using information technology. 
This individual takes charge of solution ideation, solution design, and solution implementation — all aligned with clients' specific needs. 
Technical architect
The one that supervises the project development, maintenance, performance, scalability, testability, and security of the product.
A technical architect is more focused on a particular project offering expertise in planning, designing, building, consulting, and maintaining network systems.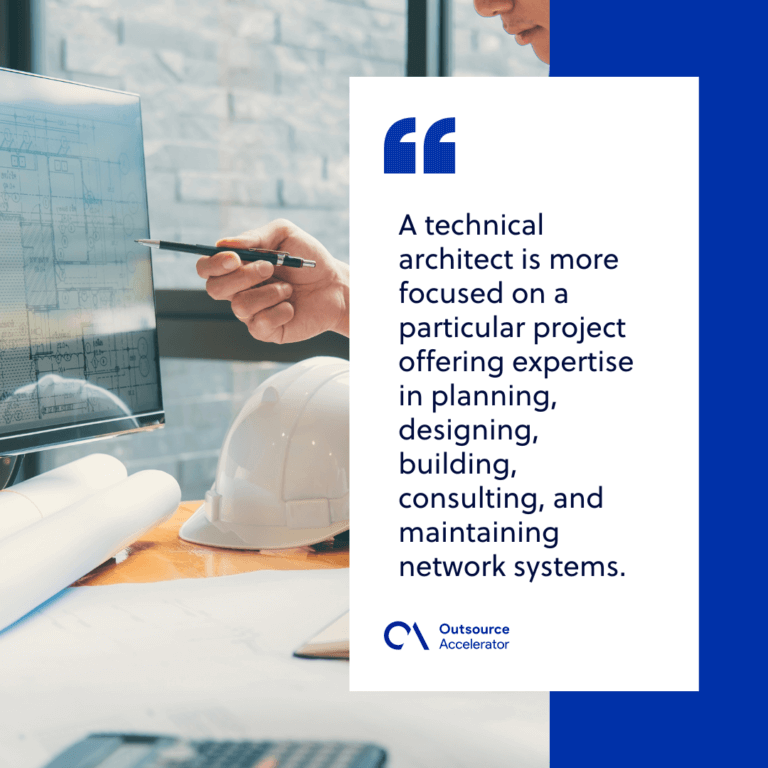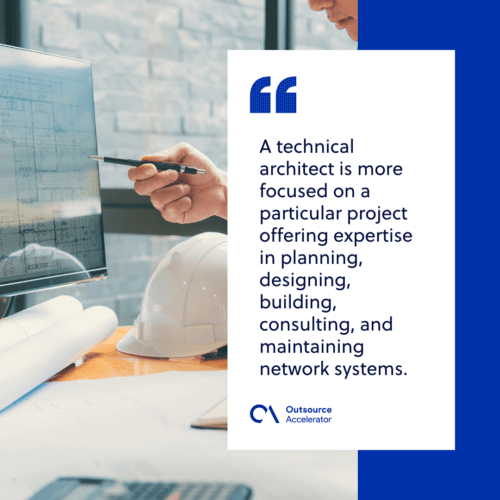 Essential skills of a software architect 
Being a software architect requires broad and deep technical expertise, a wide range of skills, both hard and soft skills, advanced training, and years of experience. 
Here are the skills required from software architects:
Technical skills
A software architect must have a deep knowledge of programming languages and frameworks depending on the company's product. 
More specifically, software architects need to know the system design, DevOps, computer technologies, coding and programming languages, content management system, and domain. 
Soft skills 
Along with technical skills, software architects must also possess the following soft skills. 
Problem-solving & conflict resolution
The ability to solve a certain problem and provides the best solution is one of the most important characteristics of being a software architect. Software architects should be able to identify and predicts risk quickly and timely. 
Thus, software architects ensure seamless software development with their problem-solving competencies. 
Leadership skills
Software architects lead the technical team of developers and promote high-quality standards of the software product and vision of the right solution among its team members. 
Moreover, software architects oversee the development from conceptualization to launching a certain project. This person will be responsible for the designation of duties to the technical team. 
Communication skills
Leadership is impossible without excellent communication skills. A software architect must clearly explain complicated matters to its team members, business analysts, engineers, and to clients in the simplest way possible. 
Software architects should be able to deliver and explain complex matters such as the mission, vision, tasks, deadlines, and expectations. 
Detailed-oriented 
Great attention to a number of details is necessary for a particular development project to ensure that the ongoing project meets its objectives.
Prioritizing and organization
A software architect is the one that decides which tasks need prioritization. This individual will appoint each team member to their designated assignment. 
Additionally, software architects must be able to create a roadmap for project development. This will ensure that the project moves seamlessly along with systematic and organized processes.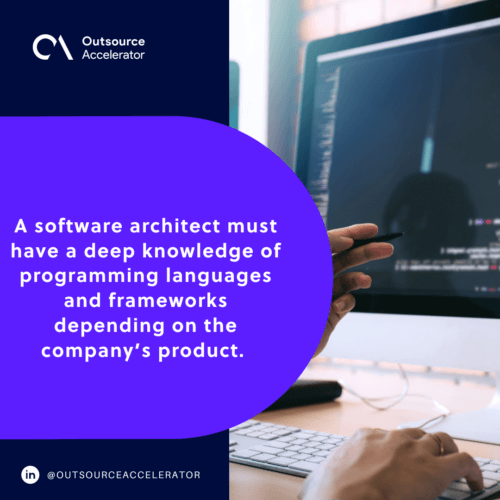 Why is outsourcing a software architect worth considering? 
Software architects could help businesses in many ways.
When a team is dealing with a complex matter, an architect will take the lead and translates these specific languages to address communication issues. 
From having a wide range of technical expertise to systematically being a decision maker, software architects play a vital role in achieving business goals relevant to its success. 
That said, if you are a business owner, outsourcing software architects with trusted companies like Outsourced is worth considering. They will bring great opportunities to achieve long-term business growth and success.