What outsourcing a social media consultant can do for your business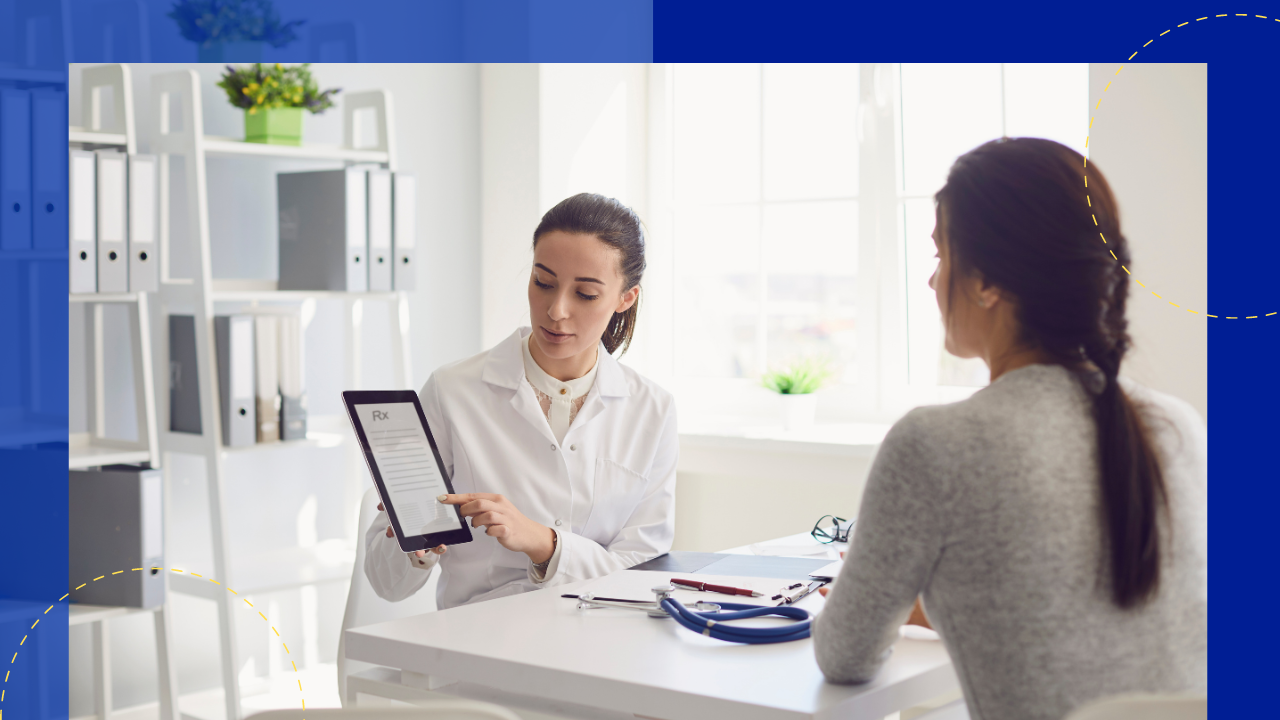 As we are living in a digital age, most people rely on the Internet for entertainment, socialization, and education.
In April 2023, the approximate number of social media users was 4.8 billion, which is more than half of the whole world population.
Due to this, establishing a good social media presence plays a huge role in generating growth for your business. It solidifies your credibility and reputation, helps to enhance connections with existing customers, and build trust with prospective clients. 
To optimize your own business' online presence, you should consider outsourcing a social media consultant.
Your social media posts should showcase your brand's identity, appeal to your customers' interests, and exhibit your industry knowledge. A social media consultant can greatly help with this.
They can give you educated suggestions on how to improve your social media presence, and work with your existing staff to execute them.
By reading this article, you will learn more about the social media consultant role and how hiring one can benefit your business.
What does a social media consultant do?
A social media consultant is an expert who offers social media marketing services, the main goal of which is to optimize a company's social media presence.
The responsibilities of a consultant include planning and executing a social media strategy that promotes a company's brand, product, and services, and increases their sales. Social media consultants accomplish these duties by using all relevant social media channels. 
Service providers like Sourcefit offer calibre social media consutalts and other related roles through offshoring in the Philippines. They can cover a variety of functions at an all-in package, only a fraction of their local counterparts.
Listed below are some specific tasks that they are responsible for:
Social media strategy development
This is one of the most significant responsibilities of a social media consultant. A brand's success on the Internet depends greatly on their social media strategy. 
The strategy crafted needs to include engagement targeting the correct demographic. It should be planned and implemented for the long-term to ensure that the company won't become a fad.
There are many other standards for creating a good social media strategy which is why you need an expert dedicated just for it.
Community management
A social media consultant may have community management as a responsibility. This entails that a consultant will be managing brand loyalists and patrons across social apps and websites.
Social media auditing
Consultants may be assigned to conduct social media auditing. This is the process of evaluating a business' analytics.
Social media auditing is done to assess growth and opportunities, and to find appropriate solutions for improving social media presence.
Besides what has already been mentioned, a social media consultant is also responsible for keeping up with what strategies competitors are doing for their online presence.
They occasionally recommend improvements and new ideas to a company's social media management as well.
In addition, a social media consultant collaborates with a company's existing sales and marketing teams to maintain consistency in a brand's message across different social platforms.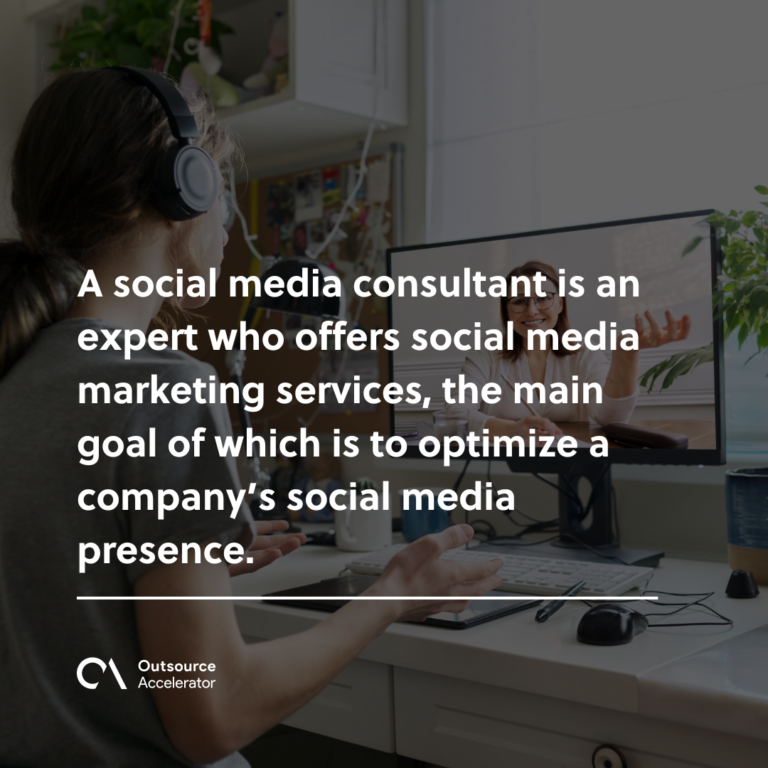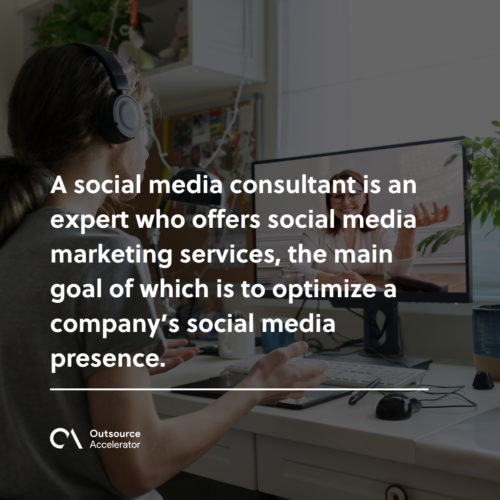 How a social media consultant can help your business
Here are some of the many benefits that come with hiring a social media consultant for your company:
Unbiased point of view
Disagreements often happen within a workspace. A lot of them are due to clashing opinions about a certain concept. There's nothing inherently wrong about this, but it does hinder progress and decision-making.
A social media consultant offers an objective view of your content marketing. With them being experienced in the field, you can also trust that they'll provide you with the best solution.
Keeping up with trends
A part of being a social media consultant is keeping up with trends and changes. There may be new app features being released or big changes in a platform's algorithm – which need to be addressed.
Whatever the case is, a consultant is always on the lookout and ready for reporting and implementation.
Fresh ideas
If your social media branding is dull, there's a big possibility that your audience will get bored. Less engagements mean the algorithms show your posts to less people. 
Making use of a social media consultant can provide your marketing efforts with an element that dramatically shifts your presence in the right direction. 
Identify problems
When there is a noticeable decline in your social media engagements, a consultant can help you identify the problem and provide you with possible solutions.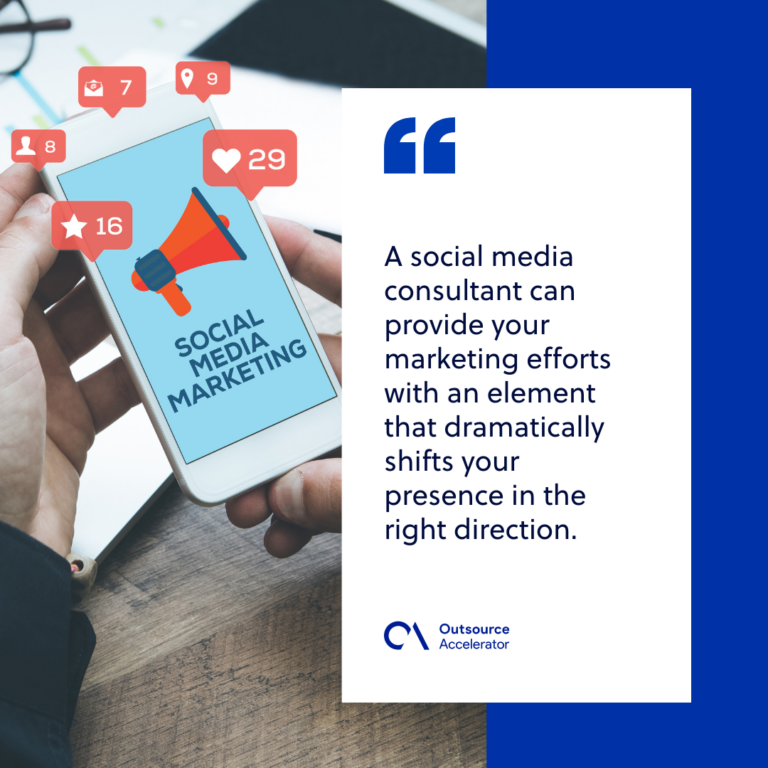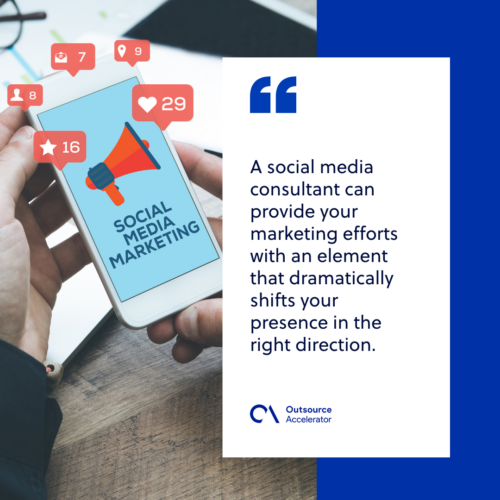 Optimize your company's social media presence
Using social media correctly can help you better understand your current customer base, increase your company's visibility, and generate leads. This requires a good social media presence.
Online presence serves as a way to meet your customers' needs, and build trust before establishing a direct relationship. 
A social media consultant can help you establish a good social media presence. With their help, you can also build your business's credibility and establish yourself as an expert on social media platforms.
For all of the reasons mentioned in this article, you should seriously consider outsourcing a social media consultant for your own business.