Scaling operations through outsourcing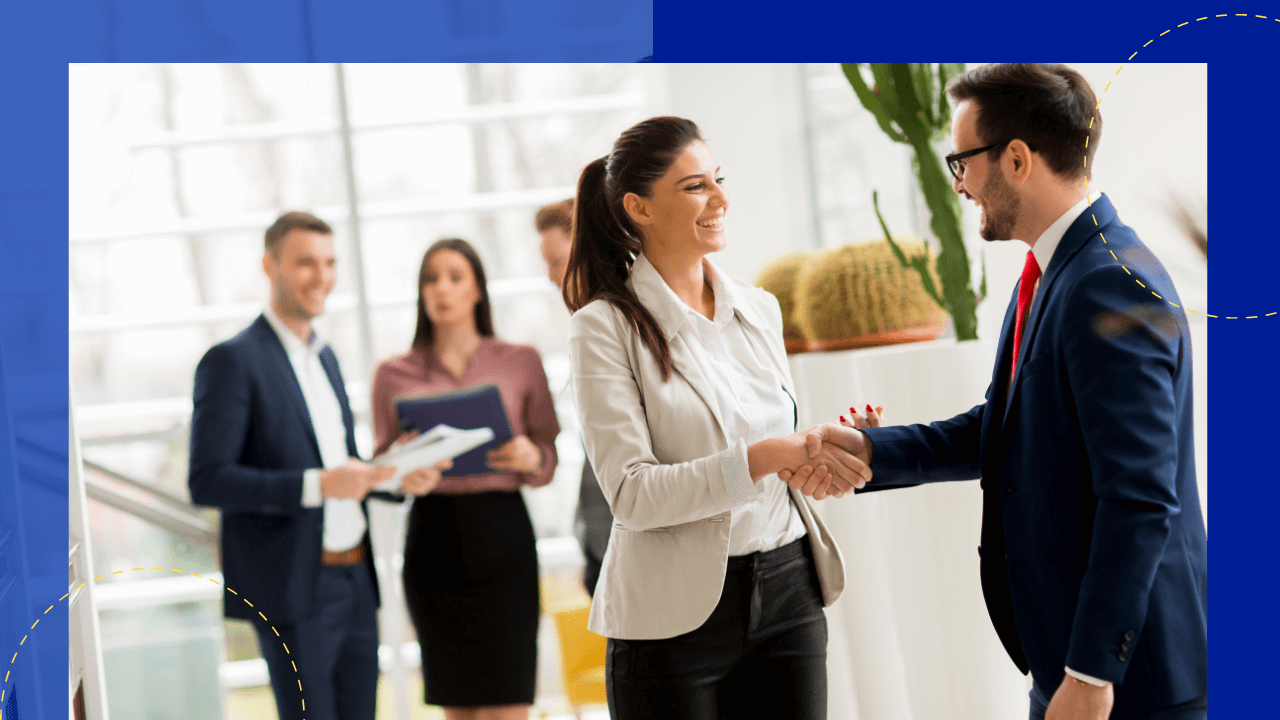 Running a business and making it thrive is no easy task. As your business grows, you'll need to expand your operations to avoid stagnating and falling behind your competitors.
Scaling operations can be as challenging as getting your business up and running. You'll have to overcome new challenges and adapt to the needs of a growing brand. You may need to rethink your marketing strategies.
More importantly, you'll need to find more cost-effective ways to meet increasing demand while maintaining the same level of service quality.
Turning to outsourcing solutions can help you more efficiently scale your business operations. But how exactly does outsourcing make scaling operations easier? Read on to find out.
What does scaling operations mean?
Scaling operations pertains to the process of expanding a business. Typically, this term is used for startups and small enterprises trying to grow their business. However, it can also apply to larger companies venturing into new markets or increasing their production capacity.
More specifically, scaling operations refers to the changes companies must make to accommodate the increased work volume brought by added production capacity.
When scaling operations, it's vital to ensure that a business makes more revenue than before and maintains its present efficiency. Otherwise, a company is just growing and not scaling.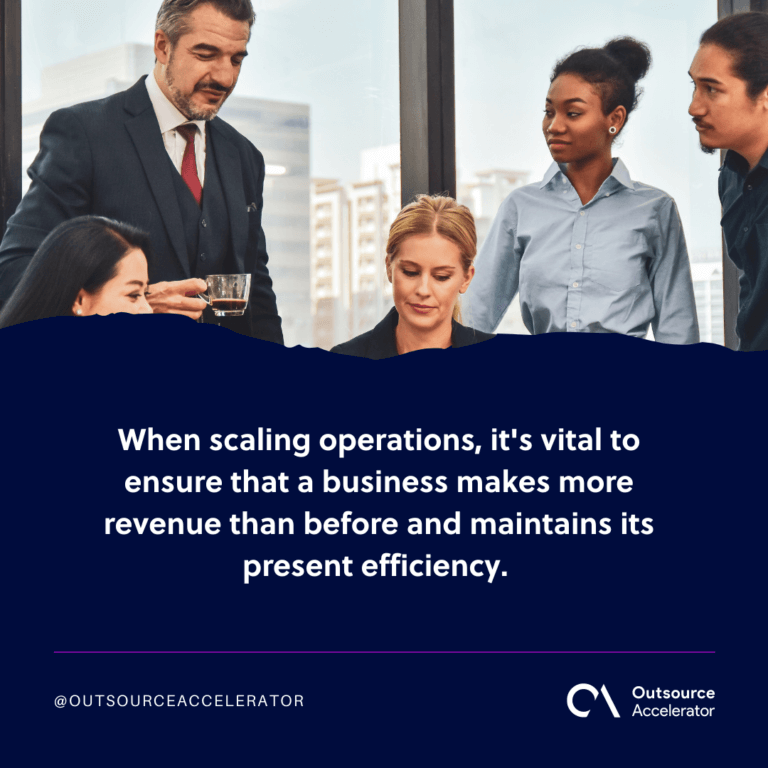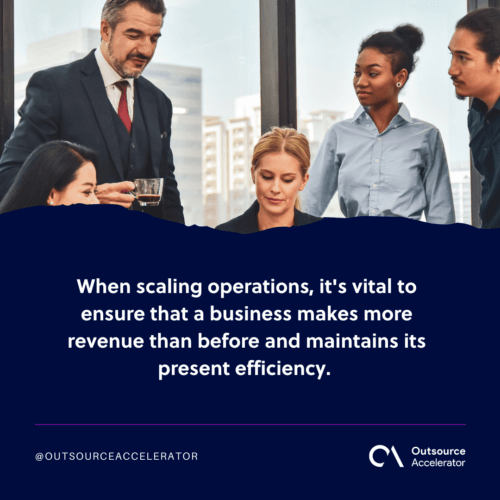 Scaling operations vs. Growing a business
People often confuse scaling with growing and sometimes interchange the two terms. However, there are distinct differences between the two.
Generally, growth can be measured in linear terms. That is, businesses hire more people, bring in new technologies, and, as a result, their revenues grow. However, so do the resources they need for operations.
For example, Company X takes on five more clients and hires more employees to cope with the increased number of clients. Thus, Company X is growing, but it is not scaling.
In contrast, scaling operations means increasing a business's revenue without a commensurate increase in operating costs.
For instance, a company can increase its marketing efforts without significant additional costs by using email marketing. Through this method, the company can send emails to ten or one thousand leads with no substantial increase in resources.
Scaling operations: When is the right time?
If you're running a small business or have established a thriving startup company, you may wonder when is the right time for you to scale.
Below are some indicators that you should consider scaling operations.
You are turning down potential business opportunities because you lack the resources (human capital, technology, time) to deal with them.

You're way ahead of the goals you've previously set for yourself.

You have a solid

and

consistent cash flow.

You have established tried-and-tested systems, processes, and business infrastructure.

You are sure that the risks involved when you scale are very minimal.
How outsourcing makes scaling operations easier
Scaling operations can become much easier when you turn to outsourcing solutions. Due to its effectiveness, turning to business process outsourcing (BPO) service providers has become a go-to strategy for many companies.
Here are some ways how outsourcing can help your business scale more efficiently.
Cost-effectiveness and cost-efficiency
As stated earlier, businesses need to be able to do more with less for them to scale. Delegating back-office or even more specialized processes to BPO firms can help companies to save time and money.
Through outsourcing, businesses can save as much as 70% on labor costs. They also save on overhead expenses, such as end-to-end recruitment, training, and equipment purchases, as BPO firms usually shoulder these.
Access to instant expertise
Scaling operations become faster when you outsource, as you can quickly access specialists in various fields.
Whether you need digital marketers, SEO specialists, or customer service representatives, BPO firms can provide the talents you need to meet increasing demands.
Moreover, these talents have years of field experience and can hit the ground running when you hire them. This ensures you can scale your business operations without needing to pause for employee training.
Flexibility
Another benefit you can gain from outsourcing is greater flexibility in scaling operations.
With an outsourced team, you can increase or downsize your staff as needed to maximize profits without sacrificing efficiency and productivity.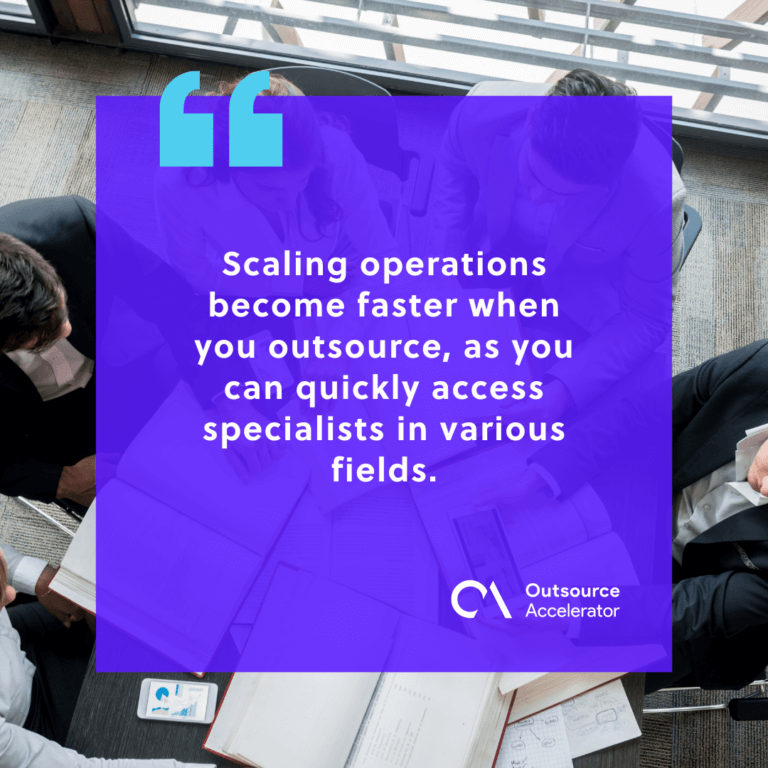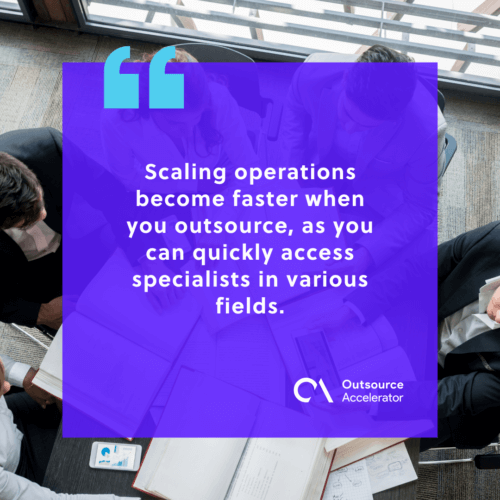 Scaling operations by outsourcing with Booth and Partners
Booth and Partners is one of the Philippines' leading providers of staff leasing, managed services, and employer of record services.
The company offers its clients tailored outsourcing solutions that they can seamlessly integrate into their business operations.
Through Booth and Partners' outsourcing solutions, businesses can enjoy higher talent retention rates and, more importantly, scale their operations faster and more cost-effectively.
Schedule a call with Booth and Partners to see how they can help your business scale!