Why you need a SAP consultant for your business ventures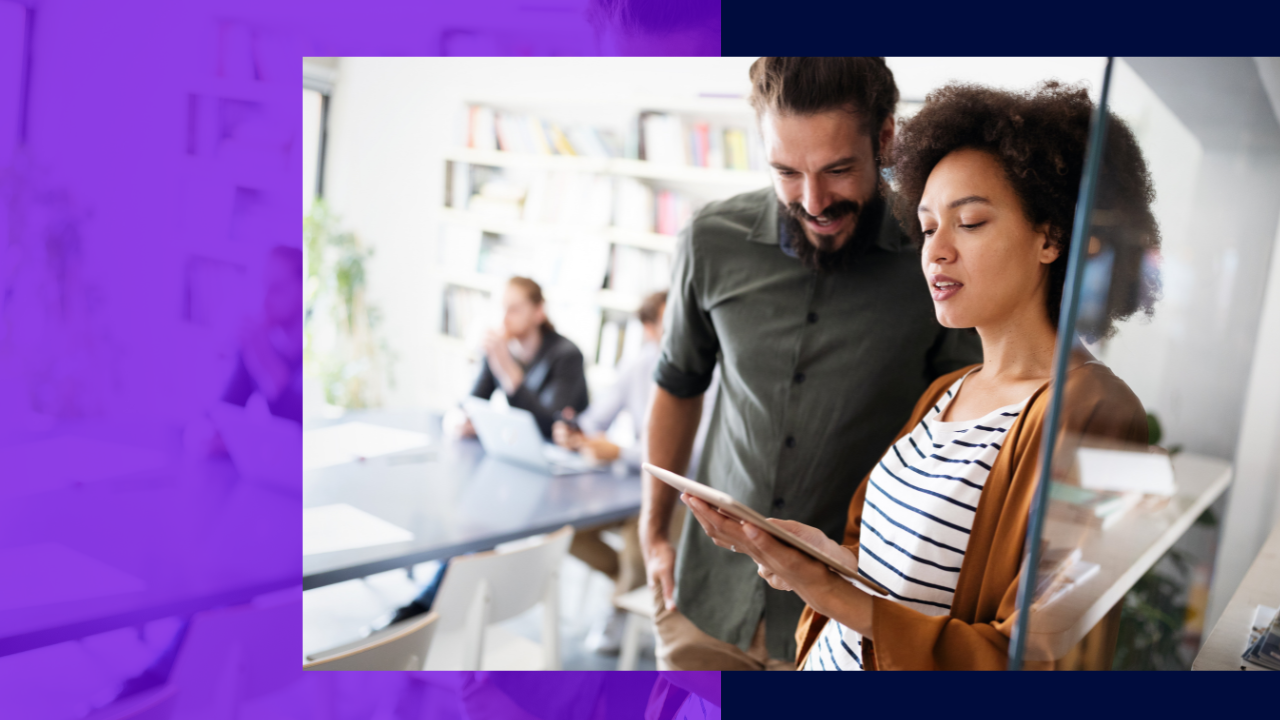 Organizations face many challenges in today's rapidly evolving business landscape, from ever-increasing customer expectations to a highly competitive market.
Businesses need efficient systems that optimize operations and facilitate data-driven decision-making to navigate this dynamic environment successfully.
Systems, applications, and products (SAP) solutions have emerged as a leading choice for businesses seeking comprehensive enterprise resource planning (ERP) methods.
However, leveraging the full potential of SAP software requires more than just installing the applications. You'll need the help of a SAP consultant who will guide your businesses through the intricacies of SAP implementation and customization.
From understanding unique business needs to seamless integration and troubleshooting, SAP experts ensure a successful ERP adoption.
What is a SAP consultant?
A SAP consultant is a knowledgeable individual with expertise in SAP's comprehensive ERP software suite.
SAP consultants can bridge the gap between business needs and technical solutions. They also act as trusted advisors, guiding organizations through the entire SAP implementation process.
These professionals work closely with key stakeholders to understand the specific needs and objectives of the business.
Further, an effective SAP consultant brings various skills, including in-depth knowledge of SAP modules, business process analysis, project management, and technical know-how.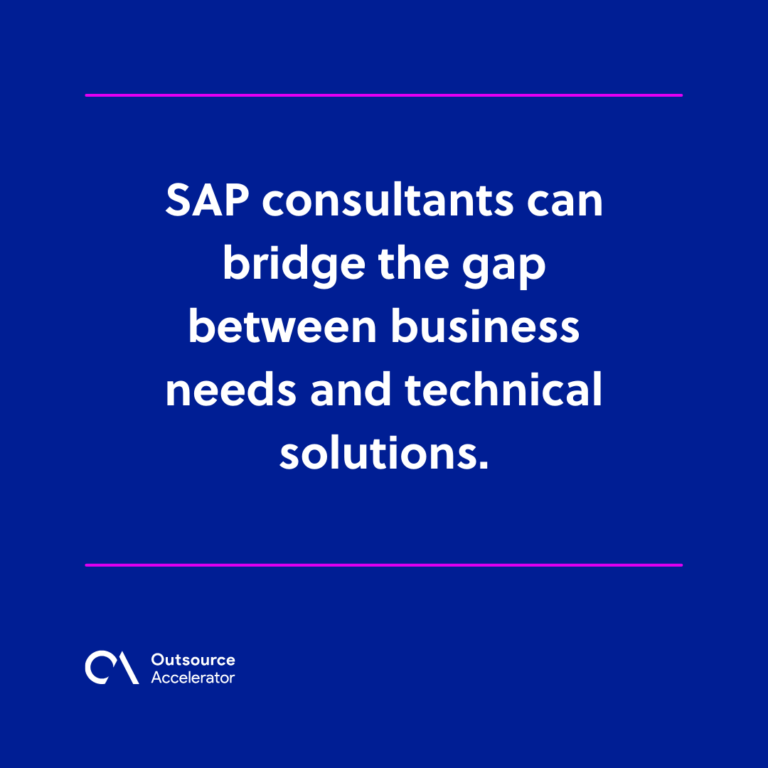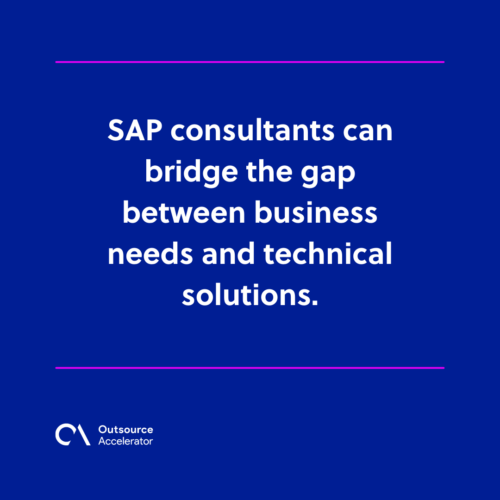 An overview of SAP consulting and its role in business
The role of SAP in businesses is instrumental in transforming and optimizing their operations. SAP is a leading ERP software solution provider integrating various business functions into a unified platform.
Its multifaceted role encompasses several crucial aspects that contribute to the success and efficiency of modern businesses:
Streamlined business processes.

SAP's ERP suite streamlines and automates business processes across different departments. This integration eliminates data silos, fosters collaboration, and improves operational efficiency.

Centralized data management.

SAP's ERP system reduces redundancy and provides real-time insights, enabling better decision-making at all levels of the organization.

Data-driven decision-making.

SAP's robust reporting and analytics tools enable businesses to respond quickly to market trends.
But beyond installing SAP software, SAP consultants are pivotal in orchestrating a seamless adoption process. They begin by understanding the organization's unique business processes and identifying pain points that need addressing.
With this knowledge, a SAP consultant customizes the ERP system to cater to the business's specific needs, maximizing efficiency and efficacy.
Key features of SAP implementation
When implementing SAP solutions, businesses are presented with many transformative features that can revolutionize their operations.
Enterprise resource planning (ERP)
SAP's ERP system unifies diverse business functions onto a single platform, such as: 
Finance

Sales

Procurement

Human resources
This integration aids a SAP consultant in eliminating data silos, fostering cross-departmental collaboration, and enabling seamless data flow throughout the organization.
Additionally, SAP's ERP system optimizes resource allocation, allowing businesses to manage assets efficiently, personnel, and other essential resources.
Centralized database
A SAP consultant utilizes a centralized database to consolidate all business-related information into a single repository, ensuring data consistency and accuracy across the organization.
With all data stored in a unified location, the risk of redundancy and discrepancies is minimized. This translates to improved data integrity, a reliable foundation for critical decision-making processes. 
A centralized database also enables real-time access to information, enabling teams to respond swiftly to market changes and customer demands.
As data is the lifeblood of modern businesses, having a centralized database ensures stakeholders can confidently rely on accurate and up-to-date information.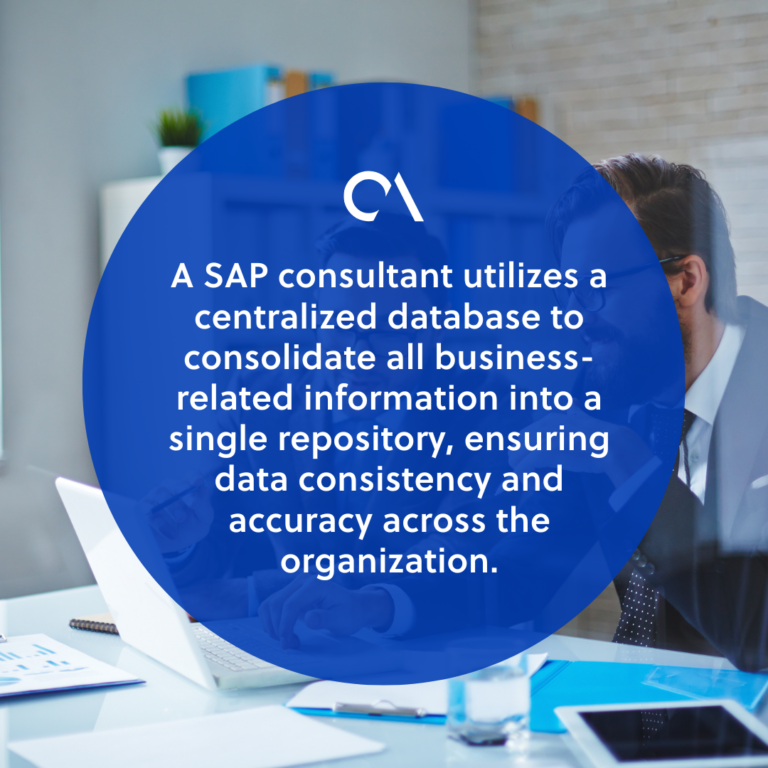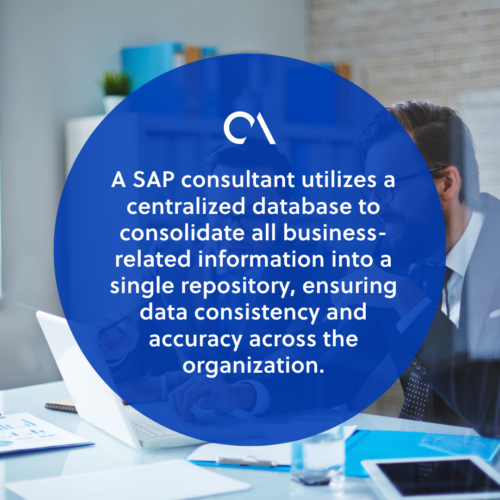 Process automation
With SAP's automation features, repetitive and time-consuming tasks are streamlined, reducing manual intervention and allowing employees to focus on more value-added activities. 
SAP's process automation encourages organizations to become more agile and responsive, empowering them to meet the ever-changing demands of the modern business landscape.
Real-time reporting and analytics
SAP consultants can access critical data through intuitive dashboards and comprehensive reports. Real-time reporting enables quick identification of emerging trends, opportunities, and potential issues.
Additionally, SAP implementation provides analytics capabilities that allow businesses to conduct in-depth data analysis, uncovering hidden patterns that can navigate strategic planning.
Integration with external systems
SAP's integration capabilities facilitate end-to-end connectivity and enable organizations to do the following:
Establish smooth data exchange

Optimize supply chain management

Foster collaborative relationships
SAP's integration prowess enables organizations to operate efficiently between internal and external systems. The seamless data flow between these systems enhances visibility across the supply chain.
Why should you hire a SAP consultant?
When adopting sophisticated enterprise resource planning (ERP) solutions like SAP, seeking expert guidance becomes a strategic necessity. 
Here are the following reasons why you should hire a SAP consultant:
Expertise and specialized knowledge
A SAP consultant has a comprehensive knowledge of SAP's ERP suite and its various modules. 
SAP consultants understand the intricacies of the software and its potential applications. This allows them to tailor SAP solutions to meet the specific needs of your business.
Effective project management
A SAP consultant has exceptional project management skills, ensuring that every implementation aspect is meticulously planned and executed. 
This guarantees a smooth and efficient implementation, from defining project goals to allocating resources and establishing timelines.
Troubleshooting and support
Even with careful planning and execution, challenges may arise during and after the SAP implementation process.
Fortunately, a SAP consultant ensures your company's ERP system runs seamlessly. This will minimize downtime and maintain the productivity of your business operations.
Cost and time efficiency
While some businesses might initially view SAP consulting as an added cost, it is an investment that yields significant long-term cost and time savings.
An exceptional SAP consultant can efficiently allocate resources, optimize workflows, and streamline processes, resulting in a smoother transition to the new ERP system.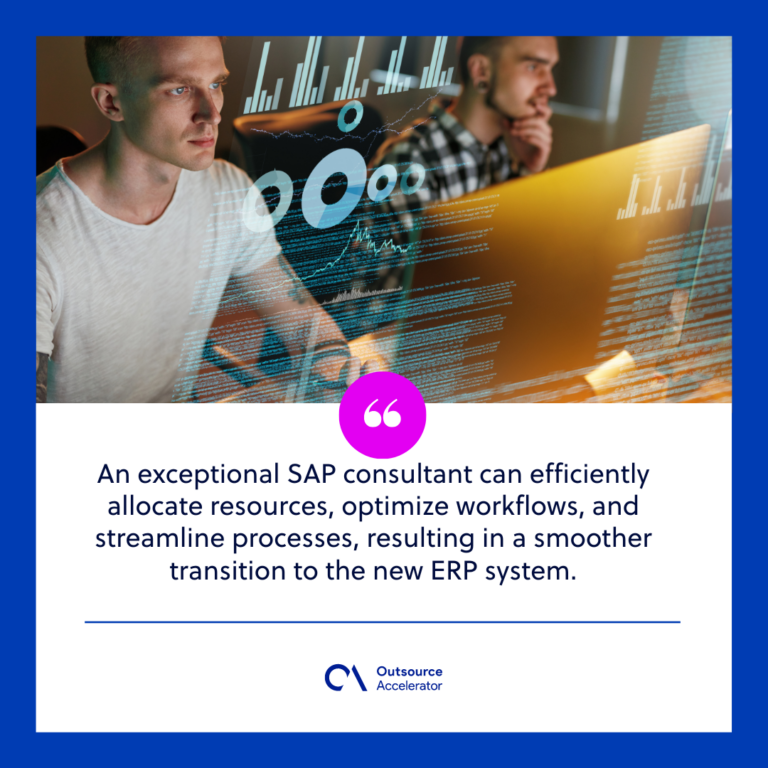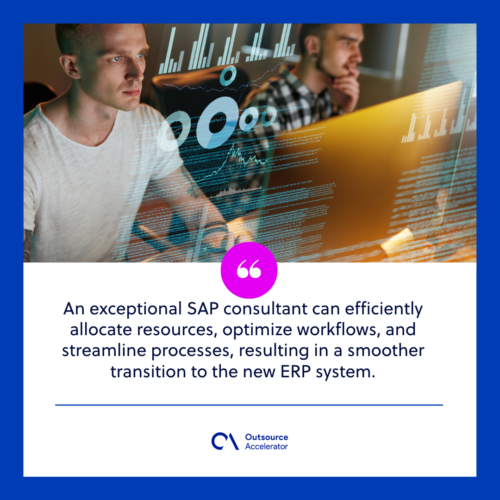 Achieving regulatory compliance
Different industries are subject to specific regulatory standards that businesses must adhere to. A knowledgeable SAP consultant understands these requirements and possesses the expertise to configure the ERP system while adhering to regulatory requirements.
Accessing industry-specific insights
A skilled SAP consultant deeply understands each sector's business challenges and opportunities. This specialist's industry-specific knowledge empowers your organization to make informed decisions and enhances your agility, enabling you to stay ahead of competitors.
Optimize your firm's operational efforts with a SAP consultant
By now, it should be evident that having a SAP consultant is not just an optional expense but a strategic investment that can drive your business's growth and success.
Embrace SAP's powerful ERP solutions with the guidance of a seasoned consultant, and watch your business flourish in the digital age.