SAP certification: Definition, benefits, and types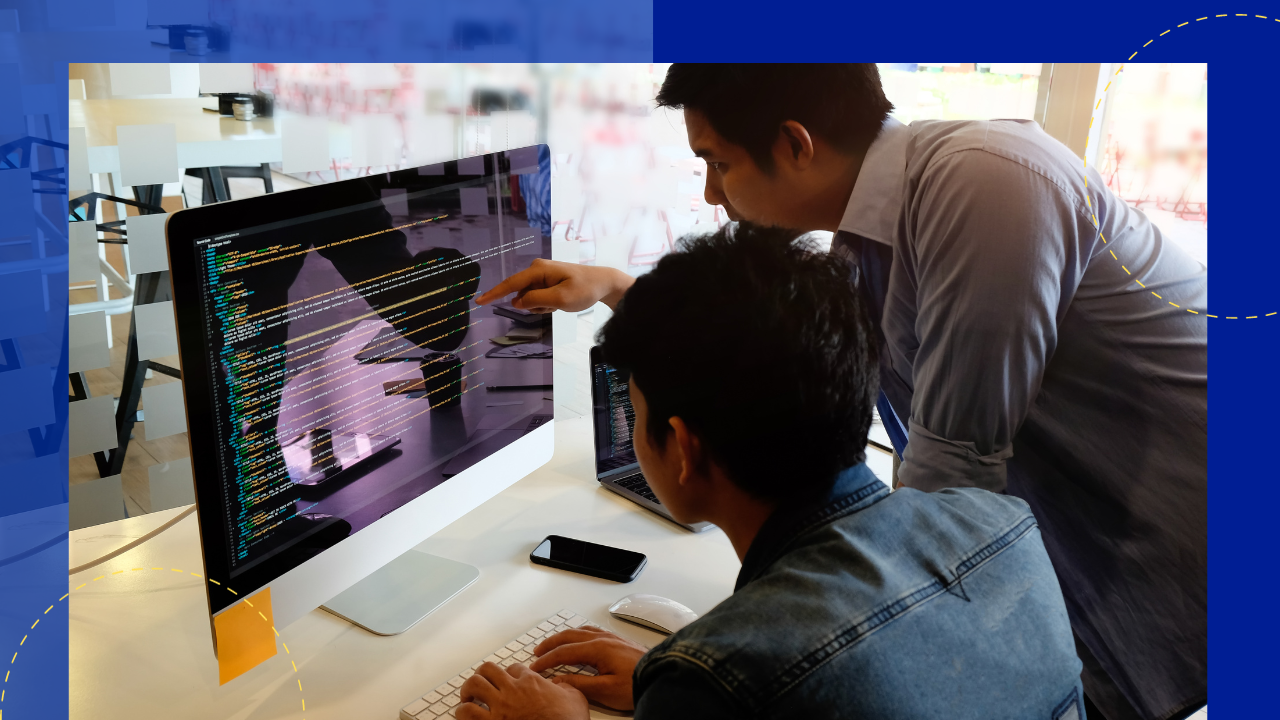 Technology permeates our society, and digital transformation is the key to staying competitive. 
Perhaps no company knows this better than SAP SE, which many would claim is the world's market leader in producing business software. SAP has more than 230 million cloud users today and offers the largest cloud portfolio out of any provider. 
A SAP certification validates the professionals and organizations that use its software. It also opens doors to new opportunities in the world of enterprise resource planning (ERP). 
Whether you're an aspiring SAP professional or a seasoned expert looking to enhance your credentials, understanding the nuances of SAP certification is essential. 
What is an SAP certification?
The SAP certification is a formal recognition granted by SAP SE, a global leader in enterprise software. SAP offers a range of certifications catering to different skill levels and roles within its software ecosystem. 
These programs are designed to validate skills at different proficiency levels. They provide professionals with a tangible way to showcase their knowledge in the highly sought-after field of ERP.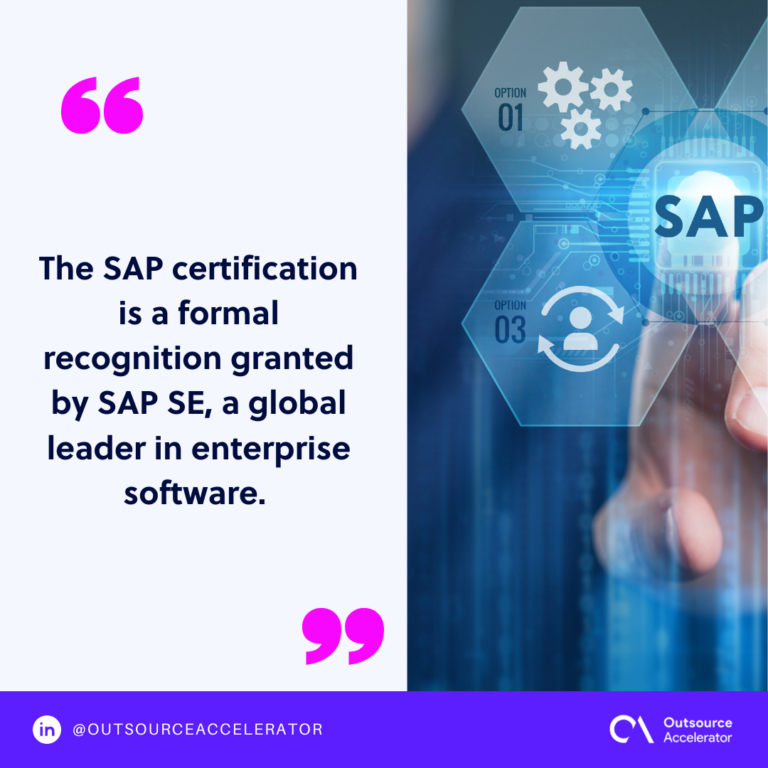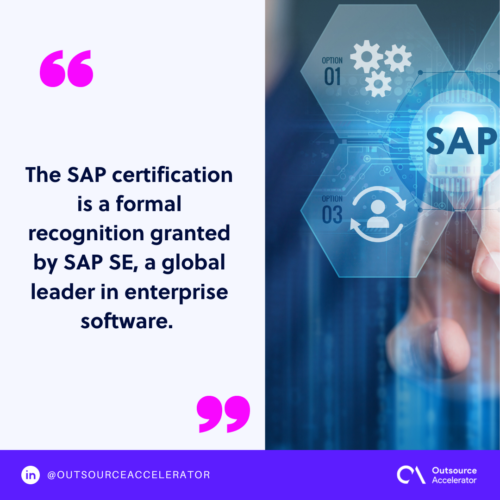 Benefits of SAP certification
The SAP certification offers several benefits for professionals and organizations. 
Here are some of them: 
Credibility and recognition

– SAP certification is globally recognized, enhancing your professional credibility in the eyes of employers and clients. 

Career advancement

– A SAP certification often accelerates career growth as it makes candidates more attractive for promotions and leadership roles. 

Increased marketability

– SAP-certified professionals often command higher salaries due to an increased market value. 

Expanded skill set

– Certified individuals acquire a comprehensive skill set that goes beyond theoretical knowledge, including practical insights into SAP implementation and management. 

Access to exclusive resources

– The SAP community provides certified professionals with access to exclusive resources, updates, and a network of peers. 

Organizational benefits

– Employers benefit from having SAP-certified employees as it leads to improved business processes and outcomes. 

Global opportunities

– SAP certification opens doors to job opportunities around the world, especially in an era where businesses operate

internationally

. 
Types of SAP certifications
SAP offers a diverse range of certifications that cater to different roles, modules, and proficiency levels within its vast ecosystem of enterprise software solutions. 
Here are the three main types of SAP certifications you can apply for: 
Associate certification
This certification validates the fundamental knowledge and skills required for a specific SAP solution or module. It covers broad SAP solution knowledge and is suitable for individuals who are starting their career in SAP or want to gain a general understanding of SAP solutions.
Some examples of this type of SAP certification include: 
SAP Certified Associate – SAP Activate Project Manager

. This certification is designed for professionals involved in project management using SAP's Activate methodology.

SAP Certified Application Associate – SAP S/4HANA Cloud, public edition – Sales

. This validates that the candidate possesses SAP Activate onboarding fundamentals and core knowledge in the Sales line of business.

SAP Certified Development Associate – SAP Customer Data Platform.

This is for those who possess the fundamentals and core knowledge of the SAP Customer Data Platform. 
Specialist certification
Specialist certifications are designed to focus on specific roles or integration components. These certifications build upon the associate certification and provide a more in-depth understanding of a specific area or functionality within SAP. 
Specialist certifications can help individuals specialize in a particular SAP solution or role.
Some examples of this type of SAP certification include: 
SAP Certified Specialist – SAP Activate for Cloud Solutions Project Manager.

This certifies advanced business skills and knowledge in SAP cloud-focused project management. 

SAP Certified Technology Specialist – SAP S/4HANA Conversion and SAP System Upgrade.

This verifies that the candidate is able to perform a technical SAP S/4HANA software conversion and an SAP system upgrade.
Professional certification
Professional certifications are advanced-level certifications that require a deeper understanding of SAP solutions and extensive practical experience. 
These certifications are suitable for experienced professionals who want to demonstrate their expertise in a specific SAP solution or module.
Some examples of this type of SAP certification include: 
SAP Certified Development Professional – SAP Commerce Cloud Developer.

This certifies that the holder is equipped to work with the SAP Commerce Cloud Suite 2211. 

SAP Certified Professional – SAP Enterprise Architect.

This certification is for IT professionals who are qualified to serve in the SAP enterprise architect role. 
Note that SAP regularly updates and adds new certifications to align with the evolving landscape of its software solutions. These specific certifications may change over time, so it's recommended to check the official SAP training shop for the latest information.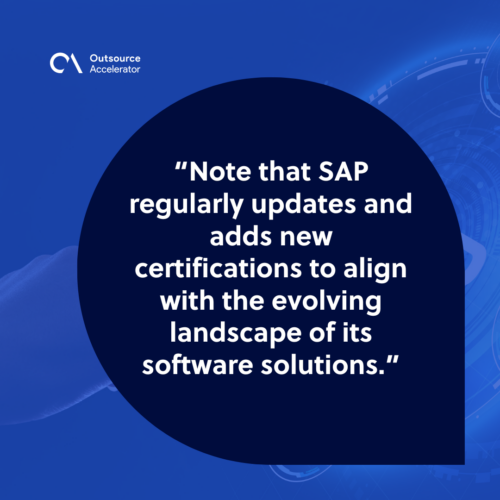 How to get an SAP certification
Obtaining an SAP certification involves several steps, and the process may vary depending on the specific certification you're pursuing. For more detailed instructions, you may consult SAP's official training website. 
However, here is a general guide on how to get a SAP certification: 
Choose your certification.

Determine the SAP solution or module that aligns with your personal career goals or interests. 

Prepare for the exam.

Familiarize yourself with the topics covered in the exam by reviewing the official curriculum and recommended study materials. SAP also offers official training courses and classroom sessions. 

Gain practical experience.

While not mandatory for all certifications, practical experience in using SAP software can significantly enhance your understanding and preparation. 

Take and pass the exam.

Register for the exam through SAP's training and certification website or an authorized SAP training partner. When you pass, you're considered officially SAP-certified in the chosen area. 

Maintain your certification.

Some SAP certifications may have expiry dates, requiring you to stay current with the latest developments in SAP technologies. Participate in ongoing training and recertification as necessary. 
Get an SAP certification now!
Pursuing an SAP certification is a strategic investment for professional growth. It validates your expertise and displays a commitment to staying at the technological forefront.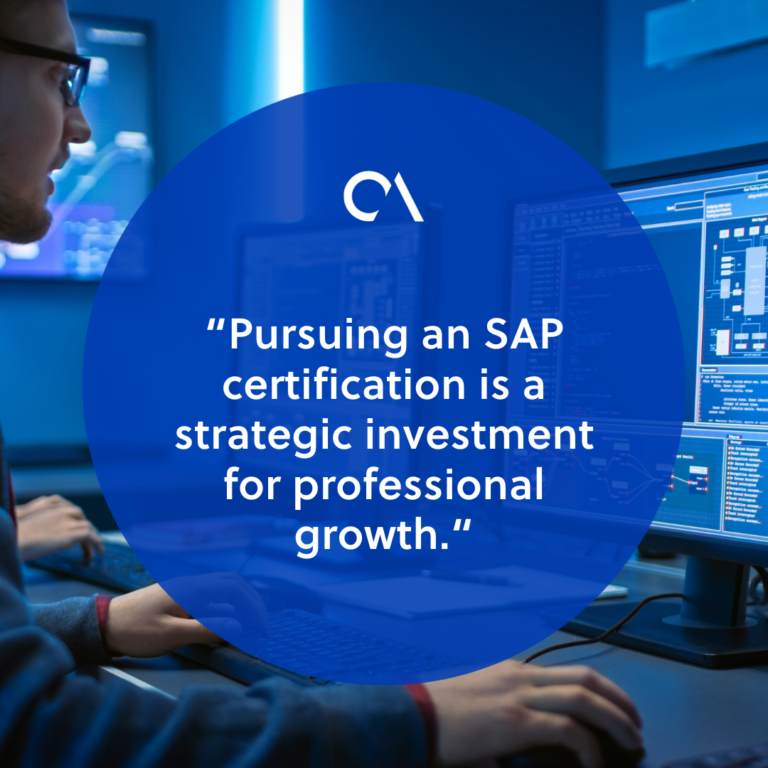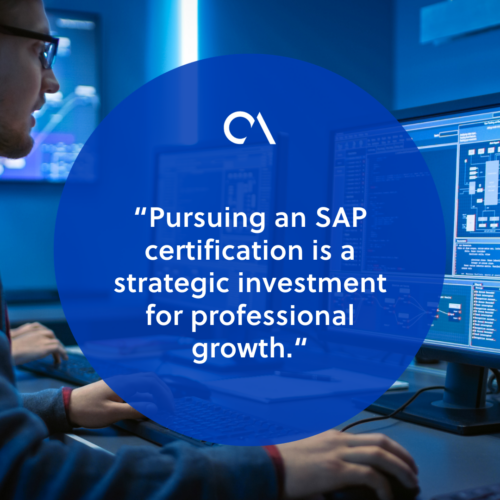 Stay curious, committed, and connected with the SAP community. You'll find that the path to SAP certification is a transformative experience that will shape your future in enterprise technology.