15 best RPA tools to increase efficiency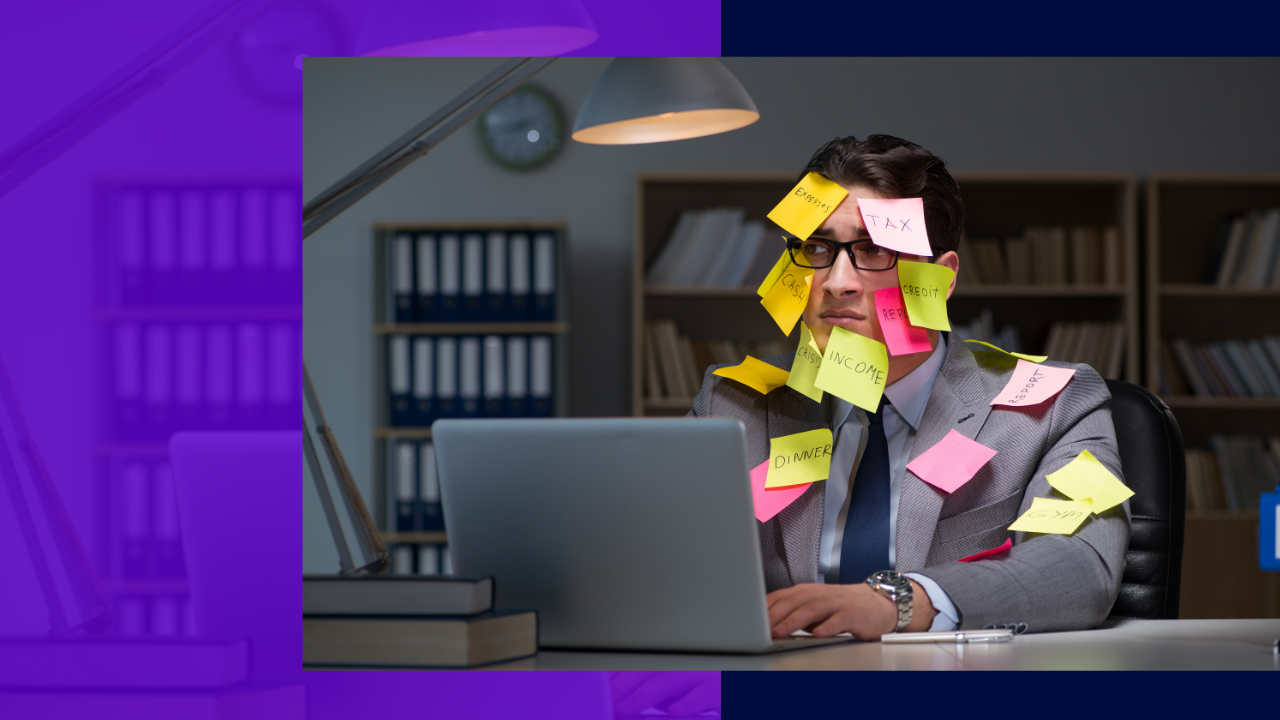 List of RPA tools

In mechanization and computerization, robotic process automation (RPA), in particular, has emerged as a game-changer. RPA offers businesses the ability to streamline processes and boost efficiency.
According to Deloitte, 72% of organizations are expected to adopt RPA in the next couple of years.
Read on to learn what RPA tools are and the numerous benefits they bring. We'll also break down the top 15 RPA tools you should consider incorporating into your business strategy.
What are RPA tools?
Robotic process automation (RPA) is a technology that uses software robots to automate repetitive tasks and processes.
These robots mimic human actions by interacting with various software systems and applications, completing tasks quickly and accurately.
In this regard, RPA tools are software solutions designed to automate repetitive, rule-based tasks within business processes.
These tools utilize a combination of artificial intelligence (AI) and machine learning (ML) to imitate human efforts with various software systems and applications.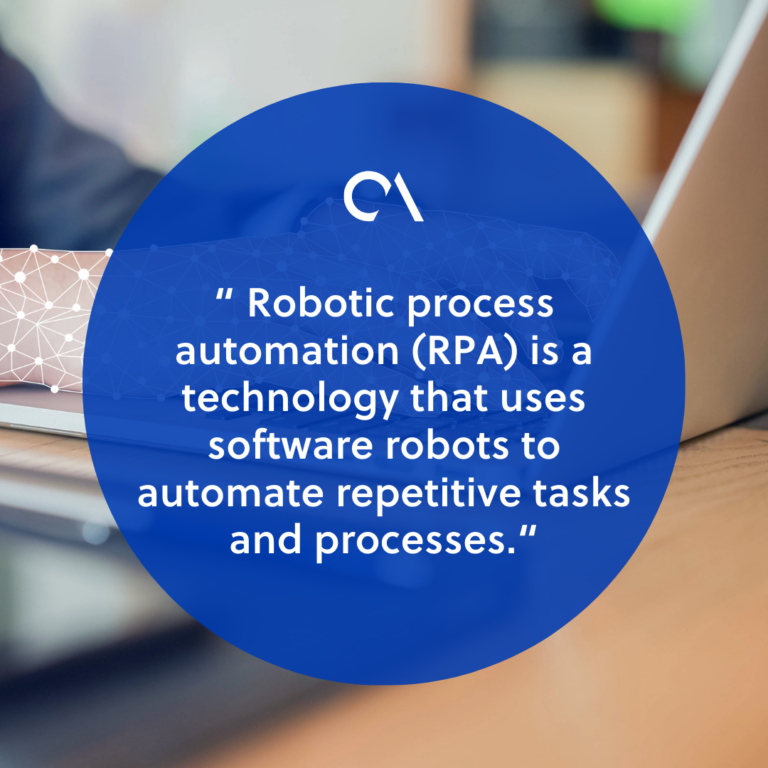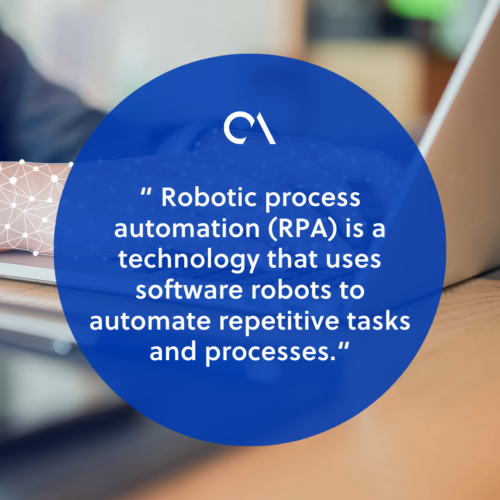 Benefits of RPA tools
RPA tools offer a wide range of advantages, making them a valuable asset for businesses of all sizes:
Increased efficiency

. RPA tools excel at executing routine tasks with precision and speed. They free up time for

human employees

to focus on more complex and creative aspects of their work.

Error reduction

. By automating processes, RPA tools significantly reduce the risk of human errors, leading to higher accuracy and fewer costly mistakes.

Enhanced productivity

. RPA tools work 24/7 without breaks, ensuring tasks are completed promptly and allowing businesses to operate more efficiently.

Cost savings

. With

automation

, businesses can lower operational costs, reduce the need for additional staff, and optimize resource allocation.

Scalability

. RPA tools can easily scale to accommodate increased workloads.

Data accuracy

. Automation ensures data consistency and accuracy by eliminating the potential for manual data entry errors.

Improved compliance

. RPA tools adhere to predefined rules and regulations. This helps businesses maintain compliance with industry standards and regulations.

Better customer experience

. Companies can provide quicker responses and better customer service by automating customer inquiries and order processing.

Competitive advantage

. Organizations that leverage RPA tools can gain a competitive edge by operating more efficiently and effectively than their competitors.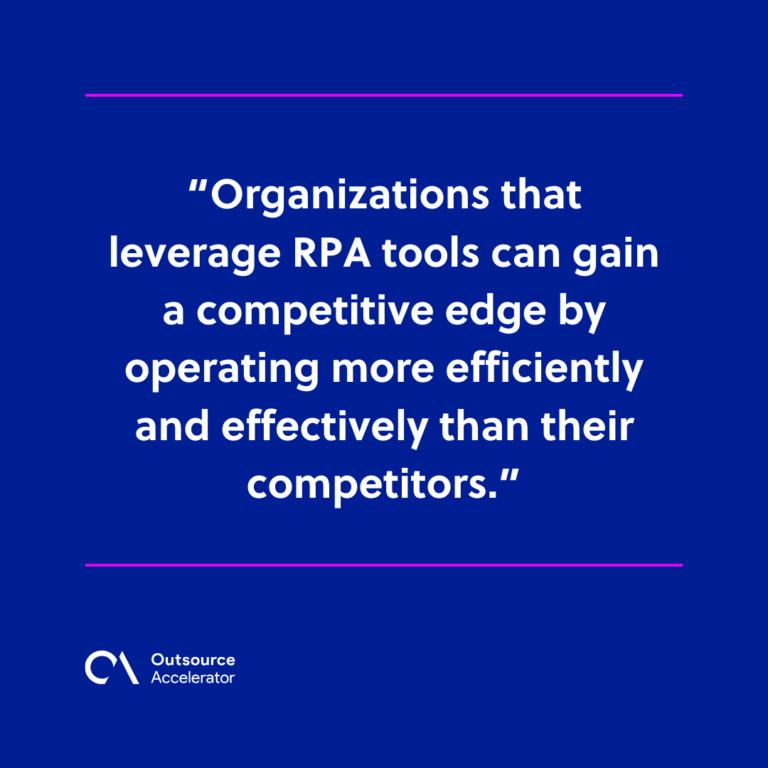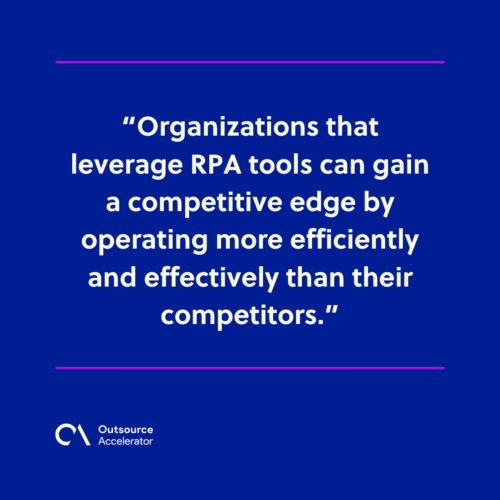 15 best RPA tools to try out in 2024
Check out these 15 best RPA tools to consider for your business:
ZAPTEST is an advanced RPA tool that stands out for its intuitive drag-and-drop interface. This versatile tool allows users to automate web, desktop, and mobile apps seamlessly.
ZAPTEST supports multiple programming languages, making it suitable for developers of all backgrounds.
Fortra's Automate is a comprehensive RPA platform that offers a wide range of features. It consists of useful capabilities like process mining, workflow automation, and data integration.
This tool focuses on providing end-to-end automation solutions, making it ideal for businesses looking for a holistic RPA experience.
Keysight's Eggplant is a leading RPA tool that specializes in AI-driven test automation.
With its patented Intelligent Computer Vision technology, Eggplant can precisely simulate user interactions across various platforms and applications.
This tool is particularly popular in the software testing industry.
Rapise is a test automation tool by Inflectra that stands out for its powerful recording capabilities. With Rapise, users can easily record and playback complex workflows across multiple applications and systems.
This tool also offers advanced debugging and test reporting features, making it a favorite among software developers.
IBM Automation is one of the most feature-rich RPA tools, offering a wide range of automation capabilities.
From automating simple tasks to complex end-to-end processes, IBM Automation can handle it all. This tool leverages AI and machine learning to computerize tasks with high accuracy.
Kofax is a popular choice for businesses seeking intelligent automation solutions.
Its advanced AI capabilities enable it to process unstructured data. This makes it an excellent choice for document processing and content management tasks.
Additionally, Kofax offers robust analytics and reporting features for better insight into automation processes.
Laiye is a leading RPA tool known for its user-friendly interface and extensive library of pre-built task automation modules.
It allows businesses to accelerate their automation initiatives without the need for extensive development efforts. Laiye also offers seamless integration with various enterprise systems.
Microsoft Power Automate provides a low-code RPA solution, making it accessible to a wide range of users, even those without extensive programming knowledge.
With Power Automate, businesses can mechanize tasks across various Microsoft applications such as Excel, SharePoint, and Teams.
UiPath is one of the most popular RPA tools in the market, known for its extensive features and robust automation capabilities.
This tool offers a visually appealing and user-friendly interface, making it easy for users and developers to create and manage automation workflows.
Pega is an enterprise-grade RPA tool that offers a unified platform for automation, decision management, and customer engagement.
With AI-powered capabilities, Pega can handle complex business processes and provide real-time insights for better decision-making.
Automation Anywhere is a versatile RPA tool that caters to organizations of all sizes. It offers comprehensive features, including process discovery, task automation, and intelligent document processing.
Furthermore, Automation Anywhere provides a user-friendly bot development environment.

Blue Prism is a widely recognized RPA tool that focuses on enterprise-grade automation solutions.
It offers a unique digital workforce platform that combines RPA, AI, and analytics. Blue Prism lets companies optimize their end-to-end processes and enhance productivity.
WorkFusion is an AI-driven platform that combines RPA with cognitive automation.
This tool excels in automating data-driven tasks and offers intelligent document processing features. WorkFusion provides advanced analytics and reporting for process optimization as well.
NICE Robotic Process Automation offers an advanced RPA solution that combines automation, analytics, and AI capabilities.
This tool stands out for its ability to automate complex processes with high accuracy. NICE also provides real-time operational intelligence for better decision-making.
G1ANT is a powerful software that offers a comprehensive suite of automation solutions and features.
What sets it apart from other RPA tools is that it has its own scripting language, supports cross-platform automation, and connects and interacts with other databases.
Things to consider before using RPA tools
Before diving into using RPA tools, here are essential factors to consider:
Process evaluation

. Identify which processes within your organization can benefit most from automation. Focus on repetitive, rule-based tasks.

Integration capabilities

. Ensure the RPA tool you choose seamlessly integrates with your existing software and systems.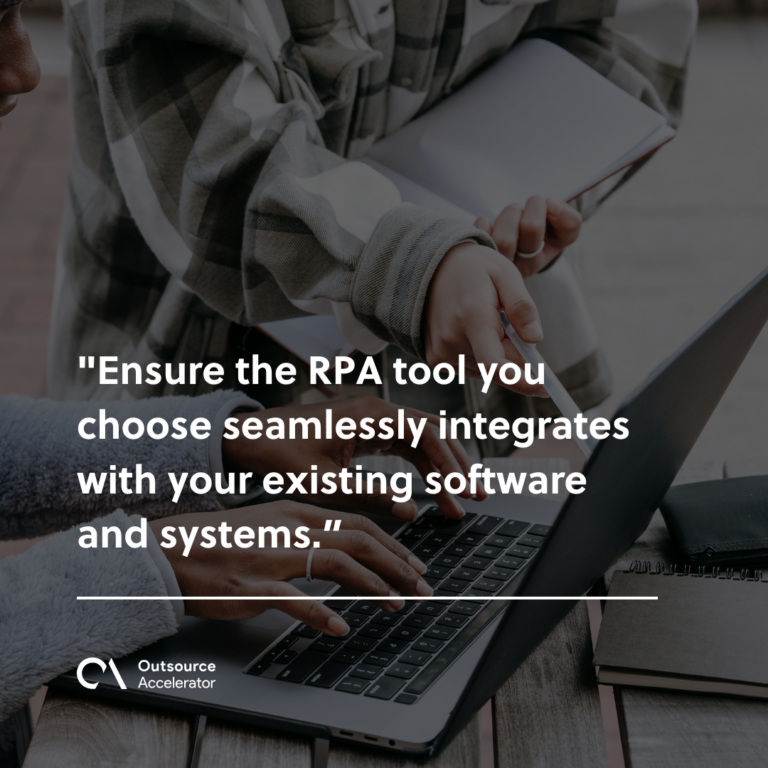 Data security

. Understand the security measures to protect sensitive data, as automation often involves data handling.

Scalability

. Assess the tool's scalability to accommodate your organization's future growth and increased automation needs.

Training and support

. Evaluate the availability of training resources and customer support provided by the RPA tool vendor.

ROI analysis

. Conduct a thorough return on investment (ROI) analysis to determine the cost-effectiveness of implementing RPA.
RPA tools offer immense potential for increasing efficiency and streamlining business processes.
With the wide range of options available in the market, you can choose the best tool that aligns with your specific needs and objectives.
By considering the benefits and factors, organizations can harness the power of RPA tools to optimize their operations and stay competitive.