10 best remote employee perks in 2024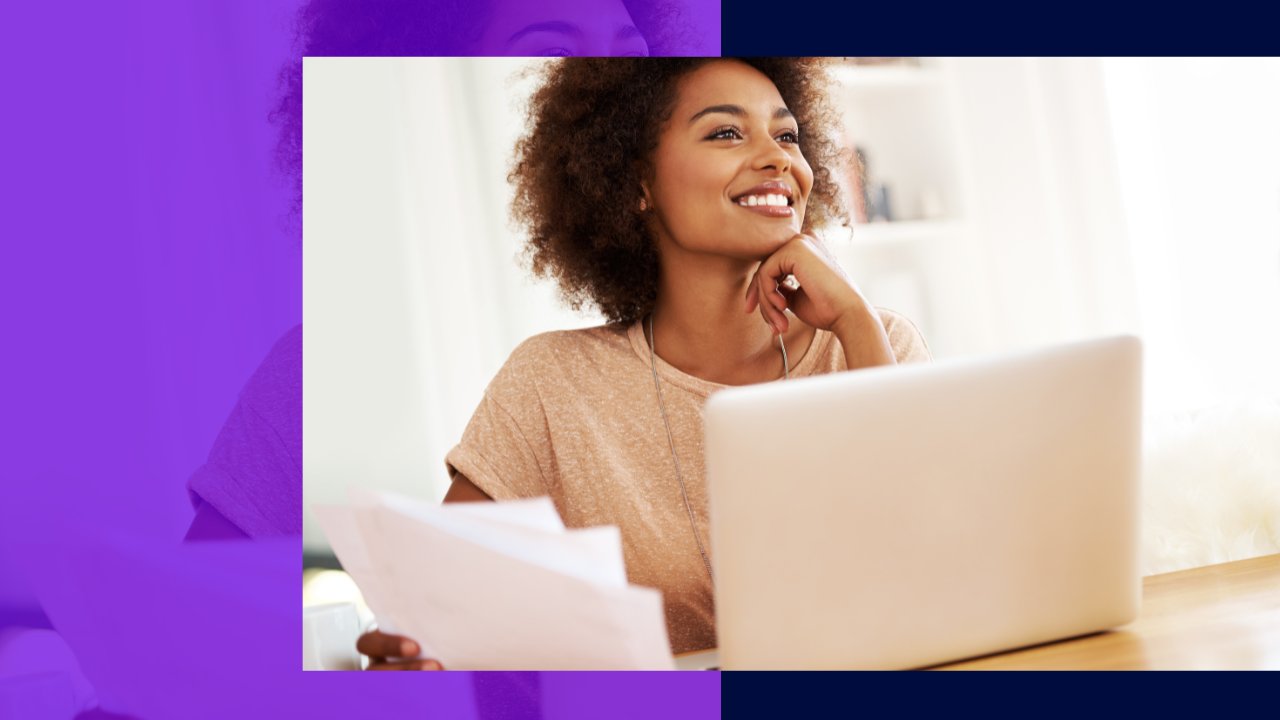 10 best remote employee perks in 2023
10 competitive remote employee perks in 2024
With the sudden rise of companies providing full or partial telecommuting, employers need to focus more on remote employee perks. When the company is generous enough to give benefits, it increases employee satisfaction and retention.
A work-from-home setting isn't always convenient or comfortable. Remote employee perks might make your remote staff feel at ease. 
These are a few reasons why remote work isn't always convenient:
Lack of human connection

– working from home may be isolating, and it can be tough to keep motivated and productive without coworkers' support.

Work-life balance issues

– it is easy to become overwhelmed with work and overlook other vital elements of life without the framework of a typical workplace.

Technological Difficulties

– technical concerns, ranging from poor internet connections to faulty devices, can make it tough to stay productive.

Lack of structure

– it might be challenging to stay organized and productive without the framework of a regular office.
Remote employee perks can assist in overcoming the hurdles of remote work by giving employees the tools and resources they require to succeed.
Offering flexible work hours, for instance, helps employees maintain a good work-life balance while giving them access to collaboration tools that can aid in communication and cooperation.
No matter what kind of work arrangement, one thing is universal among employees: they all want to be appreciated and valued equally — regardless of location.
Should you offer your remote employee perks?
You should offer remote employee perks to attract outstanding talents and retain your best telework employees.
But remember that uniting employees via shared values is the heart of organizational culture.
A good organization should also provide modern technology for remote work setup. Companies like Remote Employee combine cutting-edge technologies, flexible staff, and client-centered services. This will help remote employees in creating quality outputs.
In addition, Remote Employee creates a positive working environment for its remote employees by rewarding their team's capabilities. They also provide their employees additional job training and health benefits to guarantee they can perform well wherever they work.
When you offer remote employee perks, your company will have all these potentials:
Remote employee perks can aid in counteracting the challenges your staff may encounter at home or wherever they work.

Well-thought-out remote employee perks can enhance the remote work culture of your business, resulting in increased productivity and employee morale.

Remote employee perks can foster positivity and happiness — primarily if the benefits are aimed at improving employees' overall wellness.
Further, if you are looking for a firm that understands your remote needs, partnering with Remote Employee is the way to go.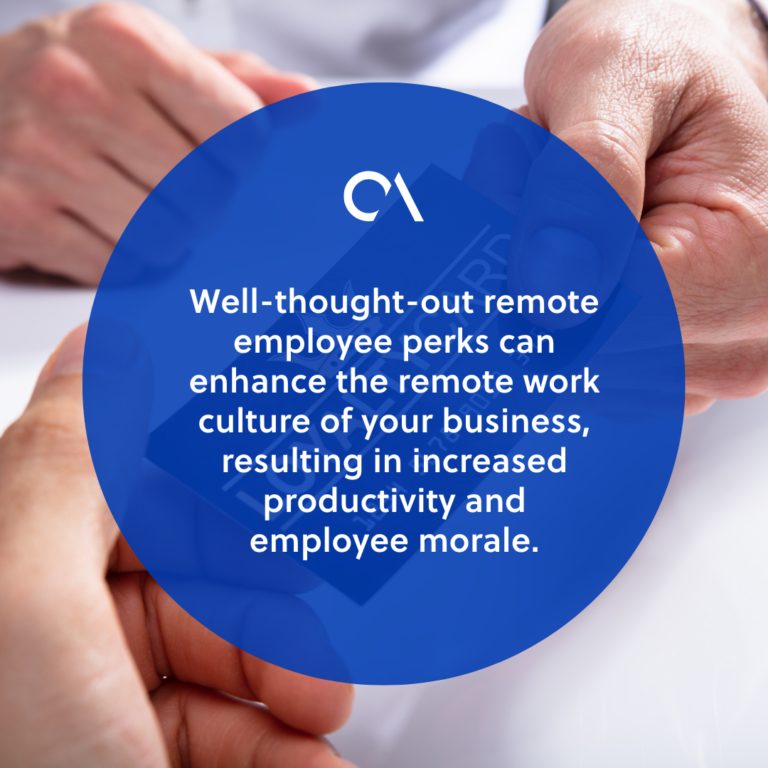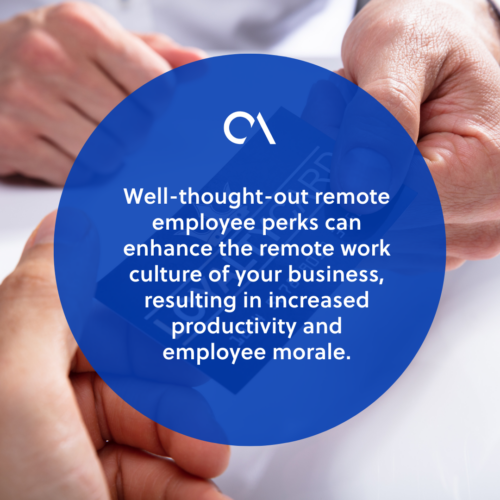 10 competitive remote employee perks
To effectively recruit and keep great talent, you must offer appealing remote employee perks. 
Here are ten remote employee perks ideas for your remote team:
1. Workstation support
Whether the employees work in an in-office setup or remotely, they should be equipped with a cut above tools and technology. 
A pleasant workstation with top-notch tools will keep your teleworkers comfortable. As part of the remote employee perks, providing helpful resources to your remote workers' workstations is vital.
Firms like Remote Employee are generous enough to give remote staff the latest tools.
Sometimes, remote employees also work in coworking spaces to avoid being tempted by their beds. You may offer allowances for their coworking place.
You can also pay back employees' costs when setting up their work-from-home office space. This can include monthly maintenance and internet connection expenses.
2. Insurance plans
Many workers would get several insurance policies to protect their family's future and diverse possessions.
Accidents may happen at the most unexpected moments. At this point, things get problematic since employees can't afford these health plans' higher costs. 
Employers who act responsibly can assist their staff by offering discounted insurance coverage. You can also include this essential benefit when you provide remote employee perks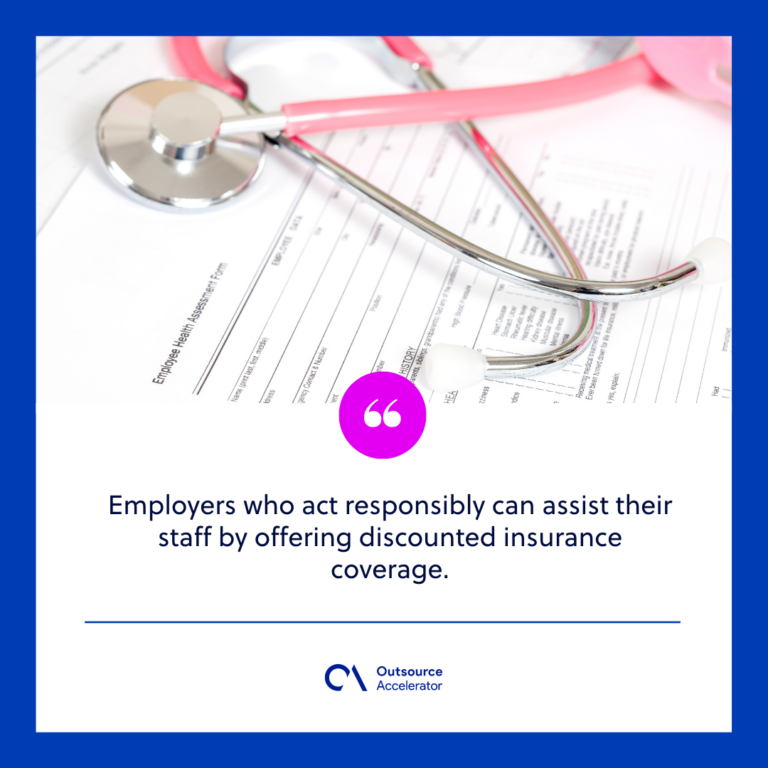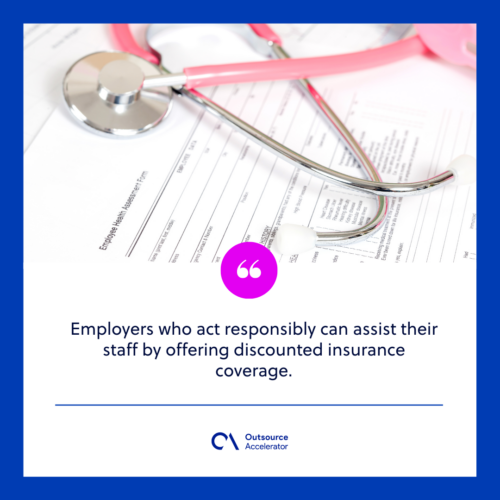 3. Learning and development
Providing learning and development opportunities are among the most valuable remote employee perks. 
Most employees are eager to upskill by taking advantage of company-offered educational perks. Yet, because remote employees are usually isolated, this usually poses a challenge for organizations to administer further upskilling and training.  
The more opportunities individuals have to enhance and expand their knowledge while working, the more likely they are to become productive.
What's even better, there are now online classes for almost anything. Remote Employee offers professional development programs, enabling your staff to learn while working from home.
4. Home care services
Offering home care service is also one of the excellent remote employee perks that can make your workers feel great about working for your firm.
Employees who work from home tend to take care of their regular household responsibilities, which can be distracting and time-consuming. It disrupts the workload of your remote team and can also impact your business.
That is why you should consider offering your employees various homecare services, such as:
Laundry allowance

Food delivery

Extra 20-minute time to organize things 
These can help your staff focus more on their duties and reduce the amount of labor and energy spent on other things.
However, remember that it's also critical to track whether they have been properly using their 'extra time' credits to do house chores to prevent misuse of benefits.
5. Health and wellness
The remote employee perks are incomplete until you address your employees' health and wellness. Successful firms have a healthy staff. Health and wellness programs may assist your employees in keeping fit and active.
Since your staff is working remotely — typically alone — they must maintain a healthy physical and emotional lifestyle. Rewards for completing particular health challenges can motivate everyone to achieve various wellness goals.
6. Childcare
Giving perks designed for your employees with children is among the finest perk you can provide.
Your parent employees also take care of their kids while working from home.  As mentioned earlier, you can provide your employees' leeway for housekeeping and care for their children for at least a significant amount of time.
7. Entertainment and news subscriptions
One of the remote employee perks that teleworkers demand is subscription incentives. Given the variety of entertaining content available, like Netflix and Amazon Prime.
When remote employees have the time to relax, it can positively impact their productivity and morale. Relaxation time can also help them to recharge and refocus. 
You might also offer different subscriptions, such as access to paid online forums, magazines, and newspapers.
8. Travel
Giving a literal "vacation" leave for your remote employees is another fantastic benefit businesses provide.
Travel leaves can help them clear their heads and have a chance to work in other aesthetically-pleasing locations. This can also improve their quality of life significantly.
9. Discounts
You can negotiate special discounts on goods and services for your remote workers in the following ways:
Fixed internet allowance.

 Remote workers need a dependable internet to do their tasks. You may partner with a good internet provider and give your employees a fair discount to avail of its internet services.

Discounted subscription fee.

If you don't intend to cover the entire cost, you may provide remote workers discounts on their subscriptions to entertainment platforms like game streaming or television. This demonstrates your genuine concern for their unwinding ability after work.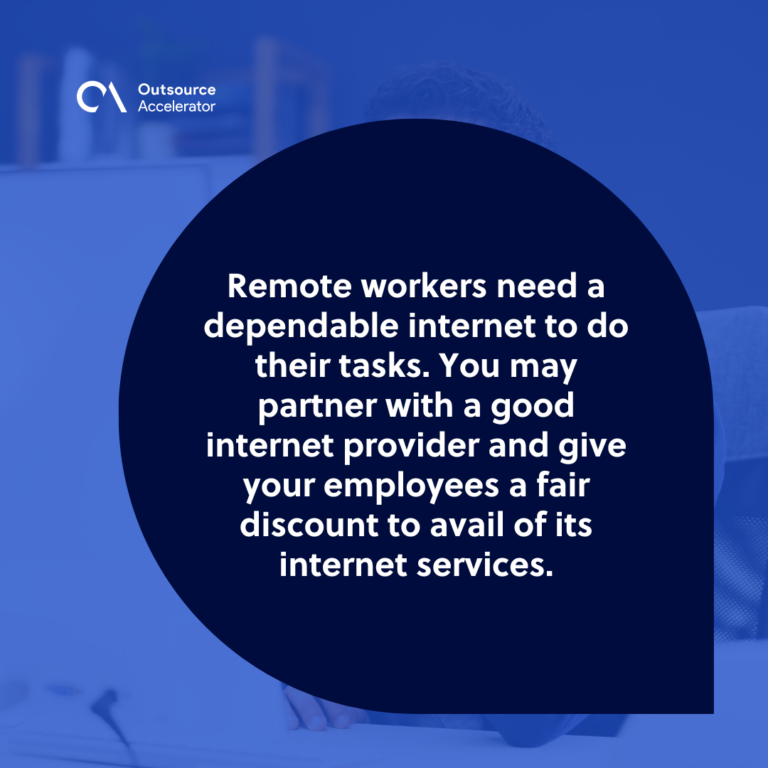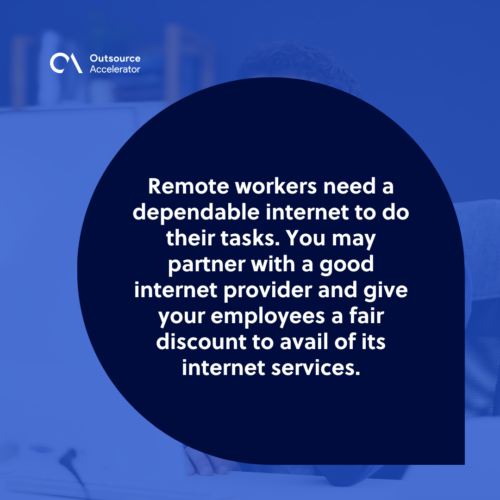 10. Rewards program
Remember that you should not only set up remote employee perks just for one team.
All team members, whether onsite or remote, must receive the same baseline benefits but don't forget to recognize and honor the top team performers. 
For example, if the top performer is a remote employee. In that case, you can give performance bonuses, Christmas gifts, certificate rewards, or a special discount on company products (if there's any) on their next purchase as a reward for their exemplary work. 
Remote Employee is open to providing this benefit for their remote staff to ensure they perform to the highest level.
Remote employee perks create a great work culture
Remote employee perks are crucial to developing a positive working environment. 
In this period of extraordinary change, Remote Employee is a highly collaborative workplace that prioritizes in-person connections but also recognizes the necessity of telecommuting. 
Remote Employee prioritizes employee needs and gives clients the best experience from their motivated staff. It cultivates a positive working atmosphere so workers can perform at their best.