Top skills to look for when hiring a remote actuary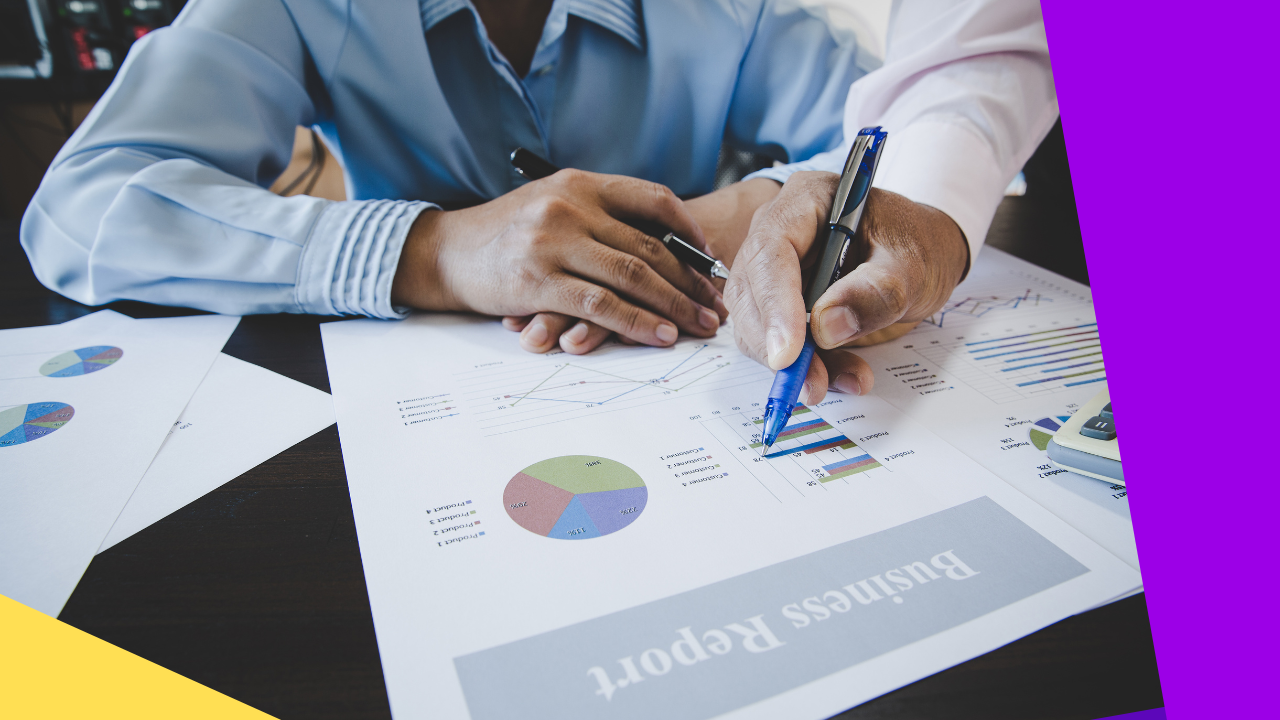 Running a company requires looking ahead to predict what events may happen that could financially impact your business. 
As such, it's practically become a necessity for companies to seek the statistical skills of an actuary. Due to the nature of their work being clerical, many actuaries can work remotely. 
Outsourced is among the primary offshore staffing providers in the Philippines that offers remote actuary as one of its services.  
What does a remote actuary do?
Remote actuaries determine the likelihood of future risks and calculate the accompanying costs of financing them. Risks may include birth, disability or injury, premature death, or property damage. 
While usually employed for insurance aspects, remote actuaries can make projections for many practical business problems. This makes them key players in management teams as they are heavily relied on for planning. 
Remote actuaries possess broad expertise. Mathematical, statistical, economic, and financial analyses are applied to predict the monetary impact on companies and clients. 
They must also be updated on business trends, social science, law, finance, and economics.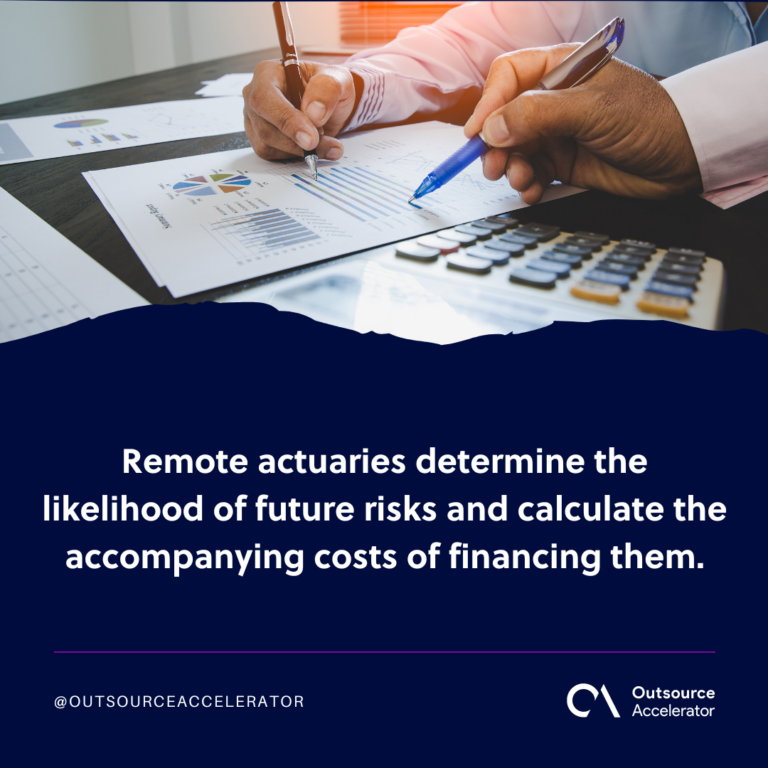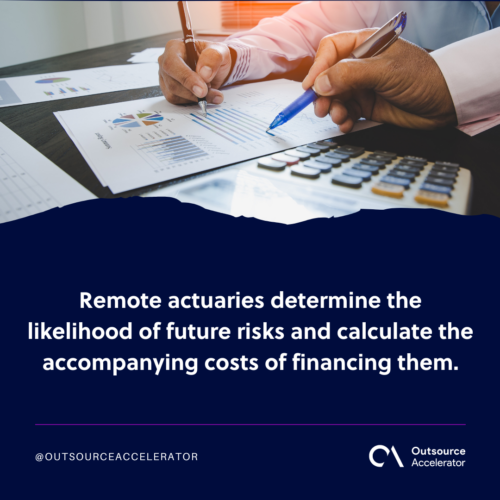 Top skills of a remote actuary 
The following are actuarial skills needed to manage financial risk:

Analytical problem solving  
Remote actuaries assess current environments and examine complex data. They have to be analytic problem solvers to identify patterns and trends that will lead to specific outcomes. 
After evaluating existing factors, they analyze ways to minimize the likelihood of undesirable financial outcomes. This also involves making relevant and precise calculations. 
Mathematics and numeracy
Strong math skills and advanced calculations are fundamental to the actuary profession. 
Statistical knowledge is also essential, while proficiencies in linear algebra and advanced calculus are minimum requirements.  
These skills are needed to produce data and determine the likelihood of events. 
Business knowledge 
Remote actuaries are often employed by financial institutions, insurance companies, and similar businesses. Adequate knowledge of business trends is required to provide relevant information. 
As for the actual work, remote actuaries are responsible for evaluating insurance and pension plans. 
They also advise businesses on limiting exposure to financial risk and provide banks with expert opinions on maximizing returns on investments.  
These roles, therefore, require a solid understanding of business and financial concepts. 
Remote actuaries with good business knowledge can advance rapidly due to their ability to communicate well with business decision-makers. 
Communication and understanding of human behavior 
The work of remote actuaries requires a lot of collaboration. Remote actuaries frequently collaborate with various personnel like program managers, accountants, and senior management. 
Remote actuaries must communicate and work effectively with others. With strong oral communication and interpersonal skills, they can explain difficult technical and statistical details to different audiences. 
They may also be asked to do this in writing, making reports that can be easily understood. 
Remote actuaries must also be able to handle an assortment of personalities if they're asked to lead teams on projects. Interpersonal skills come in very handy here. 
An understanding of human behavior is also necessary when doing the calculations for their statistical assessments. Human psychology plays a large role in making accurate forecasts.    
Technical computer skills 
The remote actuary profession relies heavily on computer technology and an array of statistical modeling software. 
Remote actuaries frequently use models and tables to evaluate large amounts of data. Thus, being able to operate with statistical programming language is a skill many remote actuaries develop.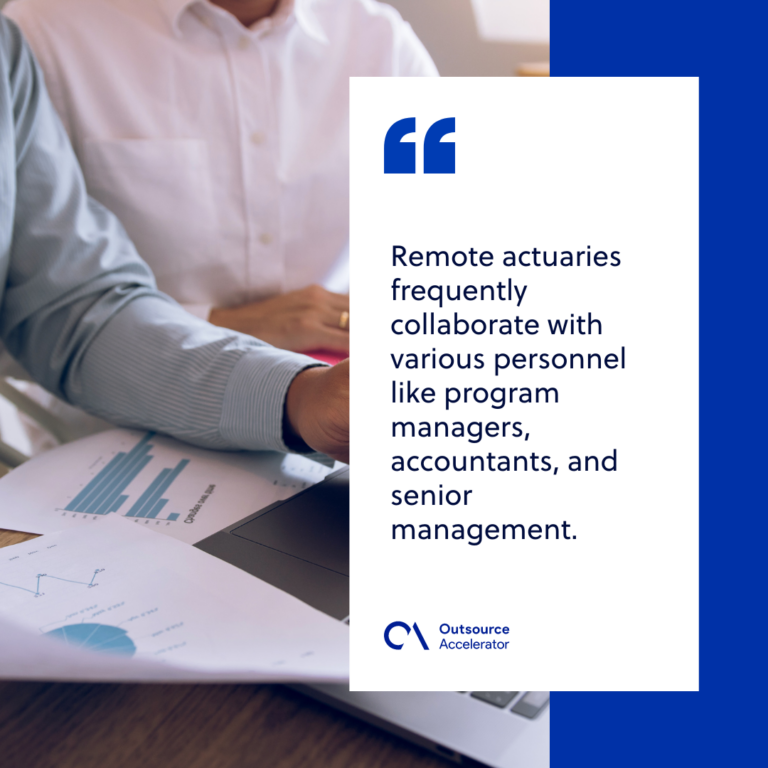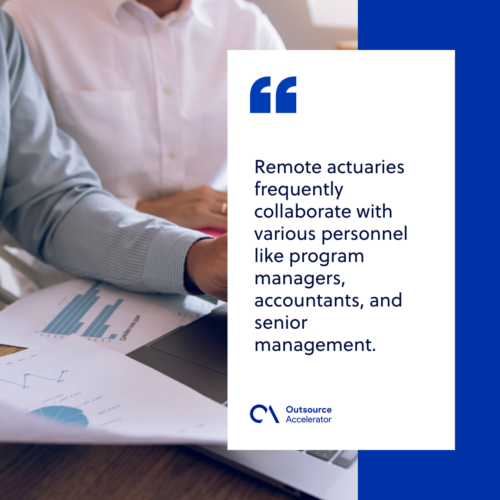 Contact Outsourced to hire remote actuaries 
Outsourcing to the Philippines is a strategy that reduces risks and maximizes profits. 
Outsourced has experience hiring different types of remote actuaries from the Philippines. 
Your hired remote actuaries will operate locally, and Outsourced will provide all the resources, technology, and infrastructure needed to fulfill your company requirements. 
Outsourced ensures that remote actuaries in their shortlist are SOA-certified (Society of Actuaries), so you may select qualified employees that fit your team. 
This also means they can work in sectors covering finance, investments, retirement benefits, health, and life insurance. 
Get in touch with Outsourced today!