Definition
What is a business environment?
The business environment is the external and internal factors that impact business operations position.
These factors may include employees, customer needs, supply and demand, clients, suppliers, market trends, and economic changes.
These may be found outside or inside the organization that can affect the company's performance, profitability, and growth.
Understanding the nature of the business environment is vital, this helps to ensure that the company has the right strategy to succeed not only in the present times but also in the future.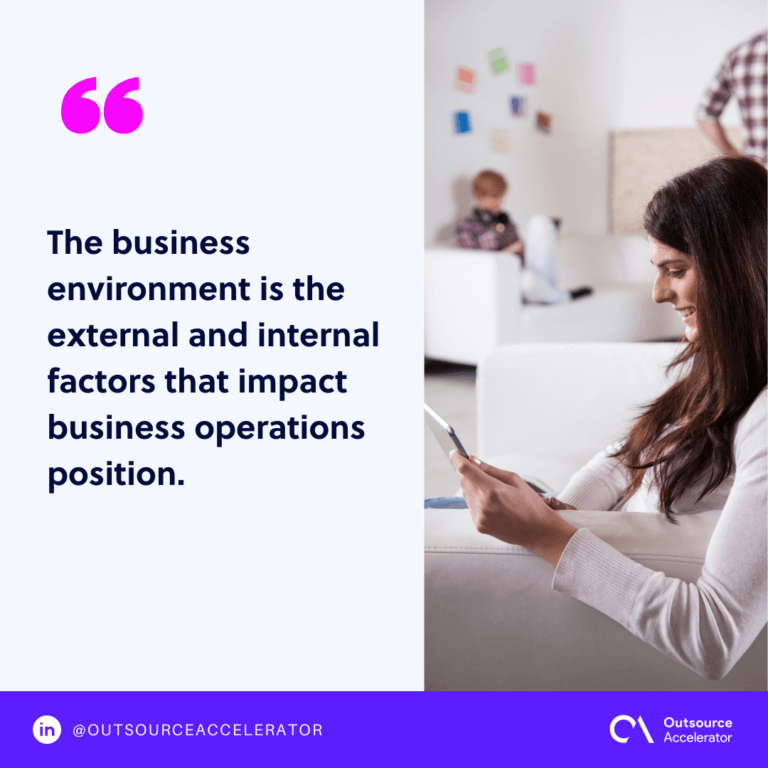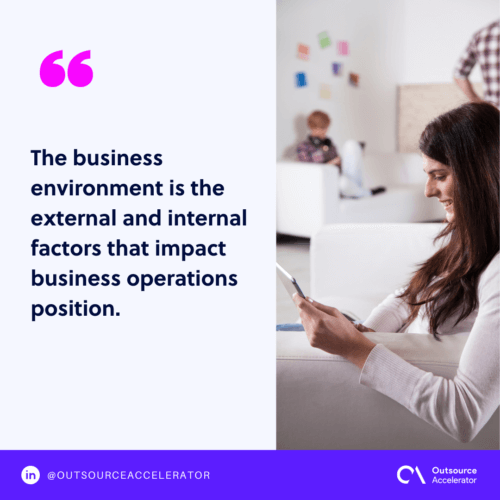 Features of a business environment
A business environment incorporates the following features:
Dynamic – consistent changes happening socially, technologically, politically or even economically are often results of a dynamic business environment.
Complex – it can be quite complicated to make out how a business environment impacts companies. While it is easier to examine a particular business environment, it may be harder to determine how its changes influences other business operations.
Unpredictable – changes in the business environment are often cannot be foreseen. For example with trends in the fashion industry, what's in now doesn't guarantee that it will still be on-trend in the coming months. These constant changes are uncertain.
Relative – business environments are not all the same. In fact, its impacts will vary from one company to another, or one country to another.
Types of business environment
There are two types of business environments that you will be looking into – internal and external factors.
Internal environment
The internal environment consists of the factors that are under the control of the company. These factors help them adapt to external business environments and achieve their goals.
The business environment factors present within a business organization define the company's characteristics. These include the work culture and management.
Value system
Business values define how its employees perform according to their roles. The value system is a business function that judges the worth of the organization and how its work culture will be managed.
It mainly consists of management practices, organizational norms, work processes, climate, and corporate culture.
Business path
Every company has a reason and purpose to serve and meet the needs of others. To establish a good business path, you should have a mission and vision.
Mission and vision allow you to see the future of the business. These two factors clarify the changes needed to execute into the business framework.
Organizational structurE
Established businesses have the proper organizational method that helped them to be where they are right now.
The organizational structure contains the hierarchical structure of the business. With this factor, you can easily identify the role of each employee and management.
There are different types of organizational structures like matrix, functional, product, network, among others. In the simplest form, organizational structures are made to identify who reports to whom and to provide better communication skills.
Business Culture
Every business leader has their own ways of handling the business, this results in unique business culture.
Business cultures may be undefinable in exact terms but this includes the treatment of employees, handling of resources, and proper dealing with clients.
Human Resources
Human resources (HR) plays an important role in defining the business environment. With the continuous growth of the business, the management of employees is minimally managed by human resources.
Equipment
Business competition is evolving endlessly, to be able to exceed your competitors your company must possess better and advanced equipment. Equipments consists of physical resources.
Modern technology continuously defines a business environment both from inside and out. From the inside, it depends on the tech being used by the company, and from the outside, it depends on the technology used by its competitors.
External environment
Business is socio-economic and several aspects of society play a role in business success or failure. The external environment represents the various factors outside the company's control.
The external factors influencing a business environment are varied into two types: macro environment and micro environment.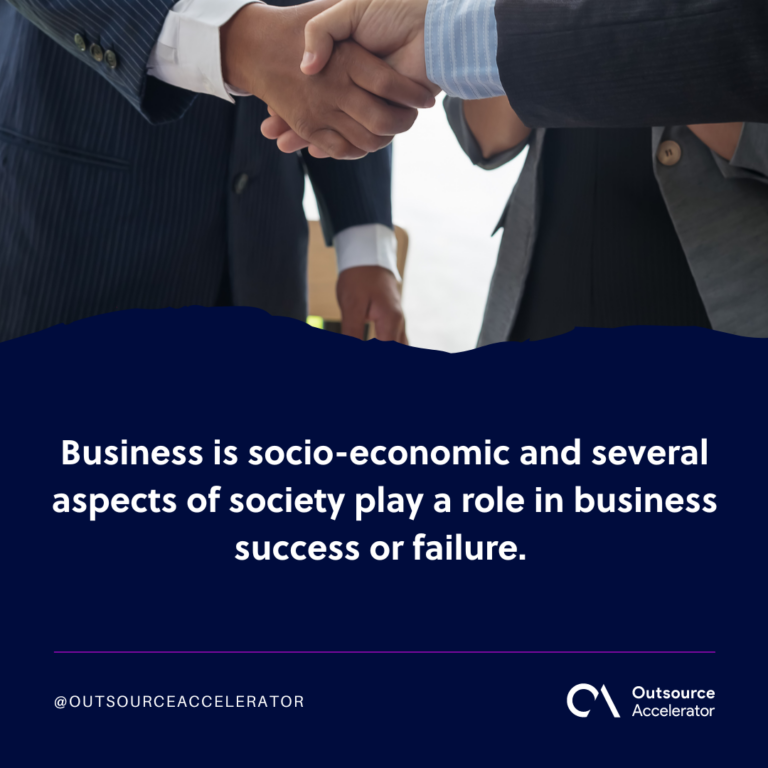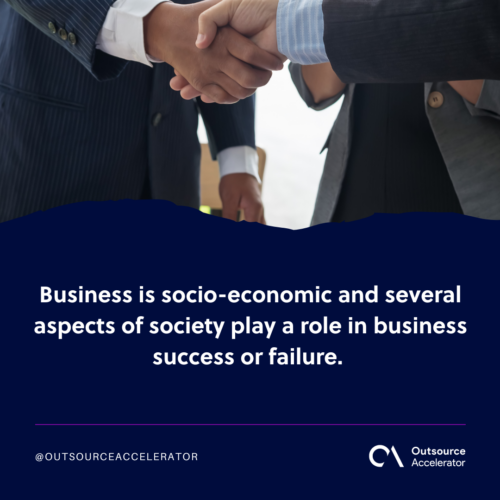 Micro environment
Micro environment consists of factors that affect business operations and performance such as:
Customers – the target consumers of a business, both existing and prospective customers.
Competitors – other businesses that offer similar products and services to the same target customers.
Suppliers – involves all components that provide organizations with needed resources for their daily operations.
Media – outlets or channels businesses utilize to market they offerings to their target customers.
Partners – external entities that works with a particular business to meet the customers' needs, to which also affects how a business operates. Examples of partners include advertising agencies and business consultants.
General public – any type of consumer who may have potential interest in a brand and what it offers or that impacts how it serves the actual customers.
Intermediaries – everyone involved in delivering the final products to the people and in providing exceptional customer service.
Macro environment
Macro environment comes from varied environmental influences from remote factors. The common term given to this type of business environment is PESTLE.
PESTLE stands for the Political, Economic, Social, Technological, Legal, And Environmental factors of the business.
An external business environment, particularly macro-environment, consists of the following components:
Political factors
Many countries have laws regarding establishing a business; others restrict businesses. The state of local politics highly affects the business condition. These factors involve a political and legal influences.
Further, political and legal environment has the following – government policies, labor laws, tax policies, including trade restrictions that can affect business functions or the industry itself.
Economic factors
Whether a large or small companies, a country's economic environment affect businesses. However, the open market has been highly helpful in every business. Economic factors consists of exchange rate, economic growth, and interest and inflation rates.
Since the global economy is unstable, businesses must be careful of their actions at all times.
Social factors
In today's era, society easily grasps the attention of any business. Every society has its unique taste and choices. This factor affects businesses worldwide. Society brings out the new trend that can lead to a rise in demand for a certain product or service.
As for social factors, it compromises the demographic factors of a country like population growth rate, career attitudes, age distribution, and health consciousness.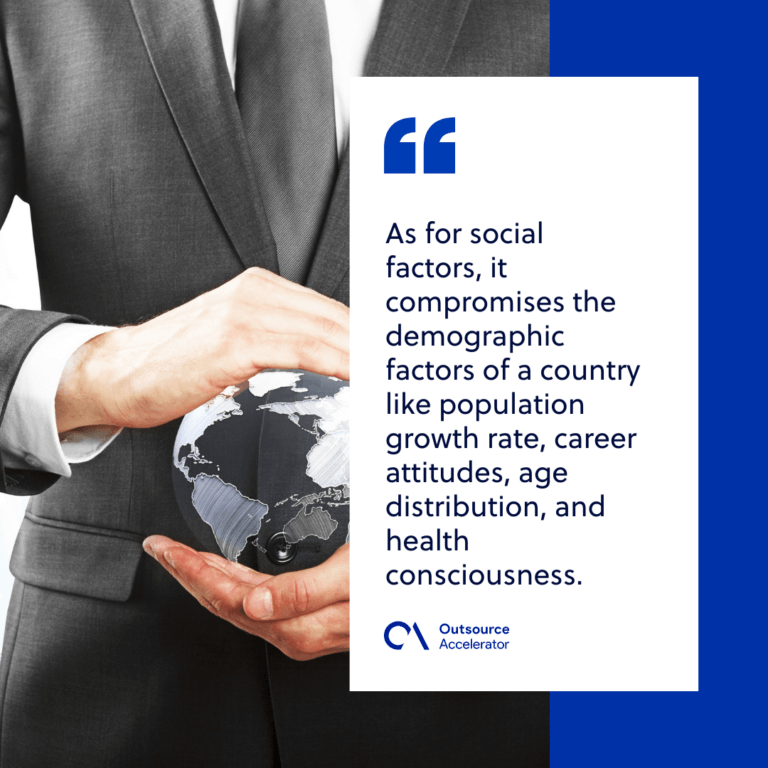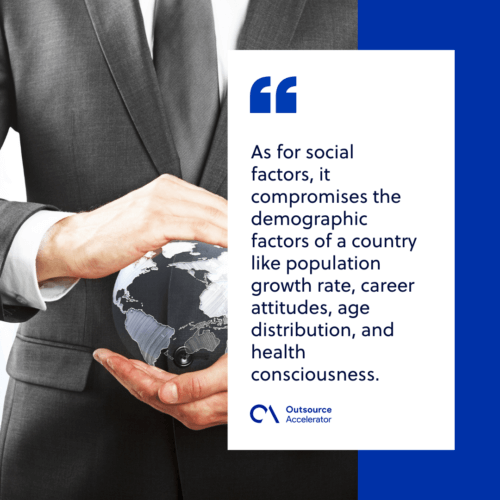 Technological factors
Technology is one of the fastest evolving and innovating things in the world. Businesses that are unable to catch up to the current technological developments are having a hard time establishing their brand.
While businesses that are using the latest technology to their advantage are now way ahead of their competitors. Information technology has now become a leading business due to its huge demand.
Examples of technological factors are technological awareness, automation, and research and development.
Legal factors
Rules, laws, and regulations are primary factors that every business should consider in their external environment.
There are laws for businesses in every country across the globe and every business has to follow these laws. Many businesses think that these laws were made to drag them down but little did they know that regulations help their business to prosper.
Environmental factors
The world is currently facing an environmental crisis and is a factor for business development, businesses are expected to cope with these problems.
Environmental factors like the cold season bring down the agricultural business but it can boost tourism. Businesses focus on organizing a strategic way to handle these factors. Other examples of environmental elements include natural disasters, climate, weather, and environmental policies.