What you need to know about radiology transcriptionists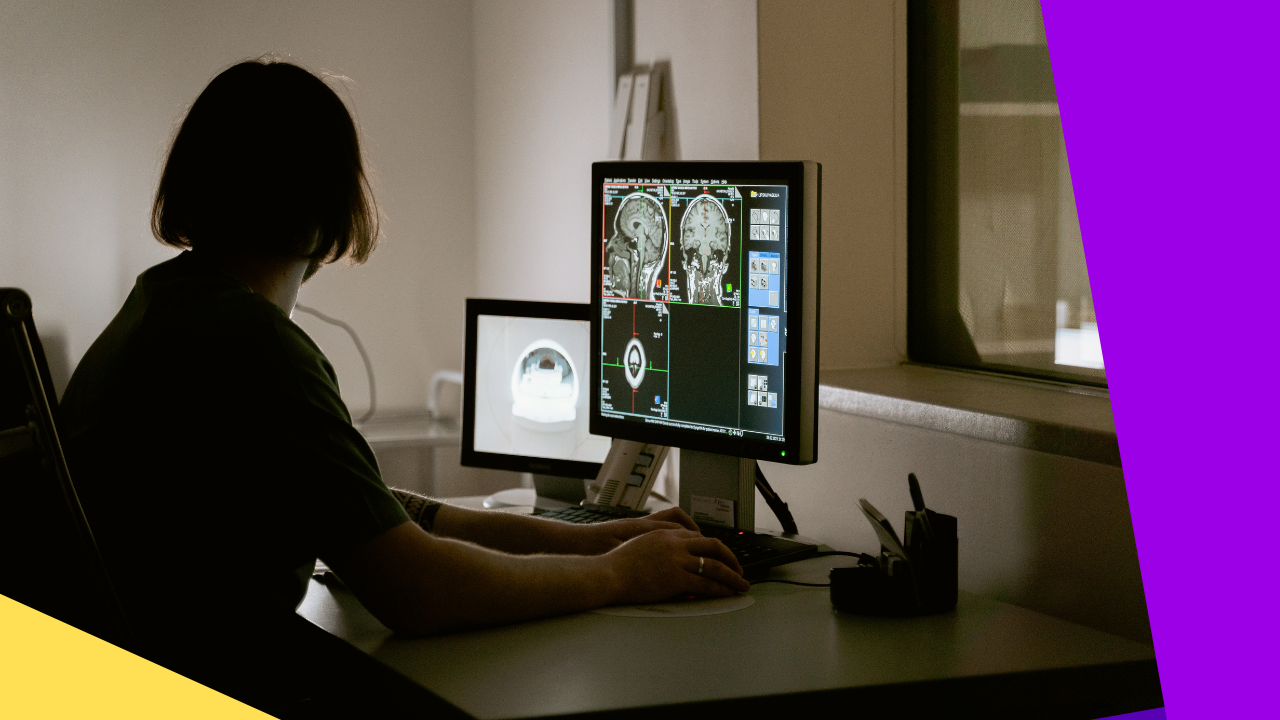 Medical transcription is an essential job. Healthcare workers like doctors and nurses are constantly on their feet, tending to patient needs. Hospital and clinical environments are frequently described as busy, and even collecting observational data is challenging.[1] 
The unfortunate effect of this is that this leaves them with precious little time to organize their reports and other documents. As part of the larger medical transcription industry, a radiology transcriptionist helps alleviate this workload. 
Healthcare staff can focus on patient care while having their reports written, organized, and placed in a database by radiology transcriptionists. 
What does a radiology transcriptionist do? 
A radiology transcriptionist works with radiologists to transcribe medical reports and notes. These reports are often written in an abbreviated form of English which can be difficult for non-medical workers to understand.[2] 
Radiology transcriptionists translate these notes into a format more easily understood. They also play a role in providing treatment. They ensure that doctors have all the information needed to make informed decisions about patient care. 
Many medical transcription services today also use some form of software for their tasks. A radiology transcriptionist is often asked to train new healthcare employees on this software.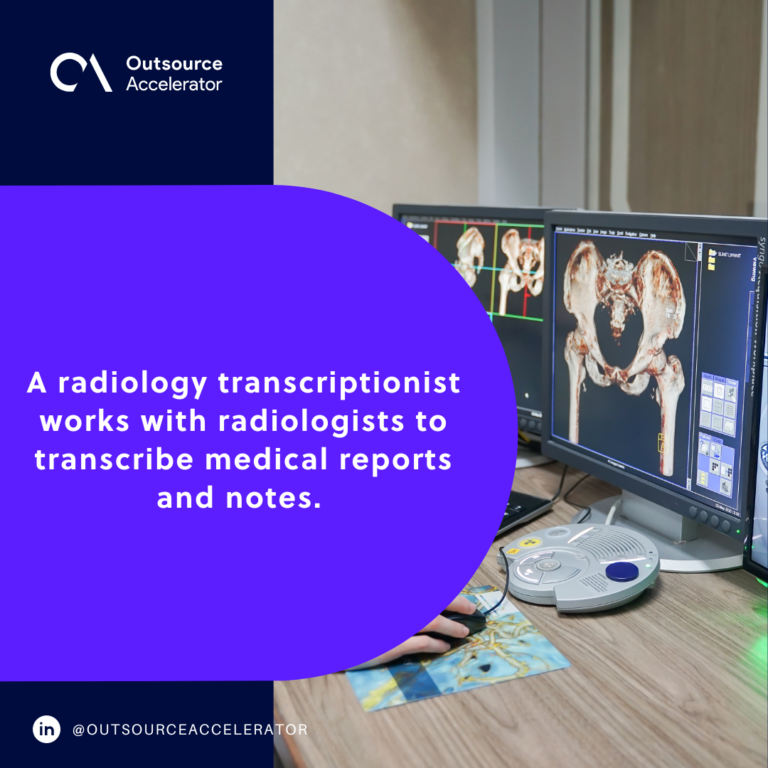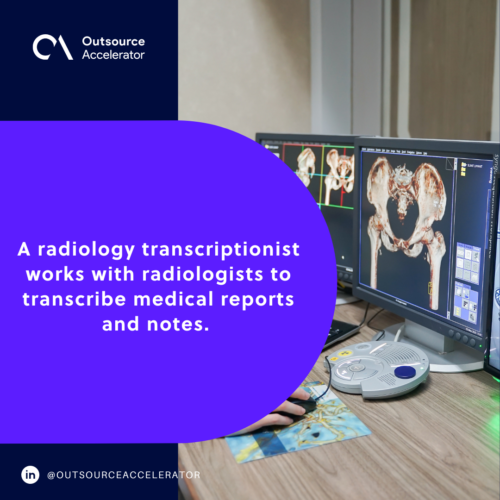 Essential skills of a radiology transcriptionist
A radiology transcriptionist shares many of the same skills required by other medical transcriptionists. These include: 
Excellent computer and typing skills 
Excellent computer knowledge is essential for radiology transcriptionists because it's their primary tool for inputting information. Once entered into the hospital's database, it can be accessed by healthcare team members for use. 
Typing skills are also essential because most of the role is to type reports based on dictation from doctors or nurses in real-time. Sometimes a radiology transcriptionist must type multiple pieces at once, so significant demand is placed on typing speed and accuracy. 
Knowledge of medical terms and procedures
Good working knowledge of medical terms is vital to help radiology transcriptionists understand the reports they're writing. 
These include diagnostic codes and other technical language used in radiology reports. Familiarity with orthopedics, immunology, pulmonology, and cardiology is advantageous. 
Excellent grammar and spelling skills 
While their main focus is on reports, radiology transcriptionists also work on other documents, like patient records and laboratory results. They likewise proofread final documents, ensuring accuracy and grammatical correctness. 
Communication skills
A radiology transcriptionist should be able to work independently and accurately and multitask. They must be able to communicate effectively within the department and with other hospitals or clinics. 
Good communication skills result in concise and easily understandable reports, helping other staff be more productive and efficient.  
Critical thinking skills 
Radiology is a highly technical field. A radiology transcriptionist must consider all possible meanings and outcomes of each statement. 
It's not just about typing what you hear. Critical thinking is vital for a radiology transcriptionist. They must evaluate the information in a report and determine its accuracy, enabling them to make recommendations that would improve quality.

Reasons to hire a radiology transcriptionist
As part of your healthcare practice, a radiology transcriptionist and other medical transcription services bring multiple benefits. 
Higher transcription accuracy
Radiology transcriptionists have years of experience working on medical documents. They know how to format and interpret the information provided by healthcare professionals properly. They also possess a knowledge of medical jargon for accuracy. 
Transcription accuracy is an essential factor in giving patients the kind of care they need. Highly trained professionals like radiology transcriptionists produce higher-quality transcripts.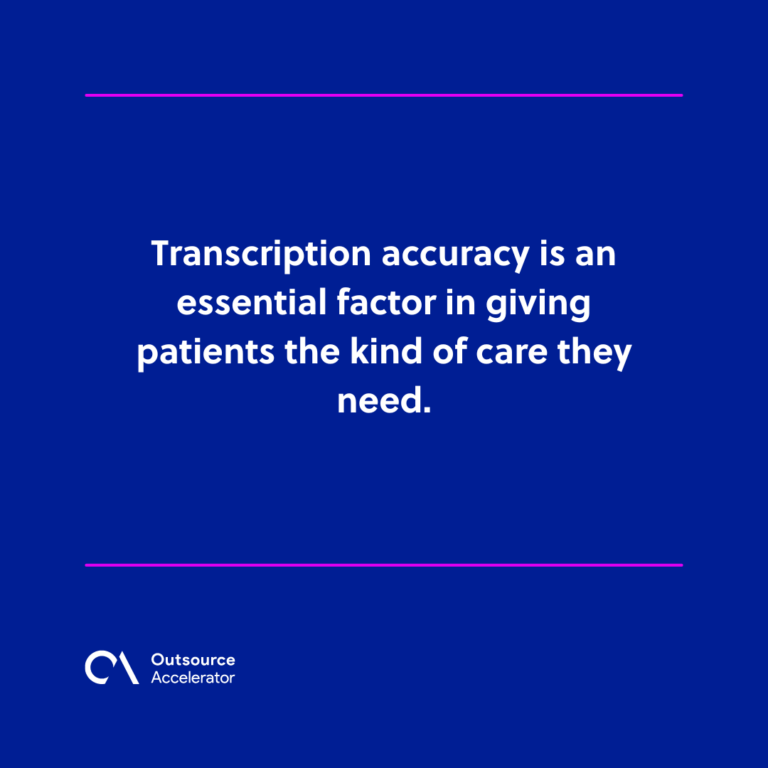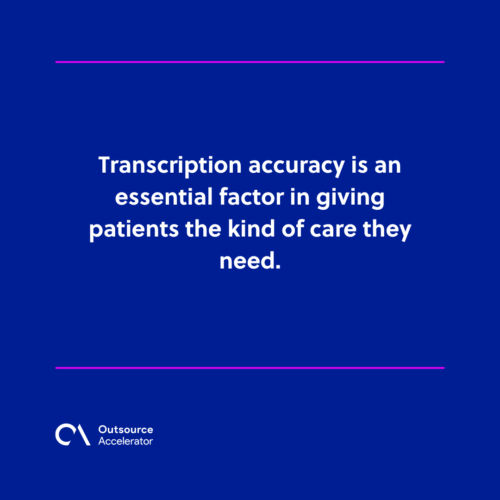 Saves time 
A radiology transcriptionist saves time for doctors and nurses by making reports for them. Hiring transcriptionists is beneficial, so the healthcare staff can focus on other important things, such as spending time with patients. 
Helps improve the quality of patient care
A big reason for hiring radiology transcriptionists is to improve the quality of patient care. The quality of care is directly tied to the accuracy of reports. When reports have errors or omissions, it can negatively impact patients' health outcomes. 
Radiology transcriptionists give their entire focus to transcribing authentic reports. Their experience working with doctors also means good communication flow. 
Additionally, outsourcing the services of radiology transcriptionists gives a few more benefits. 
Update and organize radiology reports easily
Outsourcing saves you time updating your radiology reports. Experienced radiology transcriptionists understand the importance of urgency so that doctors can use the transcriptions for diagnosis and treatment purposes. 
Many outsourcing services for radiology transcriptionists also use electronic databases more often than clinics. A good radiology transcriptionist can organize all your radiology documents into an easily accessible system. This reduces the risk of information being lost.

Reduces documentation challenges
Documentation is one of the most time-consuming tasks in healthcare. A lot of data entry is involved, and there's always the risk of errors. When outsourcing a radiology transcriptionist, not only do you save time, but you also lessen mistakes. 
Growing businesses need to keep up with all documentation standards and other regulations for healthcare providers. A dedicated, outsourced team of radiology transcriptionists handles all these needs for you.  
No in-house team issues
Radiology transcription requires a lot of hard work and dedication. You need a team who can do this job well and maintain quality standards at all times. Outsourcing radiology transcriptionists means you don't have to worry about personally hiring, training, and maintaining new employees. 
Why healthcare needs radiology transcriptionists
The healthcare industry is fast-paced and constantly changing. The demand for radiology transcriptionists is growing as the demand for healthcare increases, especially with the world's new outlook after the global pandemic. 
With more people seeking quality medical treatment, it's more important than ever to have an accurate record of the procedures performed. 
A radiology transcriptionist provides vital services to both doctors and patients. As the industry grows, the demand for radiology transcriptionists to take on some workloads only increases.  
References:
Collecting observational data.

Jackson, D., McDonald, G., Luck, L., Waine, M. and Wilkes, L., 2016. Some strategies to address the challenges of collecting observational data in a busy clinical environment. Collegian, 23(1), pp.47-52.