Significance of the pros and cons of offshoring to your business expansion
Last updated: July 27, 2021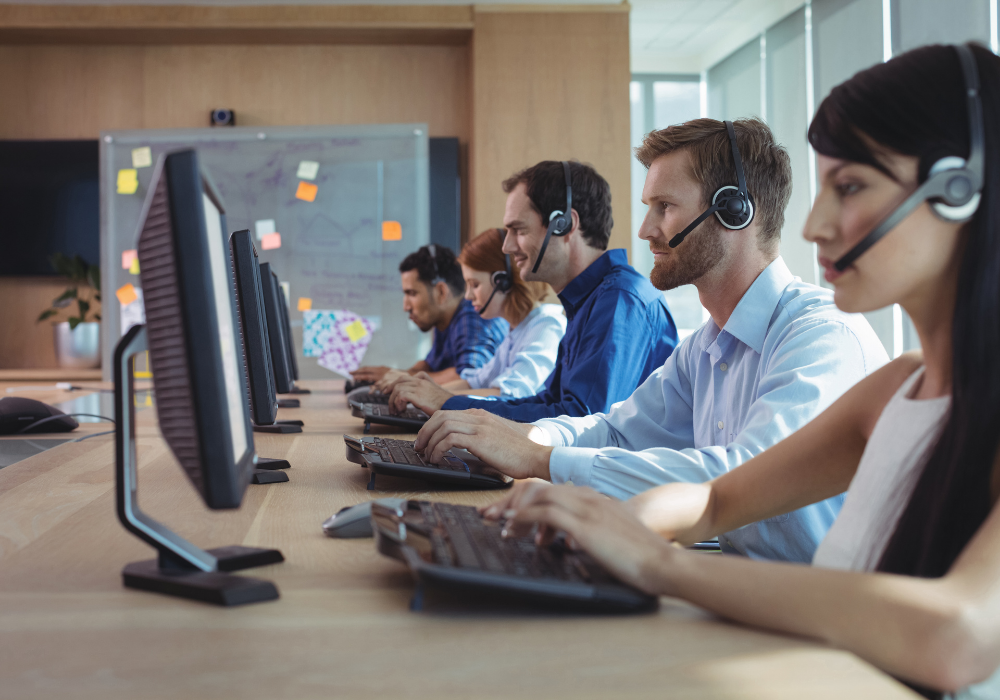 Everyone around the world is combating the effects of the COVID-19 pandemic. It deeply impacted businesses of all sizes and sectors. While there are organizations that have succumbed to the economic impacts, others have been seeking all measures to help them cut costs to continue their operations. 
As for growing businesses, one of the most viable solutions to majorly reduce their costs is to delegate their functions offshore. But as a business owner, it is always vital to be educated of the pros and cons of offshoring before making a decision. 
More so, offshore outsourcing is not just for growing businesses alone. All types of organizations in various sectors can leverage this practice to their advantage. 
Over the years, offshore outsourcing has always been a strategic practice for organizations to boost their overall efficiency and productivity. All these while maintaining a much cheaper cost. 
Offshoring history
Deploying manufacturing jobs out of the country has been a common business method since the 1960s.
This well-known business strategy started with outsourcing. Outsourcing is when an organization farms out parts of their business processes to an external company. While it may seem as a current phenomenon to many, the truth is, it has been going on since the 1950s. 
However, it wasn't until the 1980s that corporations perceived it as an effective business strategy. It was also in that year where companies mainly outsource to allow them to have greater focus on their core competencies. 
Then in the 1990s up to the early 2000s, organizations started to concentrate more on the cost-saving measures of outsourcing. Now, this is the time where strategic outsourcing has emerged and the goal is to gain a competitive advantage in the market industry. 
Fast forward through time, given today's technological advancements, it is easier for companies to delegate both their core and non-core functions to external workforce in different countries. Offshoring revolutionizes organizations and how they perform their daily operations.
It transforms business landscapes into agile structures that boosts its overall profitability. 
Offshoring vs outsourcing vs nearshore outsourcing
People usually interchange outsourcing and offshoring as it is. With the entrance of nearshore outsourcing in recent years, things are bound to get more confusing for some.
Outsourcing, as we have mentioned earlier, happens when an organization contracts parts of its business functions to a third party – wherever it may be located.
On the other hand,  nearshoring is when an organization hires out projects or parts of its business functions to a third party that is based in a nearby country. In nearshoring, the outsourcing vendor is in a country that is quite close to the client's geographical location. 
As for offshoring, it refers to passing on work to a Business Process Outsourcing (BPO) provider that is located in an offshore or "faraway" country. For this type, the provider is several miles and time zones away from the client. 
Offshoring and nearshoring are two classifications of outsourcing. The concept of these strategies is y to contract out work in a country with lower costs than of the company's native country.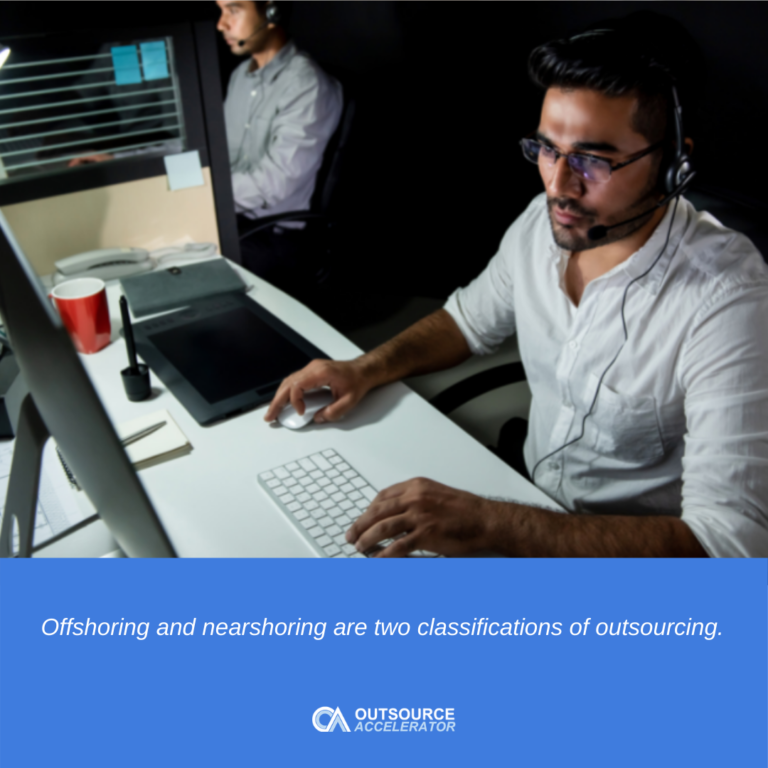 Why do businesses resort to offshore staffing?
Companies do not just switch to offshore outsourcing due to f its cost-effectiveness. Rather, more and more companies these days are acknowledging the other relevant advantages of offshore outsourcing to the market: 
To save up to 70% on labor costs.

Businesses always have to look for ways they can obtain a stable stream of revenue while sustaining their daily operations. However, because of the economic fluctuations and its unpredictability, other companies couldn't afford the costs of local operations. This is where offshore outsourcing can come into handy. 

To stand out in a sea of tight competitors.

Another reason for offshoring is to stay competitive, especially with the global economy. Like for example with customer service, businesses are able to boost their efficiency and daily operational procedures with this strategic practice.  

To keep up with the latest business trends.

Entrepreneurs in this day and age know well enough that innovation is one key factor in their overall success. Thus, it is more achievable with offshoring. 

To leverage professional and highly competent offshore staff.

Other companies also resort to offshoring as a result of the lack of qualified local workers to do specific tasks. Countries like Australia experience skill shortages in the automotive industry. Same as with the United States when Apple had to transfer its manufacturing to China due to the lack of local labor force. 
What services can you offshore?
Aside from manufacturing, organizations these days are able to farm out both their core and non-core functions to offshore providers. 
One example of this is foreign companies that have been offshoring their call center in the Philippines. We all know that the country is known as the Business Process Outsourcing (BPO) capital of the globe, and is well known for call center services. 
However, aside from customer service and support, Information technology (IT), related job functions are also some of the leading offshored services. In fact, according to statistics, the global IT outsourcing market is expected to be worth $98 billion from 2020 to 2024. 
A lot of foreign companies have also tapped into offshoring their human resources tasks such as sourcing, hiring process, and more. More so, finance and accounting-related tasks like bookkeeping, tax filing, procurement processes, etc. 
In terms of sales and marketing, offshore outsourcing companies like Six Eleven BPO offer global strategic solutions for different types of industry sectors. Part of their services may include, lead generation campaigns, industry and market research, and search engine optimization, among others.  
Basically, companies can offshore nearly every part of their daily business functions to offshoring providers from around the world. This has been made even possible with the help of our modern-day's technology and the availability of the internet.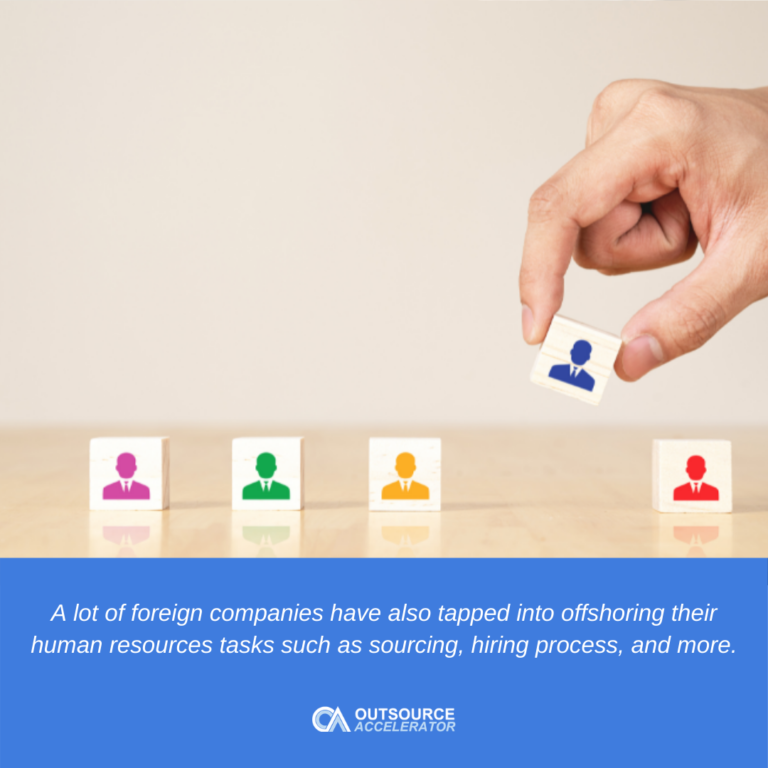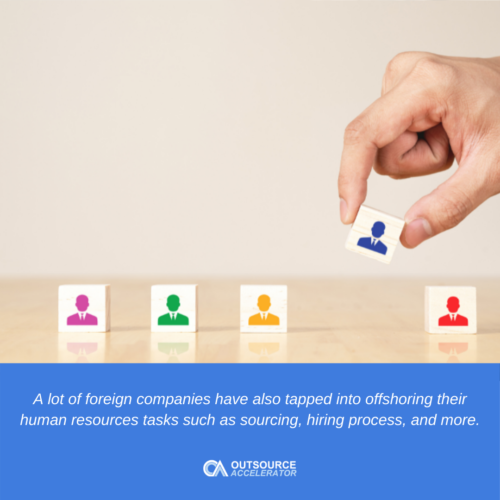 Pros and cons of offshoring
But of course, offshoring will always have its mix of advantages and disadvantages. Having said that, let's see whether the benefits of offshoring outweigh its downsides:
Offshoring pros
Reduced labor costs
One good example of this is US companies that offshore to developing countries like the Philippines. This allows them to reduce their overhead costs as Filipino workers have low compensation as compared to them hiring local in-house employees. 
The availability of a skilled workforce
As we have mentioned earlier, one of the reasons why organizations offshore is the lack of skilled labor. Offshoring to countries like the Philippines and India grants international companies access to a skilled talent pool.
Both these countries have seasoned global talents that are English proficient and college degree holders.
24/7 operations
Foreign companies that offshore to another country with major time differences allow them to have their daily operations overextended hours. Like in most cases customer services, these foreign companies are able to extend their contact center services even up to twenty-four hours. 
Increased focus on the business core
As businesses free up more on their job loads, this gives more time for leaders and in-house staff to focus on improving their core functions. You can rely on a trusted outsourcing partner like HireSmart Staff to build a highly-skilled team to perform other tasks needed in your company.
It is also important to note that organizations that offshore are not just on the receiving end of this practice's perks. In terms of the Philippines, the BPO industry in the country plays a huge role in terms of its economic growth.
The country's BPO industry employs a lot of the working population in the Philippines.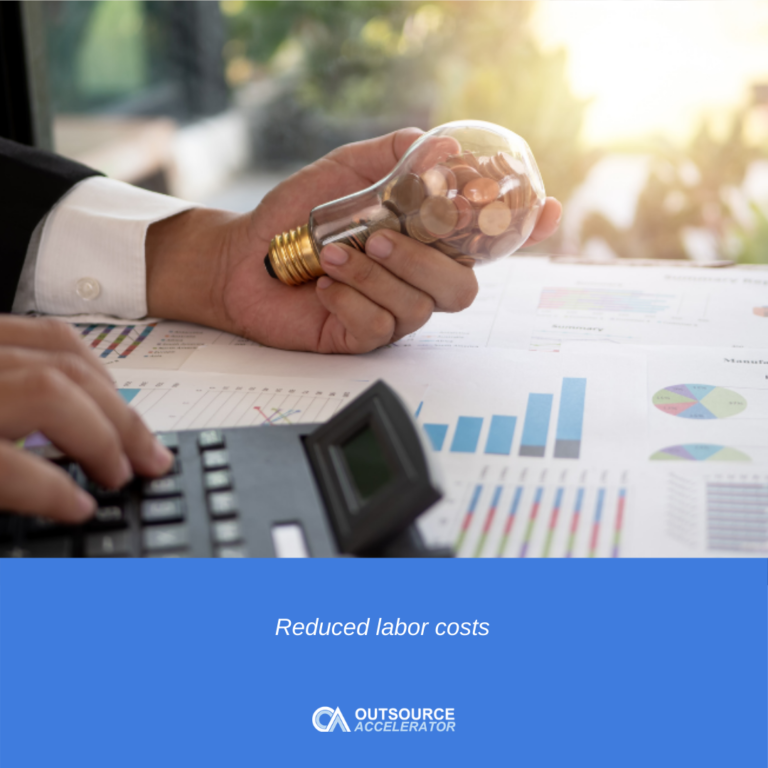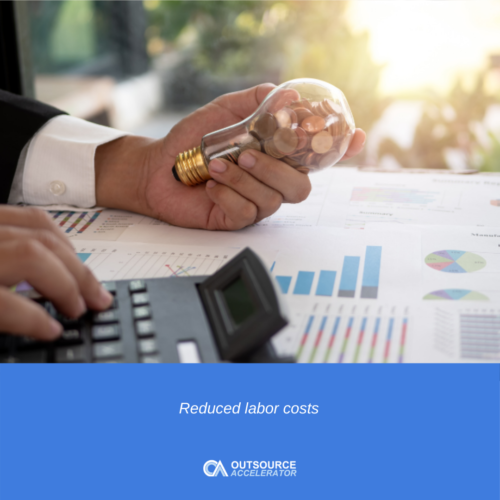 Offshoring cons
Language barriers
This is perhaps one of the major drawbacks in offshoring. Usually in countries like India and China, English language isn't the locals' first language. Another factor is when the offshoring provider comes from a region with a strong local accent. 
Cultural differences
When offshoring to different countries, cultural and social differences are unavoidable. For example, US business leaders may talk in straightforward and candid manner, while a Filipino remote staff may be more reserved. 
Quality control
Another concern for foreign companies is that offshoring also means that they will be giving up control over their offshored tasks. Even if these clients' provide quality guidelines, there will still be differences in terms of the working culture and environment. 
Despite these cons, businesses still consider offshoring as a good business model to organizations of all shapes and sizes. Going back to offshoring to the Philippines, the country has ranked second among Asian countries with the highest English speaking population.
More so, the country is also heavily influenced by the Western culture as it has been colonized by the US and Spain for years.  
Leading offshoring destinations across the globe
Now that we have discussed everything about the offshoring practice, let's jump right into the top outsourcing destinations across the globe: 
Philippines
As you can see, the Philippines is one of the topmost outsourced destinations across the globe. It is considered as the BPO capital of the world for a lot of reasons.
Aside from it having one of the highest English proficiency rates, the literacy rate of the country is at 97.9%. The government also has its full support in the country's outsourcing industry, especially with IT outsourcing.  
Global businesses outsource various functions to trusted BPO providers in the country, such as Staff Domain.
India
Next to the Philippines is India, it is a famous offshoring destination especially in terms of IT-related services. Moreover, the country is also ranked fifth for Asian countries with the highest population with English proficiency.
India is well known around the globe for employing top talents specializing in Information Technology (IT) and software development.  
Brazil
Brazil is an emerging IT offshoring destination, and it is also now considered as an alternative to India. Offshoring in the country has been made even possible through its Outsourcing law that was recently signed last 2017.
To help you determine which offshoring destination best fits your type of requirements, you may head over to our Outsourcing Guides. We have various lists of top offshoring companies in different countries all over the world.