10 best professional tax software to help you maintain compliance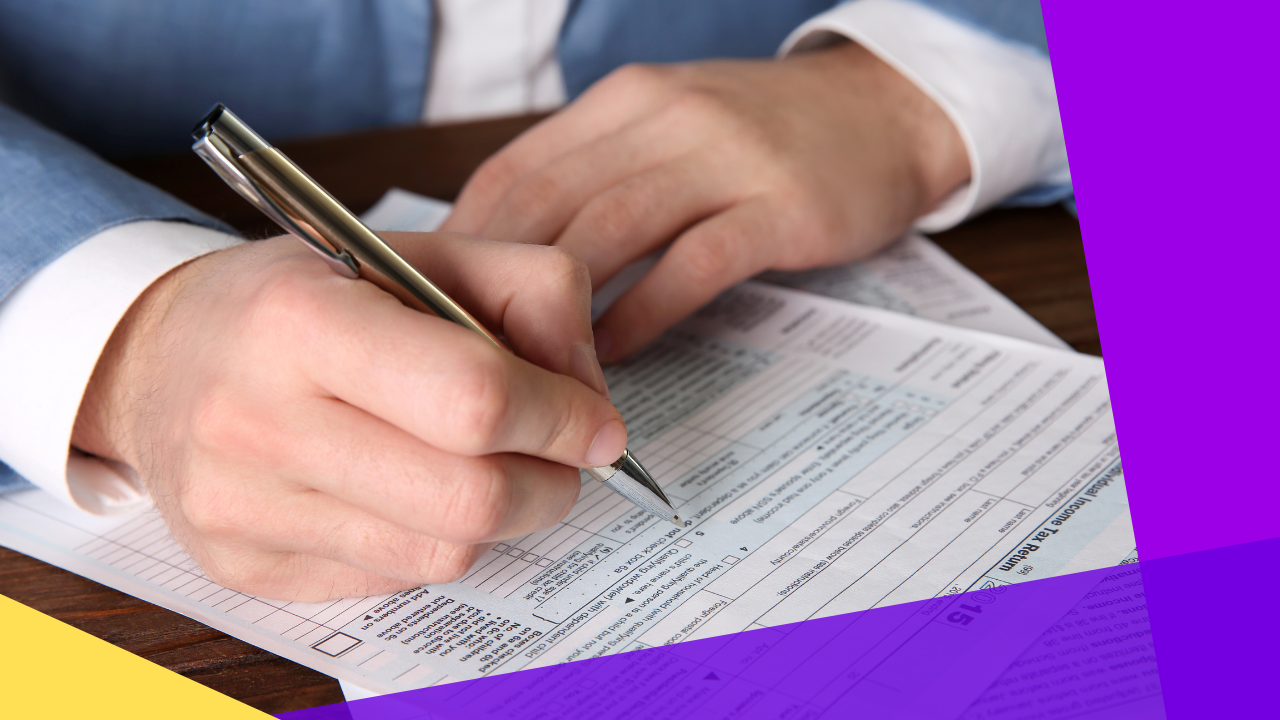 10 best professional tax software today
Filing taxes is a strict requirement for individuals and businesses.
However, singlehandedly filling up forms, compiling supporting documents, and submitting them to agencies can be time-consuming and exhausting. The Internal Revenue Service (IRS) estimates that filling Form 1040 or 1040-SR can take up to 13 hours on average.
Good thing professional tax software can be a solution for this burden.
Countless options are available in the market when it comes to tax software. Choosing the right one that suits your business needs can be overwhelming but worth it.
To simplify things, we have compiled a list of the ten best professional tax software options to help you maintain compliance and streamline your tax filing process.

Ways to file professional taxes
Filing taxes for businesses may vary depending on the size and additional aspects in line with their nature.
The IRS enumerates five general types of business taxes to file.
Income tax

Employment tax

Self-employed tax

Estimated tax

Excise tax
Let's briefly discuss the different ways to file professional taxes. You have three main options:
Filing your own taxes
Filing your taxes can save you money, but it requires a deep understanding of the tax laws and regulations. You must know the latest changes and updates to ensure accurate and compliant tax filing.
Hiring a tax professional
If you prefer to leave the tax filing to the experts, you can hire a tax professional. They have the knowledge and experience to handle complex tax situations and can provide valuable guidance.
Tax professionals are not limited to your locality. You can hire freelancers or outsource tax accounting offshore to maximize your resources.
Using professional tax software
Professional tax software combines the best of both worlds. It allows you to take control of your tax filing process while leveraging the expertise and support provided by the software.
With the right professional tax software, you can easily navigate the complexities of tax laws, maximize deductions, and ensure compliance with regulations.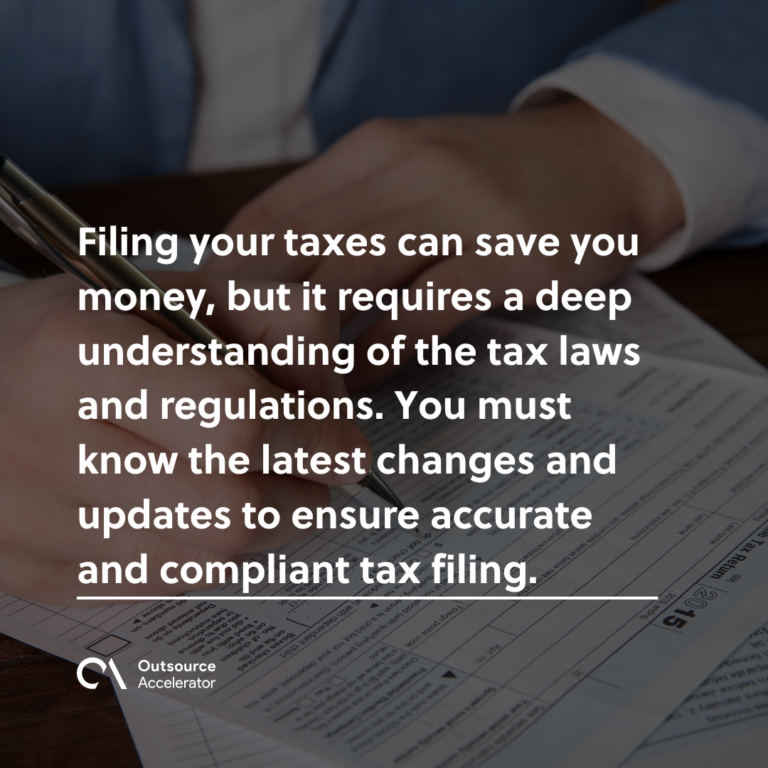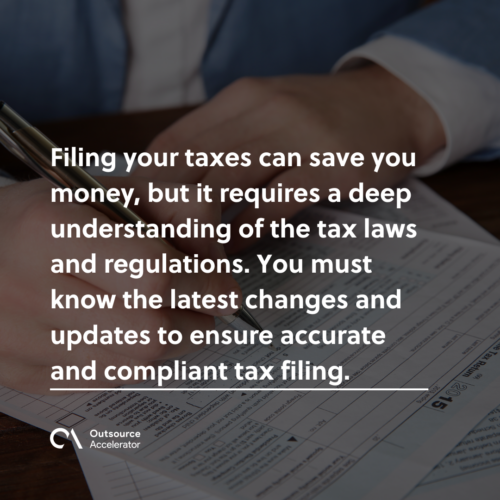 Factors to consider when choosing professional tax software
Here are the factors you should consider when choosing the right professional tax software for your business.

Ease of use
An ideal professional tax software is intuitive and user-friendly, allowing you to navigate the software effortlessly. This ensures a smooth tax filing experience, even if you don't have a strong background in tax preparation.
Features and functionality
Powerful features and functionality can help you streamline your tax filing process.
Look for software that offers robust features such as automated calculations, e-filing options, error-checking, and integration with other accounting software. These features can save you time and increase accuracy.
Compliance and security
Ensure your chosen software is updated regularly to reflect the latest tax laws and regulations. It should also have stringent security measures to protect your sensitive financial data.
Customer support
Most crucially, knowledgeable customer support can make a huge difference if you have concerns about your preferred software.
Look for a provider with reliable customer support in different phone, email, or live chat channels. It is also recommended to check the reviews from users in terms of the responsiveness of their support.
10 best professional tax software to help you maintain compliance
Considering the factors above, here are the ten best professional tax software options to help you file taxes on time and avoid penalties:
ProConnect is a comprehensive tax software solution for professionals and businesses. Under Intuit's connected system, the tool smoothly connects with Quickbooks and Tax Advisor for a better end-to-end solution.
With ProConnect, tax professionals can easily prepare, review, and file client taxes. The software provides step-by-step guidance, automated calculations, error checking, and e-filing options.
Apart from allowing unlimited users, ProConnect highlights its pay-as-you-go pricing. They offer discount bundles so you can save on filing every tax season.
TurboTax is a widely recognized tax software option known for its user-friendly interface. It caters to individuals and small firms, providing services suitable to the complexity of taxes they file.
TurboTax offers automated calculations, error checking, and maximization of deductions for efficient and compliant tax filing.
With TurboTax, users can confidently navigate the complexities of tax preparation and filing, even without a strong background in tax laws. They can choose between full-service, live assistance, and self-filing options.
ATX is a robust professional tax software designed for certified accountants and small firms. It offers extensive integrations and comprehensive calculations, making it a popular choice to use in complex situations.
ATX ensures accuracy and compliance by providing real-time error checking. One of its highlights is its huge library of compliance forms for tax filing.
The platform streamlines tax preparation, saving time and ensuring accurate tax filing.
TaxSlayer Pro is a cloud-based professional tax software ideal for professionals looking to simplify tax preparation. The platform boasts its flexibility, allowing users to access their accounts and file taxes anytime and anywhere.
TaxSlayer Pro's user-friendly interface and intuitive navigation make it easy for tax professionals to accurately input data and prepare tax returns.
Drake Tax is a powerful tax software option highlighting federal and state tax returns for businesses of all sizes. It helps small and medium accounting firms manage their clients in a centralized portal.
Drake Tax provides e-filing capabilities, eliminating the need for manual submission. 
The software also offers features such as electronic signatures, calculation error messages, joint filing, amortization schedules, and automated data flows for mass filing.
TaxAct Professional offers a comprehensive solution with accurate, affordable, and easy-to-use features.
Many satisfied customers have been using TaxAct for several years. Moreover, the system has never missed any important credits or deductions on any tax returns. Users have remained satisfied with the product for years.
TaxAct Pro is designed with alerts to help new tax preparers in the system.
CCH Axcess is a robust and comprehensive cloud-based professional tax software from Wolters Kluwer. It provides professionals with unmatched automation, accuracy, and flexibility in their tax and audit workflows.
With CCH Axcess, users can work on their own terms, whether from the comfort of their home, while traveling, or during client visits.
The platform's anytime, anywhere flexibility allows for seamless collaboration and the ability to work on the go. This ensures that professionals are never disconnected from their work and clients.
Lacerte is powerful professional tax software for handling complex tax returns. It offers a range of functionalities catering to the needs of tax professionals.
With Lacerte, professionals can easily and efficiently tackle even the most intricate tax scenarios. Users highly regard the software, boasting a 4.75 out of 5-star rating on review sites.
One of the notable features of Lacerte is its tax document automation capability. This feature allows for the seamless importing of tax documents, saving professionals valuable time and reducing the chance of errors.
H&R Block offers professional tax software that simplifies the tax filing process for individuals and businesses. Users can easily navigate the various tax forms and accurately complete their tax returns with their online tax filing platform.
The software provides a user-friendly interface that guides users step-by-step, ensuring they don't miss any important deductions.
Additionally, H&R Block's tax software has a Second Look Review feature, which carefully analyzes the completed tax return to identify potential errors or missed opportunities. 
This gives users peace of mind knowing that professionals have thoroughly reviewed their tax returns.
Last but not least, ProSeries Professional is an advanced tax preparation software designed for professionals who handle tax returns for individuals and businesses.
Intuit, the developer of ProSeries Professional, created the software with user-friendliness and efficiency in mind.
ProSeries Professional also offers a range of features to help streamline the tax preparation workflow. This includes a time-saving diagnostic tool that helps identify and resolve real-time errors.
Moreover, the software integrates seamlessly with other products and services, such as QuickBooks, TurboTax, and eSignature, to provide a fully digital workflow.