5 benefits of having a private cloud in your business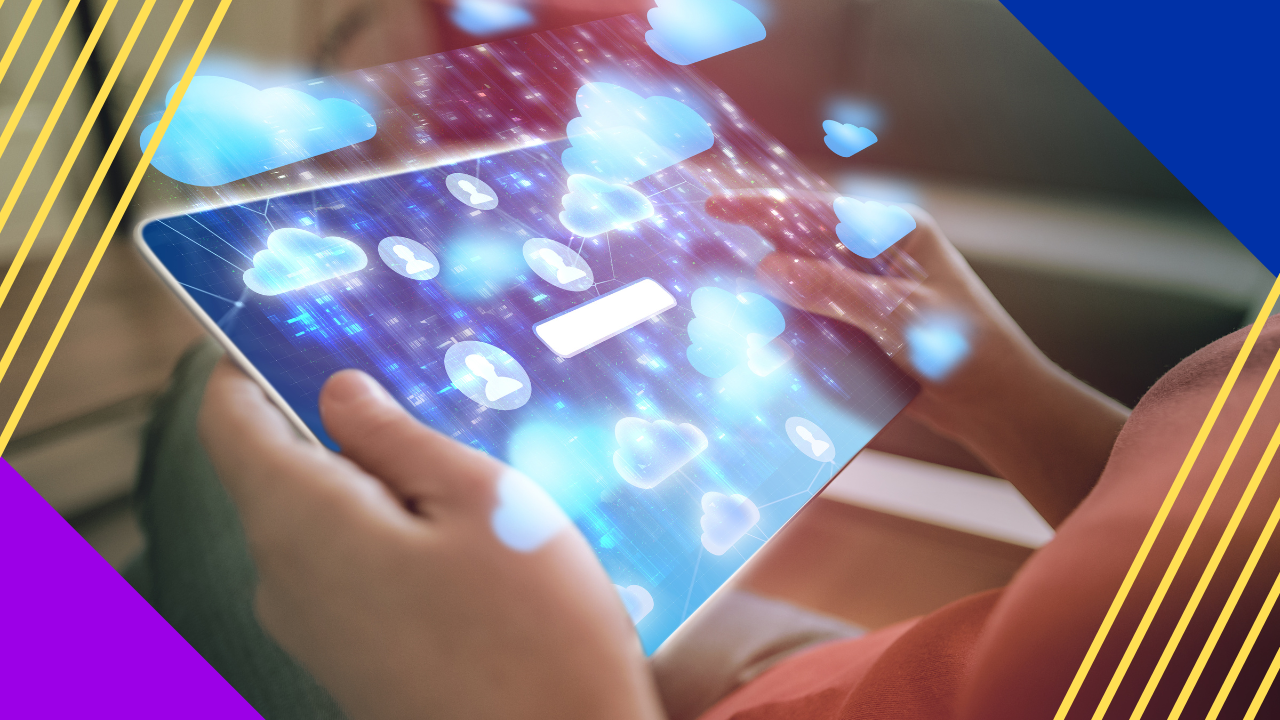 Corporate businesses and even government sectors use digitization as part of their proactive response toward improvement and transformation.
Most operation processes nowadays require software applications and databases, keeping digital files and records in digital storage through cloud computing. 
However, the cloud also requires security and privacy measures since cyber threats are becoming chronic today, and competition in the market is one of the main factors.
The situation led most businesses to acquire a private cloud to support their operations while having more control over cloud security measures. 
This article will help you understand more about using a private cloud. We'll give you a rundown of its benefits and how it can help improve your business.
What is a private cloud?
A private cloud is an exclusive service offered for businesses to experience the advantages and benefits of cloud computing without sharing tenancy with other firms.
Private clouds come in two different ways:
Internal private cloud – It can be within the premises of the business office.

Hosted private cloud – This is remotely over the internet and managed by a third-party provider.
A private cloud, through cloud computing, helps many organizations in different aspects as it organizes and deploys IT services more flexibly.
It also provides unique and personalized business functions like analyzing and retrieving data information and helps companies make more credible decisions.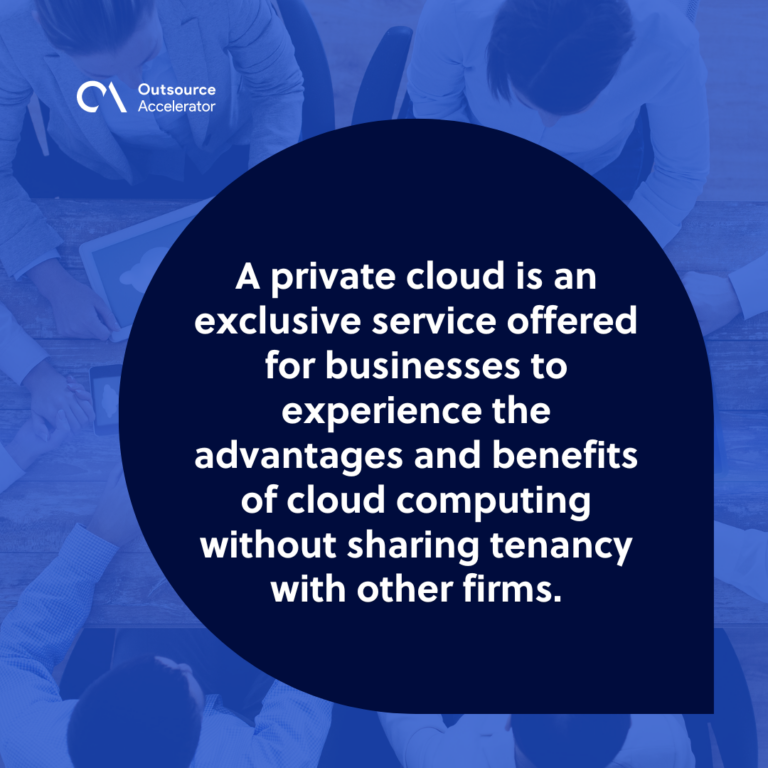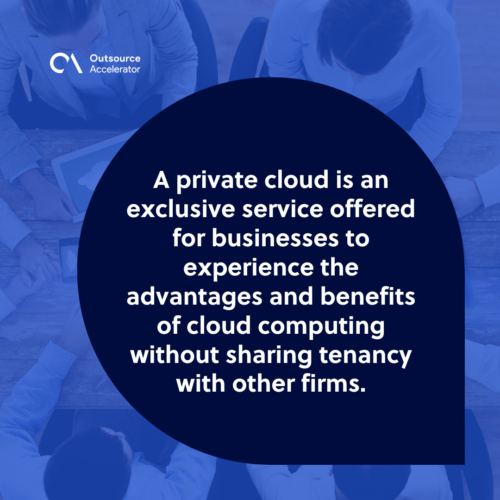 Private cloud vs. Public cloud
The difference between public and private clouds focuses on accessibility. 
A public cloud is accessible by sharing customers from a vendor cloud, while a private cloud is designed to cater only to a single organization.
Companies that aim to establish high-security standards because of the nature of business often prefer to use a private cloud. They acquire more control over the cloud's security features. 
Though deploying a private cloud may cause more maintenance and installation of infrastructure, many companies prefer it to a public one because of its scalability and standard.
Some businesses also consider having a hybrid cloud deployment, incorporating some public cloud features to ensure a high-efficiency return.
5 benefits of having a private cloud in your business
There is a significant increase in the number of businesses using private cloud as part of their development. 
As they emerge to go digital and do business transactions online, the level of software and system requirements also upgrades. 
Let us look at these five advantages of having a private cloud in your business:
1. Scalability and customization
Private clouds can upscale or downscale systems and businesses' software, as they deliver services without any additional configurations by IT experts. 
The public cloud is limited in addressing this flexibility and often offers predefined service packages.
Customers using private clouds also have the capability to choose what resources are needed to deliver the envisioned level of performance. Providers can build customized clouds according to the specification set by the organization. 
2. Access and control
The control and access of a private cloud are very intricate, especially in handling resources and data information for hosted and internal installation.
Companies have access and control over the infrastructure model that is more complex than a public cloud. The contract policy contains security and privacy measures that are clearly specified.
3. Security access
All organizations support the importance of ensuring data security across digital space. However, public clouds are sometimes limited to ensure a client's protection requirement.
The level of security may vary depending on the nature and requirements of the business. Large companies like banks and business process outsourcing (BPO) suit private clouds because of security protocols and regulatory requirements.
4. Privacy features
The privacy and security features of a private cloud are comprehensive, given that it only caters to a single organization. The risk of sharing sensitive and highly confidential information is on strict radar.
On-premise private clouds only give access to internal teams, and no external entity is authorized. The same goes with hosted ones, where remote private clouds use a secure network, avoiding cyber threats and data exfiltration.
5. Cost-effective solution
Initially, a private cloud can be costly with complex features and installation of infrastructure dedicated only to a single organization. 
However, looking at it long-term, a private cloud is cost-effective because of its flexible capability at a lower cost. 
While it can be more expensive than a public cloud, it can still manage to counter an ideal balance between the privacy requirements of any organization and its capital expenditures.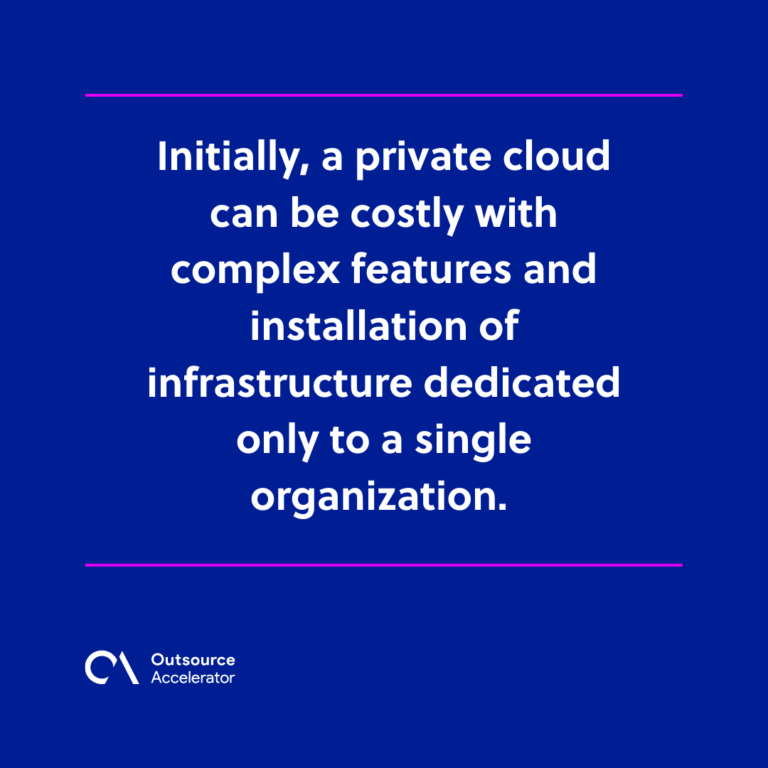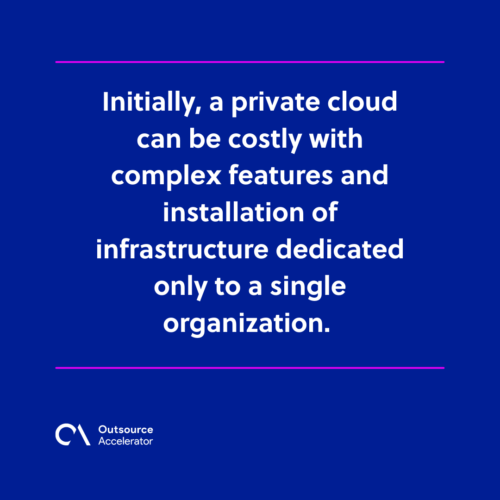 Architecting private cloud as a business solution
Nowadays, the power and ability of IT experts to introduce and innovate systems based on the requirements set by their clients are becoming more advanced and manageable. 
A private cloud service encompasses a robust model of infrastructure that can be helpful to secure business processes and records. 
Aside from security and control, there are features of a private cloud that contribute to the development of an organization. 
A private cloud can help upgrade the speed and functionality of the software and execute reliable data analytics, boosting the competitiveness of businesses.