Pick and pack: Optimizing order fulfillment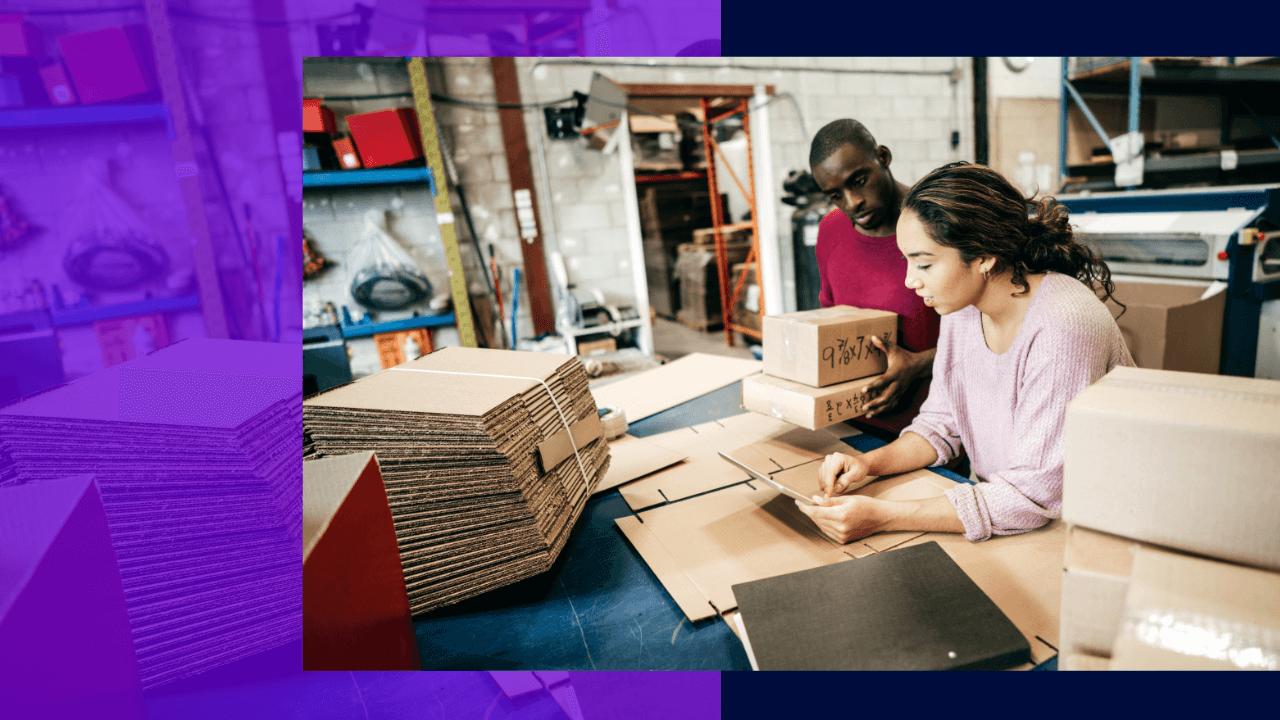 The success of any e-commerce business heavily relies on its ability to deliver products to customers fast and accurately. This is where the pick and pack process plays an integral role. 
An order fulfillment process would be incomplete without the pick and pack phase. In fact, data from APS Fulfillment, Inc. shows that order picking consumes around 55% of total labor.
The method ensures that products are chosen from inventory, packed securely, and shipped to customers on time. 
This article will explain pick and pack, its benefits, and its process. We'll also explore pick and pack strategies businesses can use to optimize this essential part of daily operations.
What is pick and pack?
Pick and pack is the process of selecting products from inventory (picking) and then packing them into suitable containers for shipping (packing). 
This step occurs after receiving an order. It involves multiple stages to ensure seamless execution. 
Efficient pick and pack practices are vital for customer satisfaction because they directly impact delivery speed and order accuracy.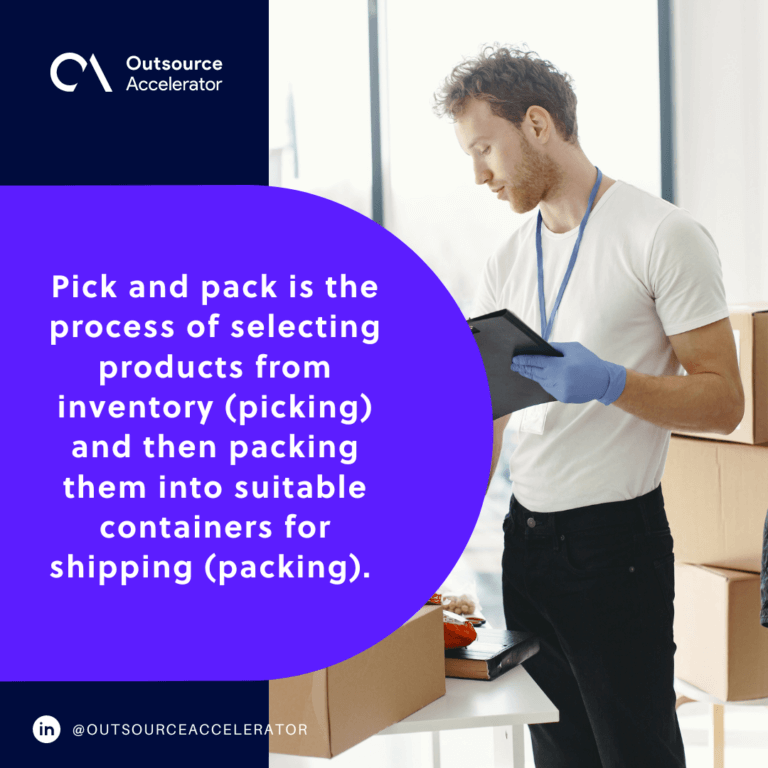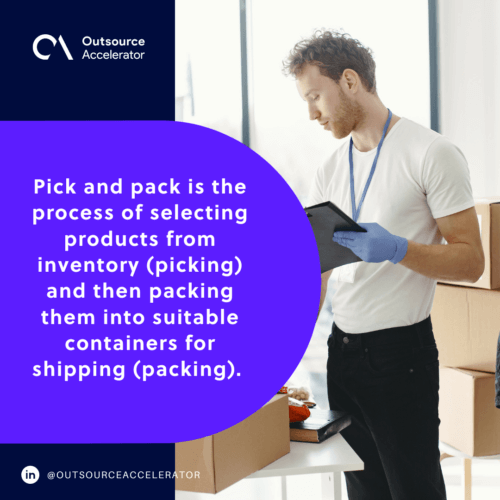 How the pick and pack process works
The pick and pack process consists of several key stages. Each step contributes to the efficiency and effectiveness of order fulfillment:

Order receiving and processing
The first step involves receiving incoming orders. This happens either through online platforms or other channels. 
The orders are then processed, verified, and entered into the system for further action.
Inventory management
Before picking and packing can take place, a well-organized inventory system is essential. 
Efficient inventory management ensures that products are readily available and easily located. This reduces the time required for picking.
Order picking
Order picking is the core stage of the process. This is where products are physically chosen from the inventory based on the received orders.
Order packing
Once picked, the products must be securely packed to prevent damage during transit. Proper packaging ensures that products reach the customers in pristine condition.
Order shipping
The final step involves shipping the packed orders to the customers using chosen carriers and delivery methods. This stage requires coordination to ensure that orders are dispatched promptly.
Benefits of the pick and pack process
An efficient pick and pack process can provide numerous advantages. Here's why it is vital for e-commerce businesses:
Improved order accuracy

. Accurate order picking and packing reduce the chances of shipping errors and customer complaints.

Faster delivery times

. Streamlining the pick and pack process allows businesses to fulfill orders swiftly. Faster delivery times help boost customer satisfaction.

Reduced costs

. Optimizing the process can lead to lower labor costs and wastage and better resource use.

Enhanced inventory control

. Proper inventory management gives enterprises better control over stock levels. Pick and pack lessens the risk of

stockouts or overstock

situations.

Better customer satisfaction

. Delivering orders accurately and promptly enhances the customer experience. The pick and pack process can help improve brand loyalty and encourage positive reviews.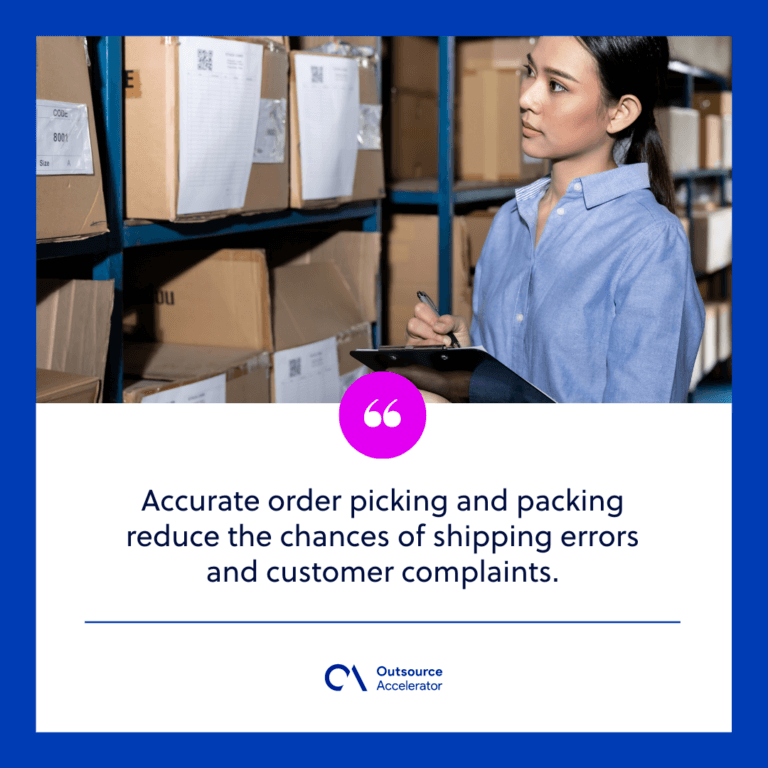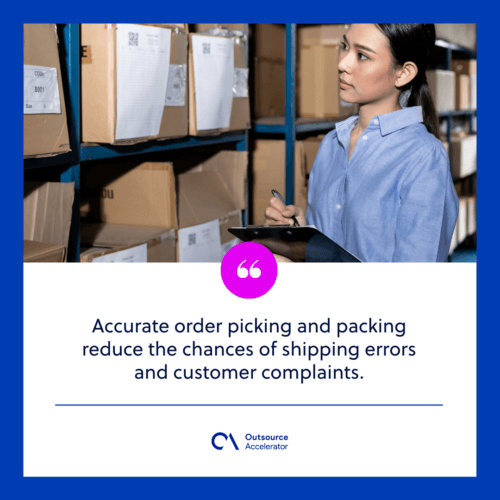 Picking and packing techniques
Organizations can use various picking and packing techniques. The right method will depend on the nature of the products, order volume, and warehouse layout.
Here are the four different ways of picking and packing:
Piece picking
Piece picking involves selecting individual items one at a time to fulfill specific orders. It is suitable for businesses with a wide variety of products and lower order volumes.
Batch picking
Batch picking involves selecting multiple orders simultaneously. It reduces the total effort and travel time within the warehouse. 
This method is beneficial for businesses with a higher volume of small orders.
Zone picking
Zone picking divides the warehouse into different zones. A picker is assigned to a specific section of the warehouse to fulfill orders. 
Once the orders from all zones are picked, they are combined for packing and shipping.
Wave picking
Wave picking combines batch picking and zone picking. This technique tasks workers in each zone to select items in batches.
It saves time and improves efficiency in the order fulfillment process.
How to optimize pick and pack strategies
To achieve the greatest efficiency in the pick and pack process, businesses can adopt the following strategies:

Analyze and organize inventory
Implementing inventory management can help optimize the pick and pack processes. Here are some of the best practices for organizing inventories:
Inventory segmentation

. This categorizes inventory by size, weight, popularity, or other relevant factors.

ABC analysis

. It classifies inventory based on its significance or value to the business.

FIFO and LIFO strategies

. These are inventory management techniques that consider product expiration dates and storage requirements.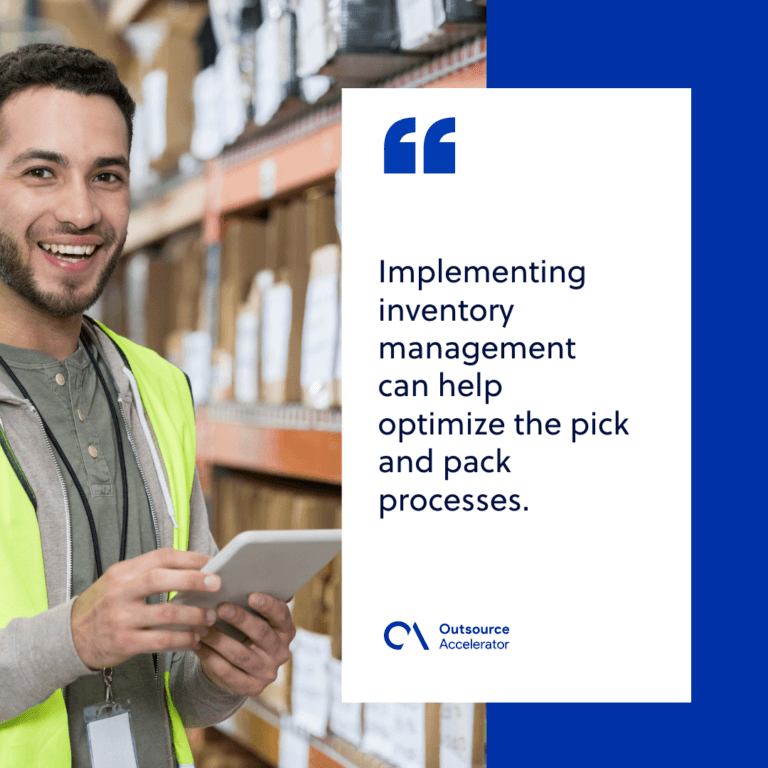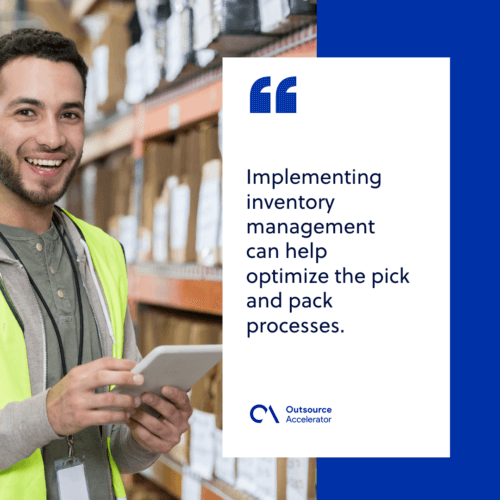 Efficient warehouse layout and design
A well-designed warehouse layout can significantly improve pick and pack operations.  Here are some ways to have an efficient warehouse arrangement:
Utilizing vertical space

. Install pallet racks and shelving systems to maximize storage capacity without increasing the warehouse's footprint.

Minimizing travel time

. Organize products strategically to reduce the distance traveled by pickers.

Ergonomic considerations for workers

. Design comfortable and safe workstations to reduce strain on workers and enhance productivity.
Implementing technology solutions
Several technologies can significantly improve pick and pack processes. Here are some warehouse automation solutions that can help:
Order management system (OMS)

. This software automates order processing, tracking, and fulfillment activities.

Warehouse management system (WMS)

.  Implement WMS to optimize inventory placement, streamline picking routes, and manage order priorities.

Barcode and RFID technology

. Use barcode scanners or RFID tags to speed up order picking and reduce errors.
Workforce training and development
Proper training and development for workers are critical to improving pick and pack processes. Some strategies you can adopt include:
Proper order picking techniques

. Train employees in standardized picking methods to minimize errors and maximize speed.

Safe and effective packing practices

. Provide standard packing tools, techniques, and space allocation guidelines. Educate packing staff on secure and proper packaging methods to prevent damage during shipping.

Cross-training for versatility

. Train employees to handle multiple tasks within the pick and pack process. This lets workers be more versatile and competent when you assign them to any stage of the process.