Enhancing seamless connectivity through phone number porting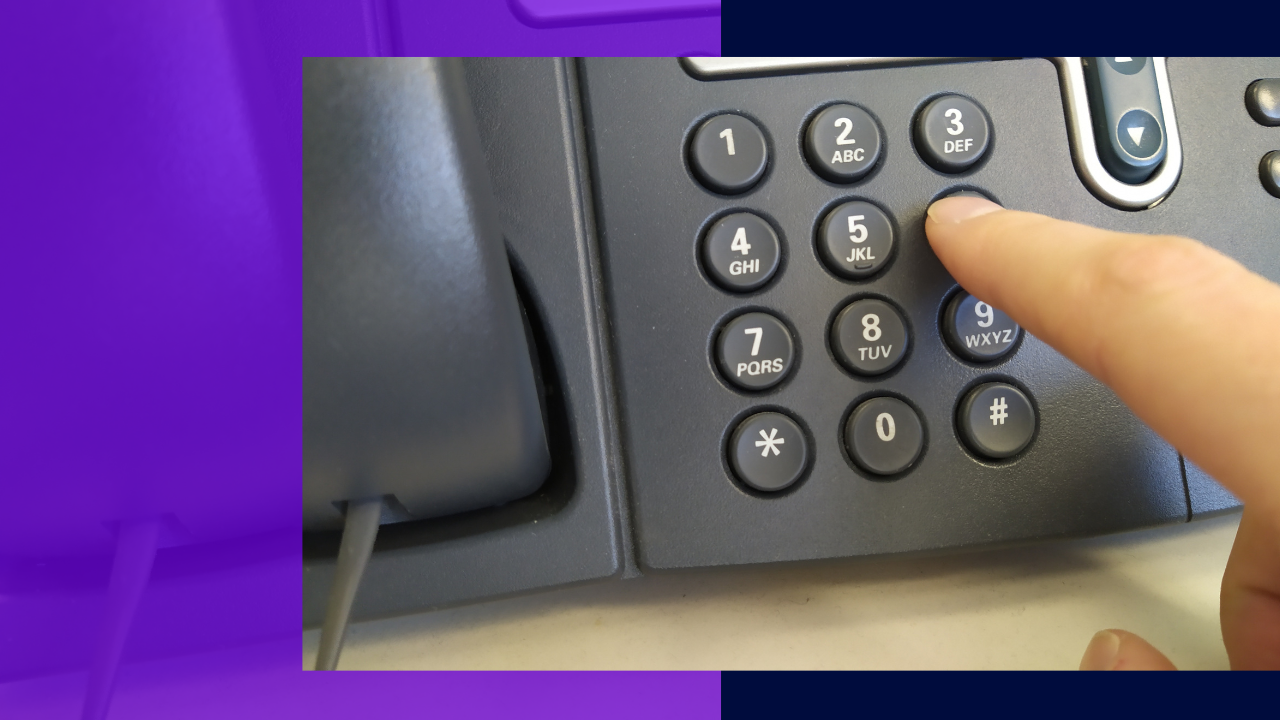 In a world where communication plays a vital role, staying connected effortlessly has become necessary.
However, there are times when another network provider offers better services than your existing network. While another line from a different provider can cost effort and resources, another way to get their perks include number porting.
Phone number porting is a remarkable solution to ensure uninterrupted connectivity while switching service providers.
This article delves into the concept of phone number porting, its process, and how it enhances connectivity.
What is phone number porting?
Phone number porting allows users to transfer their existing phone numbers from one service provider to another without changing their numbers.
This service has gained popularity in recent years. It provides flexibility and convenience to phone users who want to switch service providers while keeping their familiar phone numbers.
Though common in personal numbers, phone number portability goes beyond switching networks. It also applies to businesses using a virtual phone number to move to a voice-over-internet phone (VoIP).
There are various types of phone number porting you can get, depending on your needs:
Local number porting

. Local number porting happens when you are switching services within your network operator. For instance, you can change your services from prepaid to postpaid while maintaining your number.

Full number porting

. Meanwhile, full number porting happens when you switch your services from one network or VoIP to another.
Both landline and mobile numbers can be subject to phone number porting.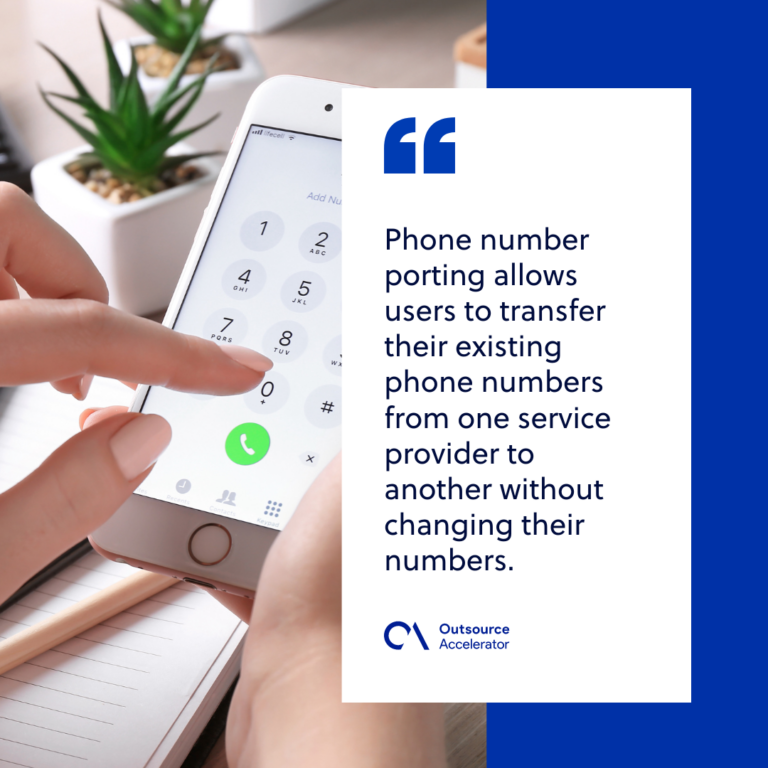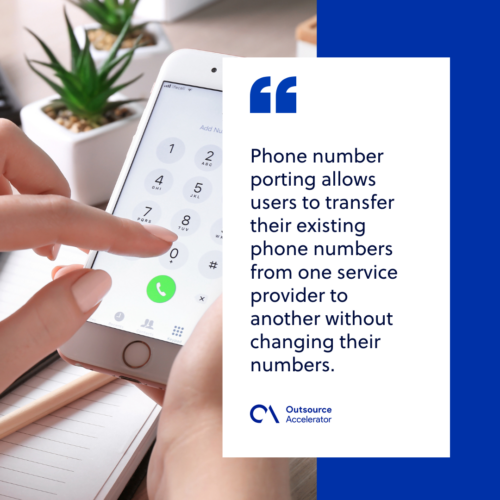 Phone number porting process
The process of phone number porting involves a few key steps:
Initiating the porting request

. The user contacts the new service provider and submits a request to port their existing number.

User authorization

. The new provider verifies the user's identity and account details through

know your customer (KYC)

measures. Once authorized, they initiate the porting process.

Notification to the old provider

. The new provider informs the old provider of the impending port, requesting the number transfer.

Activation

. The old provider releases the number, and the new provider activates the ported number on their network.

Completion and testing

. The ported number is tested to ensure that calls, texts, and data services function correctly.
How phone number porting enhances connectivity
Phone number porting offers numerous benefits that improve user connectivity. Let's delve deeper into how this enhances your overall communication experience:
Better network quality
Phone number porting allows you to bid farewell to delays and interruptions due to poor network services.
By switching to a provider with superior network quality, you can enjoy crystal-clear calls, lightning-fast data speeds, and seamless connectivity. That is most beneficial in areas where your previous provider's signals might have faltered.
Retaining digital identity
In a world where your phone number is more than communications, preserving your company's digital identity becomes paramount.
Phone number porting ensures that your identity remains intact as you venture into a new network realm, even when relocating.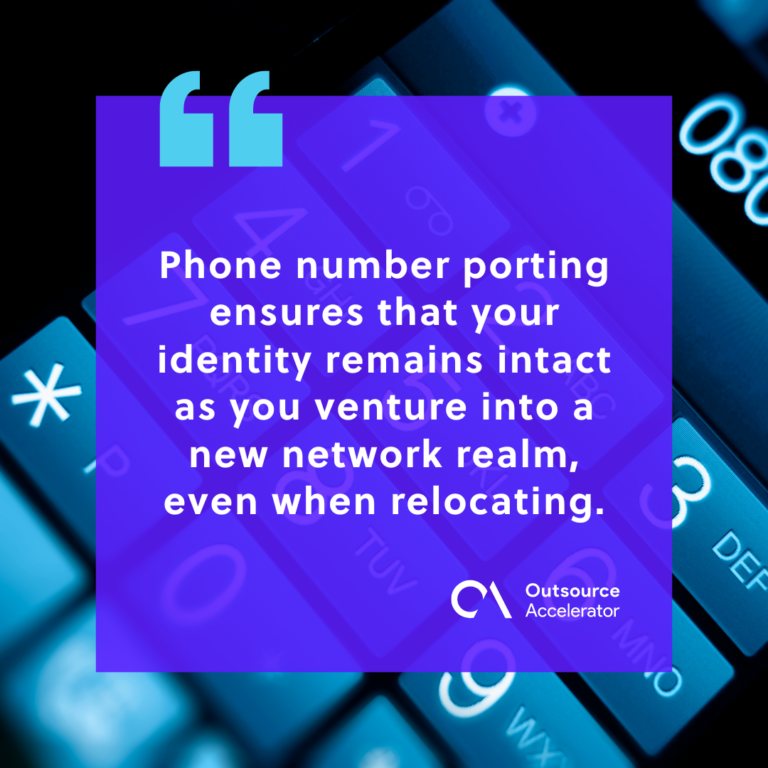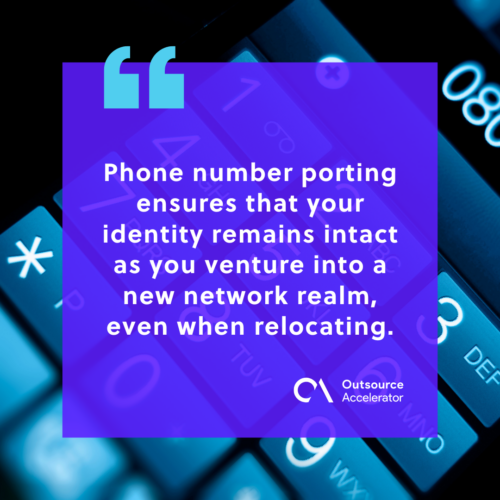 Simplifying business communications
Maintaining a consistent line of communication for your firm is non-negotiable. Imagine the upheaval of notifying clients, updating marketing materials, and revising digital platforms due to a provider switch.
Phone number porting ensures that your clients and partners can seamlessly reach out to you, even in the midst of transition.
Empowering professional relations
Phone number porting stands as a testament to the power of maintaining professional connections.
It empowers you to nurture and strengthen professional bonds by ensuring that your primary mode of contact remains unchanged.
Particularly in a crucial business negotiation, the familiarity of your phone number creates an immediate and lasting connection to your network.
Best practices in ensuring smooth phone number porting
Number porting cannot always be done in an instant.
Various factors should be considered when switching providers and services, including network strength and viability in a location.
Here are three key recommendations to ensure smooth number porting:
Plan ahead
Before initiating the porting process, conduct thorough research on potential service providers available in your area.
Consider factors on number porting such as network coverage, customer reviews, and the provider's reputation for seamless porting. Additionally, plan and ensure that the new service provider can accommodate the desired porting timeline.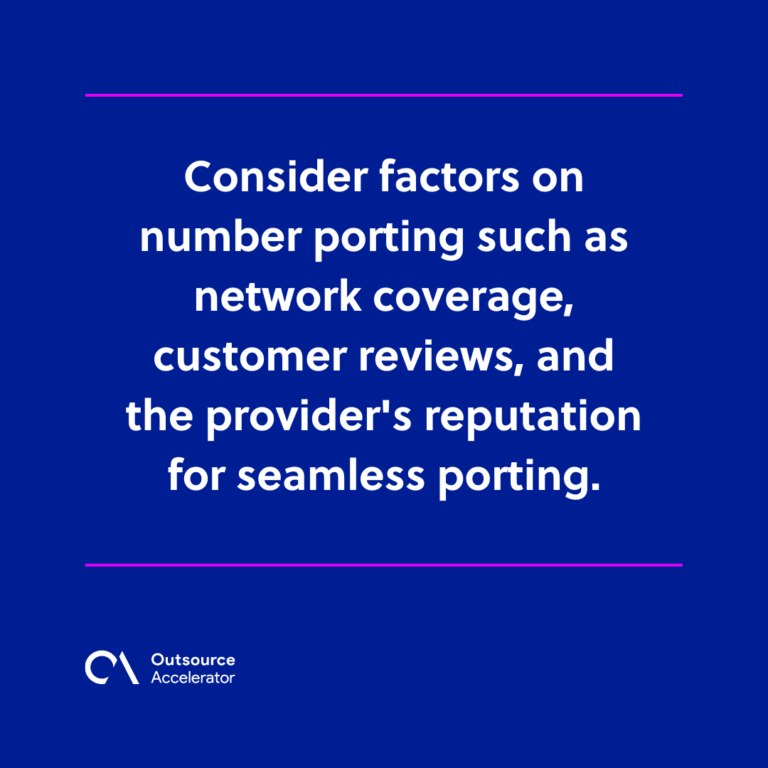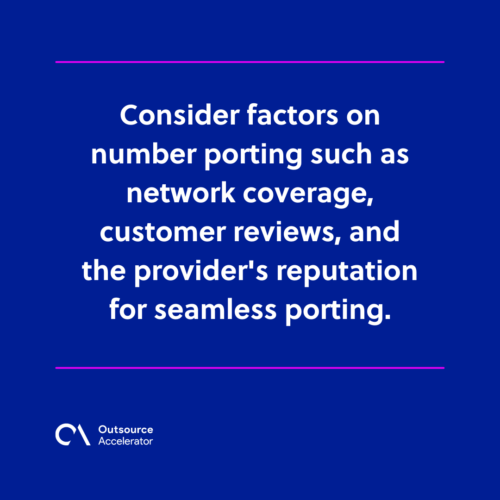 Backup essential data
Before initiating the phone number porting process, back up any essential data stored on the device or SIM card.
While the chances of data loss during porting are minimal, taking precautionary measures ensures that no valuable information is accidentally lost during the transition.

Maintain open communication
Effective and transparent communication with old and new service providers is essential for a smooth porting experience. Ensure that all necessary documentation and information are provided promptly and accurately to facilitate the transfer process.
In case of any concerns, contact the customer service representatives of both providers for assistance.
Now, you clearly understand how phone number porting works and its benefits. It's time to take control of your connectivity and make the switch!