The right way to use personal selling to your advantage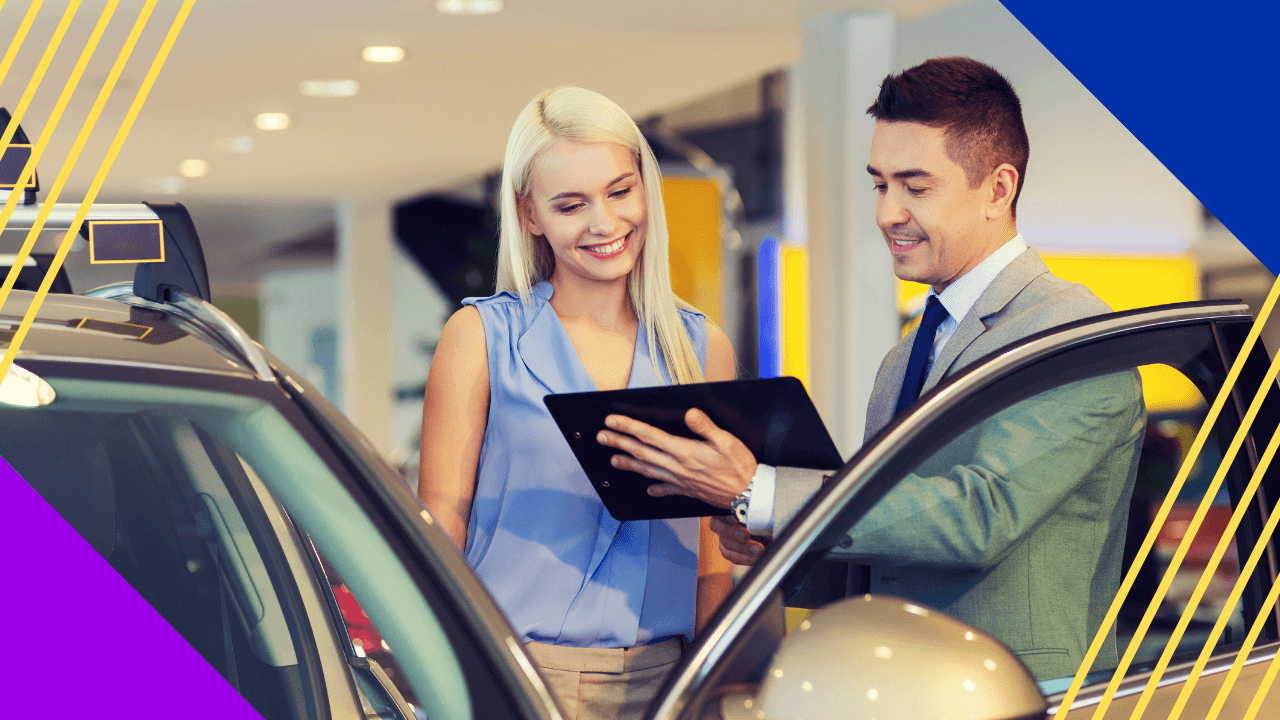 It seems that selling virtually is now the new norm. Sales and marketing teams now focus on targeting the right market and capturing new customers in different locations. 
However, companies can still gain an advantage from a more traditional way such as personal selling. Aside from being one of the main skill sets for salespersons, it also helps businesses warm their leads and build a stronger connection with their audience.
Like in any sales technique, personal selling can be done in the right way.
What is personal selling?
Personal selling refers to the face-to-face technique used by companies when selling. This technique usually involves the salesperson's interpersonal skills, attitude, and appearance to encourage them to buy a particular product or service.
Personal selling is mostly found in physical establishments, including department stores and car dealerships. Here, salespersons usually demonstrate to customers how to use a certain product and how it can make tasks easier.
At times, they even offer free trials and test runs to help their clients experience their product and make better decisions.
Some of the products sold via this technique are considered of high value, including real estate, industrial equipment, and relevant items with complex features.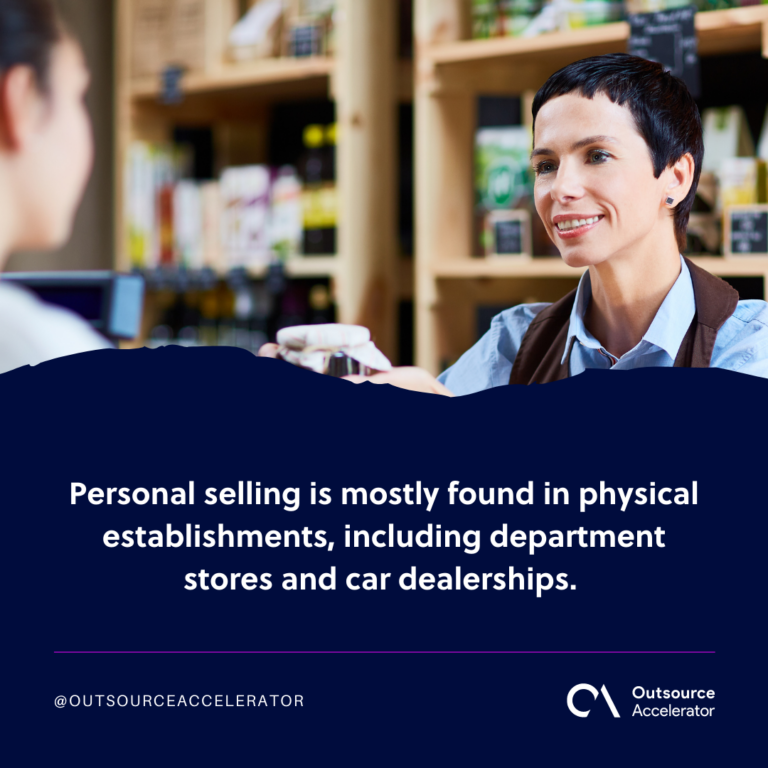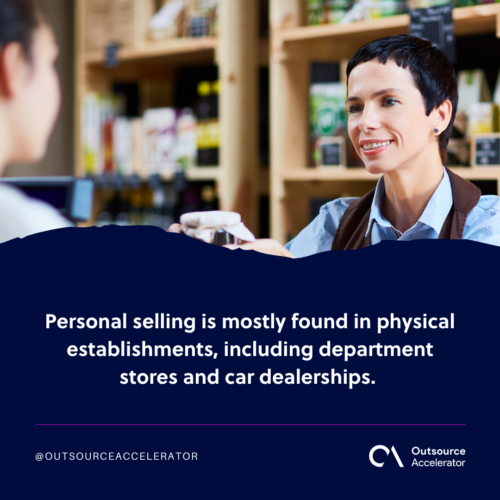 Why personal selling is crucial
Personal selling is considered crucial for businesses, especially when selling to other companies. Small businesses even hire sales representatives that will talk to their clients over the phone and visit them when needed for this purpose.
A company's approach could change when dealing with either individuals or organizations. However, their purposes remain similar in the following aspects:
Encouraging prospects

. Personal selling increases their chances of closing sales for high-priced products. By approaching them personally, businesses get to understand their prospect's needs more and work on getting the best value for their money.

Selling more complex items

. Companies should be able to explain and demonstrate complex products to their customers. With this, customers will spend less time figuring out how a product works and more time enjoying the benefits it brings to them.

Increasing customer relationships

. Personal selling even strengthens a company's

relationship with its customers

. This demonstrates their level of care for their customers, making them come back to a company for future purchases.
The selling process: How does personal selling work
Salespeople use the following steps to create a successful sale:
Prospecting and qualifying
Prospects are first gathered and qualified through lead generation.
Salespeople do prospecting through cold calls, referrals, and email signups. They are then qualified according to the company's standards and preferences. 
In prospecting and qualifying, potential customers can still be filtered through a sales funnel – especially if they're gathered from a company's website or social media.
Approach
Here, customers are now approached by a salesperson, whether physically or through a call. This gives the latter a better understanding of their prospect's needs and preferences.
This also gives them an idea of how they can tailor their offerings to their clients to build their interest in a product or a company. Depending on the situation, a salesperson can apply several approaches when meeting a customer:
Premium approach

. Known as the "premium sales approach," this is where a salesperson offers giveaways to their prospects during their introduction.
Referral approach

. Here, they can mention a mutual or someone that referred the prospect to them as a way to build connection and trust with them.

Question approach

. Most common when meeting first-time customers, this move is where a salesperson usually asks questions to a prospect to engage him in a conversation.
Presentation or demonstration
This is where a salesperson now presents the product or service to a lead. They can either show the prospect how a product works and its specifications or have the usual Powerpoint presentation of the service. 
A more modern approach in demonstration involves a combination of demonstrating and actively answering their prospects' inquiries.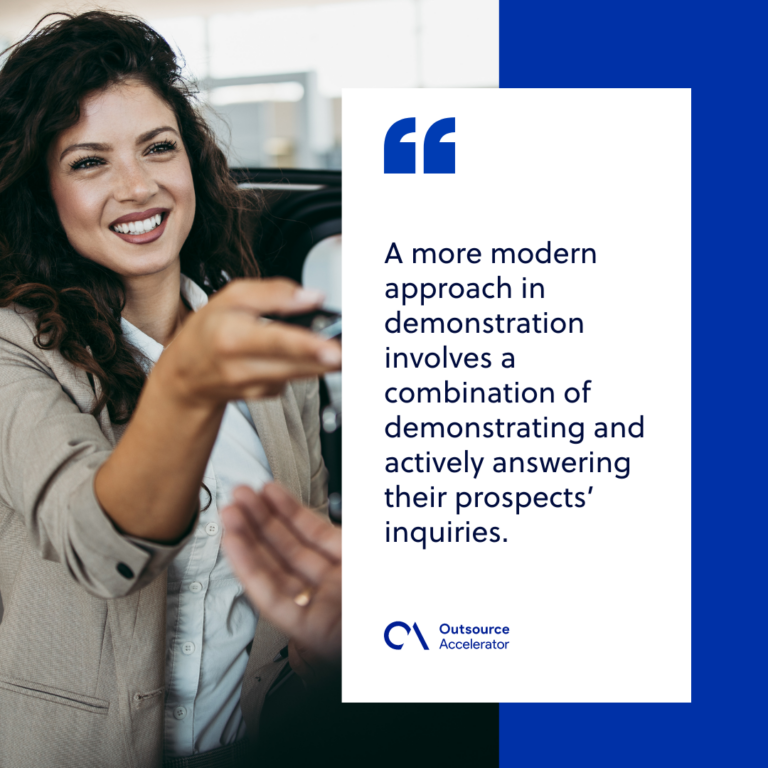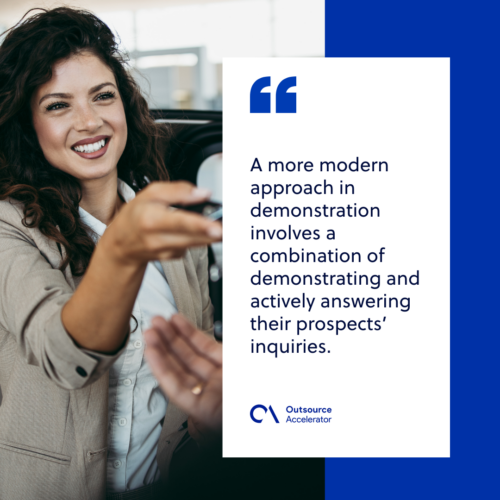 Objections
Not all customers will always say "yes" in an offer for several reasons. While it could take several follow-ups to convince a customer to buy, a "no" should not discourage someone from selling their products.
This is why a part of the selling process involves handling objections from prospects. A good salesperson is determined by the way they handle objections and move forward from this setback.
Closing sales
Whether a prospect buys a product or not, a sales representative needs to close their sales properly. While experienced ones still find this step awkward, novice salespeople usually say this is the hardest step in selling.
Closing sales takes patience and effort on the sales representative's side since they need to help their customers close their deal.  They can use the following techniques to help close their sale easier:
Question close

. Prospects are asked about their opinion on whether a sales offer satisfies their needs, making the option open for them.

Assumption close

. This technique, meanwhile, creates an assumption that a prospect will still buy the product. It then moves the customer forward to give related actions such as their purchase quantity and delivery option.

Take-away close

. Another option they can offer the prospect is a reduced value of the item. With this, prospects will think about the reduced price and what they'll miss out on it.
Sales follow-up
Last but not least, a sales transaction is not fully over once a customer completes or turns down an offer. Rather, the representative must make sure their prospects are satisfied by making sure that their order is received and working smoothly.
For those that turn down the offer, the salesperson can do follow-ups on their prospects after a certain period.
Personal selling strategies to use for your advantage
It takes time and effort to make personal selling work. This is because they'll be dealing with prospects having different personalities, needs, and knowledge of their products. 
However, a good sales representative combines several of the following strategies tailored to their prospects.
Getting to know buyer personas
A sales rep should stick to their company's buyer persona or target market when looking for prospects.
They can be continuously screened according to their budget, demographic, and preferences to see if they are suited for a certain offer.
Striking a conversation
Sales reps should not just ask "questions" to their prospects. Rather, encourage them to strike a conversation by finding the right footing to start one.
Effective storytelling
Selling nowadays is more about effectively telling a story to persuade customers. Salespersons don't just state a product's specifications and features that highlight it. 
They even enclose some success stories and positive remarks from other clients on how it changed their way of life.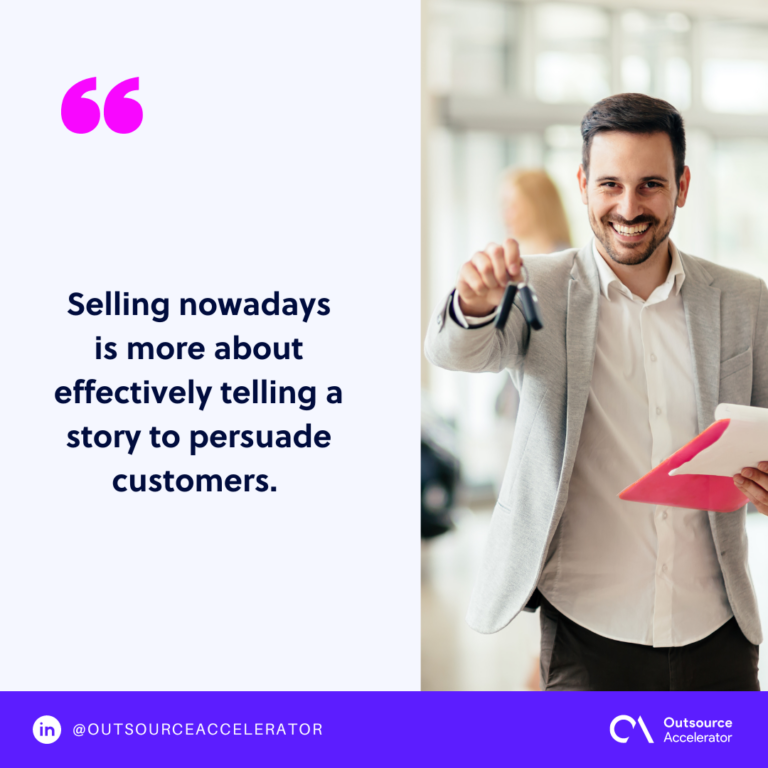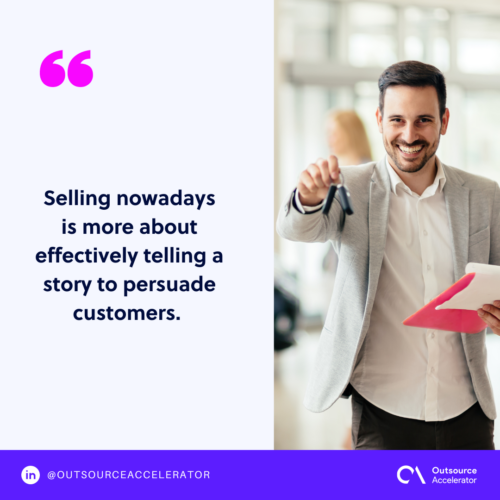 Pros and cons of personal selling
Like other sales methods, personal selling has advantages and disadvantages that can be worked on by companies.
Personal selling pros
Give better details

. Personal selling helps companies give more and better details about a product. Compared to other methods, clients can have a better look at the product if they can see it in action.

Directly answer inquiries

. Clients won't have to bother waiting for hours at a call or chat just to ask more about a product. They can directly ask their concerns to the salesperson, helping them decide better. 

Establish personal connections

. It even helps companies establish personal connections with their clients since they get to see the effort in reaching out to them.
Personal selling cons
Costly

. Unfortunately, personal selling is costly compared to other sales methods. Companies should take time, effort, and resources to invest in this method to make it work.

Fewer customers to reach

. It also limits a company's customer base. Commonly, those practicing personal selling are usually limited to a single city or region covered by their reach.

Loyalty risks

. Customers could grow dependent on the salesperson that converted them. As a result, companies risk losing them should their representatives move away or resign.
Best practices in personal selling
This method works best if done the right way. Here are some of the best practices for successful personal selling.
Research, research, research

. Always keep in mind to research everything before meeting a prospect. A sales rep should know everything about a client, their basic profile, and the company's products and services.

Follow the selling process

. Don't forget to follow the selling process, especially for any objections. This helps a sales rep get organized and structured when selling.

Be confident

. However, they should also be confident with their pitch. Sticking too much on the process and script could make customers feel dubious and discouraged in a certain offer.