Payroll services in New Zealand: What you need to know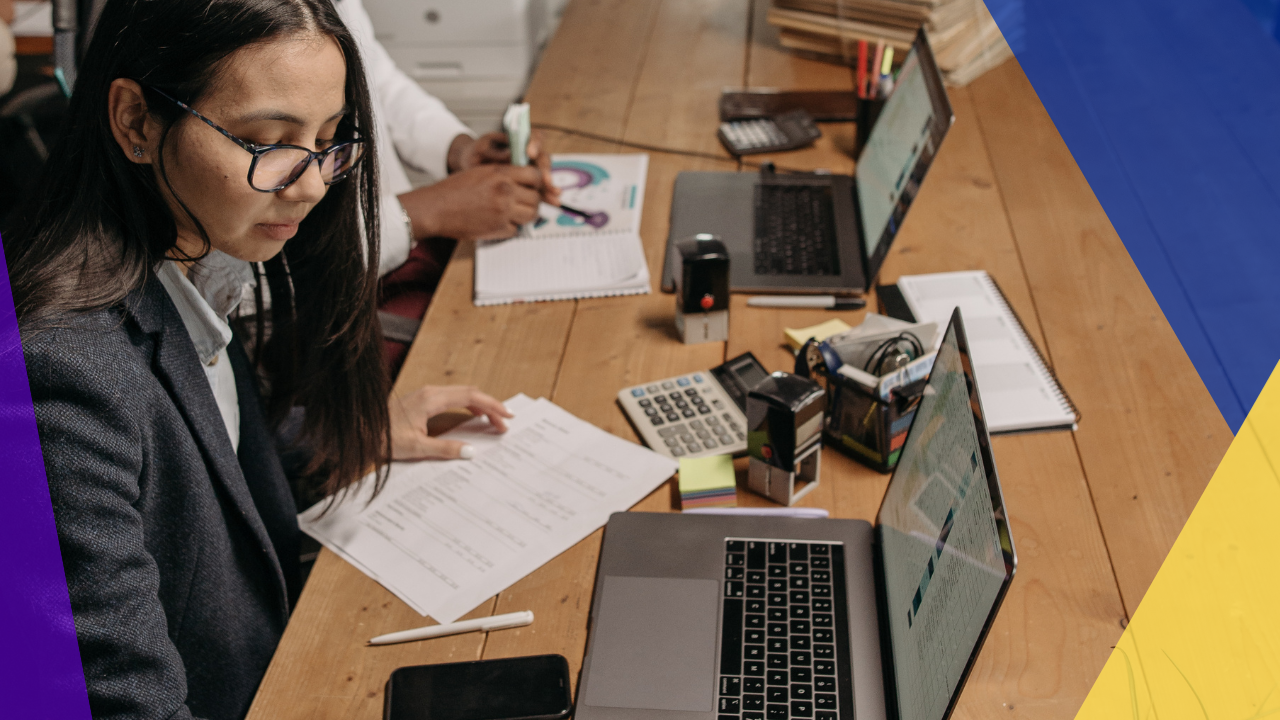 This article is a submission by Reliable Solutions – Virtual PAs. Reliable Solutions – Virtual PAs is a professional virtual assistant company based in Napier, New Zealand.
Payroll is one of the most important aspects of running a business, but it can also be one of the most challenging and time-consuming.
Payroll involves calculating and paying wages, salaries, bonuses, commissions, taxes, deductions, and benefits, as well as complying with various legal and regulatory requirements.
Payroll errors are unavoidable and can result in penalties, fines, audits, lawsuits, and unhappy employees.
This is why many businesses today prefer to outsource payroll services to reputable outsourcing providers across the globe. New Zealand is among the leading destinations to farm out payroll functions.
What are the different types of payroll services available?
There are a variety of payroll services available in New Zealand, depending on the size and needs of your business.
Some common types of payroll services include:
Full-service payroll. This type of service takes care of all aspects of your payroll, from calculating wages and salaries to deducting taxes and issuing payslips.
Self-service payroll. It provides you with the tools and support you need to process your own payroll.
Payroll outsourcing. This involves outsourcing your entire payroll process to a payroll administrator: A virtual PA or an agency.
Commonly outsourced payroll services
Many businesses in New Zealand choose to outsource their payroll functions to professional payroll service providers. Payroll services providers are companies that specialize in handling payroll processes for other businesses.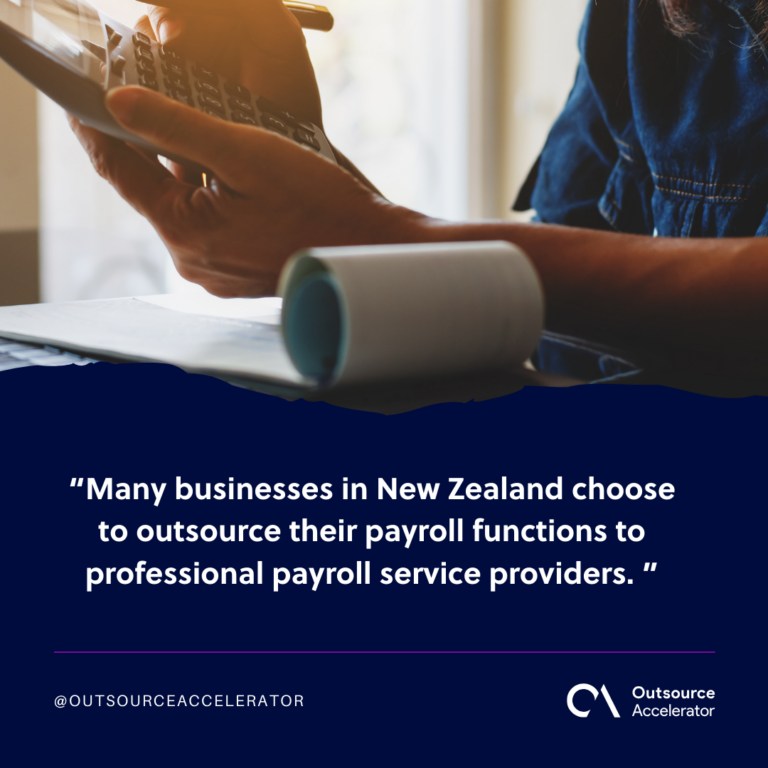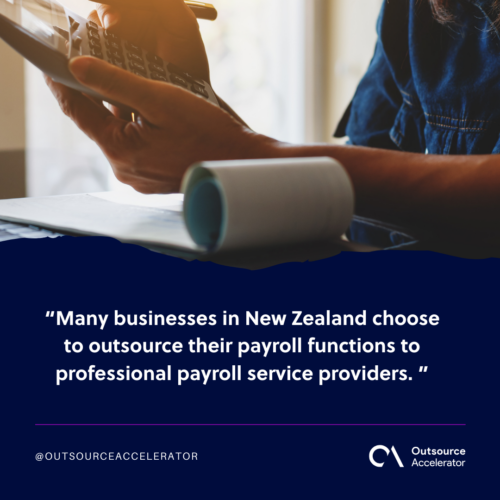 They can offer a range of functions, such as:
Payroll processing. It involves calculating and paying employees' gross and net pay, as well as withholding and remitting taxes and deductions to the appropriate authorities.
Payroll reporting. This service comprises generating and providing various reports on payroll data, such as payslips, pay summaries, tax summaries, and leave balances.
Payroll compliance. This involves ensuring that the payroll processes follow the relevant laws and regulations, such as the Employment Relations Act 2000, the Holidays Act 2003, the KiwiSaver Act 2006, and the Income Tax Act 2007.
Payroll consulting. Outsourcing companies provide advice and guidance on payroll-related issues, such as payroll system setup, payroll policy development, payroll audit preparation, and payroll dispute resolution.
Benefits of outsourcing payroll services
By outsourcing their payroll functions to an outsourcing company, businesses can enjoy many benefits, such as:
Save time and money
Outsourcing payroll can free up time and resources for businesses to focus on their core activities and goals.
Outsourcing payroll can also reduce the costs of hiring, training, and maintaining an in-house payroll staff, as well as purchasing and updating payroll software and hardware.
Improve accuracy and efficiency
Delegating payroll functions to premier outsourcing firms can ensure that the payroll processes are done correctly and promptly by experts. They have the skills and experience to handle complex and changing payroll scenarios.
Outsourcing payroll can also reduce the risks of errors, mistakes, and fraud that can lead to penalties, fines, audits, lawsuits, and unhappy employees.
Enhancing security and confidentiality
Outsourcing payroll can protect sensitive and confidential payroll data from unauthorized access, theft, loss, or damage.
Payroll services providers use advanced encryption and backup systems to safeguard the payroll data. They also follow strict privacy policies and ethical standards to respect the rights and interests of their clients and their employees.
Accessing technology and innovation
Outsourcing payroll can enable businesses to leverage the latest technology and innovation in payroll processing.
Payroll outsourcing companies use cloud-based payroll solutions that are accessible anytime and anywhere via the internet. They also use artificial intelligence (AI) and machine learning (ML) to automate and optimize the payroll processes.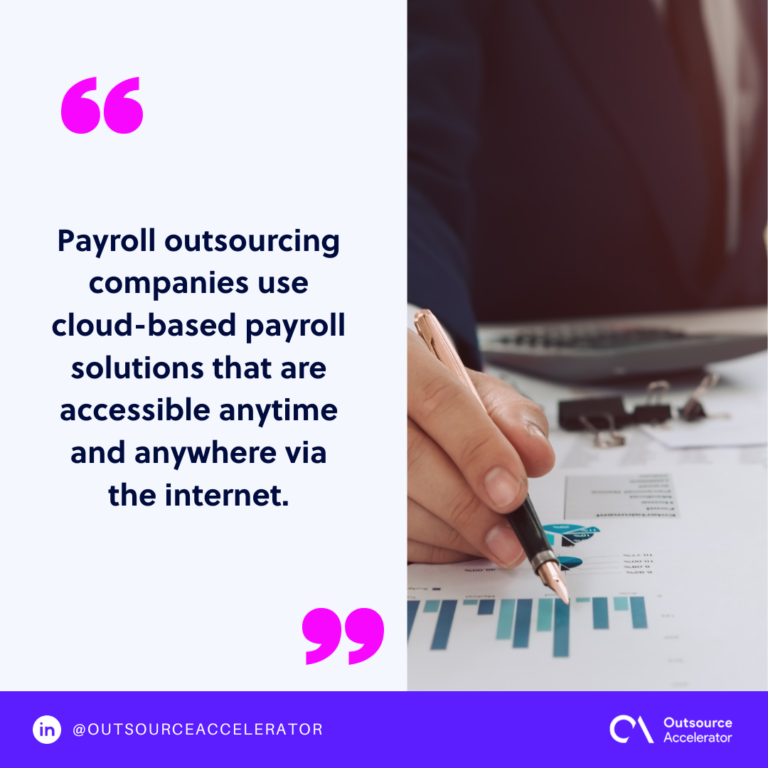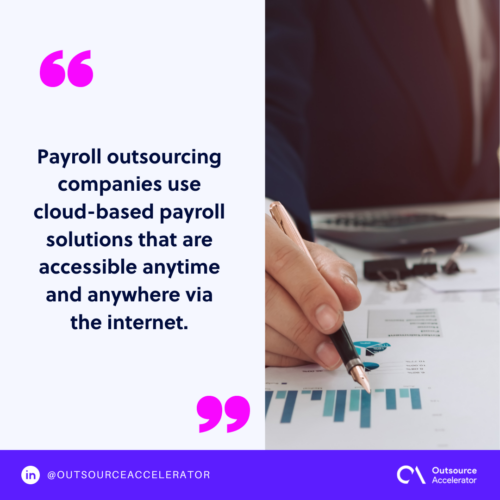 How to choose the right payroll services provider
Not all outsourcing companies are created equal. Businesses need to find a provider that can cater to their specific needs and preferences.
Here are some factors to consider when choosing a payroll service provider:
Reputation and reliability
Businesses need to check the background and track records of the potential payroll service providers.
They must look for testimonials, reviews, ratings, awards, accreditations, or certifications that indicate the quality and credibility of their services. They can also check for references from their existing or previous clients that can vouch for their performance and satisfaction.
Service scope and flexibility
Companies need to determine what kind of services they need from the potential payroll service providers.
A reliable provider can offer a comprehensive range of services that cover all aspects of their payroll functions. Choose a provider that can offer customized services that suit their unique needs.
Pricing and value
Businesses need to compare the costs and benefits of the potential payroll service providers. An excellent provider can offer competitive and transparent pricing that matches clients' budgets.
Firms need to look for a provider that can offer value-added services that enhance their return on investment (ROI).
Customer service and support
It's also crucial to assess the level of customer service and support that the potential payroll service providers offer.
Businesses need to look for a provider that can offer responsive and proactive communication channels that are available 24/7. It should offer ongoing training and education on how to use their services effectively.
How much do payroll services cost?
The cost of payroll services will vary depending on the type of service you choose and the size and complexity of your payroll.
However, most payroll outsourcing firms offer a free consultation so that you can get an estimate of the cost before you commit to a service.
Where to get more information about payroll services in New Zealand
If you have any further questions about payroll services in New Zealand, you can contact the following organizations:
Inland Revenue Department (IRD)
Employment New Zealand
Payroll services in New Zealand are essential for businesses that want to streamline their payroll functions and ensure compliance with the laws and regulations.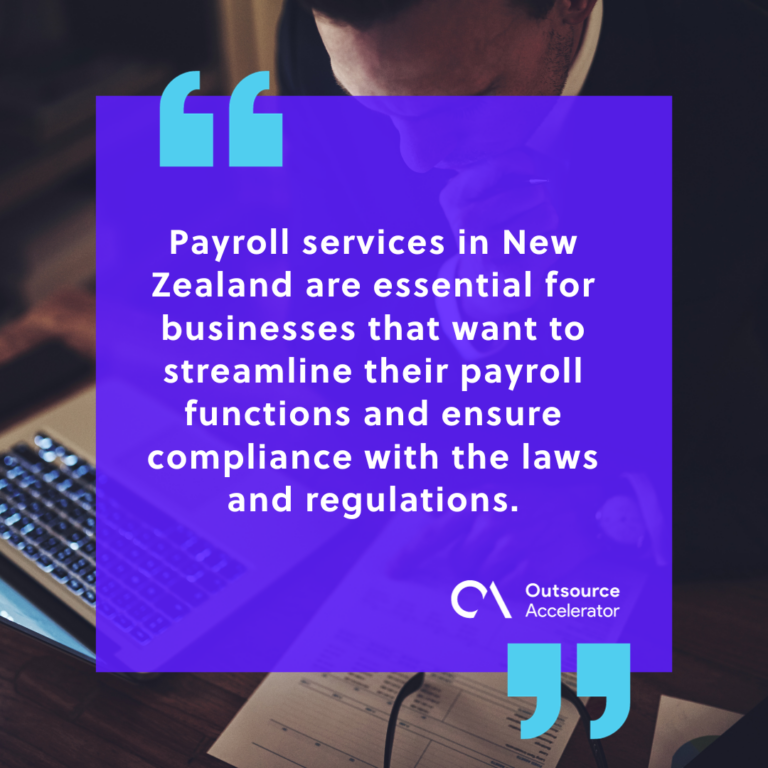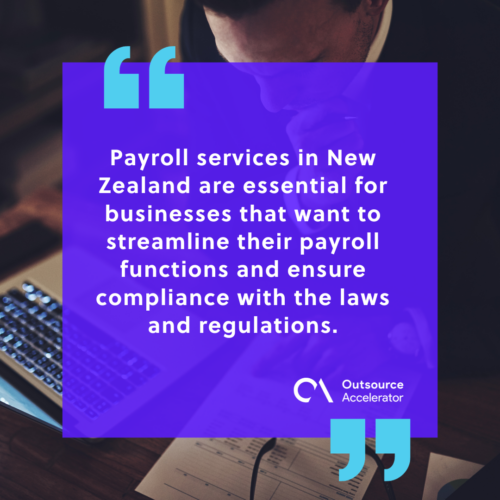 By outsourcing payroll functions to a professional payroll services provider, businesses can:
Save time and money
Improve accuracy and efficiency
Enhance security and confidentiality
Access technology and innovation
However, businesses need to find an outsourcing company that can meet their specific needs and preferences. By considering the factors mentioned above, they can find the best payroll service provider for their organization.