Why you should outsource a payroll assistant thru StaffWiz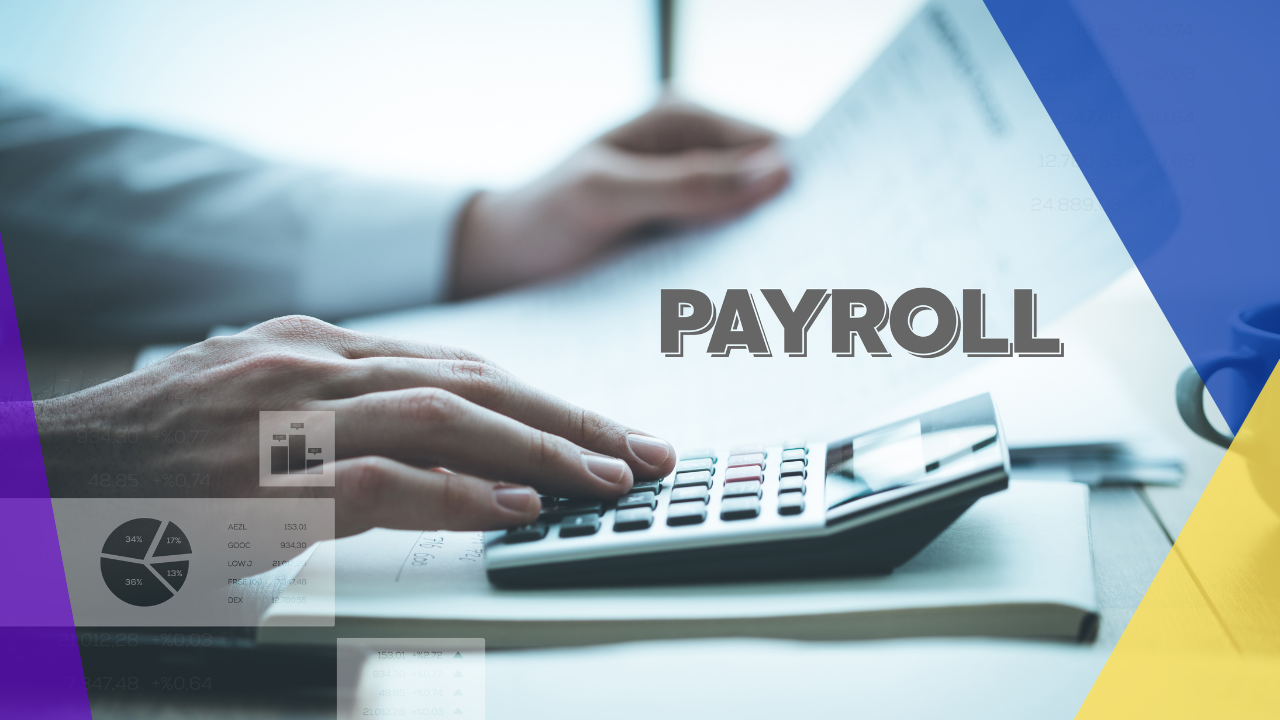 Managing the payroll of many employees – even for small businesses – can be challenging for companies without a dedicated payroll department.
In such situations, the company's human resources (HR) department often takes on payroll management responsibilities in addition to the core HR functions.
While it may not seem like a bad idea to let HR staff handle payroll processes, doing so often becomes a hindrance to their core responsibilities.
However, the alternative – creating a standalone payroll department – can be too expensive to consider for small and startup businesses.
Fortunately, outsourcing firms like StaffWiz offer the services of a dedicated payroll assistant to other businesses at competitive rates.
What is a payroll assistant?
As can be gleaned from the job title, payroll assistants are responsible for managing a company's payroll and other related processes.
Their core responsibilities may include:
salary computation

managing benefits and compensation

payroll data balancing and reconciliation

payroll check delivery

maintaining and verifying payroll data

depositing and reporting taxes

creating salary reports
Some payroll assistant functions overlap with HR responsibilities, such as salary increases and bonuses.
There are also instances where a payroll assistant has to coordinate with HR staff. Examples are salary deductions from absences, tardiness, or when processing severance pays and similar compensations.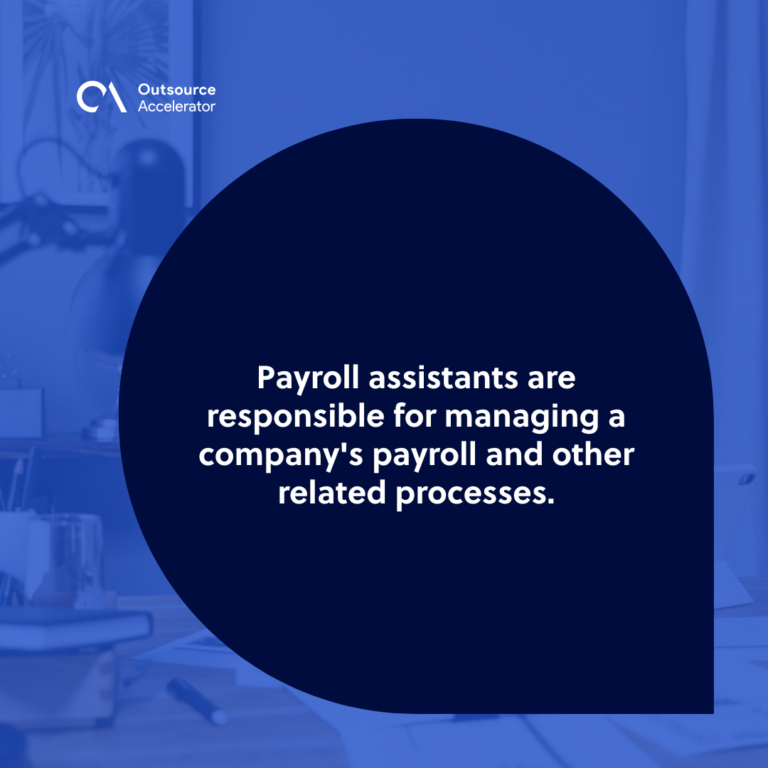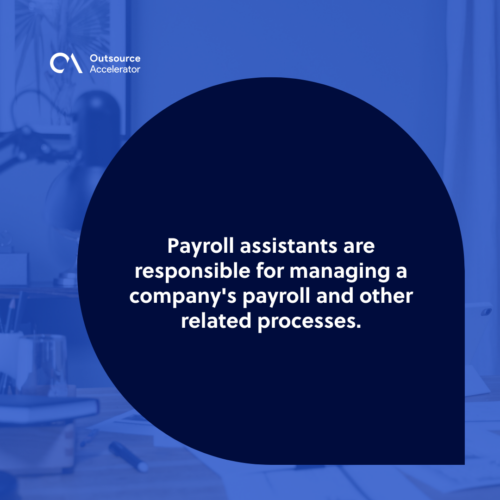 How do businesses benefit from outsourcing a payroll assistant?
Outsourcing payroll assistant services from offshore service providers gain businesses plenty of benefits.
The following are just a few of those:
Reduced operating expenses
Outsourced payroll assistants' salaries – particularly from offshore firms in the Philippines, such as StaffWiz – can be as much as 70% lower than their US counterparts.
Offshoring payroll assistant services also lets businesses save on other potential expenses like equipment, software, and additional office space costs.
Access to professionals
Outsourcing firms go the extra mile to ensure the talents they provide to other businesses are top-notch.
In addition to having extensive experience performing payroll-related functions, payroll assistants undergo rigorous training and upskilling activities.
Aside from gaining the services of ready-to-go payroll assistants, businesses also save on the costs they would've incurred from training payroll staff hired in-house.
Working with these experts also significantly reduces the chances of payroll mishaps.
Access to premium technology
Another advantage businesses gain by outsourcing payroll staff is access to the premium software used in payroll processes.
These tools include software with powerful functionalities, such as
tax filing and tracking (at local, state, and federal levels)

paid leaves tracking

report creation

payroll running

integration with other software/systems
These leading-edge technologies are often already bought by outsourcing firms, further adding to other businesses' cost savings.
Improved in-house productivity
Delegating payroll responsibilities to outsourced staff lets other businesses' in-house staff focus on the core aspects of their jobs.
This is especially true for small businesses whose HR staff are also responsible for payroll processes.
Freeing these overburdened HR staff from payroll duties will increase their productivity as they can focus on more critical tasks.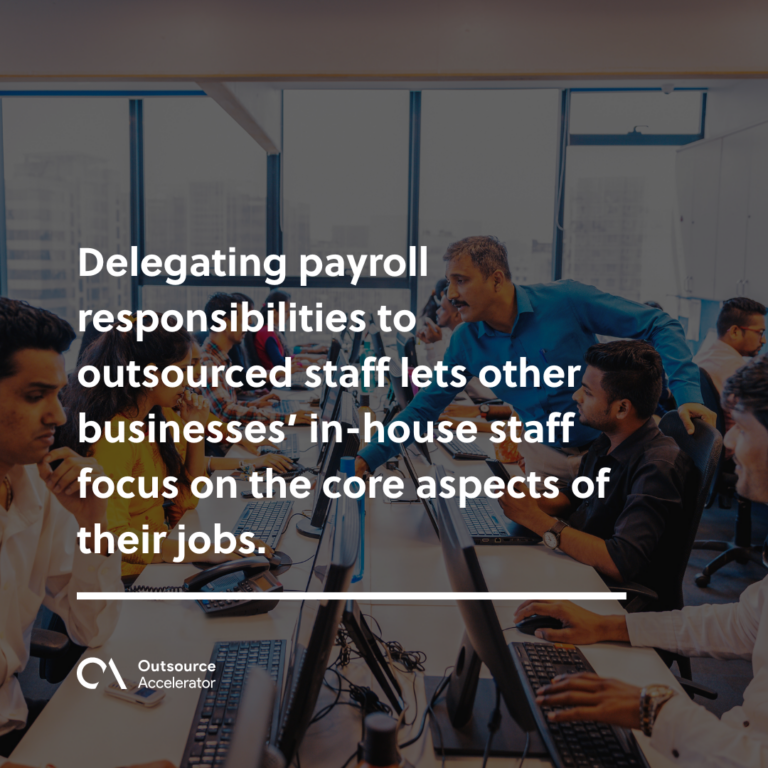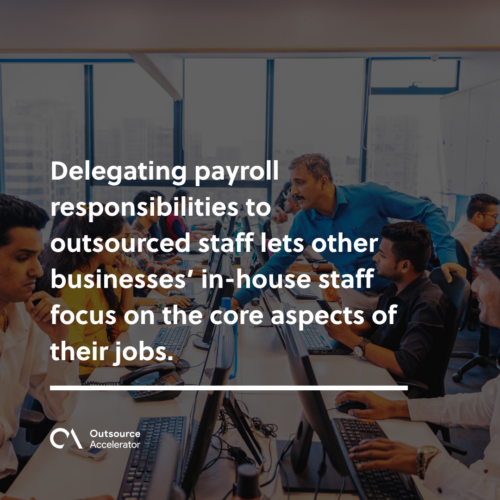 Why StaffWiz is the best provider of outsourced payroll assistants
StaffWiz's mission is to help businesses expand and grow by providing reliable and flexible solutions at competitive rates.
As such, StaffWiz is the perfect place to look for when outsourcing payroll assistant services.
StaffWiz's cadre of well-trained and highly skilled virtual assistants are more than capable of taking on payroll management tasks for your company.
With this leading outsourcing firm's innovative recruitment method, you're guaranteed to find the perfect match for your business's payroll needs.