Top 10 PayPal alternatives for secure online transactions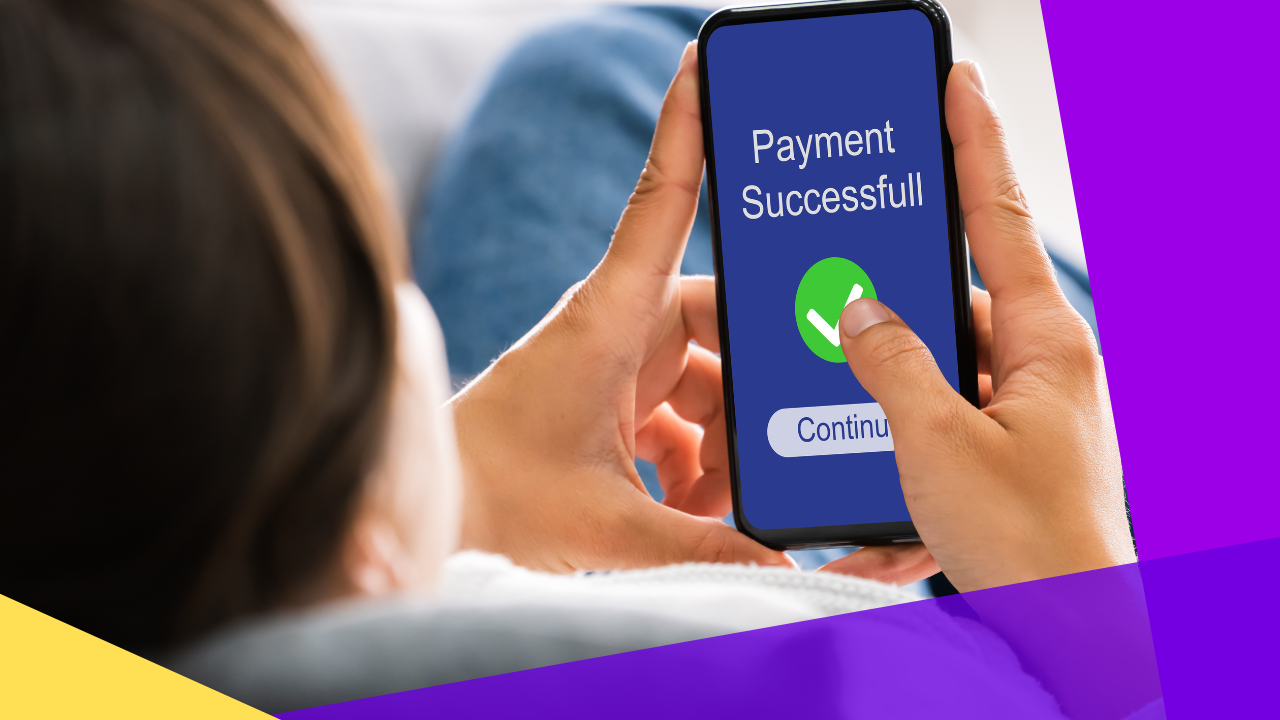 List of top 10 PayPal alternatives 
Digital payments have revolutionized online commerce by changing how worldwide transactions happen. 
Since its start in 1998, PayPal has been a prominent choice, known in households, with users and merchants in 200+ countries. Still, the growing need for PayPal alternatives has led to many options. 
This article reviews the top ten PayPal alternatives to ensure secure online transactions. 
PayPal and its popularity
PayPal is a popular choice for personal and business transactions because it's convenient and dependable. It provides a secure and simple payment process without needing extra tools. 
One important benefit of PayPal is its global merchant acceptance. However, despite its popularity, it also brings drawbacks. 
Certain businesses steer clear of using PayPal because of its fees, occasional disputes, and limitations on customization. These disadvantages drove businesses to seek alternatives for their transactions.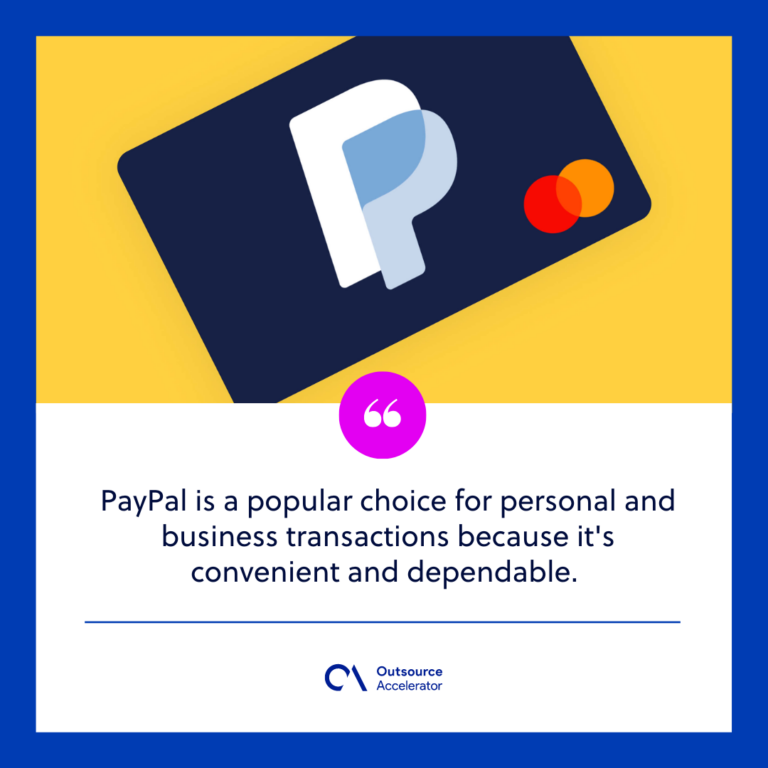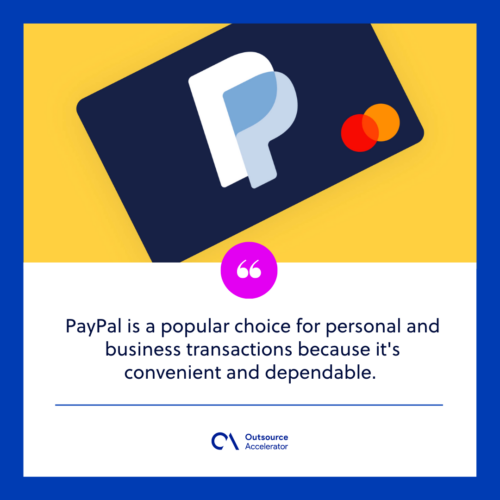 Advantages of using PayPal alternatives
Using PayPal alternatives brings numerous benefits to users. Here are some of them:
Diverse options
In contrast to PayPal, which has restricted customization, its alternatives provide a range of choices. Some options are designed to match the specific requirements of businesses. 
This way, businesses can pick a payment provider to personalize the payment process according to their preferences.
Specialized services
Firms in unique industries need tailored payment solutions to address their specific requirements. 
Alternative options to PayPal offer specialized payment services customized to suit distinct needs, spanning sectors such as healthcare, education, and various other industries.
Lower fees
Using PayPal alternatives with lower fees can significantly reduce transaction costs, making it more cost-effective for businesses and individuals to send and receive money.
Lower fees facilitate international transactions, encouraging cross-border trade and enabling businesses to expand their customer base worldwide.
Ease of integration
Online payment is vital for all businesses, regardless of size or industry. This helps transactions go smoothly for both customers and merchants. 
PayPal alternatives simplify integration, letting merchants easily add the payment process to their websites or e-commerce platforms.

Region-specific solutions
PayPal might not be available for all companies in certain areas. However, alternatives to PayPal provide payment options designed for specific regions, guaranteeing that businesses everywhere can accept global payments.
Region-specific solutions usually offer customer support and interfaces in the local language, making it easier for users to navigate and resolve issues.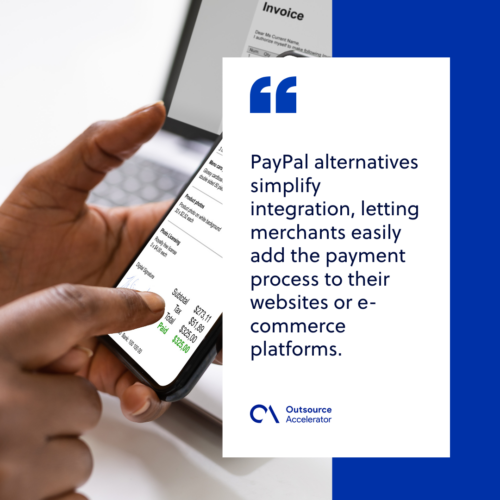 Factors to consider when choosing PayPal alternatives
Choosing a PayPal alternative seems easy, but it requires a comprehensive approach. Remember the following factors when choosing a payment provider:
Security and fraud protection
When picking a payment provider, security is vital. Look for one that uses up-to-date security methods and encryption to safeguard sensitive payment details. 
Also, find a provider with dependable fraud protection to prevent fraud risks.
Transaction fees and pricing
Compare the transaction fees charged by different alternative payment services. Look for providers that offer competitive rates that align with your business volume and transaction frequency.
If your business deals with multiple currencies, inquire about currency conversion fees. Some payment services offer competitive exchange rates, while others might have less favorable rates.
Integration options with e-commerce platforms
Check if the alternative payment service integrates with the e-commerce platform you use or plan to use. Popular platforms include Shopify, WooCommerce, Magento, and BigCommerce.
Also, inspect if the alternative offers plugins, APIs, or developer tools that facilitate easy integration with your e-commerce platform.
Payment options
Consider whether PayPal alternatives support local and regional payment methods that are popular in your operating regions. This can improve the checkout experience for customers.
Confirm whether the alternative payment service supports cryptocurrency transactions and settlements if your business deals with cryptocurrencies.
Accepted by merchants
Ensure the alternative payment service supports customers' preferred payment methods, such as credit/debit cards, bank transfers, and digital wallets.
Check whether the alternative has a global presence and supports transactions in multiple currencies. This is crucial if you have an international customer base.
Factors to avoid when choosing PayPal alternatives
Here are some factors to avoid when choosing a payment provider:
Limited acceptance
Avoid PayPal alternatives that have extremely limited merchant coverage. Opt for services accepted by a diverse range of merchants to ensure you have payment options.
Be careful with payment services that charge very high fees because they are not widely accepted. These extra fees can greatly increase your expenses.
Unreliable security
Avoid PayPal alternatives that do not use strong encryption protocols to secure sensitive customer and transaction data. Weak encryption can make your transactions vulnerable to cyberattacks.
Payment Card Industry Data Security Standard (PCI DSS) compliance is essential for handling credit card information securely. Avoid services that are not compliant with these industry standards.
Hidden fees
Avoid PayPal alternatives that do not provide clear and transparent fee structures. Hidden fees can lead to unexpected costs and negatively impact your bottom line.
Be wary of alternatives that impose monthly maintenance charges or subscription fees without clearly explaining the benefits you'll receive.
Complicated setup
Steer clear of platforms that make it difficult to customize the payment experience to match your brand's identity. Limited customization options can result in a generic and unaligned checkout process.
Avoid services with limited compatibility with third-party tools, plugins, and software you rely on for business operations.
Limited payment options
Avoid PayPal alternatives that offer only a limited range of payment methods, as this can restrict customers' choices and potentially lead to abandoned transactions.
Be cautious about the solutions that provide customers with a confusing or complicated payment experience, as this can lead to cart abandonment.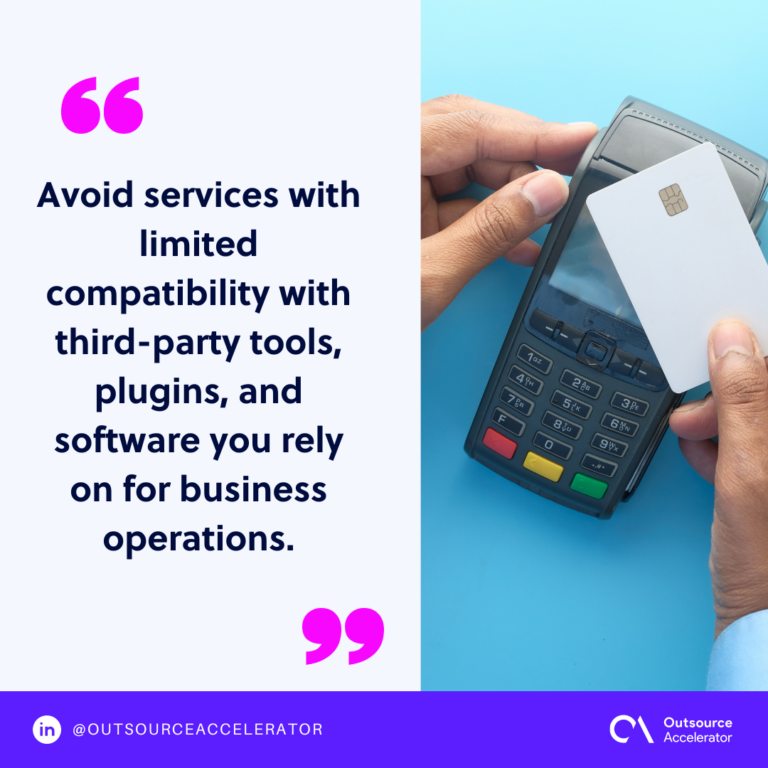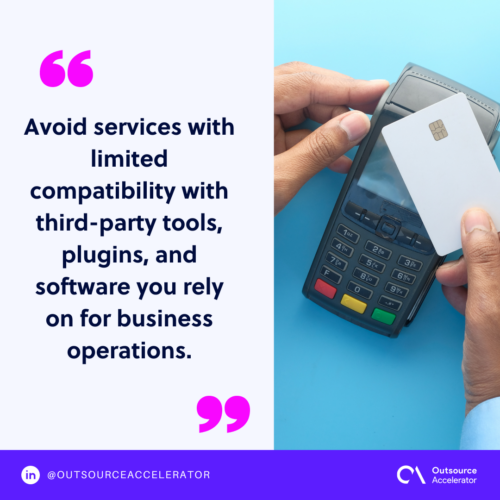 Top 10 PayPal alternatives to consider
Below are ten of the most popular PayPal alternatives you can use:
Stripe is a payment processing system that empowers businesses to receive payments online, in physical settings, or using their own applications. 
It provides various tools and options, including:
Worldwide payment support

Automated financial processes

Integrated banking services. 
Many companies, from new ventures to major corporations, utilize Stripe to oversee their payment systems and online operations.
Square is a comprehensive business platform offering tools to help businesses manage their operations. It provides solutions for all types of enterprises, including food, beverage, retail, beauty, and even large businesses. 
Square also integrates with many third-party tools like:
QuickBooks

WooCommerce

Homebase
Its hardware is customizable and intuitive, giving businesses maximum flexibility. 
The platform also offers extensive reporting functionality to help businesses make informed decisions and manage their cash flow effectively. 
Skrill is a top-rated online payment platform facilitating transfers and asset exchanges with positive user reviews. It is an efficient, secure, and reliable payment service that is easy to use with low fees and transparent transactions. 
Skrill offers instant payments on e-wallets with fast transaction processing without any problems. It also provides a Mastercard feature for convenient use. 
Authorize.Net is a leading payment gateway enabling businesses to accept payments through several online, mobile, and in-store channels. The platform offers a variety of payment solutions to help businesses manage their payments quickly and securely. 
Some of the payment types that Authorize.Net supports are:
Credit cards

Debit card

ECheck

Virtual terminals

Mobile payments 
The platform has a simple user interface and is easy to use. It also offers extensive resources for developers to integrate with any platform. 
Additionally, Authorize.Net has excellent customer support, with a 24/7 support team that provides assistance and resolves issues. 
Amazon Pay is an internet-based payment service offered by Amazon. It lets shoppers conveniently use the Amazon account to pay on different websites and stores that accept it.
This makes checkout easier for shoppers, as they don't have to enter their payment and shipping details repeatedly. 
Amazon Pay brings advantages like more shopper engagement, brand visibility, and business security. It works well with various e-commerce platforms, including features like express payout and payment choices. 
Amazon Pay is a reliable payment solution trusted by millions of Amazon users globally.
Apple Pay is a digital payment service provided by Apple that allows users to make secure and convenient payments using their iPhone, Apple Watch, iPad, or Mac. 
With Apple Pay, users can replace physical cards and cash while shopping online, in apps, and stores, providing a simple and efficient way to pay.
Setting up Apple Pay is quick and easy. Users can add their credit or debit card to the wallet app on their iPhone and start using it instantly. 
Apple Pay retains all the rewards and benefits associated with the user's cards, ensuring they don't miss any perks.
Wise, previously known as TransferWise, is a financial tech company that provides a fast and affordable way to send money internationally. With Wise, you can easily send and receive money across borders.
It lets you send money to over 80 countries using over 50 currencies. The platform offers clear and competitive exchange rates that often outperform regular banks. This helps you save money on currency conversion fees.
Payoneer is a payment platform that empowers businesses to send and receive payments from anywhere in the world simply and hassle-free. 
The platform supports multiple currencies, making it easy for companies to do business globally while complying with local regulations.
Payoneer offers a range of payment solutions and expertise, including cross-border payments, mass payouts, and e-commerce payments. 
It provides businesses with various tools and features to simplify managing payments and streamline the payment experience for clients, partners, and suppliers.

Venmo is a mobile payment service that allows users to send and receive money from friends and businesses.  Users can link their bank accounts, debit cards, or credit cards to Venmo accounts and easily transfer funds to other Venmo users. 
With the Venmo Credit Card, users can earn customized cash-back rewards and even use their cash back to purchase cryptocurrency. 
Venmo also offers the ability to send payments to businesses and use Venmo money for purchases. It provides a convenient and secure way to manage payments and transactions on the go.
Braintree is an online payment solution and global payment processor. It offers a range of products and features to help businesses accept online payments and streamline their operations. 
With Braintree, businesses can accept payments for their products or services and provide customized pricing based on the business size and model. 
Braintree also offers fraud tools to help detect and prevent fraudulent transactions. It also has data security measures to safeguard customer information and various payment methods. 
Choose the right PayPal alternative based on your business needs
Selecting a PayPal alternative that caters to your business's unique needs is essential. When deciding, consider payment provider factors such as security, pricing, payment options, and integration. 
Choose a payment provider that offers customizable payment solutions and is widely accepted by merchants globally.