Outsourcing to Ghana: Your guide to building quality services in Africa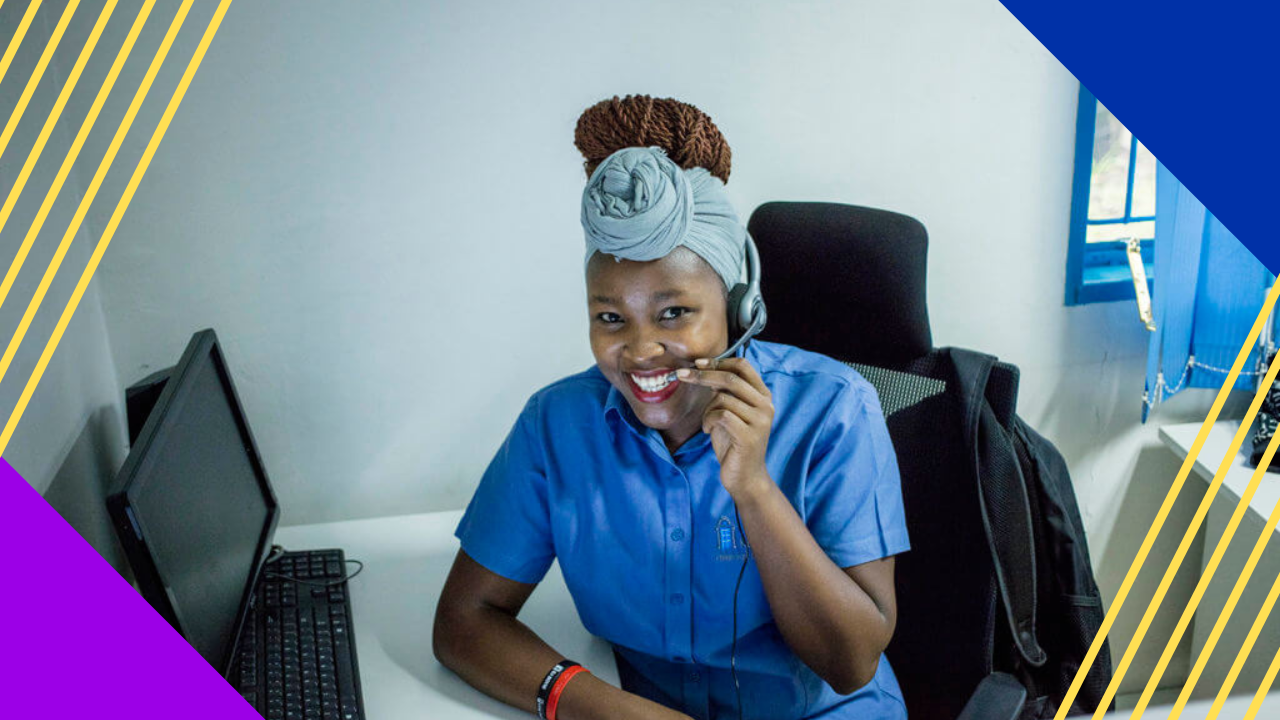 Outsourcing has become a popular business strategy for companies looking to improve operational efficiency while maintaining quality.
While many businesses have traditionally outsourced to countries like India and the Philippines, Ghana is emerging as a premier outsourcing destination in Africa. It is a close alternative to outsourcing countries due to its compatibility with its market and top-tier IT services.
This guide will explore the benefits of outsourcing to Ghana and what you need to know when dealing with the country.
Ghana as a premier outsourcing destination
Ghana is a West African country that has made significant strides in economic development over the past decade. Per World Bank, the country's economy grew by 6.3% in 2018, making it one of the fastest-growing economies in Africa.
Regarding outsourcing services, Ghana is becoming a popular alternative to Asian countries. While having a slow start compared to most emerging markets today, its demand has spiked, particularly due to the changing business landscape worldwide. 
Ghana is also a stable democracy with a peaceful political environment, which is an important consideration for companies looking to outsource.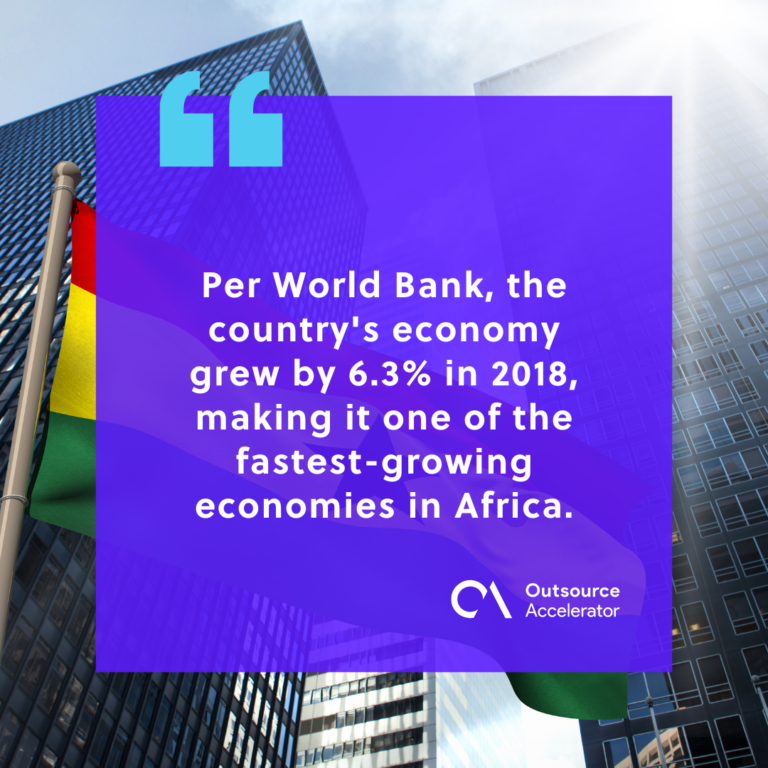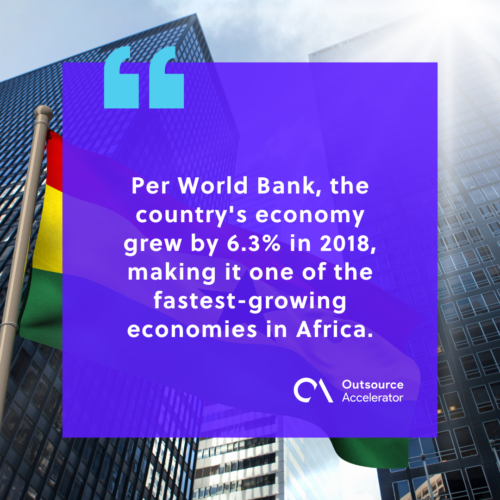 Fast facts about Ghana
Here's what you need to know about the country:
Ties with the US

. Ghana has the

third largest market

for export goods from the US in the Sub-Saharan region.

Hospitality

. Ghanaians are known to be hospitable and highly religious, similar to Filipinos. Their hospitality is one of the reasons the country is great for outsourcing customer service.

Gold Coast

. Ghana was called the "Gold Coast" by the Portuguese that first set foot on the location. This is due to its wealth in gold, minerals, and other natural resources.

Oil and gas industry

. Aside from outsourcing, Ghana has a rising oil and gas industry in Africa. Through the

Ghana National Petroleum Council (GNPC)

, the country aims to explore its prospects in oil and expand its portfolio further.

Indigenous culture

. The country has a rich diversity of indigenous groups and cultures, each with its traditions and ways of living.
Why companies outsource to Ghana
Ghana is an attractive outsourcing destination for developed markets, especially in the US, for the following reasons.
Access to a skilled workforce
With a labor force population of over 14 million, Ghana has a large pool of educated and skilled workers. Most of their workforce are highly trained and experienced in telecommunications, development, and support services.
The country has a well-established education system, with various tertiary institutions offering degrees in multiple fields. While they mostly cater to the country's needs, the workforce is highly viable to handle outsourced services such as IT and technical support.
Moreover, the Ghanaian workforce is known for its strong work ethic and dedication to quality.
Strategic geographical location
Ghana's strategic geographical location plays a significant role in attracting businesses to outsource their services to the country.
Situated on the West coast of Africa, Ghana provides a gateway to the African continent, experiencing rapid economic growth and emerging as a lucrative market.
Through their outsourcing presence in Ghana, companies can position themselves to tap into these burgeoning markets, expanding their reach and gaining a competitive edge.
Cost savings
Outsourcing to Ghana can be more cost-effective than outsourcing to other countries.
For one, labor costs in Ghana are lower than in many developed countries. According to Payscale, an average worker in the capital city of Accra earns as much as GH₵ 24,000.00 (US$ 2,121.48) per year.
Delegating services to the country can help US and European businesses save as much as 60% to 70% in labor costs alone.
Ghana also offers tax incentives and other benefits to foreign investors. This includes companies outsourcing their functions to the country.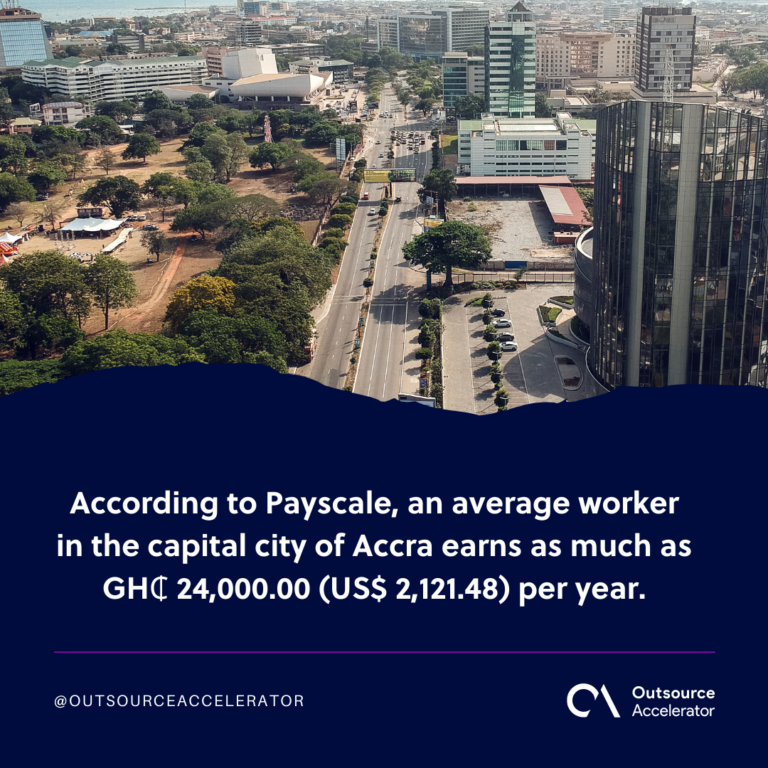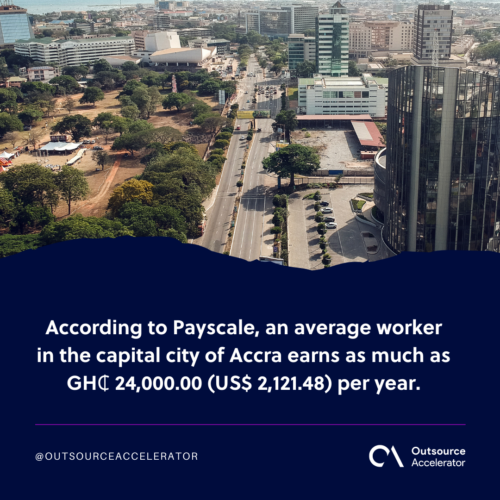 Cultural compatibility
Ghana has a strong cultural affinity with many Western countries, particularly the United States and the UK.
Being one of the US's largest export markets, Ghana mostly affirms the American culture in both personal and business aspects. This goes the same with their ties with the UK being one of their former colonies.
Ghanaians are known for their friendly and welcoming nature, which can make it easier for companies to build strong relationships with their outsourcing partners.
Time zone compatibility
Ghana only has a few hour difference from the US and has the closes timezone to Europe. This makes the country an ideal outsourcing destination for US and European organizations. 
Ghanaian outsourcing partners can work during the same business hours as their clients, improving communication and collaboration.
Quality services
Ghanaian outsourcing partners are known for their commitment to quality. The country has a strong customer service culture, and Ghanaian workers are dedicated to delivering high-quality services to their clients.
Cultural adaptability
Ghana's rich cultural diversity contributes to its ability to adapt to business contexts and client requirements.
The Ghanaian workforce is known for its flexibility and adaptability, some crucial attributes in an outsourcing partnership. Professionals in Ghana are adept at understanding diverse cultural nuances, communication styles, and business practices.
This cultural adaptability facilitates effective collaboration and seamless integration between outsourcing partners, enhancing productivity and smoother workflows.
Room for innovation
Outsourcing to Ghana gives businesses access to a vibrant environment that fosters innovation and creativity.
Ghanaian professionals bring fresh perspectives, innovative ideas, and a willingness to explore new approaches to problem-solving. This entrepreneurial spirit and passion for continuous improvement lead to groundbreaking solutions and untapped opportunities.
By tapping into Ghana's culture of innovation, outsourcing partners can gain a competitive edge and drive business growth.
Access to new markets
Outsourcing to Ghana can help companies access new markets in Africa and beyond. 
Is membership in regional economic organizations like ECOWAS and the African Continental Free Trade Area (AfCFTA) can provide companies access to a large and growing market.
Business-friendly environment
Ghana is renowned for its business-friendly environment and supportive government policies. The Ghanaian government actively encourages foreign investment in the outsourcing sector, offering incentives, tax breaks, and streamlined procedures.
This commitment to creating an enabling business environment allows companies to navigate regulatory processes and focus on their core competencies easily.
The stability and predictability of the business landscape in Ghana provide a solid foundation for outsourcing partnerships to thrive.
Ethical and social responsibility
Ghana places a strong emphasis on ethical business practices and social responsibility. 
The country takes pride in developing its social and economic well-being. Companies that outsource to Ghana can be assured that they partner with organizations prioritizing fair labor practices, environmental sustainability, and community development.
By outsourcing to Ghana, businesses align themselves with partners committed to ethical conduct, fostering a positive brand image and reinforcing corporate values.
Challenges when outsourcing to Ghana
While outsourcing to Ghana offers many advantages, there are also some challenges to consider.
Infrastructure

. While Ghana has a well-developed telecommunications infrastructure, there are still some challenges with power outages and internet connectivity in some areas.

Exchange rate fluctuations

. Currency exchange rate fluctuations can impact the financial aspects of outsourcing to Ghana. Recently, the

Ghanaian cedi

has been reported to have depreciated sharply over the years.

Skill retention and talent management

. As the outsourcing industry in Ghana grows, competition for skilled professionals intensifies. Retaining talented individuals can be challenging, especially when global companies offer enticing opportunities.
Services to outsource to Ghana
Dealing more with technical and professional roles, Ghana is known for the following outsourcing functions:
Software development
Ghana has a growing IT sector, with many skilled developers and programmers. According to a report, it has one of the highest numbers of software developers in Africa, with over 18,000 professional developers.
Through this, clients can easily delegate their development and other IT services to Ghanaian providers.
Accounting
Ghana has a well-educated and skilled workforce in finance and accounting. Companies can outsource functions like bookkeeping, payroll, and tax preparation to Ghanaian providers.
Technical support
Ghanaian workers are known for their strong customer service skills. Companies can outsource customer service functions like call centers, email support, and social media management to Ghanaian providers.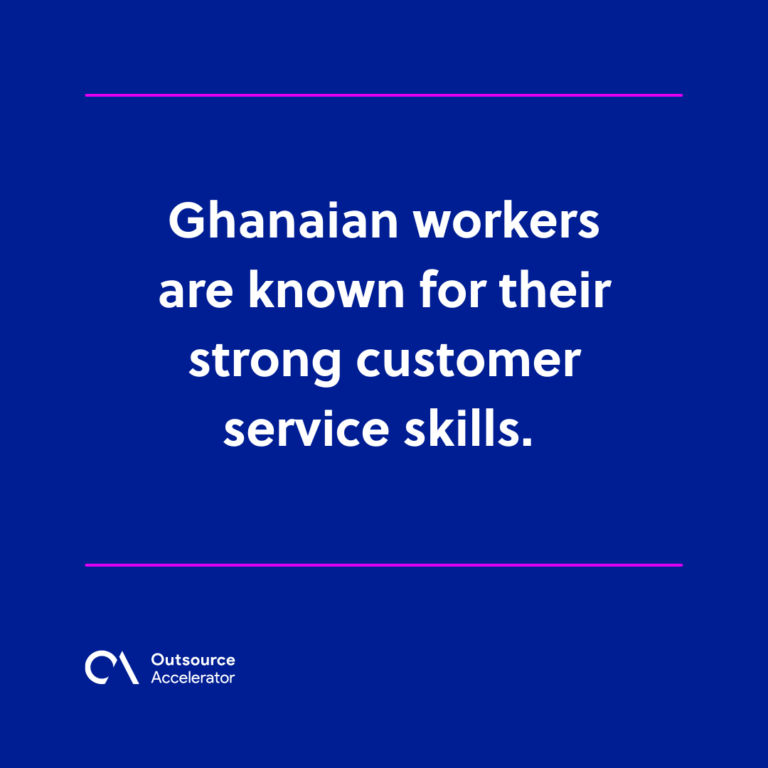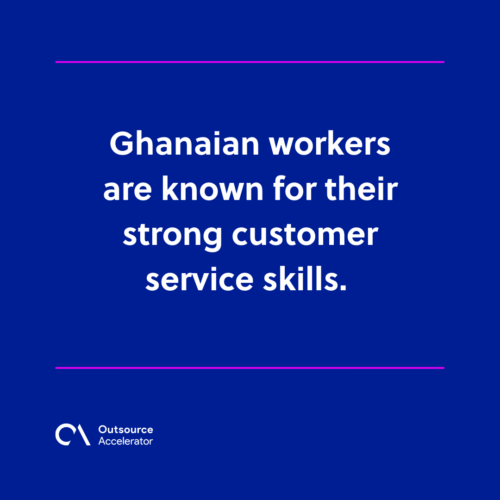 Knowledge processes
Knowledge process outsourcing (KPO) has gained prominence in Ghana, with many companies offering specialized knowledge-based services. These encompass analysis, data management, market research, and intellectual property management.
Outsourcing knowledge processes to Ghana can help firms access a talented pool of professionals providing accurate and insightful research outputs.
Research
Ghana is an ideal destination for research outsourcing, offering expertise in diverse fields such as market research, data analysis, and academic research. Their researchers have the necessary skills to conduct investigations, collect relevant data, and generate valuable insights.
Outsourcing research tasks to Ghana allows businesses to access reliable and high-quality research outputs, facilitating evidence-based decision-making and fostering innovation.
Outsourcing to Ghana in a nutshell
Outsourcing to Ghana can provide companies access to a skilled and dedicated workforce, cost savings, and a strategic location in West Africa. While there are some challenges to consider, the benefits of outsourcing to Ghana can outweigh the risks. 
The outsourcing market in Ghana has become an effective strategy for businesses looking to enhance their operations and tap into Africa's growing markets.
Ghana offers a favorable business environment, a skilled workforce, and a range of quality services. Companies can access top talent and expand their global reach when they delegate services to the country.
Embracing the opportunities presented by Ghana's outsourcing industry can be a game-changer for businesses seeking growth and success.