Many companies these days have taken advantage of the benefits of outsourcing electrical engineering services. If you have not tried it yet, then it is time to consider this promising option.
Doing all in-house electrical engineering work is tedious. Doing it in-house will make you miss the chance of having access to multiple talents that engineering services outsourcing provides.
Engineering services outsourcing: what can you expect?
You might be hesitant to outsource engineering services. So, we made a list on what you can expect when you jump into it. Here they are: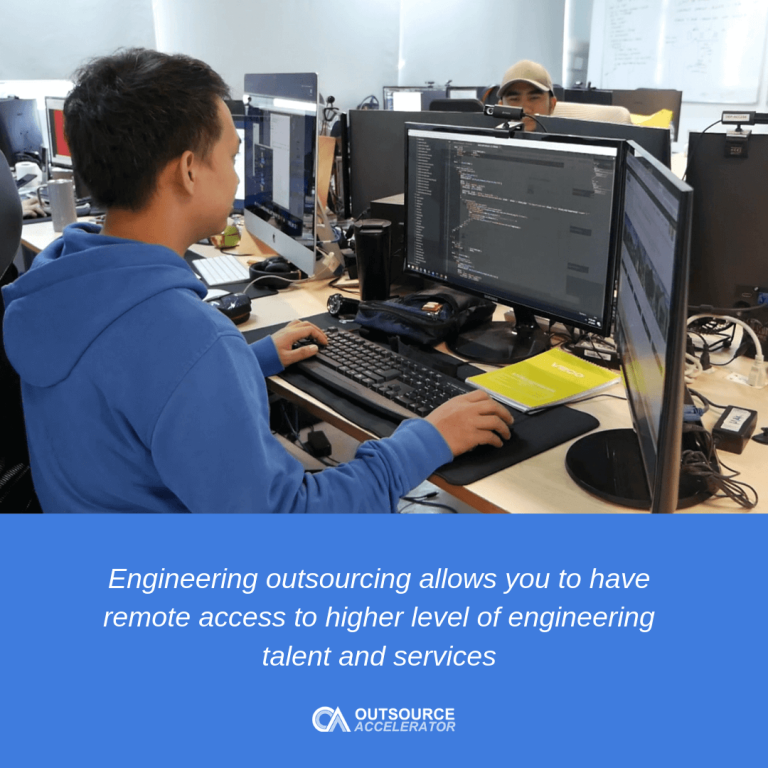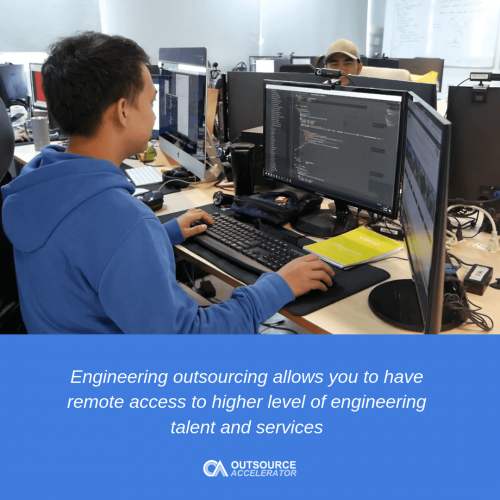 Remote access to professional services
Engineering outsourcing allows you to have remote access to higher level of engineering talent and services. The leading outsourcing firms have a pool of experts who are updated about the best practices in the industry. They are ready to provide their knowledge and services wherever you are in the world.
In addition to having a global reach, you will also have 24/7 access to the best engineering services available.
Cost efficient services
Outsourcing engineering services provide a substantial decrease in operating costs which results in a notable increase in profit. This holds especially true with office-based electrical engineering services like CAD designs and plans, which require extra utilities and supplies cost, aside from the professional and retention fees of an in-house engineer. Research suggests that hiring third-party engineering services lowers labor expenses by 20 to 30 percent. At the same time, they also cut engineering costs by a significant amount.
The savings you generate can now be used to fund new projects, initiate marketing campaigns, or make other investments.
Quality output
You are assured of quality work when you hire third-party engineering services. The key is to find a legitimate engineering outsourcing firm with a proven track record.
Reliable engineering outsourcing companies ensure total observance of industry standards. They are aware and comply with different international standards such as ANSI, IIEE, DIN, IEC, and other client-specific benchmarks.
Quality output not only involves following technical industry standards, though. It is also about ensuring that the processes to achieve the desired results are efficient and safe. Professional outsourced engineers are adept when it comes to project scheduling and management.
Detailed project timeline
Outsourced engineering firms provide a comprehensive project timeline that is S.M.A.R.T. (Specific, Measurable, Achievable, Relevant, and Time-bound) in nature.
Their engineers will guide you through the goal-setting and roadmap creation periods, before coming up with a timeline that you and your company's key stakeholders are going to review. They will also provide detailed reports, analysis, and suggestions for improvement throughout the whole process.
You are always kept informed about each milestone. They ensure that you are updated from the initiation and planning phase up to the execution, monitoring, and project completion.
Domain expertise
Third party engineering services have domain expertise. This means that each one in their talent pool is an expert in their particular fields. For example, if you need CAD design services, then they will be able to provide an expert CAD designer that went through their sifting scheme.
CAD design services
CAD design services are one of the most popular outsourced engineering tasks. It includes product development and design, machine design services, and other computer-aided design tasks.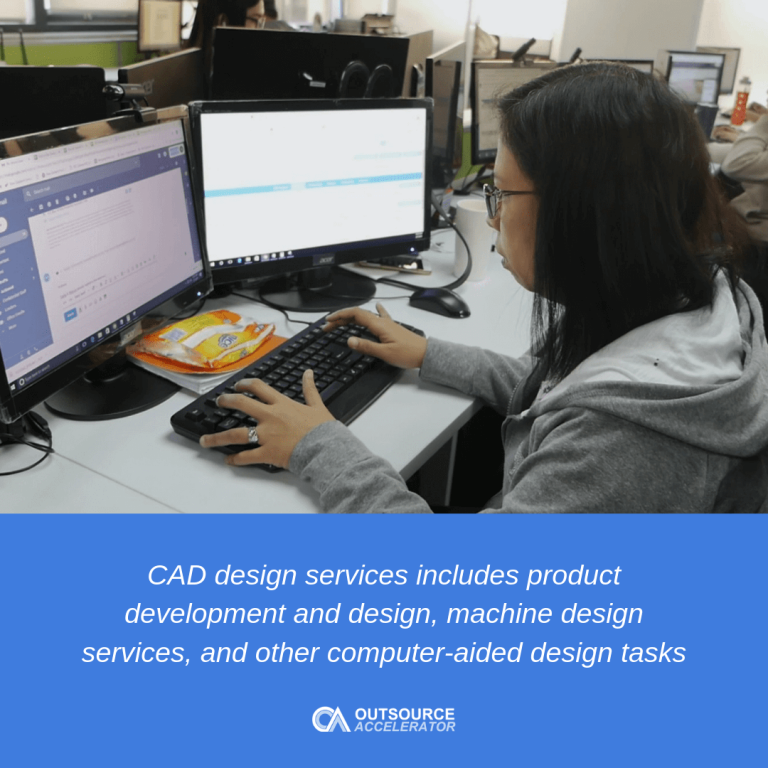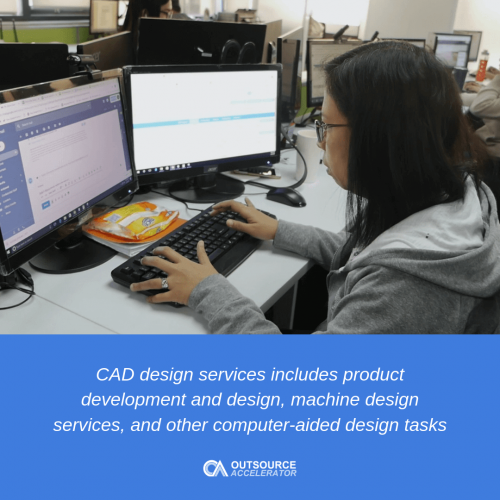 Flexible solutions to fit company milestones
CAD outsourcing firms offer flexible ways to conform to your company timeline. If you want things done in a certain way in a pre-planned period, then they can adjust to what your business requires.
This is the beauty of outsourcing, which helps eliminate financial pressure. You are in control of when things will happen as you want them to happen.
Scalable solutions to adapt to growing needs
Comes with flexibility is scalability. This is another cost-effective approach as you may only outsource a specific number of people at any given time.
For instance, you don't need to hire a bunch of electrical engineers as regular employees to finish a project that only takes a year. In outsourcing, you get what you just need and still enjoy the benefit of working with expert talent.
CAD outsourcing companies: what to look for?
The criteria for searching for a reliable CAD outsourcing firm is the same as that for any other type of outsourcing company.
First is expertise. You need to ensure that the third party provider you are going to hire is known experts in their fields. Second is transparency. A legitimate engineering firm is trustworthy and does not hide any details from their would-be partners.
Next thing to look for is communication skills. This is crucial between you and your outsourced staff as any miscommunication can have a significant effect on the outcome of your project.
Lastly is risk management. Your outsourced team should have an established risk management system in place so you can be better prepared for any crisis.
These are things to consider when outsourcing electrical engineering services.