Why you should consider outsourcing DevOps services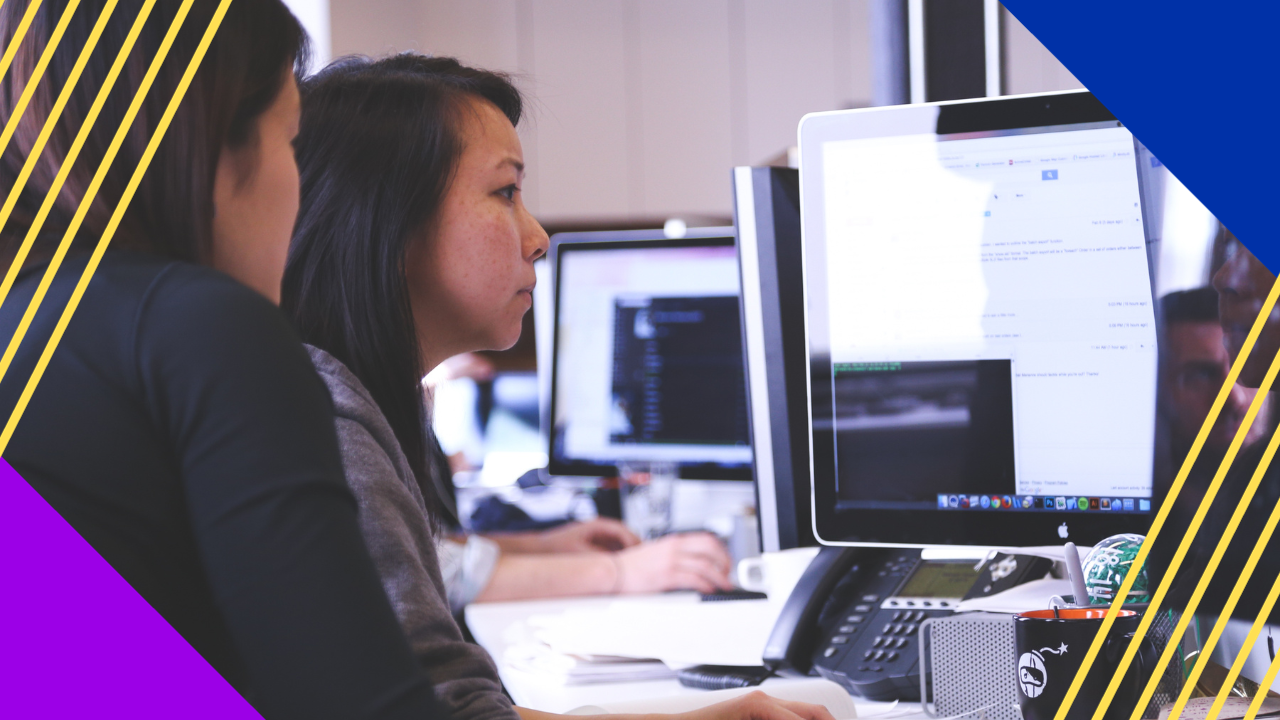 With the rapidly evolving tech landscape, staying ahead of the competition requires efficiency, agility, and a strong focus on continuous improvement.
That's why many companies swear by DevOps methodologies. According to Statista, DevOps is the most used software development method worldwide.
DevOps, short for development and operations, is a set of practices aiming to streamline and automate software development and deployment.
This approach is all about fostering collaboration between development and IT operations teams to deliver high-quality software faster.
But have you ever considered outsourcing DevOps services? In this article, we'll explore the reasons why outsourcing DevOps might be the strategic move your organization needs.
What are DevOps services?
DevOps services cover a wide range of activities, including but not limited to:
Infrastructure as code (IaC) provisioning and management

Continuous integration and continuous delivery (CI/CD)

Automated testing
These services streamline software development and bridge the gap between development and operations teams.
By outsourcing DevOps services, organizations can leverage the expertise of experienced professionals who specialize in these areas.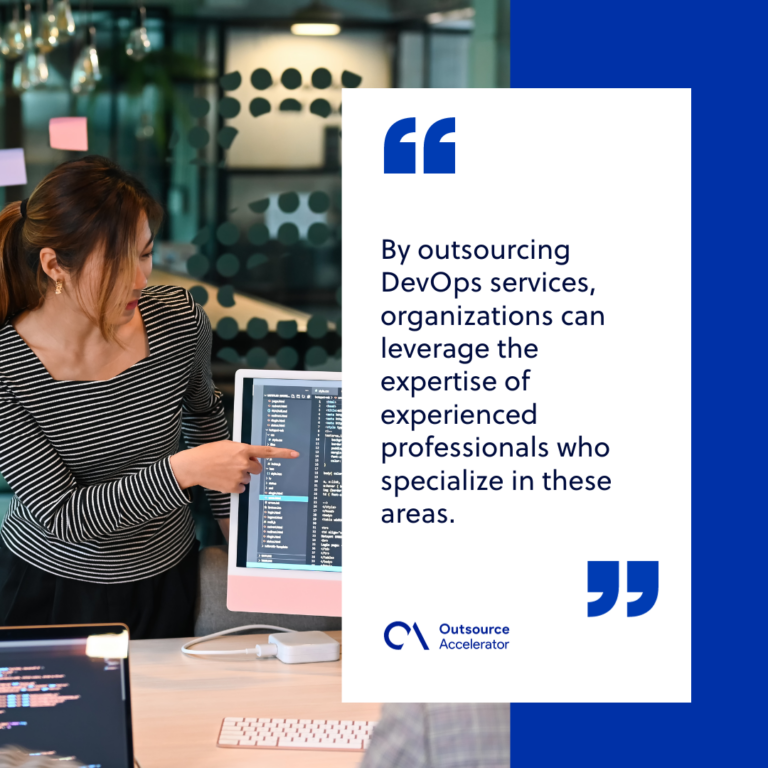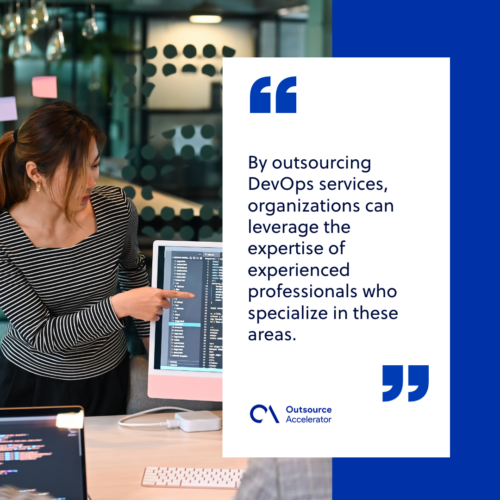 Advantages of outsourcing DevOps development
Outsourcing DevOps to a competent ITO service provider brings along many benefits, including:
Cost-effective use of budget
Outsourcing DevOps development can be a cost-effective option for organizations.
Instead of investing in establishing an in-house DevOps team, companies can leverage the resources and expertise of a specialized service provider.
This eliminates the need for additional infrastructure, recruitment, training, and ongoing maintenance costs.
Access to top talent
Outsourcing DevOps grants access to skilled professionals with specialized knowledge in DevOps practices.
These experts have the experience and expertise to identify bottlenecks, streamline the development process, and optimize software delivery. They can bring innovative solutions to optimize the software delivery process.
Rapid deployment
DevOps focuses on automation and CI/CD. By outsourcing DevOps, businesses can accelerate the software development lifecycle.
This enables faster time to market and ensures timely delivery of software solutions.
Increased efficiency and productivity
DevOps principles emphasize collaboration and transparency between development and operations teams.
Outsourcing DevOps services fosters this collaboration, leading to increased efficiency and productivity.
As a result, development and operations teams can work together seamlessly, leading to faster problem-solving and improved overall performance.
Scalability and flexibility
DevOps should be flexible and scalable to accommodate the changing needs of businesses.
When outsourcing DevOps services, firms can easily scale software and operations up or down based on project requirements. 
Focus on core competencies
Outsourcing DevOps allows in-house teams to focus on their core competencies and strategic priorities. By offloading DevOps tasks, there would be more time and resources to invest in primary business objectives.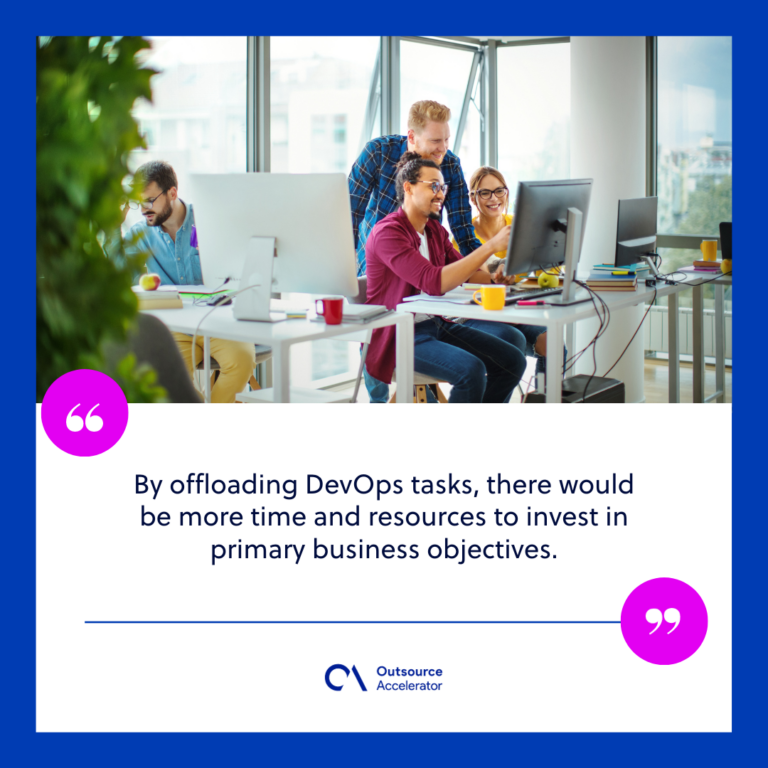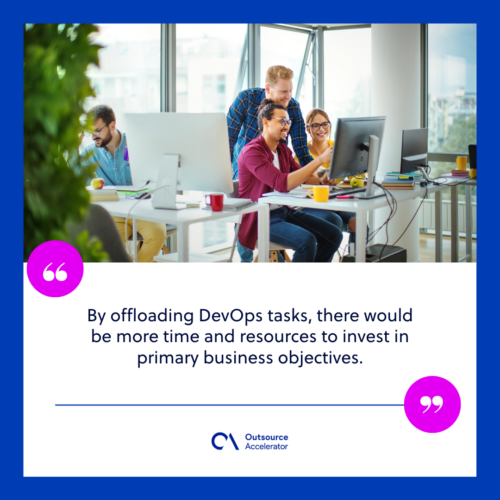 24/7 support
Many DevOps service providers offer round-the-clock support. This certifies that your systems are always up and running smoothly.
Enhanced security
DevOps functions often involve managing sensitive data and securing software systems.
Companies outsourcing DevOps can enjoy the security measures and protocols the service provider implements.
Some ITO companies have the expertise and resources to install robust security measures and ensure compliance with industry standards.
Outsourcing DevOps development with Saigon Technology
Saigon Technology is a trusted and reliable provider of DevOps services.
With a team of highly skilled professionals, it is the go-to company for software outsourcing and end-to-end DevOps solutions. It can cater to a wide range of clients needing to boost their software development.
Saigon Technology's DevOps services cover the following:
General DevOps services.

The company assists in leveraging linked and automated development, testing, and deployment of applications via IaC, containerization, CI/CD pipelines, and monitoring.

DevOps technology

. Saigon Technology aids its clients with selecting, implementing, and integrating suitable tools for effective development and operations setting. This helps you boost the expertise of your staff members in DevOps technologies.

DevOps launching

. The firm helps you develop and implement tactical and strategic plans using DevOps technologies and processes. This strengthens a team's knowledge of the approach through a comprehensive strategy.

Restoring and regenerating DevOps projects

. Saigon Technology finds and resolves issues that exist between the testing, development, and operations teams. It also helps its clients identify knowledge gaps and incorrect configurations.
By partnering with a reliable ITO firm like Saigon Technology, organizations can experience the many advantages of outsourcing DevOps development.
Learn more about Saigon Technology and its DevOps services by visiting its website.