How outsourcing data entry to the Philippines can help your business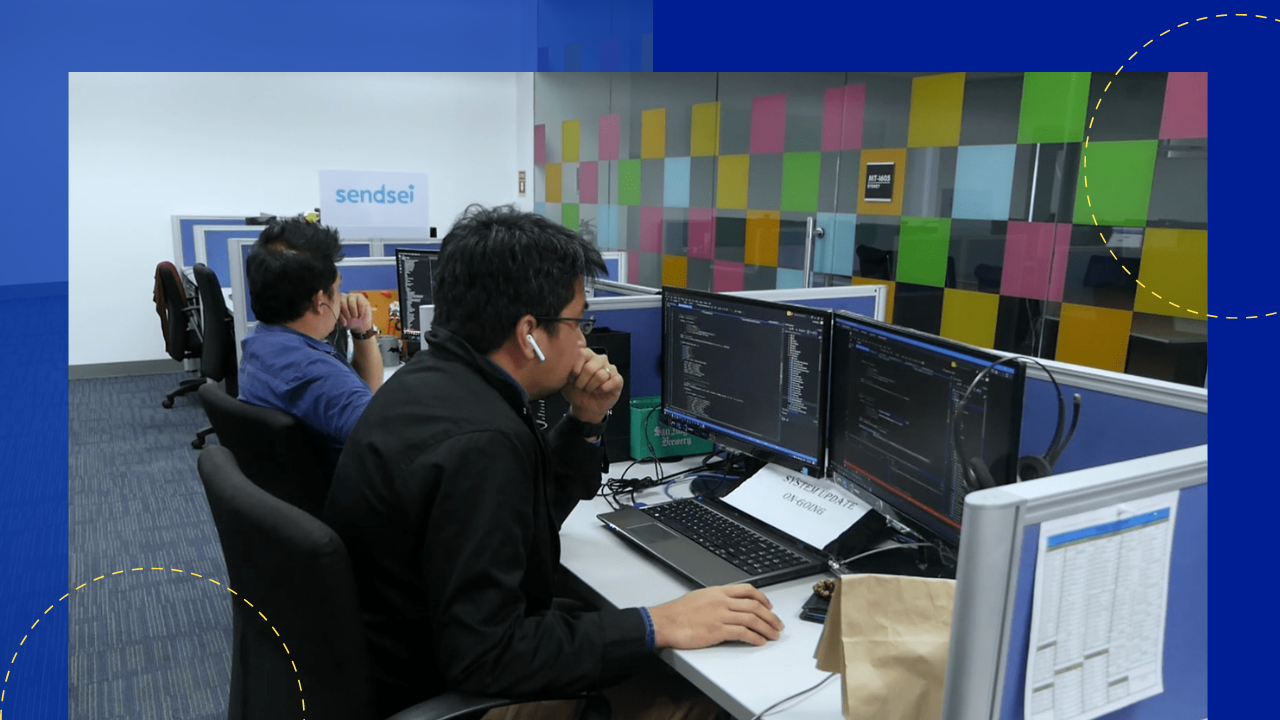 Data entry is among the most time-consuming and error-prone business processes when done manually.
Despite the availability of software solutions for data entry (e.g., ProntoForms, FORM OpX, Fluix), many businesses still rely on manual input of data.
One of the reasons for this is the lack of sufficient funds or infrastructure. As a result, the overall efficiency of their business processes that rely on the encoded data is negatively affected.
Outsourcing data entry services is an excellent way for businesses to increase process efficiency and reduce costs simultaneously.
Data entry processes are present in virtually every industry. Thus, any company can benefit from outsourcing it, regardless of its industry.
Outsourcing is a strategic move in itself. However, offshoring data entry to the Philippines, can further improve its benefits, such as cost reduction and improved efficiency.
Being the world's outsourcing capital, the Philippines has no shortage of reputable offshoring firms like Remote Employee.

Outsourcing data entry: How it works
Outsourcing data entry pertains to the delegation of data entry and related processes to a third-party service provider.
The data can be physical copies of documents that need to be transcribed digitally; or electronically stored ones that have to be transcribed into another electronic storage.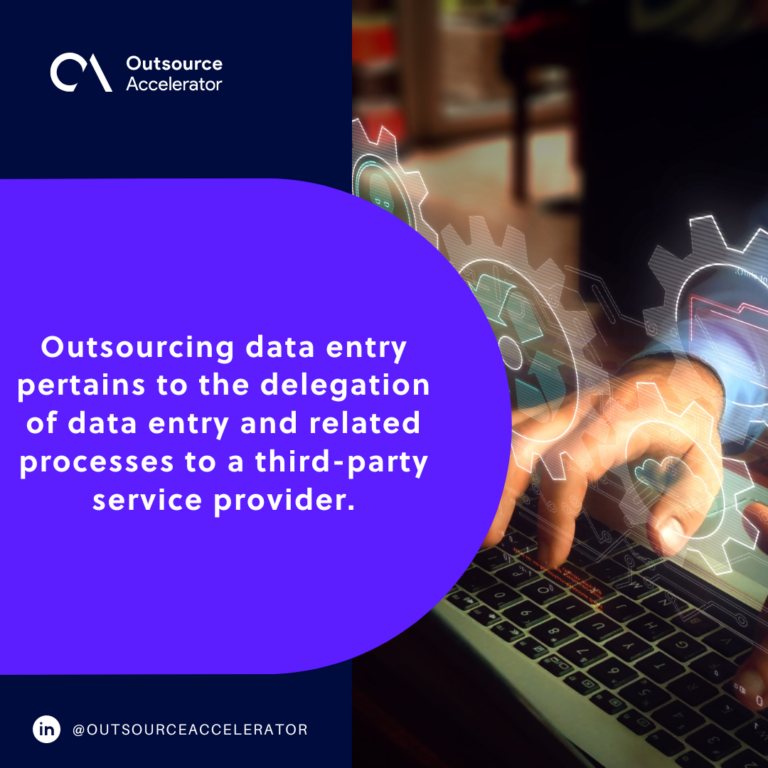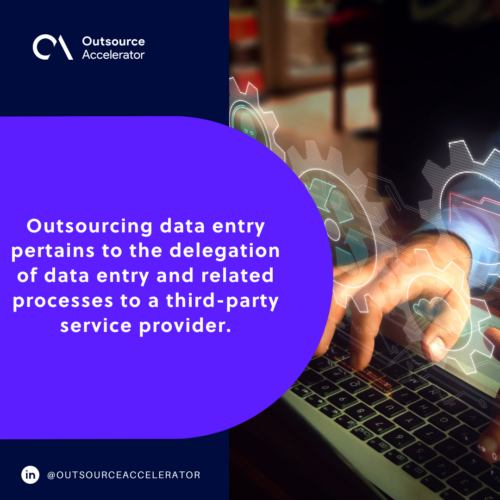 The data entry process may involve:
Word processing

Catalog data entry

Payroll

data entry

Email processing

Information transferring

Online form billing
These are time-consuming and often repetitive tasks that deal with important data used in other various business processes.
Basically, a company taps into the offshore service provider's resources (human and material) and utilizes these for its entry processes.
Advantages of outsourcing data entry
Outsourcing data entry to the Philippines, in particular,  brings many benefits to businesses.
Below are some of these advantages:
Labor and overhead costs reduction
Delegating any business process to offshore BPO firms like Remote Employee can reduce expenses for employee salaries by as much as 70%.
It also lets businesses save on other overhead costs, such as rent for facilities, equipment purchases and maintenance, and proprietary software subscriptions.
Moreover, outsourcing firms also shoulder the expenses for end-to-end recruitment, further increasing businesses' savings.
In short, entrusting data entry to Philippine-based BPO firms will let businesses do more with less.
Improved process efficiency
The data entry specialists businesses hire through outsourcing firms are highly qualified and trained to ensure quality results.
These data encoders are often equipped with the latest industry technologies and are much more unlikely to make errors than in-house employees.
Improved in-house productivity
Outsourcing data entry jobs to offshore BPO firms means a business's in-house team has more time to focus on core business functions.
Without the distractions of data entry responsibilities, a company's department can focus on its core duties (e.g., HR staff can focus on developing and implementing employee enrichment plans, instead of spending time encoding employee information).
Faster turnaround times
Outsourcing data entry improves business performance by reducing in-house employees' workloads.
Inversely, it also improves the turnaround time of the data entry process. A business delegates its data entry processes to an offshore team whose sole purpose is to accomplish the data entry tasks as efficiently as possible.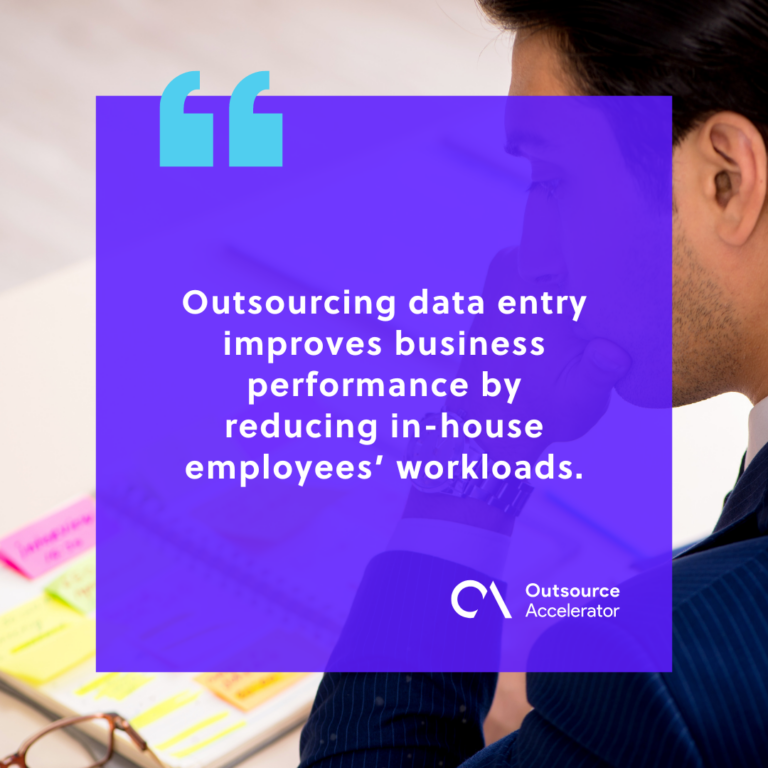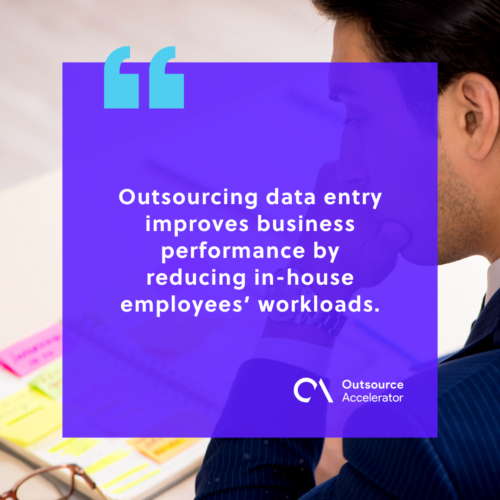 Why outsourcing data entry to the Philippines matters
The Philippines is recognized as the world's outsourcing capital. The country's prominent BPO industry started well over twenty years ago.
While the Asia Pacific region is home to more than a hundred BPO companies, outsourcing data entry to the Philippines is a strategic choice.

There are several reasons why businesses – from large enterprises to small and medium-sized ones – choose to outsource in the Philippines over its neighboring countries.
Low-cost labor, high-quality service
The cost of living in the Philippines is significantly lower than those in Western countries that usually outsource here.
This disparity between the countries' living expenses translates into a much lower labor cost for outsourcers (as much as 70% lower).

For instance, Glassdoor lists the annual salary of a data entry specialist in the US at USD 38,861. On the other hand, their Filipino counterparts make Php 540,000, or USD 9,171 – roughly 76% lower!
However, the cheap labor in the country is inversely proportional to the quality of the services outsourcers receive when outsourcing to the Philippines.
Support from the government
The Philippines' national government is highly supportive of the country's BPO sector.
BPO companies enjoy several tax perks and other incentives from the government.
These incentives include tax exemptions and the introduction of special zones for BPO investments.
The Philippines' government recognizes the economic benefits BPO investors bring and has enacted laws and provisions to encourage BPO activities in the country.
BPO firms can register under the Philippines Economic Zone Authority (PEZA) to gain several advantages, including:
Income tax holidays

Special tax rates

Tax- and duty-free exportation

VAT zero-rating of local purchases

Wharfage dues exemption

Expanded withholding tax exemptions

Extended Visa assistance

Simplified import-export procedures
English proficiency and accent neutrality
Another quality that sells the Philippines well to BPO investors is the Filipinos' high level of English proficiency and compatibility with Western culture.
English is the country's second official language, and Filipinos receive their education – from primary up to college – with English as the medium of instruction.
As reported in the EF English Proficiency Index, the Philippines ranks second among Asian countries and 18th globally for English proficiency.
The country also invests in its education system to bolster its future workforce. In 2022 alone, the Philippines saw 1.6 million college graduates despite the pandemic.
Thus, businesses that outsource data entry to the Philippines are ensured of college-educated staff.
Additionally, Filipino English speakers carry no noticeable accent when speaking. This trait is highly valued by companies that outsource their customer service roles.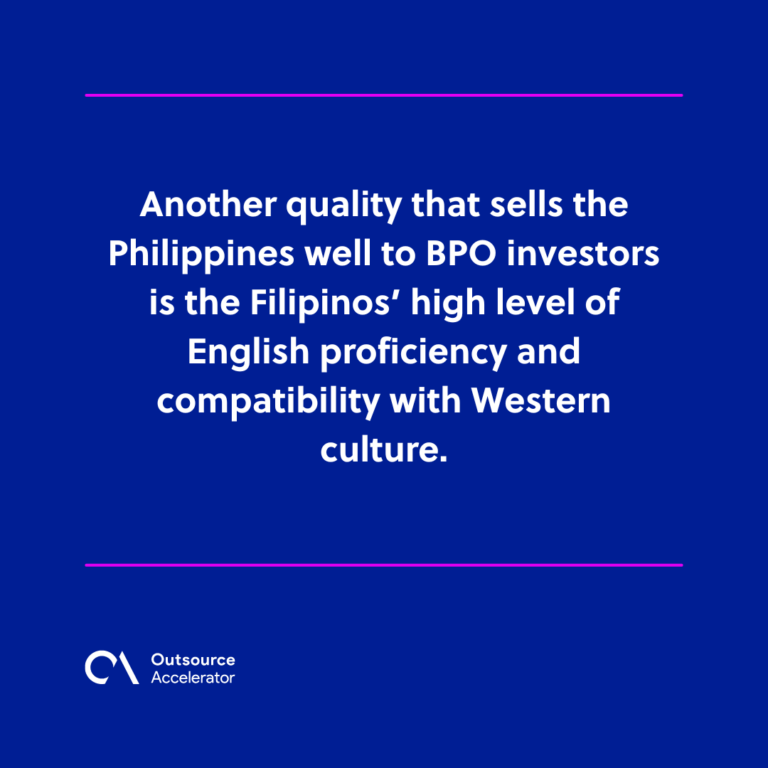 Outsourcing data entry services through Remote Employee
Remote Employee can provide you with data entry specialists for your business's data processing needs.
This firm's vast pool of college-educated professionals ensures you won't waste your time waiting for candidates to come to you. Remote Employee has them ready; all you have to do is select from the choices.
By outsourcing your data entry services through Remote Employee, you won't have to worry about the support staff and other employment peripheries. The firm handles all this for you.