Why outsourcing content moderation is a smart move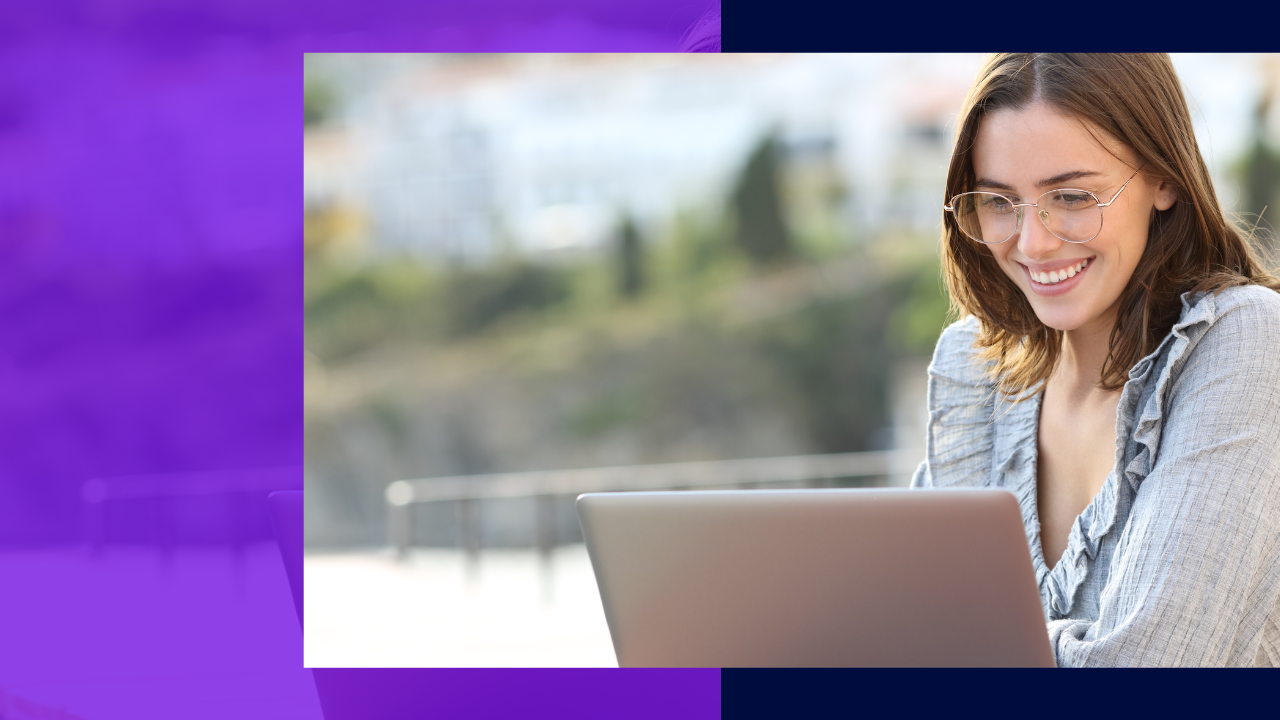 Social media platforms and online communities have become a crucial part of our daily lives. With millions of people sharing content online daily, the content shared must be appropriate and safe for all users. This is where content moderation comes into play.
Some organizations may not have specialized teams that can do content moderation or might not know where to start, making outsourcing content moderation a valid option.
Businesses won't have to worry about finding and training content moderators if they partner with the right outsourcing provider. Let's discover more about why outsourcing content moderation is a smart move.
What is content moderation?
Before we delve into outsourcing content moderation, let's first learn about the general concept. 
Content moderation refers to monitoring and reviewing user-generated content on various platforms to ensure it complies with the established guidelines and policies. 
It involves analyzing and filtering text, images, videos, and other forms of content to maintain a safe and respectful online environment.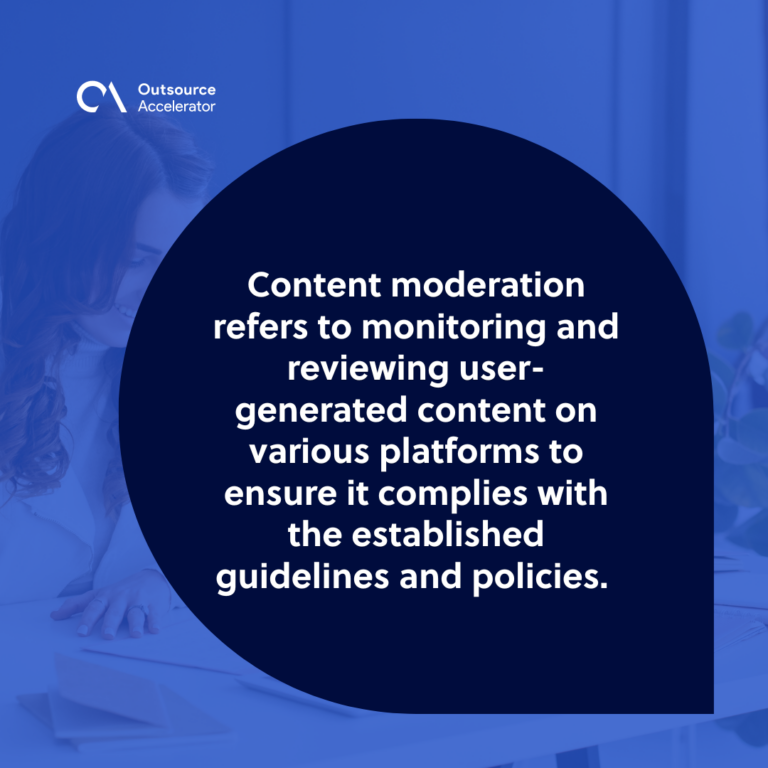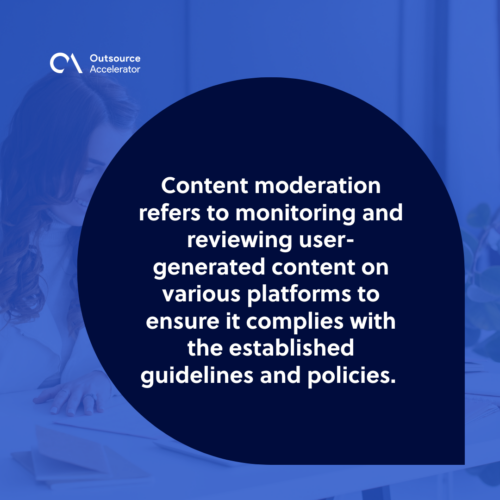 Types of content moderation
Content moderation can be categorized into several types based on the nature of the content being moderated:
Pre-moderation
This method involves reviewing and approving content before it is publicly visible. It ensures that inappropriate or offensive content is filtered out, minimizing the risk of user harm.
Post-moderation 
On the other hand, post-moderation reviews and removes content after publication. This method allows real-time interaction but requires vigilant monitoring to maintain content quality.
Reactive moderation 
This approach involves responding to user reports or complaints about specific content. It focuses on addressing issues raised by users promptly and taking appropriate actions, such as removing offensive content or warning users.
Distributed moderation
This method distributes the moderation responsibilities among the user community. It allows them to report and flag inappropriate content, empowering the community to maintain content quality actively. 
This moderation method is popularly done on platforms like Twitch and YouTube.
Automated moderation

– Automated moderation relies on artificial intelligence (AI) and machine learning algorithms to automatically detect and filter out content that violates guidelines. It can efficiently handle large volumes of content, but human oversight is often necessary to ensure accuracy.

No moderation

– In some cases, platforms may choose not to moderate content actively. This approach can be risky, as it may lead to the rise of harmful or offensive material. No moderation is typically adopted by platforms that prioritize freedom of expression but should be approached with caution.
Why content moderation matters
Content moderation plays a crucial role in safeguarding the reputation and integrity of online platforms. 
Ensuring that content aligns with community guidelines and legal requirements helps prevent the spread of harmful, misleading, or offensive material. Additionally, it fosters user trust, encourages positive engagement, and cultivates a supportive online community.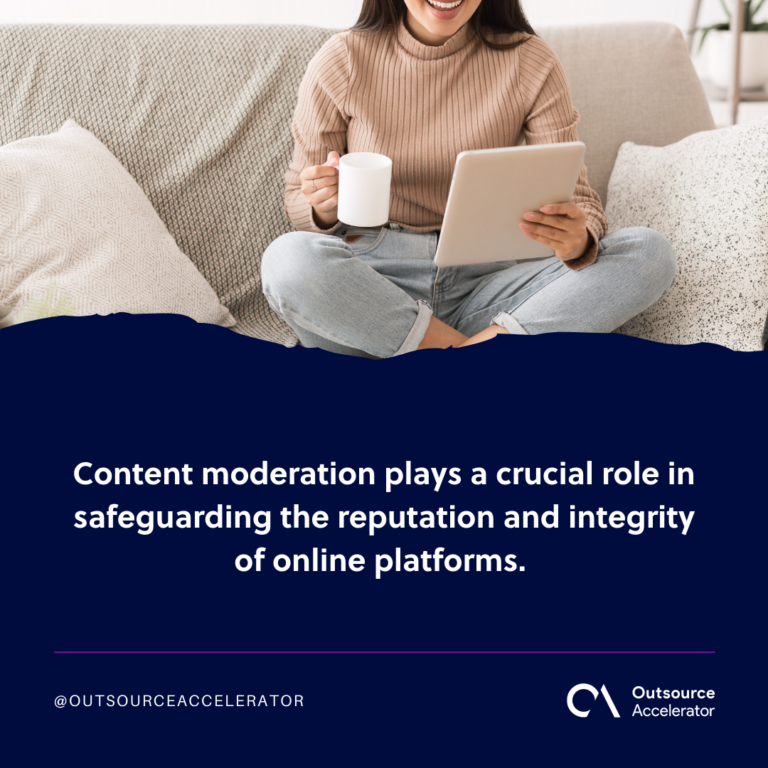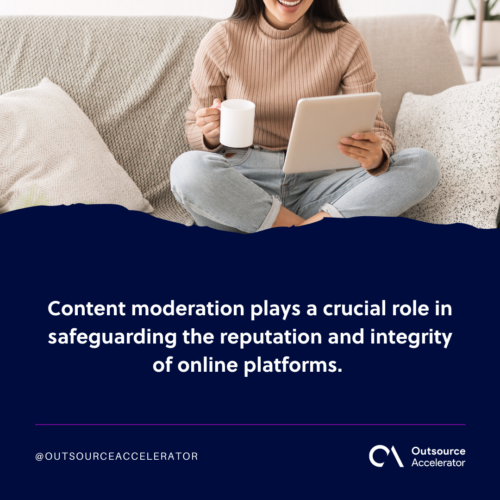 Why consider outsourcing content moderation?
Now that we've learned more about content moderation, let's find out how outsourcing can benefit organizations and their platforms.

Outsourcing content moderation is advantageous because:
It allows you to tap into the expertise of professionals already in the field. They possess in-depth knowledge of industry best practices, emerging trends, and effective moderation techniques.

Outsourcing to a dedicated team guarantees 24/7 coverage, regardless of time zones. This helps promptly address user concerns, minimizing the risk of harmful content going unnoticed.

External content moderation services can easily be scaled based on your platform's needs. Whether you experience spikes in user activity or require additional support during specific events, outsourcing provides the necessary scalability and flexibility.

Building an in-house moderation team can be expensive, involving recruitment, training, and infrastructure costs. Offshoring allows you to leverage existing resources and infrastructure of the moderation service provider, resulting in cost savings.

Efficient content moderation ensures that users are exposed to high-quality, relevant, and respectful content. By maintaining a safe and engaging environment, you enhance

user satisfaction and loyalty

.

Professional moderation services employ advanced tools and technologies to identify and mitigate potential risks associated with user-generated content. This includes the prevention of spam, fraud, hate speech, and other forms of harmful content.
How to best approach outsourcing content moderation
When considering outsourcing content moderation, it is essential to follow a systematic approach to ensure a successful partnership. 
Here are some key steps to take:
Identify your requirements

– Clearly define your moderation needs, including the platforms, languages, moderation types, and specific guidelines you want to enforce.

Research and select a reputable service provider

– Thoroughly evaluate different content moderation service providers, considering their experience, reputation, track record, and ability to meet your requirements.

Communication and collaboration

– Establish clear lines of communication with the selected outsourcing partner. Share your guidelines, expectations, and any specific requirements for moderation.

Transparency and reporting

– Ensure that your BPO provider offers transparent reporting and analytics, providing insights into the moderation process, content trends, and user behavior.

Continuous improvement

– Regularly review and assess the performance of the outsourcing firm. Provide feedback and suggestions for improvement to enhance the quality and effectiveness of content moderation.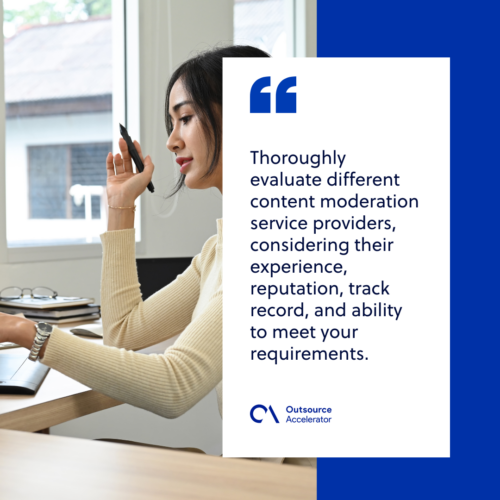 Outsourcing content moderation with OP360
OP360 is a leading BPO company offering comprehensive content moderation solutions tailored to your specific needs. 
With a team of experienced moderators and advanced technology, the outsourcing company ensures a safe and engaging user experience on your platforms.
By partnering with OP360, you can focus on core business operations while entrusting content moderation to experts prioritizing quality, efficiency, and user satisfaction. 
The trusted offshoring firm offers content moderation services such as:

Customer comment moderation

Customer profile review

Community moderation

Ecommerce and online review moderation

Fraud prevention

In-app support and moderation: post creation & response

In-app support and moderation: DM Response

Live streaming monitoring

Meme moderation

Video moderation



With its scalable services and commitment to continuous improvement, OP360 helps you create a secure and thriving online community. Get in touch now!