In-house vs. Outsourced web development: Key differences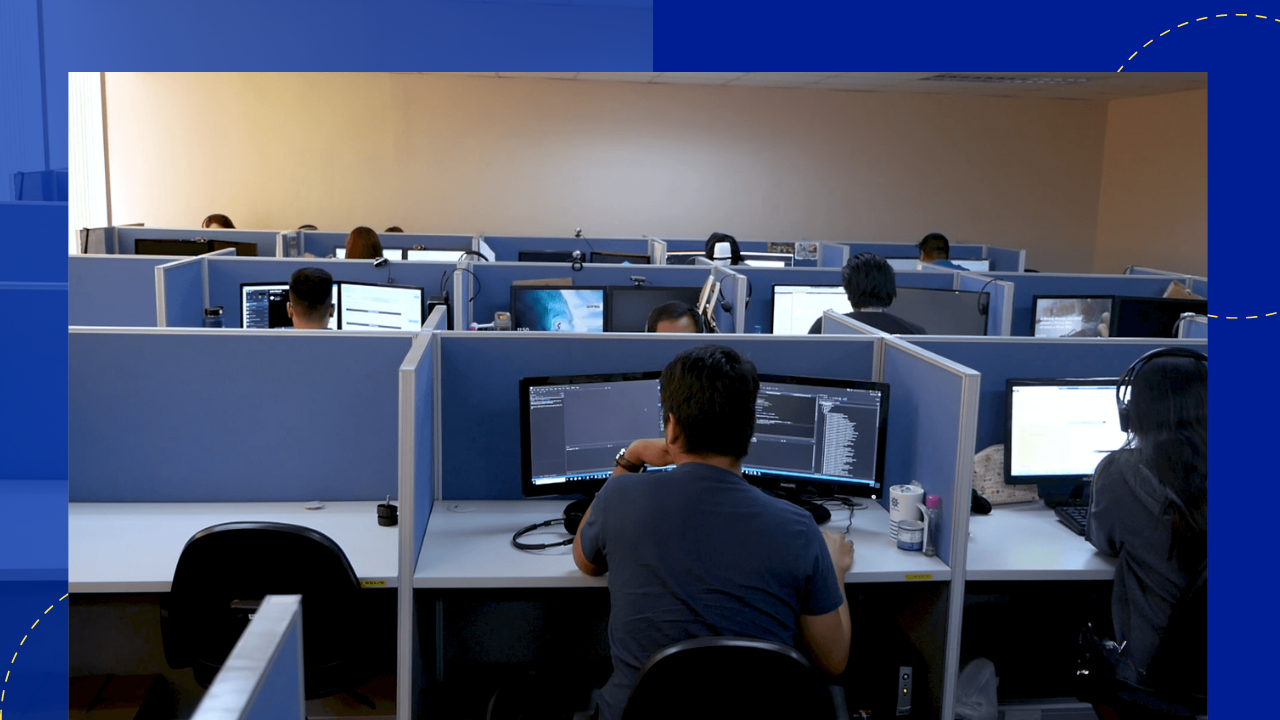 In-house vs. Outsourced web development Key differences
Businesses are becoming increasingly reliant on modern technologies. In this digital age, the internet has become a new battleground for market competition.
If you're not online, your competitors are; if you don't have a business website, your competitors do;  if you're competitors are doing better than you, then you're losing customers to them.
Many business owners have realized the importance of online presence. These savvy entrepreneurs often have a team of web developers to help with their business's online presence.
For smaller companies with more limited budgets, outsourcing web development has become an effective go-to strategy. But having an outsourced web development isn't always for everyone.
In this article, you'll learn key differences between in-house and outsourced web development and which can be better for your business.
Outsourced web development overview
Outsourced web development means a third-party service provider supplies your business's web development needs. These providers are usually business process outsourcing (BPO) firms operating in the same, neighboring, or a far-off country.
Resorting to outsourced web development isn't something only small firms do. Even larger enterprises that want to focus on their core business entrust web development and other non-core operations to BPO providers like Outsourced.
When it comes to outsourced web development (or any other processes), Western companies typically turn to offshore outsourcing to the Philippines or its neighboring countries.
Businesses gain many advantages by opting for an outsourced web development team rather than an in-house one. These advantages include:
Cost reductions

Improved productivity

Better results

Faster projects turnaround time

Access to global talents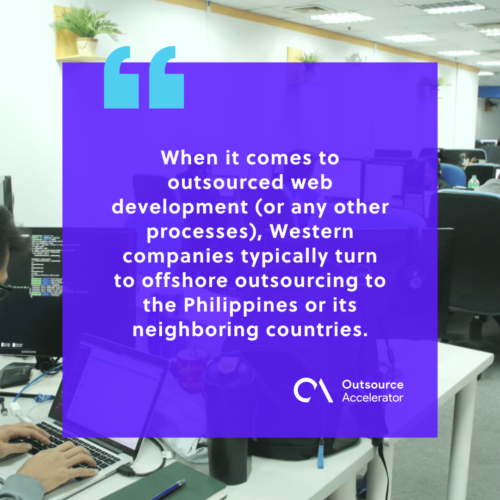 Differences between in-house and outsourced web development
Although they both get the job done, there are many differences between in-house and outsourced web development. These distinctions go far beyond who employs whom.
Below are some contrasting qualities of in-house and outsourced web development:
Costs
Building an in-house web development team costs significantly higher than hiring the services of an outsourced web development team.
Cost differences can be seen from the expenses associated with end-to-end recruitment and purchasing equipment and software for web development. 
The salaries of in-house web developers are also often higher than outsourced ones. On the other hand, outsourced web development teams can save companies as much as 50% to 70% on costs.

Communication
Due to logistics, communication with an in-house team is always easier than with an outsourced team. As outsourced web development is often done offshore, time zone differences factor into the communication between the remote team and the client.
With in-house web development, you can always check in on the progress of your projects and have greater visibility of results.
You can still acquire these qualities in outsourced web development if you find a competent BPO provider.
Time to market
Outsourced web development has a shorter turnaround time than its in-house counterpart. This advantage is due to several factors:
BPOs often have better technologies at their disposal.

BPOs have specialists with vast experience working with and for different clients.

Outsourced web development teams are adept at finishing projects within a client's given timetable.
Further, BPOs are incentivized and accountable to deliver projects on time and ensure these projects pass quality assurance checks.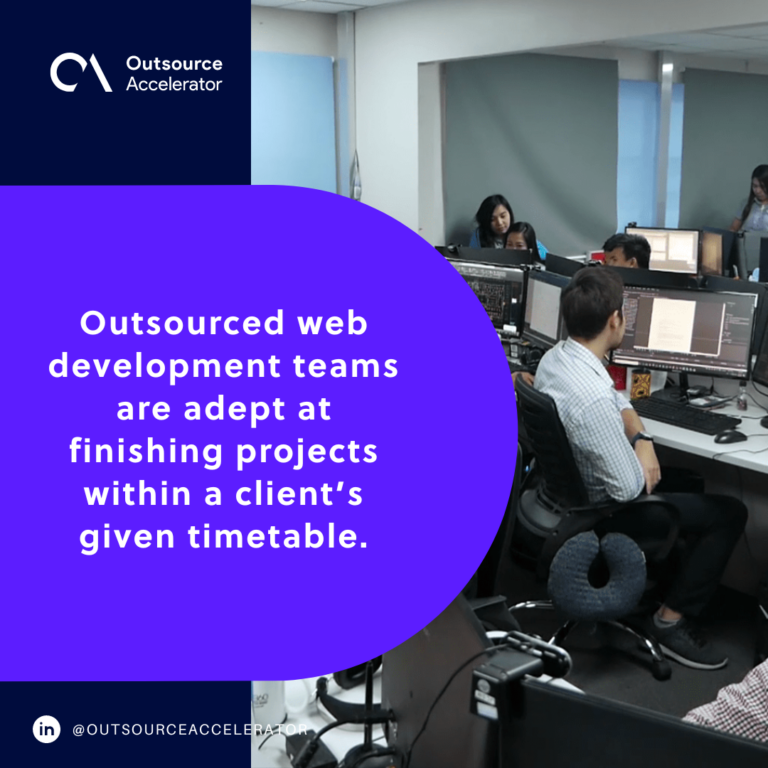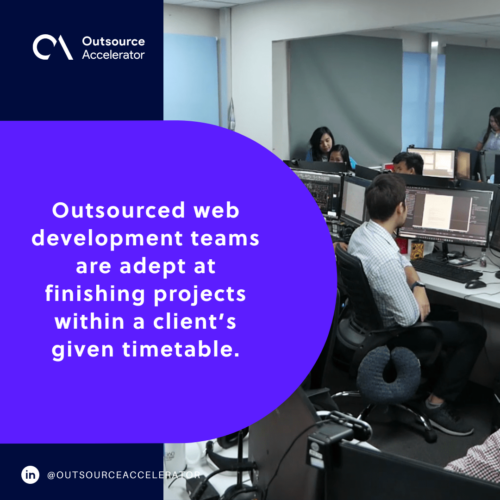 Is outsourced web development better?
Outsourcing web development is by no means an end-all-be-all solution for all businesses. However, the practice presents a profitable opportunity for SMEs and helps them compete with larger enterprises.
In a way, outsourcing web development evens the playing field for smaller businesses and gives them the capabilities larger firms have in web development.
Turning to outsourced web development is also a helpful solution for companies in countries with a shortage of skilled tech professionals.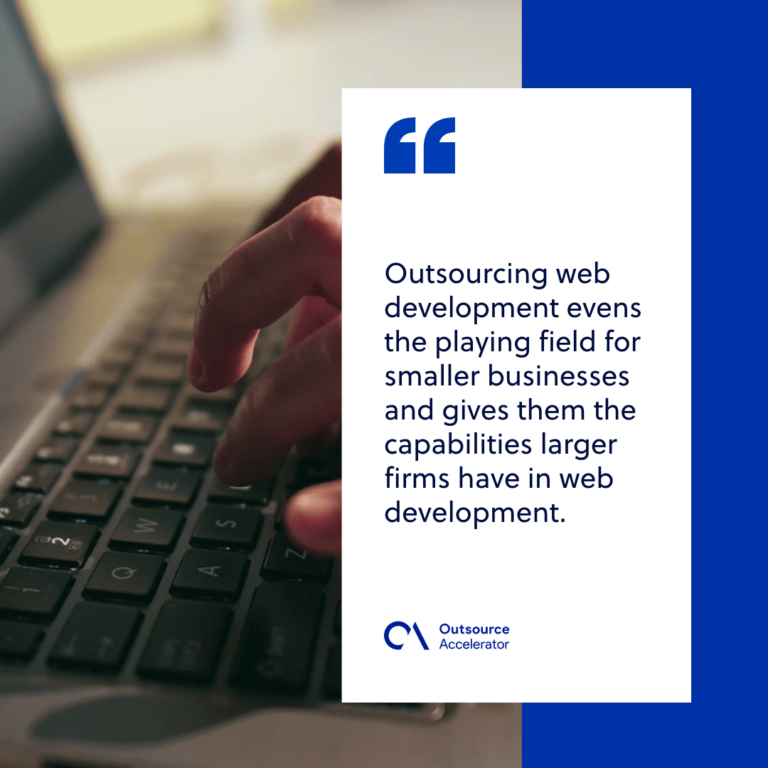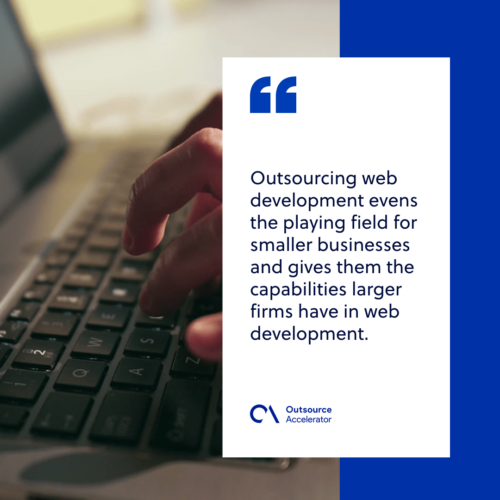 Outsource web development through Outsourced
Outsourced is one of the Philippines' leading providers of outsourced web development and other offshore solutions.
The company has a diverse talent pool of highly skilled and experienced web developers – from the back-end, front-end, and full-stack developers to application and software developers.
Outsourced can adapt to whatever work model you prefer, whether you want web developers to work from home, in the company's office, or in a hybrid setup.
Build your offshore web development team with Outsourced!