Foolproof outsourced graphic design guide
Graphic design is now an important core function in a business. It helps build brand awareness and maintain digital consistency for the company's tech-savvy customers. 
However, some organizations find it hard to manage an in-house graphic design department. This is where an outsourced graphic design team comes in.
This guide will go in-depth on how graphic design outsourcing works, its benefits, and foolproof ways to integrate an outsourced design team into a business.
Outsourced graphic design definition
Outsourcing the graphic design function of your company means that you are relying on a service provider for both the tools and artistic skills that you need at the moment.
This method not only helps you save time and money. It also diversifies your workforce by including outsourced teams from different backgrounds with various design talents.
Most third-party designers know how to deliver impressive finished works to clients at a fast pace and affordable price. They can also help your team get more inspiration to succeed in your digital content.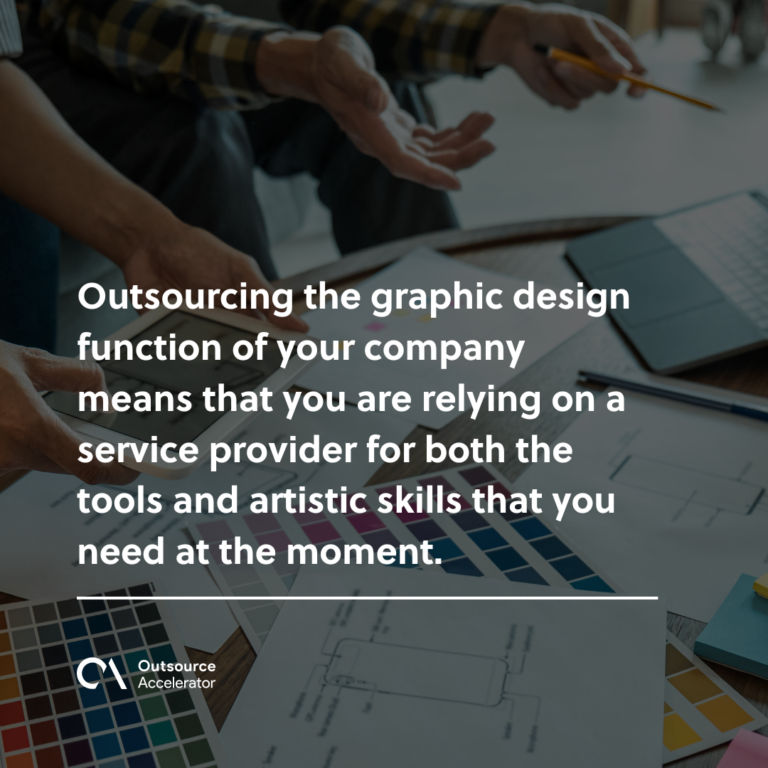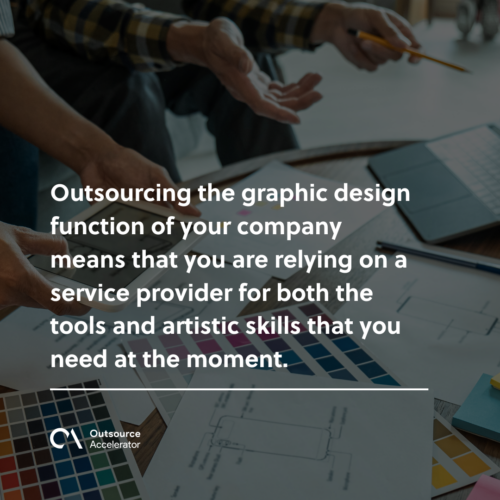 The advantages of outsourcing your graphic design tasks
Hiring an outsourced graphic design team can bring several benefits to your operations. Here are some of them:
Talent availability
By choosing an outsourced graphic designer, your company can access a large talent pool with different design specializations. It gives you the chance to tap into various design skills that your local team lacks.
This way, you can create content that your audience wants to see on their social media feeds.
Cost-efficiency
Outsourcing is cost-efficient. Hiring an outsourced graphic design team allows your company to save a lot of money when it comes to operations and labor.
From a financial perspective, an in-house employee has the potential to turn into a costly liability. Partnering with an outsourcing agency, such as Doxa7, helps you quickly gain a whole team without the hassle of recruitment and hiring. 
Additionally, outsourcing would allow you to save on design software tools and machines that professional designers require to execute their work efficiently.
Scalability
Choosing to work with an outsourced graphic design staff gives you the scalability and flexibility to get work done when you need it.
This means that during the peak seasons where your team is swamped with big projects, you can acquire more designers to help your local staff. During slow months, you have the option to downgrade without raising any problems.
Expansion into new services
An outsourced graphic design team may help your company spice up your content. They open new perspectives, opinions, and styles that can attract new audiences and re-engage with existing customers. 
A third-party influence can help your team expand into new content or services for clients. Further, an outsider's perspective can help highlight the missing elements that can strengthen your campaigns.
Adaptability to varying workflow demands
Creating an in-house design team from scratch will require a lot of time and focus. This may draw your attention away from the most pressing demands in your business.
Outsourcing allows your team to focus on other crucial projects or tasks in your organization. This is ideal for established companies with heavy workloads or start-ups still in the growth phase.
When do you need an outsourced graphic design team?
Any business that needs a significant amount of design work completed quickly needs the assistance of an outsourced graphic design team. Their help can be a real game-changer for any business.
Outsourcing allows you to align your projects strategically. While a remote team focuses on your design content, the local staff can prioritize other functions in the company.
Creating a strong visual identity can also differentiate your company from competitors in the industry. Hiring an outsourced graphic design team can help you achieve this goal. 
Further, external teams can create branded material for advertising and internal purposes in a short amount of time. This will help you deliver several outputs and maintain a consistent presence with customers.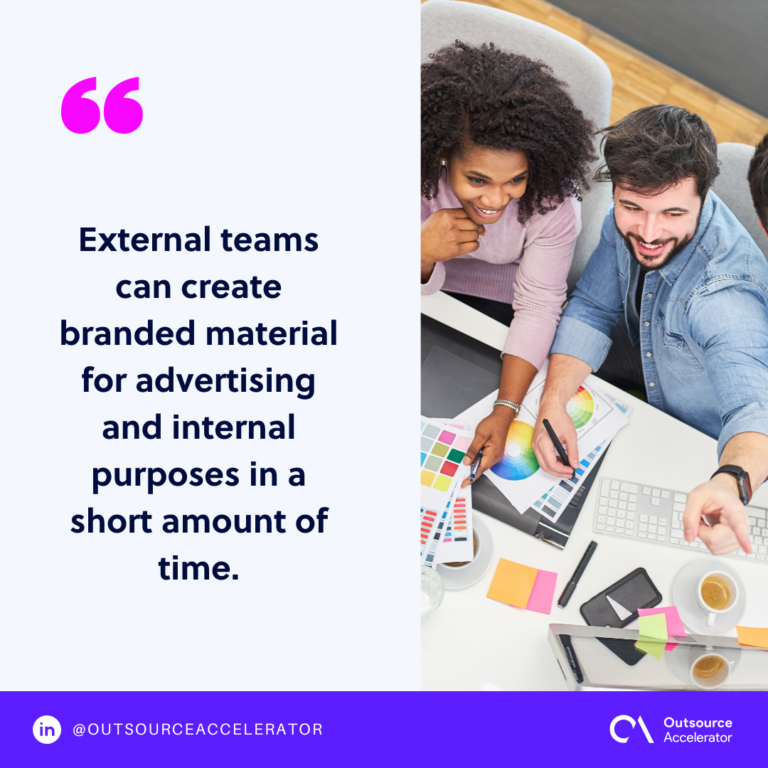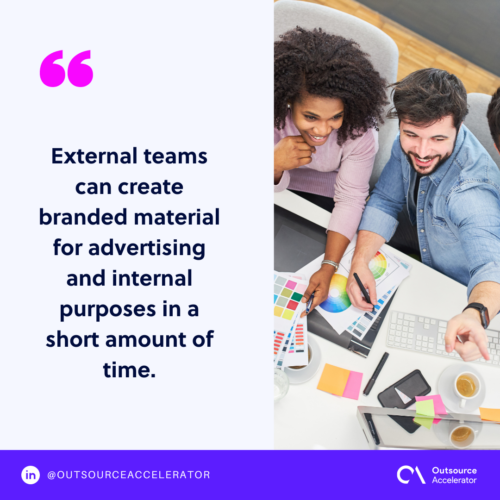 How to maintain a successful outsourced graphic design team
Outsourcing — just like other business strategies — may not be smooth sailing all the time. Issues between outsourced and local employees can arise from trivial things or a lack of communication between leaders.
To keep a successful working relationship with your outsourced graphic design team, keep these tips in mind:
Think of outsourcing as an investment.

Just like other business ventures, you have to spend effort, time, and money to make outsourcing work for your business.

Maintain transparency.

Just like in a normal office setup, open

communication

can help improve and strengthen your relationship with your outsourced team.

Be realistic.

Outsourcing has its limitations. Knowing these things can create realistic expectations for what your outsourcing partner can do for your business.

Evaluate constantly.

Assessing your external team helps you determine if they are performing up to standard or if they are lagging behind their deliverables. It also lets you know when to adjust workloads and deadlines to help them catch up and perform better.