Outsourcing software developers in the Philippines
Multiple companies in the last few years have outsourced software development. It's helped to reduce costs, improve efficiency, and increase productivity. 
The Philippines is particularly seen as an excellent place to source software developers. In addition to being a prominent global outsourcing hub, the country has hundreds of software firms and tech startups.    
Arcanys is a Swiss software development and outsourcing firm currently based in the Philippines. They are rated as one of the most recommended software development companies in the Philippines by the B2B ratings and review site Clutch. 
They specialize in augmenting existing software teams with dedicated engineers. In the long term, these engineers become embedded with the local teams. 
Software development in the Philippines 
Technology and software development are crucial to ensuring the Philippines stays a top BPO location. Many leading IT companies have established sites in the country, hiring top-tier developers that are also open to outsourcing.
The Philippine government has also pledged to invest in the growing digital transformation scene. Aside from software development, cybersecurity and telecommunications are also set for higher commercial opportunities.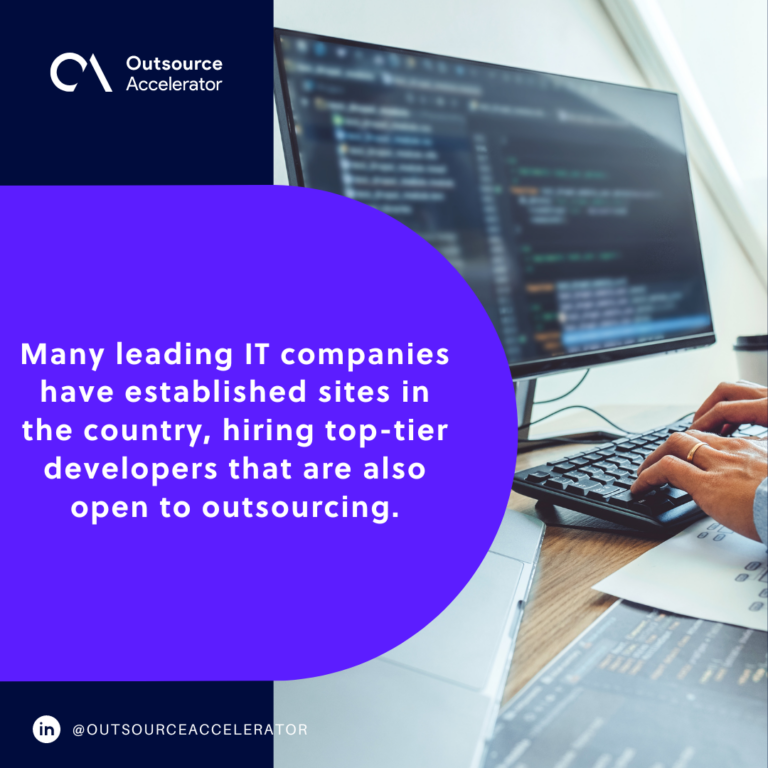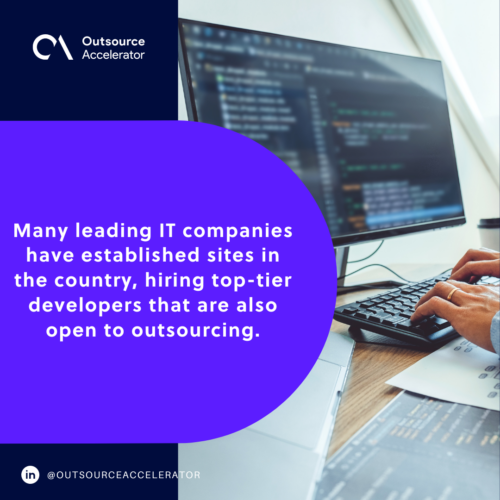 Benefits of an outsourced software developer team in the Philippines 
Here are some reasons why outsourcing software developers from the Philippines is a smart move:
Established outsourcing center  
The Philippines is an established outsourcing center with a pool of experienced and skilled workers. The country's IT sector is growing rapidly and has been dubbed a leader in call centers, software development, and other IT services. 
Many leading companies that outsource software developers have a base in the Philippines. The country boasts a large number of English-speaking IT professionals. Firms of all shapes and sizes can take full advantage of high-quality services at an affordable cost.
The country's Westernized culture makes it easy for many large companies with similar backgrounds to manage their outsourced IT staff. 
Cost-savings
Today's economy requires that companies be more cost-effective and efficient than ever before. Outsourcing is well-known as a cost-effective measure. And with technological innovations, outsourcing software development is easier than ever.
Outsourcing software development from the Philippines is a huge cost-saving measure for companies with no in-house team or requiring backup from offshore engineers. 
Multinational firms can hire Filipino software developers for half of what they would pay in North America, Europe, Australia, or New Zealand.  
Higher support coverage 
By outsourcing, companies don't have to wait long periods for the software development team to complete their tasks. Because of the time zone difference, remote teams can work over extended hours. 
Offshored staff can quickly respond to an emergency or similar concerns. Firms can then focus on their core business instead of worrying about their software development needs.
Growth and scaling opportunities 
The Philippines is one of the fastest-growing economies in Asia, with an expected GDP growth of 7.0 percent for 2023. With over 100 million people, a huge pool of talent is available in the country, which can be leveraged by businesses that want to expand their operations. 
Outsourcing software development in the Philippines lets companies scale up operations quickly and easily without investing in new offices or infrastructure. With a partner like Arcanys, you're also guaranteed safety with a knowledge base that fills skill gaps on demand. 
It's also much easier for a team of developers in Cebu or Manila to handle multiple projects simultaneously than for one developer in San Francisco.    
A versatile and skilled talent pool 
The Philippines has more than 20 million highly-educated professionals with extensive experience in software development, testing, and quality assurance. These skills make them highly desirable for companies looking to outsource software developers.
Many of these professionals also have experience working with global companies, some with established operations in the Philippines. This gives them familiarity with international processes and standards.
In the end, it's all about finding the optimal balance between cost and value. Though you're paying less, that doesn't mean you receive a lesser quality of service, and the advantages more than cover it.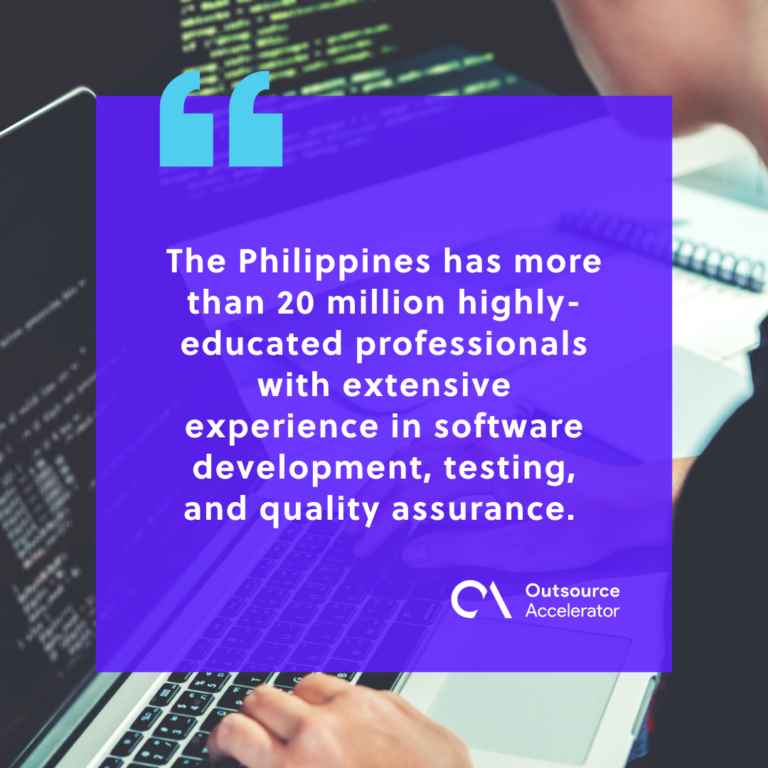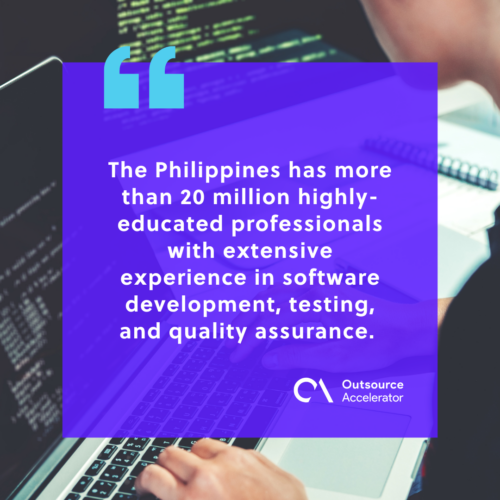 Outsource software developers through Arcanys
Scale up your software development team with Arcanys's services. They are among the top software development providers in the Philippines, partnering with hundreds of companies, from tech startups to influential movers, including Novartis, L'Oréal, and General Electric. 
Build a team of dedicated software developers with Arcanys today!