Outsource Fiji and its role in Fiji's outsourcing industry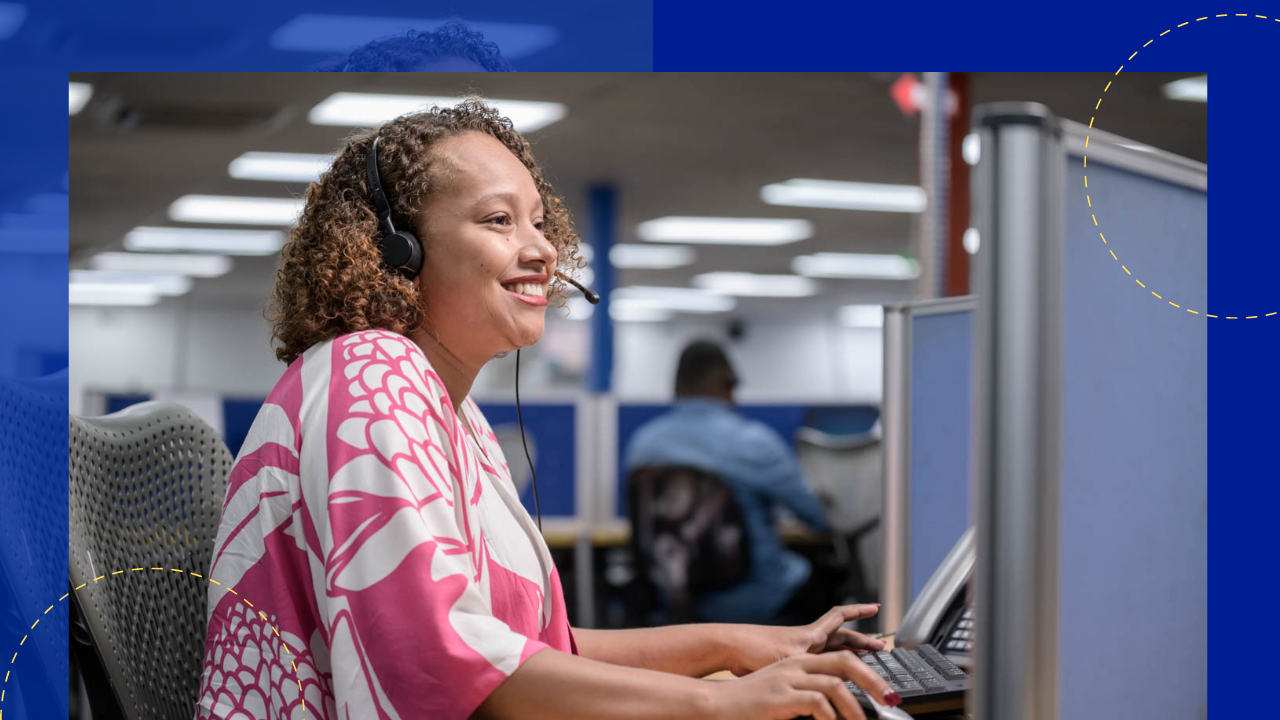 Once primarily known only for its picturesque beaches and tourist destinations, the small island nation of Fiji has undergone an economic transformation for the better.
Following the initial economic devastation of the COVID-19 pandemic, the Fijian government realized the importance of having another industry to rely on aside from its tourism sector.
This sector turned out to be the outsourcing industry, with Outsource Fiji at its helm.
Since its inception, Outsource Fiji has deftly guided the country's outsourcing industry and helped it reach its present booming state.
The council made it its mission to future-proof the country's economy by creating a sustainable outsourcing sector.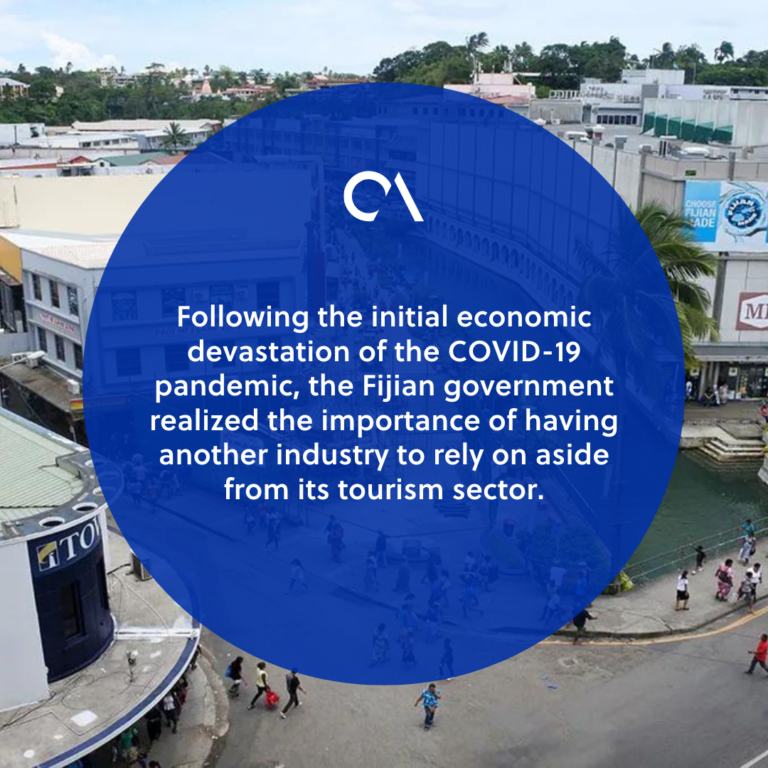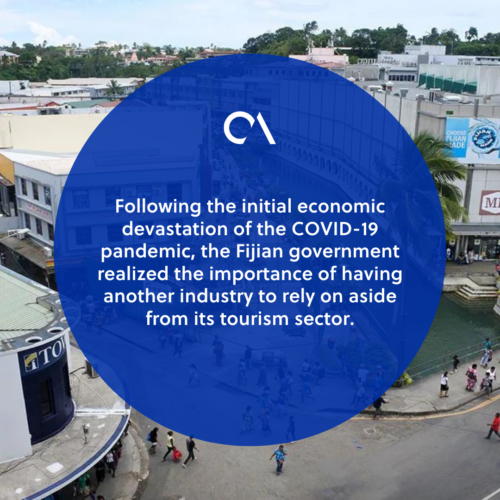 Outsource Fiji: How it started
Outsource Fiji, also known as the Fiji Business Process Outsourcing Council (BPOC), is Fiji's official outsourcing industry body.
The organization was established in 2017 following the deliberation of the country's stakeholders.
Despite being headed by the country's private sector, BPOC enjoys tremendous amounts of support from the Fijian government.
In particular, the Ministry of Commerce, Trade, Tourism, and Transport, as well as the Investment Fiji organization and the Fiji Commerce and Employers Federation, strongly support BPOC's initiatives.
As mentioned earlier, the Council's leadership is entrusted to the private sector. Similarly, its founding members are also private businesses and organizations.
These private entities include Centrecom, DHL, the Lyndhurst Group of Companies, Greymouse, Vodafone Fiji Limited, Telecom Fiji Limited, BSP Life, Recoveries Corporation Pty Ltd, and ANZ Pacific Operations.
Outsource Fiji is presently headed by its executive director, Sagufta Janif, who was recently interviewed in an episode of the Outsource Accelerator Podcast.
Incidentally, Sagufta's podcast interview also centered around Fiji's outsourcing industry and Outsource Fiji's role in it.
Outsource Fiji members
Active members of different BPO aspects and roles comprise Outsource Fiji's members.
These members provide services on various areas, including:
Voice Technology

Call Center Operations

Back Office Operations

Airline Reservations

Worldwide Freight Shipping

Building and Infrastructure

Government

Insurance

Banking and Finance

Debt Collection

Virtual Human Resource

Telecommunication

Sales and Marketing
The council's current members, categorized by the services they provide, are as follows:
BPO Providers
Acton (Fiji) Pte Limited

AVI Pacific People

CentreCom

Greymouse

Mindpearl

Our Pacific Office

Packleader Pacific

RCL Services

Bula Outsourcing

TKW
Technology Partners
Digicel Fiji

Telecom Fiji Limited

Vodafone
Infrastructure/Investment Facilitators
Investment Fiji

Lyndhurst Limited Fiji

Munro Leys Lawyers
Offshore Operations
ANZ Pacific Operations

DHL Fiji

HLB Mann Jud Fiji

Insurance Holdings Pacific

KPMG Fiji
Outsource Fiji on why companies should outsource to Fiji
The BPOC markets Fiji as a viable outsourcing destination and a valuable investment to multinational companies looking to expand operations.
The country is also touted as a strategic location for diversifying risks.
Fiji has much to offer investors who are considering outsourcing operations to the country.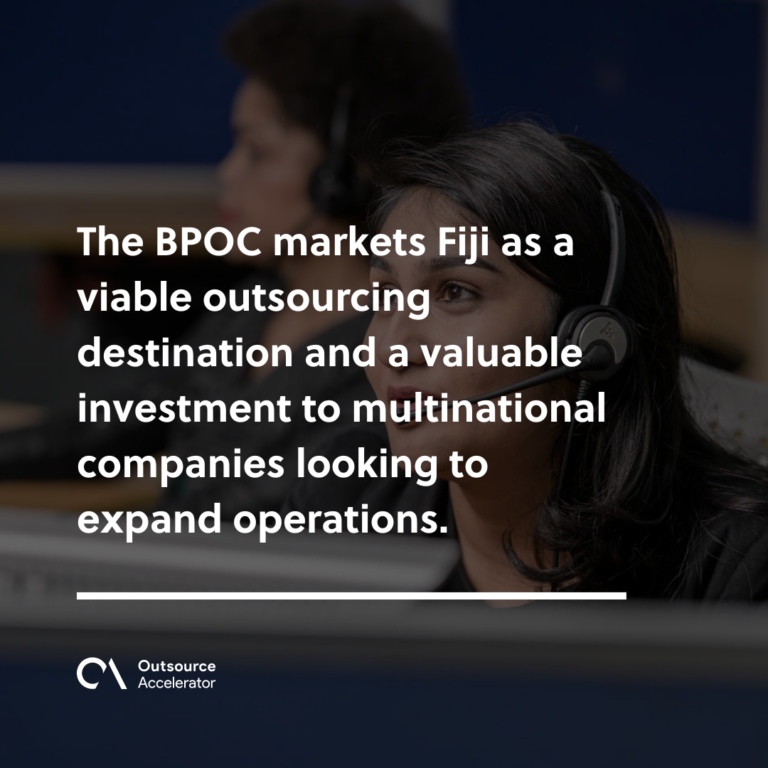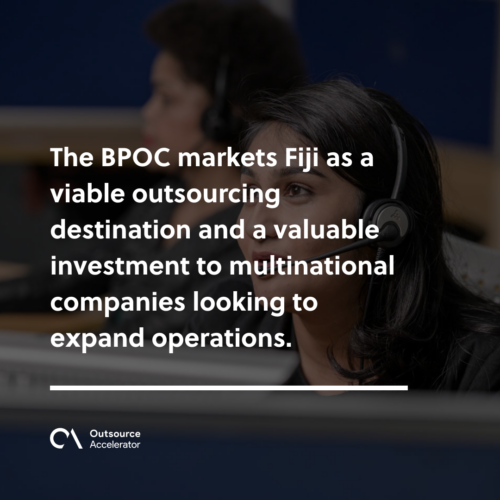 The benefits investors can gain include:
Friendly and accent-neutral workforce
As attested by the global BPO firm, Mindpearl, Fiji is home to friendly workers with no discernible accent.
These are highly desirable qualities for customer support and other similar roles.
With these Fijian agents, building rapport with customers will be a breeze.
Skilled and educated workers
Fiji boasts a 96% literacy rate.
This ensures that the country can supply businesses with an educated and professional workforce.
Moreover, Outsource Fiji partners with the country's educational institutions to ensure that the graduates they produce possess the right skills and qualifications needed in the outsourcing industry.
High retention rates
Fiji's young professionals consider working for BPO companies a prestige and a privilege.
These young workers value the global opportunities that the industry provides.
Thus, they develop loyalty to their employers and are motivated to stay with their companies.
In fact, businesses that outsource operations to Fiji experience less than a 5% attrition rate during their business's lifetime in the country.
—
Listen to Sagufta Janif at the Outsource Accelerator Podcast episode #405 here.