Three signs that you need to outsource digital marketing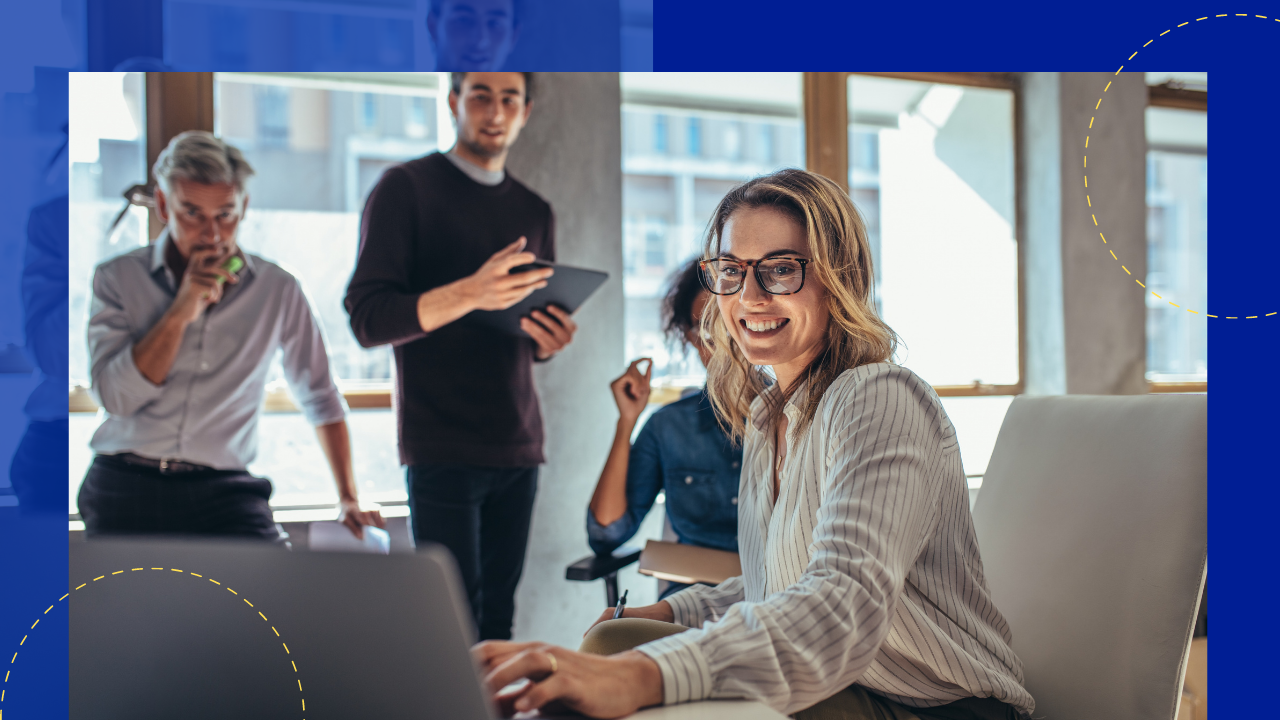 Besides the fact that you can pretty much do anything on the internet, you can also find everyone from all generations present in the online world. 
Various online platforms have made it incredibly easy to search for and share any information.. Everyone can stay connected anywhere in the world, which is also true when it comes to businesses. 
Digital marketing allows businesses to have a solid online presence, effectively promote your brand, and reach out to a wider audience. 
There's a range of different forms of digital marketing that is performed on distinct digital channels found on the internet. While most companies have an in-house team in charge of building brand awareness online, more and more businesses are choosing to outsource digital marketing.
Is your business showing signs that you need to outsource digital marketing too? In this article, we'll uncover these signs and discuss the significance of digital marketing to the success of your brand.
The value of digital marketing to your business 
Compared to the traditional way of promoting and marketing your brand, digital marketing gives you the following advantages:
Engagement 
One of the best perks of digital marketing is that it allows immediate interactions with audiences. It lets you communicate with your target consumers, answer questions, or resolve problems regarding your products and services. 
Online platforms, particularly social media channels, are also good avenues for you to carry out market research. This way, you would have a better understanding of your prospects and how to effectively converse with them. 
You can start your engagement online by posting blogs, social posts, and different digital content that will spark conversations. 
Good ROI
Online ads are an effective tool to get good returns of investment (ROI). Their low-cost and high-reach makes them a cost-effective choice for online businesses.
You are more likely to achieve a better ROI and conversion rate with digital marketing since you are better able to target your audiences and control the content of your campaigns compared to traditional marketing. . 
Affordability
Digital marketing costs less than other forms of traditional marketing like television ads, billboards, posters, and leaflets. 
For example, social media ads are about 90% cheaper than having your brand advertised on television. On top of that, you are also able to reach more targeted audiences and relevant  demographics.  
Online competition
It has now become a requirement for businesses to establish their brands online. Having a robust digital presence serves as your edge against your market competition. 
Furthermore, you can also check what your competitors are doing on different digital platforms. From there, you can base your digital marketing strategies that are unique from other brands and will directly appeal to your target audience.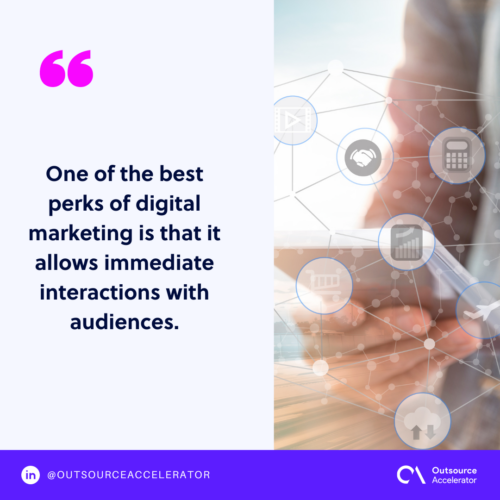 Three  ultimate signs that you need to outsource digital marketing 
Digital marketing is not a one-size-fits-all approach, and it should be done by someone with the right skills, knowledge, and experience. Online trends are always evolving, so you need to keep track and adapt whenever the tide changes in the online world.
That said, it might be time for you to outsource digital marketing. Here are three signs you have to look out for. 
You do not have enough time for digital marketing 
Running your own business is stressful enough. If you are running behind your scheduled blog posts, you are not ranking well on search engines, or you have no idea how your Google ad campaigns are performing — it is the perfect time to outsource your digital marketing.
You do not have a clear marketing strategy 
If you are not getting the results you are aiming for, then it might be the best time to redevelop your digital marketing strategy. Outsourcing this crucial function gives you access to a wide pool of digital marketing experts. 
If you choose the right provider, you'll be working with well-experienced professionals who have already worked for clients in numerous industries. 
You are unaware of your KPIs and ROI
How is your return on digital marketing investment? Are you able to reach your target from the previous year? Can you monitor your conversion leads? 
When you outsource digital marketing, you will not have to worry about these things as your outsourced staff will be reporting everything to you. You may also request to tweak your KPI framework or revamp your ROI to guarantee the success of your digital marketing investment.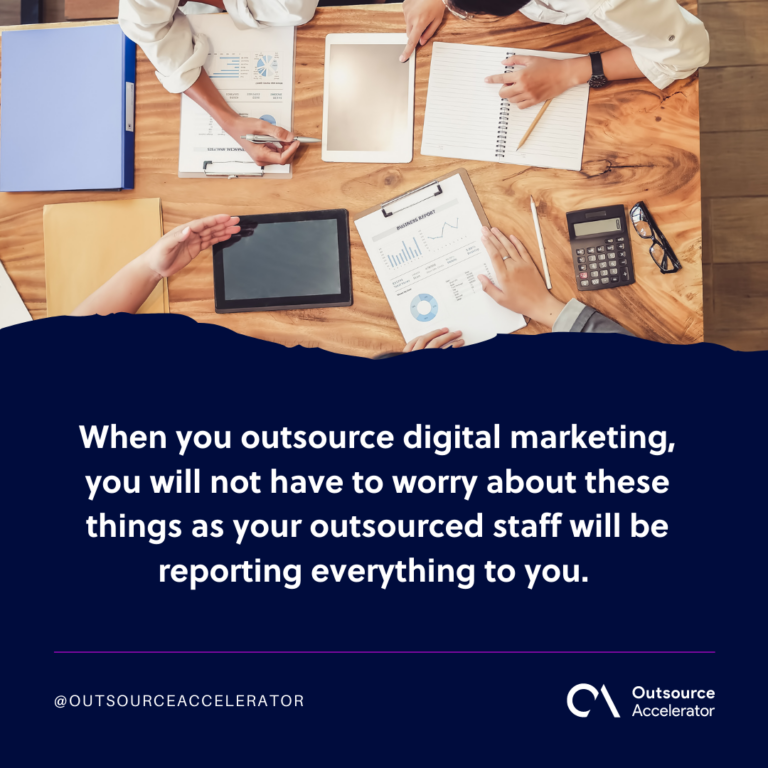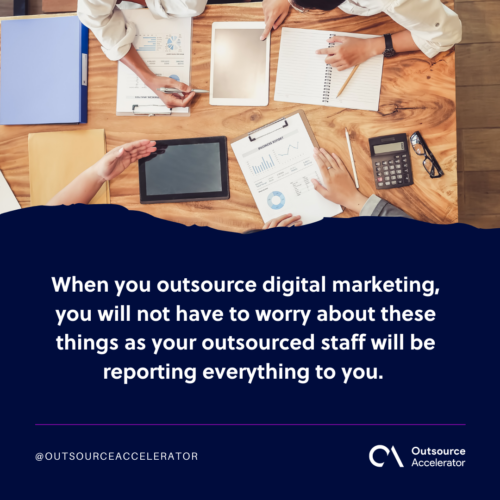 Collaborate with MVP Asia Pacific for your digital marketing needs! 
No need to look anywhere else for your digital marketing needs as MVP Asia Pacific has got you covered! Work with today's well-accomplished digital marketing professionals, and you'll never have to worry about time management, strategies, and KPIs. 
Contact MVP Asia Pacific today to start your outsourcing venture! Get the results you require with MVP Asia Pacific.