4 significant benefits of order processing outsourcing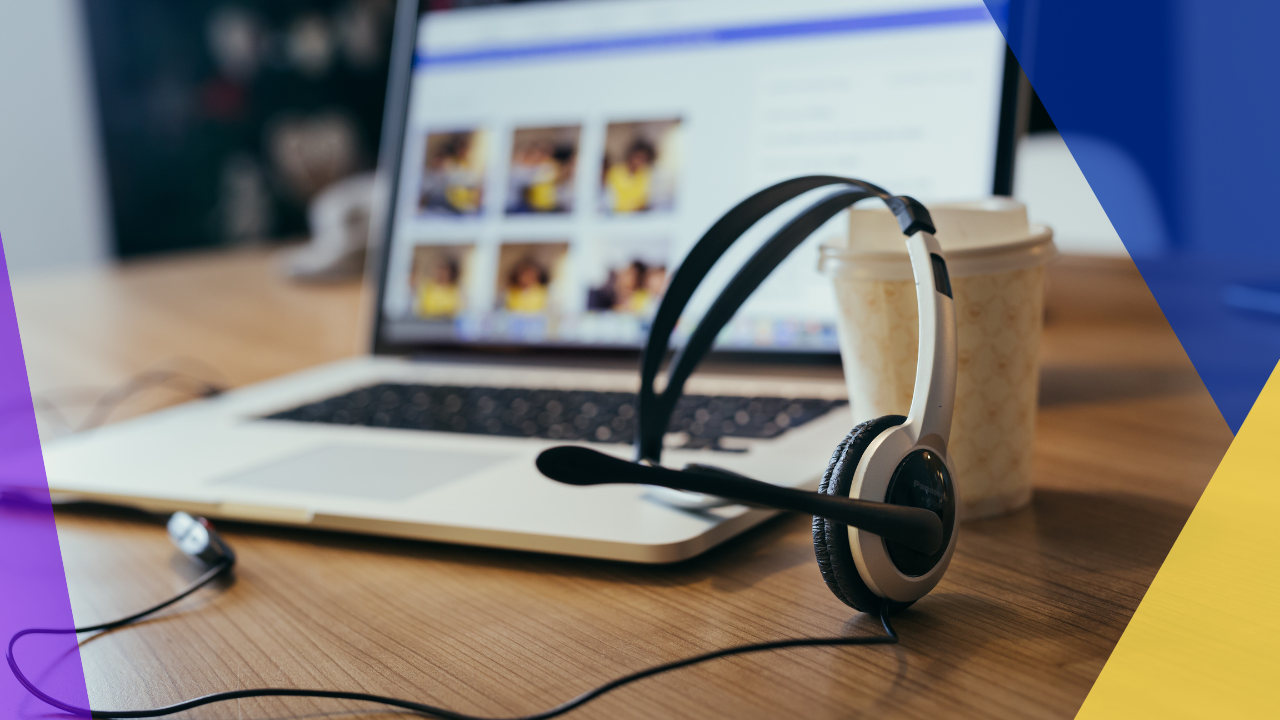 If you think order processing is easy, you are wrong. It can be a challenging task requiring adept data entry abilities, critical thinking skills, and strong attention to detail.
When processing orders, you are not just managing the order; you may also deal with demanding and hard-to-please customers. So it is vital to stay calm and professional in stressful situations.
Businesses must also implement data integrity to accurately input client orders into the system and ensure secure storage of client information.
To remain competitive in the market, organizations must find better ways to hire highly skilled order processing staff to speed up daily operations. Outsourcing is one strategic solution that always works for businesses of all shapes and sizes. 
What is order processing?
Order processing is another term for order management. This critical component of customer fulfillment significantly influences your customer's lifetime value. 
This is also essential to retail order fulfillment since dependability and accuracy lead to client satisfaction.
Order processing can range from manual operations, such as handwritten order sheets, to highly technical and data-driven processes, like automated order processing software.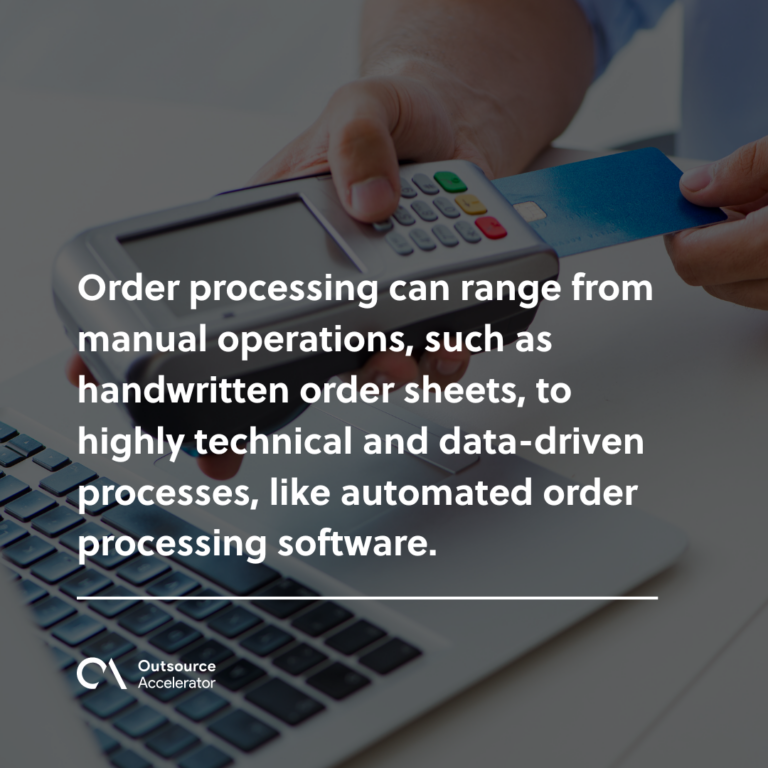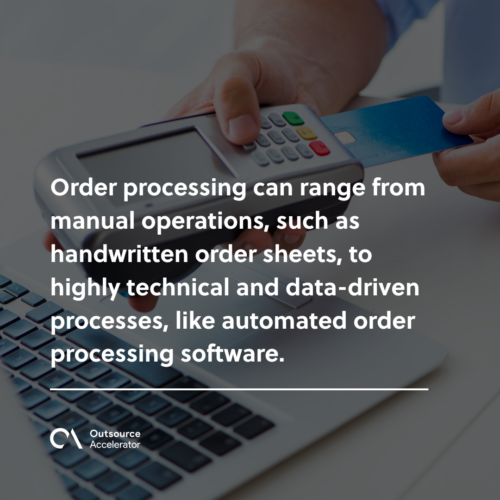 Why do you need an order processing system?
Any firm that sells goods and products must have an order processing system to manage client connections effectively. It is required for customer data tracking and understanding client demands and preferences.
Further, an order processing system may assist organizations in better-managing inventories and swiftly fulfilling requests.
Order processing vs. Order fulfillment
Discussed below are the differences between order processing and order fulfillment:

Order processing

– is critical to inventory management, especially for omnichannel retailers that handle various sales channels or physical storefronts.

Order fulfillment

– is provided from when a client puts in an order until the processing, packing, and shipping. Order processing is

fulfilled

when the products are delivered to the customer.
4 benefits of order processing outsourcing
Order processing is an arduous task. You might need an additional workforce to speed up the processing, tracking, and delivery of orders.
Since it is a tedious process, outsourcing your order processing functions to a reliable third-party provider like OP360.
To help you decide if outsourcing order processing is right for you, here are four significant benefits of this practice:
1. Saves time
It takes effort to design a reliable order processing system that fits precisely with how your company operates and the sort of goods you are selling.
This procedure might take months with inexperienced staff and years of trial and error for some.
Outsourcing this procedure may be a lifeline for many businesses, particularly startups that require time to work out other aspects of their organization.
Outsourcing firms like OP360 have a dedicated transition team who understands the importance of time and the impact of seamless order processing. Plus, it often only takes two weeks for your outsourced staff to start working with you.
2. Reduces risk in the fulfillment process
Order-taking agents employed by outsourcing firms undergo extensive training to improve their technical abilities. Your outsourced agents can precisely execute orders and record all client information in your customer relationship management (CRM).
OP360 assures that while your workers may not always get the entire process right, its dedicated team can assist your day-to-day operations.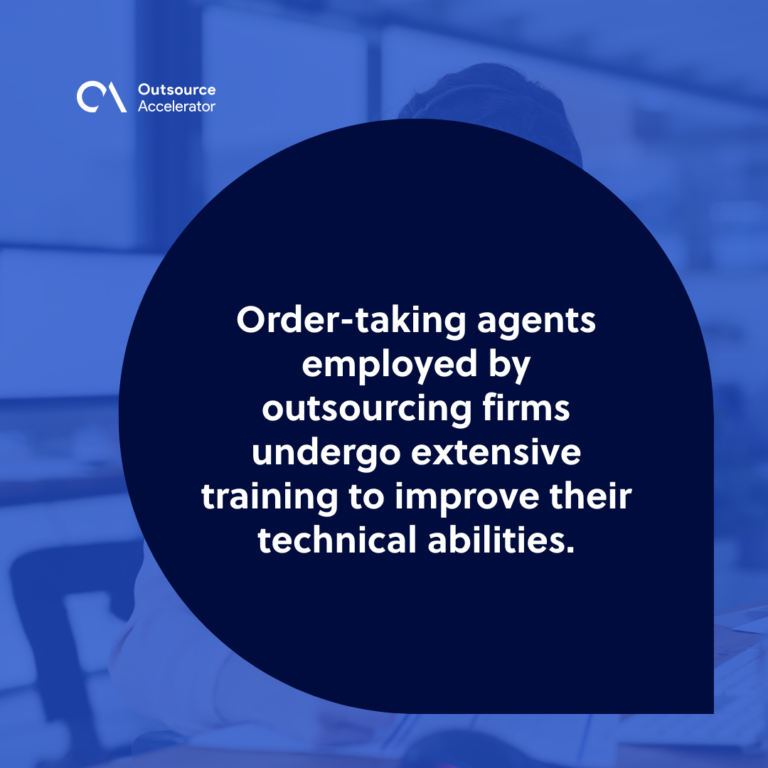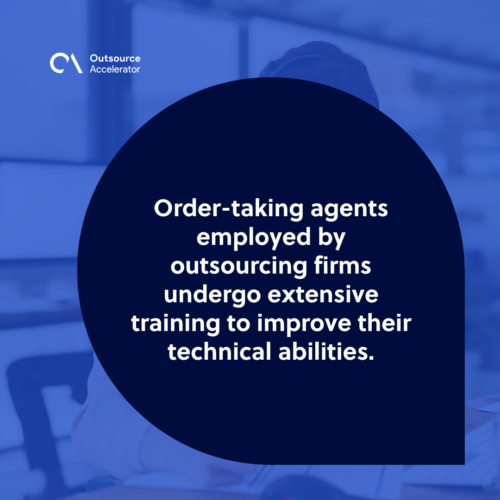 3. Retains customers
With so many online retailers to select from, client retention is critical to the long-term survival of any business. Earning customers' loyalty may take time, more so retaining them.
Outsourced representatives are often skilled in cross-selling and upselling. As a result, they can persuade clients to purchase extra offerings they feel would benefit them and become repeat-purchase customers.
4. Scaling opportunities
Shipping gets more burdensome as your business expands, primarily if you sell your items through several channels.
You won't have to worry about order processing, managing more inventory, or employing new personnel if you partner with the right outsourcing provider that understands your needs.
You'll have all the confidence you need to expand your business rapidly without jeopardizing your clients' experience.
Outsource your order processing function with OP360
OP360 employs agents that are not only capable of handling your processing but who are also committed to increasing your total client happiness. 
Visit OP360's official website to learn more about this highlighted service!