Essential insights into the field of operational consulting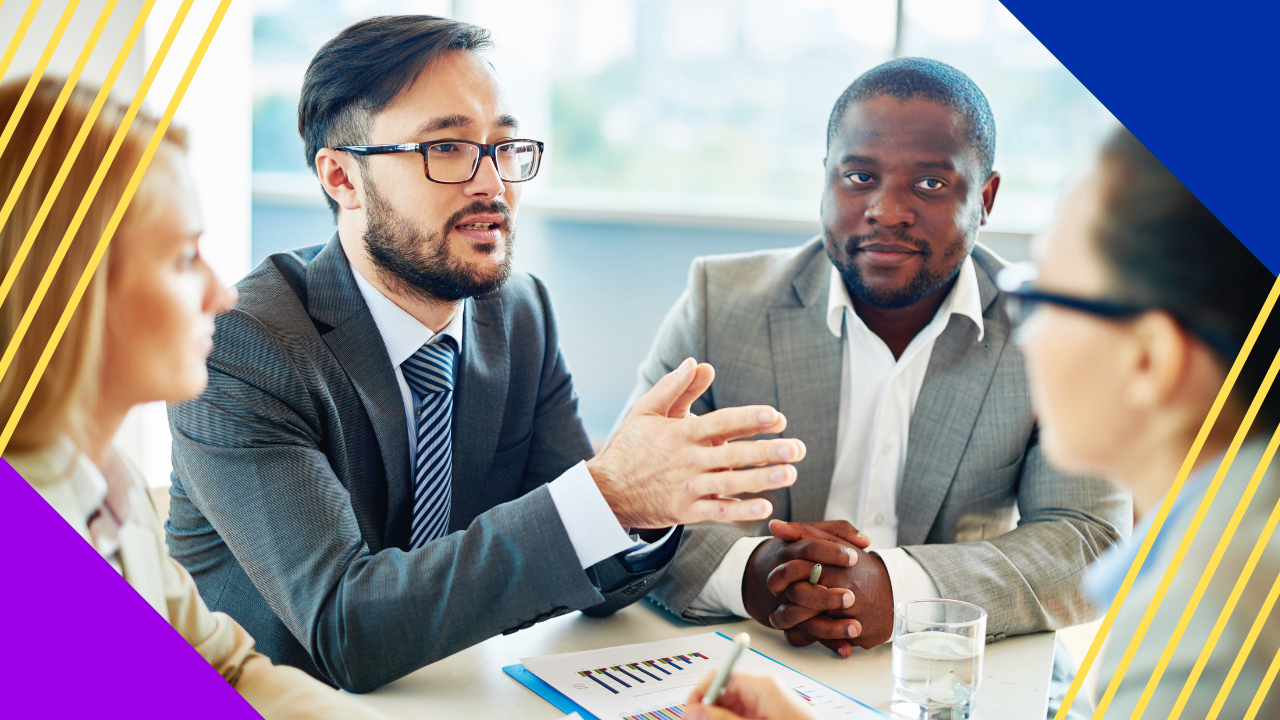 Businesses striving to stay competitive rely on operational consultants to help improve their processes and efficiency. 
This article explores operational consulting, highlighting its benefits, the steps involved in the process, and the industries it caters to. 
What is operational consulting?
Operational consulting involves offering skilled guidance and support to organizations to refine their internal processes, enhance efficiency, and reach operational goals. 
This consulting area is wide-ranging and collaborative, with experts offering guidance on operational aspects like supply chain, procurement, and logistics.
Role of operational consultants
Operational consultants are important for helping organizations with complex operational problems.
With their extensive knowledge across industries, they pinpoint improvement areas and suggest custom solutions that match each business's unique requirements. 
These professionals collaborate with organizations to simplify operations, elevate customer satisfaction, and attain financial goals.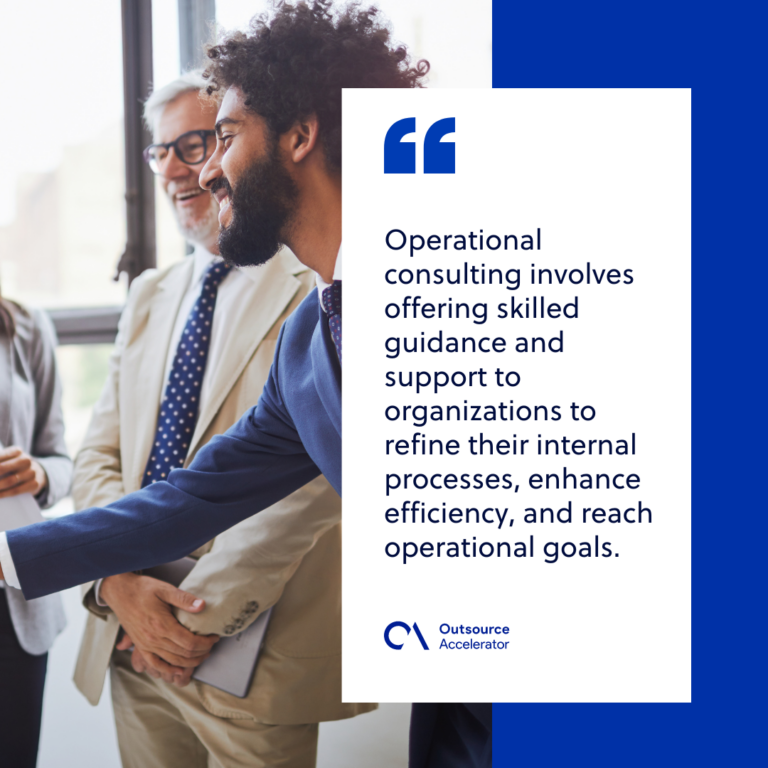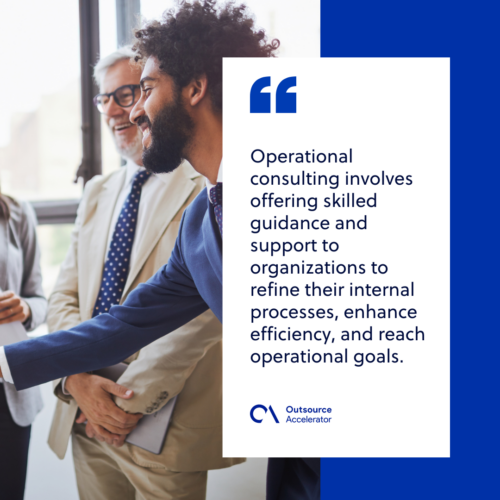 Benefits of operational consulting
Engaging in operational consulting comes with various advantages:

Streamlined processes and increased efficiency
Operational consulting helps businesses run smoother, resulting in higher productivity and reduced costs. 
Consultants spot and fix operational roadblocks, making processes more efficient. They offer ongoing help in applying and tracking these improvements, ensuring they bring actual outcomes.
Cost reduction and improved financial performance
Companies collaborating with operational consultants frequently experience lower costs and enhanced financial outcomes. 
These experts assess financial processes, spot wasteful elements, and recommend ways to cut expenses. Solutions can vary from refining production to optimizing supply chains. 
The usual result is higher profits and successful investments.
Enhanced customer satisfaction
Operational consulting aids businesses in enhancing customer experience by spotting inefficiencies and enacting solutions. 
Consultants assess the customer journey and suggest simplifying processes, making interactions smoother. This ultimately results in higher customer satisfaction and stronger brand loyalty.
Risk management
Operational consultants assist businesses in finding and managing risks. They assess risks, create strategies to help organizations identify weaknesses, and implement actions to reduce or avoid them.
A proactive risk management shields the business and its assets.
Innovation and change management
Operational consultants provide new viewpoints and industry best practices. They aid businesses in cultivating innovation and facilitating change efforts. 
Operation consulting empowers organizations to adjust to market shifts, adopt new technologies, and maintain a competitive edge.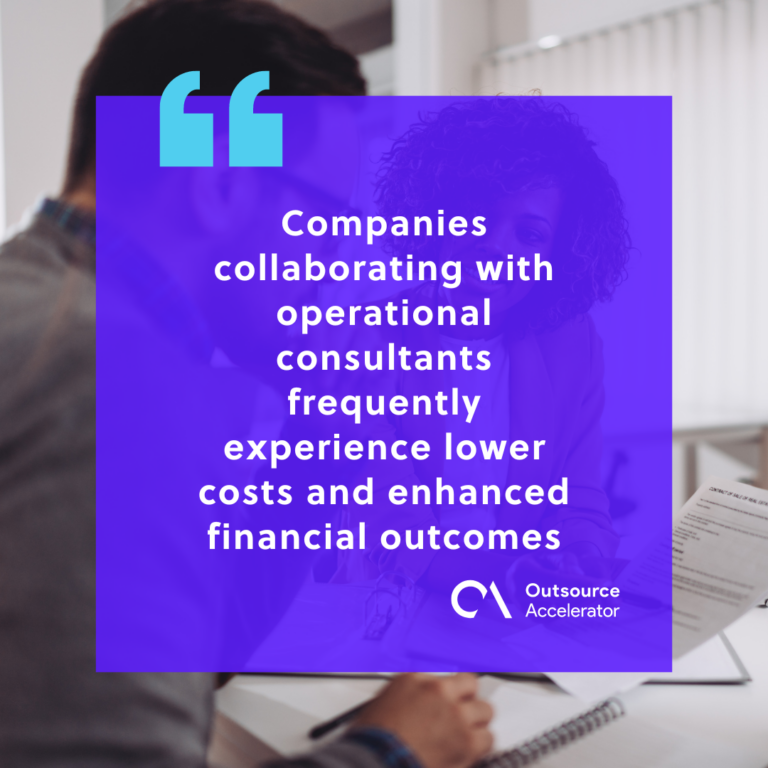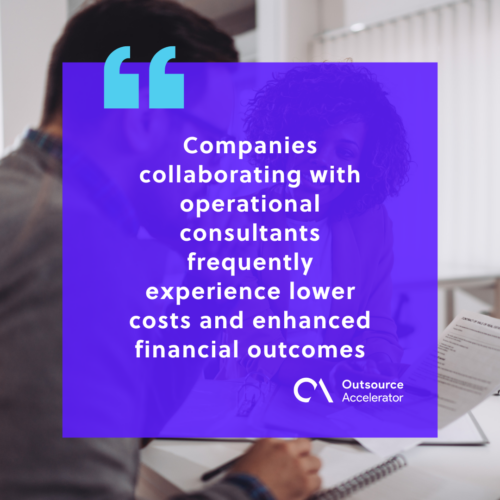 Steps in the operational consulting process
Experts adhere to an organized approach to assist organizations in boosting their operational effectiveness. 
Here's an outline of the involved steps:
Initial assessment and problem identification
The first step involves thoroughly evaluating the business's operations. Consultants identify areas of operational inefficiency and collaborate with the business to create an action plan.
Developing customized solutions
After identifying problem areas, consultants collaborate with the organization to craft personalized solutions to the specific issues. 
These solutions might include process enhancements, training, or adopting new technologies.
Implementation and execution
The actual change takes place during the implementation of solutions. Consultants collaborate closely with the organization to guarantee correct execution. 
This could involve employee training, project management support, or guidance in adopting new technologies.
Monitoring and continuous improvement
The last step involves continuously overseeing and assessing action plans. Consultants gauge progress and measure the effectiveness of the solutions. 
Any required adjustments are made to ensure the desired outcomes are met.
Industries that benefit from operational consulting
Operation consultants offer valuable insights to numerous industries. Here are some instances where operational consulting proves advantageous:
Manufacturing 
Manufacturing firms need streamlined production and supply chain methods for competitiveness. 
Operation consultants assess these processes, spot inefficiencies, and suggest tailored solutions, aiding companies in maximizing operations and boosting profits.
Healthcare 
Healthcare institutions require effective systems to provide the best care for patients.
Operation consultants aid these organizations in assessing processes, pinpointing improvement areas, simplifying regulatory compliance, and enhancing overall cost-effectiveness.
Finance and banking
Because of strict rules, the finance and banking sector needs careful focus on details.
Moreover, with intense competition, operation consultants help organizations gain a competitive edge by identifying cost-saving and efficiency-enhancing opportunities.
Technology and IT services
The technology and IT services industry always evolve, requiring innovation and improving processes to stay competitive. 
Operational consultants may suggest adopting new technologies, streamlining processes, and elevating customer satisfaction.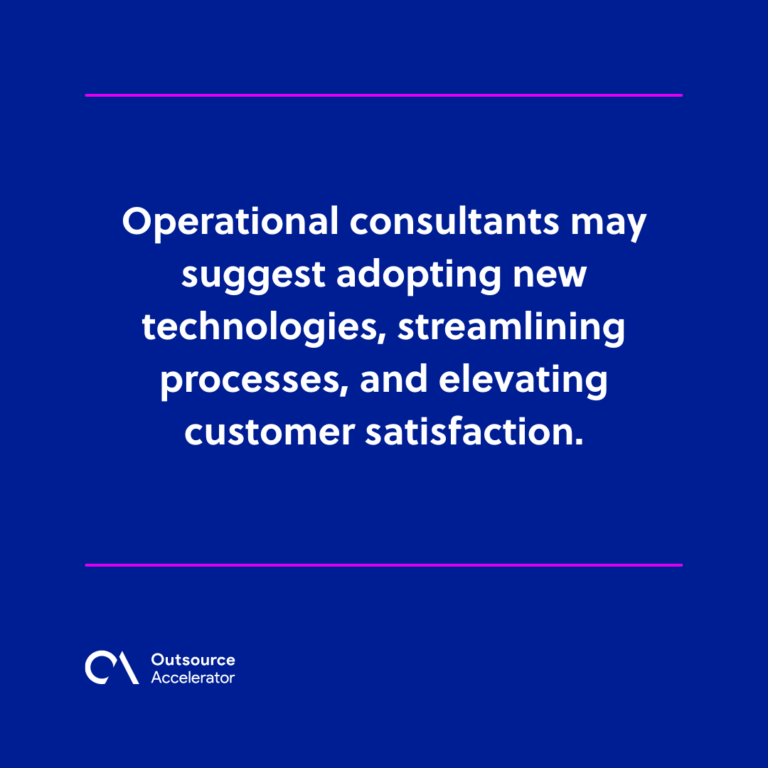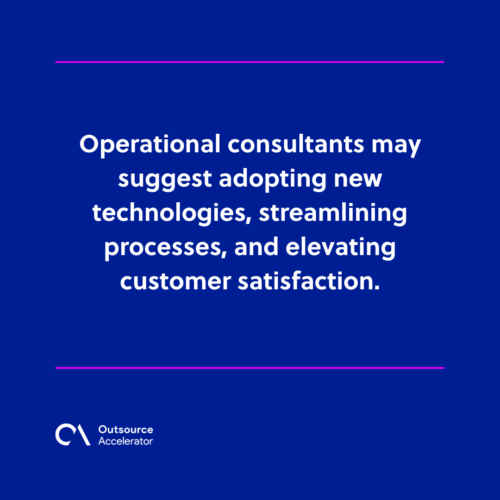 Transportation and logistics
The transportation and logistics field benefits greatly from operational consulting. 
Operation consultants may aid in aspects like supply chain management, logistics planning, route optimization, fleet management, and warehouse operations.
They help transportation and logistics companies make their processes smoother, save money, and become more efficient overall.
Energy utilities
Energy utility companies can benefit from operational consulting by optimizing distribution and transmission systems. 
Operation consultants help enhance operational safety and resilience. At the same time, they provide solutions to decrease operations and maintenance expenses.
Partner with an operational consulting firm for business success
Collaborating with an operational consulting firm offers numerous advantages. 
Consultants aid businesses in spotting inefficiencies, devising solutions, and executing strategies for success. Their experience and distinct perspective help companies reach strategic objectives and enhance competitiveness.