A guide to online reputation management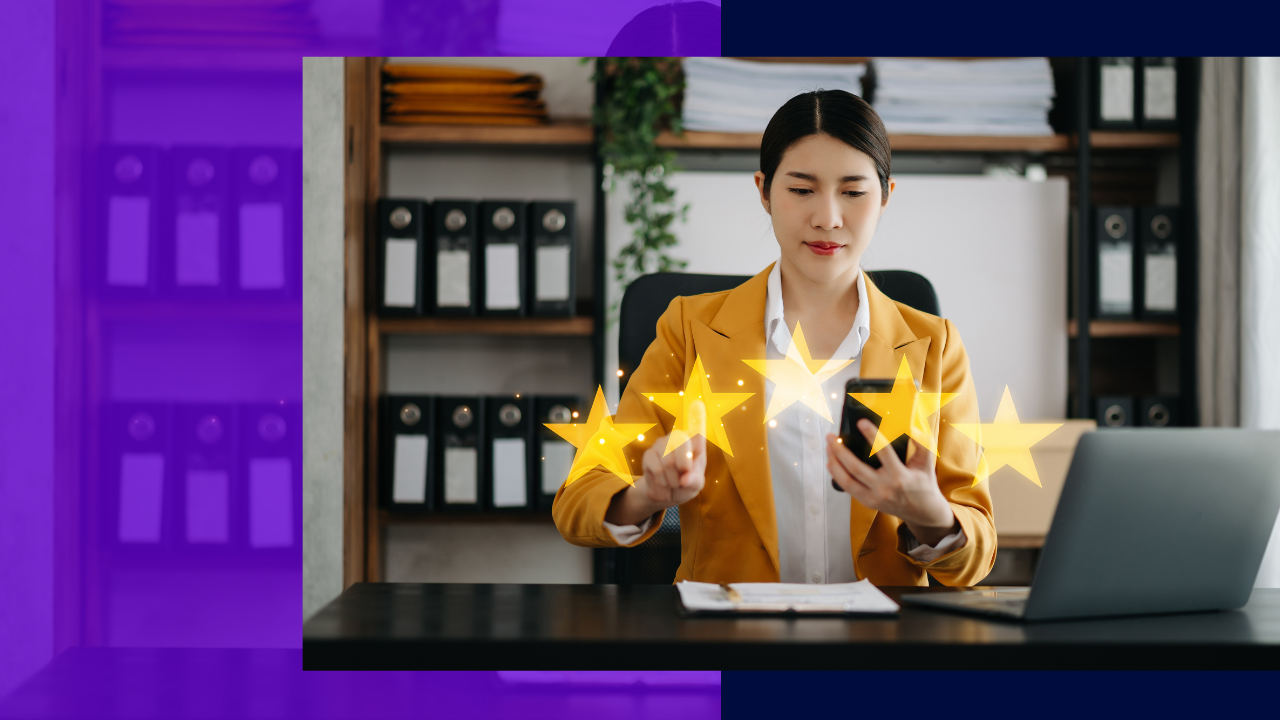 As the world becomes more digital, businesses and individuals must take control of their online reputation. 
Information now spreads rapidly and influences consumer decisions. That's why online reputation management (ORM) has become vital.
In this guide, we'll dive into online reputation management and the impacts of online reputation. We'll also learn how to assess your online reputation and five effective ORM strategies you can put in place today.
What is online reputation management?
Online reputation management (ORM) monitors and improves how others perceive your brand online. It's all about creating a positive online narrative by managing content and interactions across digital channels. 
ORM also involves tracking and analyzing what others say about your business online. It lets you proactively address negative comments or reviews. 
Online reputation management strategies range from basic social media monitoring to comprehensive search engine optimization (SEO) tactics.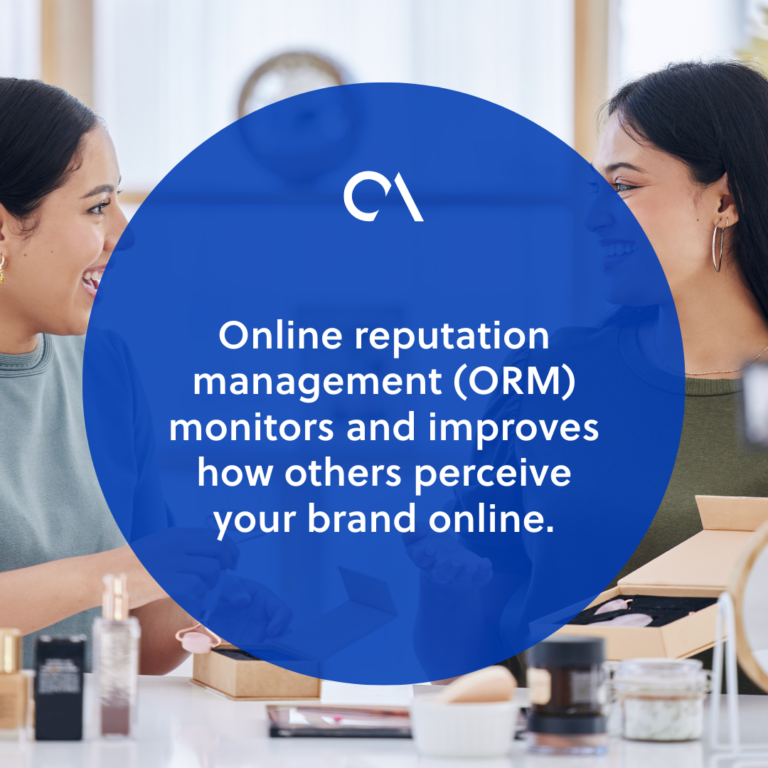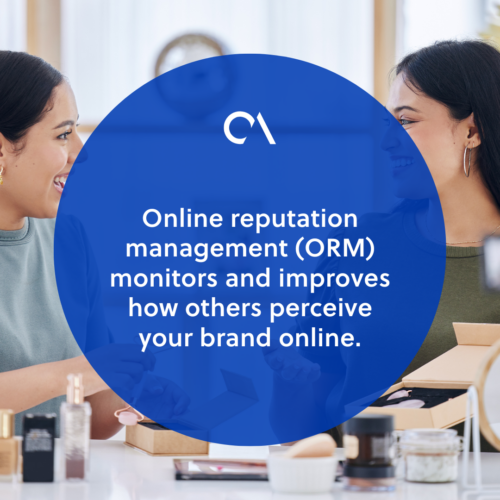 Reputation management vs. PR
While both online reputation management and public relations (PR) deal with shaping how others see you or your brand, they differ in many ways. 
PR focuses on building positive relationships with the media and stakeholders to improve your reputation across all channels – online and offline. 
ORM, on the other hand, focuses solely on digital channels and is much more reactive. 
A key driver of online reputation management is responding to negative comments and reviews quickly. This is what makes if different from PR's more proactive stance.
Factors that contribute to ORM
Online reputation management comprises four main components. Each contributes to your brand's online perception.
These ORM components are:
Owned media
Owned media refers to the content or assets you own and control online. This category includes your website, social media profiles, blog, and other branded assets. 
Creating and sharing high-quality content on these channels helps establish your brand as an authority in your space.
Paid media
Paid media includes any ad space or promotions that you pay for online. This could include social media ads, Google AdWords, and display advertising.
While paid media can be expensive, it's a useful tool for boosting awareness and driving traffic to your website.
Earned media
Earned media is the collective term for any positive mentions, reviews, or press coverage your business receives from third-party sources. These could range from a positive Yelp review to news coverage in a national publication. 
Gaining positive earned media can help establish trust and credibility for your company.
Shared media
Shared media is the content that others share and create around your brand. This can include social media mentions, shares, reposts, user-generated content (UGC), and community engagement. 
Shared media is a critical component of ORM. They can be much more powerful and reliable – since shared media comes from trusted peers or community members.
How online reputation impacts businesses and individuals
A positive online reputation is essential for both businesses and individuals. 
For enterprises, online reviews are crucial since consumers rely on them to decide where to eat, stay, or spend their money. 
According to Reputation X, 85% of customers trust online reviews as much as personal recommendations. In addition, almost four out of five consumers trust a business more if it has positive reviews.
A positive online reputation can also impact individuals' career prospects, networking opportunities, and personal brand. 
A recent study from CareerBuilder revealed seven in ten employers use social networking sites for candidate research during the hiring process.
The data shows online reputation is vital to a person or company's image. It makes ORM a necessary service that can help improve an entity's branding and public perception.
Consequences of a poor online reputation
A negative online reputation can be incredibly damaging. For businesses, negative reviews or feedback can impact revenue and lead to decreased customer retention rates. 
Unfavorable content or reviews appearing at the top of search engine results can deter potential new customers.
For individuals, a poor online reputation can lead to missed job opportunities, a bad perception of their personal brand, and limited networking opportunities. 
Negative online content and images can also cause personal relationships to suffer. This leads to isolation and a diminished quality of life.
Benefits of a positive online reputation
A positive online reputation can increase brand awareness, customer retention, and overall success. 
Positive reviews and feedback can impact your company's bottom line. Research by ReviewTrackers shows people trust businesses with four or more stars on review sites.
For individuals, a positive online reputation can lead to open up more networking and personal connections. A solid personal brand can also lead to higher levels of trust and credibility.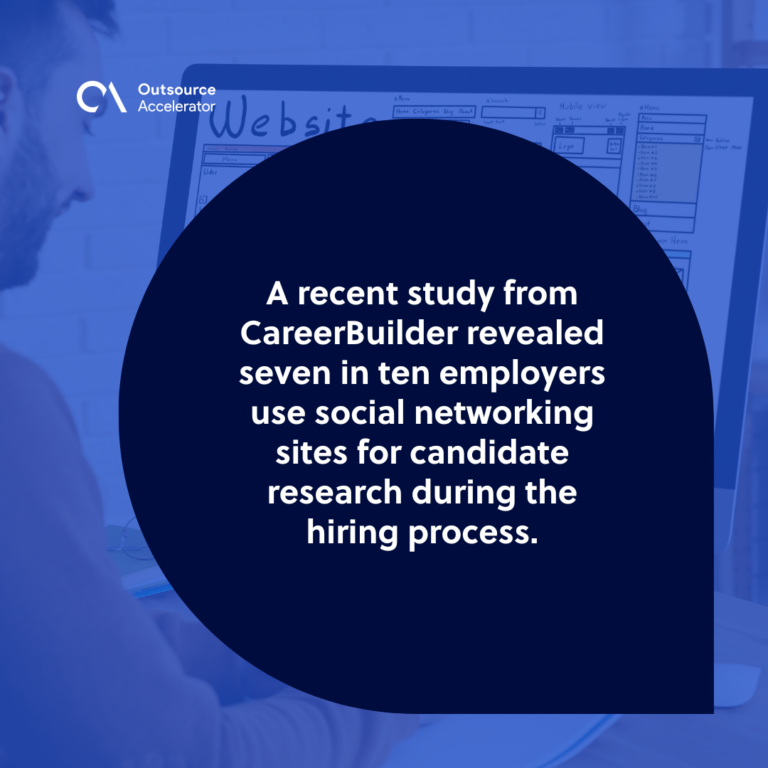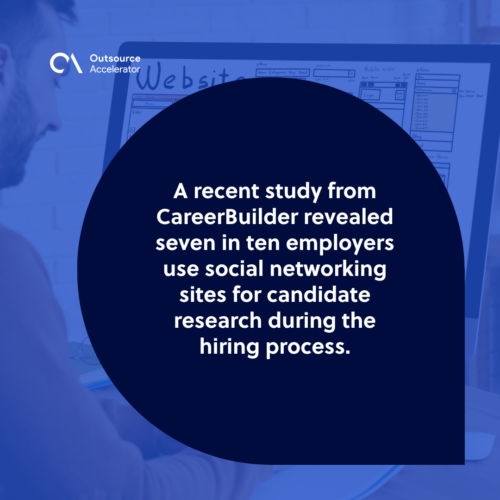 Assessing your online reputation
Before implementing online reputation management strategies, it's essential to assess the current state of your digital presence. 
Here are some steps to help you evaluate your online reputation:
Conduct a web search

– Start by searching for your name or business on

popular search engines

to see what information is readily available to the public. 

Monitor social media

– Regularly monitor social media platforms to gauge sentiment, respond to customer feedback, and address any potential issues promptly.

Use online reputation management tools

– Several online tools can help track mentions, reviews, and overall sentiment surrounding your brand or name. They highlight valuable insights into areas that require attention.
5 online reputation management strategies you can use
Now that you understand online reputation management better, let's look at five effective strategies you can use.
1. Respond quickly and with understanding
When negative comments or reviews come in, responding quickly and with empathy is essential. 
Acknowledge the feelings of those involved, and take the opportunity to demonstrate your commitment to customer satisfaction. This will show that you are listening and that you value their feedback.
An example is when in 2011, McDonald's launched a Twitter campaign using the hashtag #McDStories. It invited customers to share positive experiences from their visits to the fast-food chain.
However, the campaign backfired when negative comments flooded the thread. They criticized everything from the quality of food to the treatment of animals in the supply chain.
Despite the overwhelmingly negative feedback, McDonald's responded quickly and with understanding.
The brand took the opportunity to acknowledge its mistakes. They also showed empathy toward those who had negative experiences.
2. Take responsibility for mistakes
If your brand makes a mistake, it's crucial to take responsibility. Don't deflect blame, and instead own up to any errors or shortfalls. This will show that you are accountable and committed to making things right.
In 2017, United Airlines faced public backlash after video footage emerged of a passenger being violently dragged off of a flight. The incident caused significant damage to the airline's reputation. 
Rather than deflecting blame or denying responsibility, United Airlines took ownership of its mistake. The company issued a sincere apology to its customers. By doing so, the company was able to rebuild its reputation over time slowly.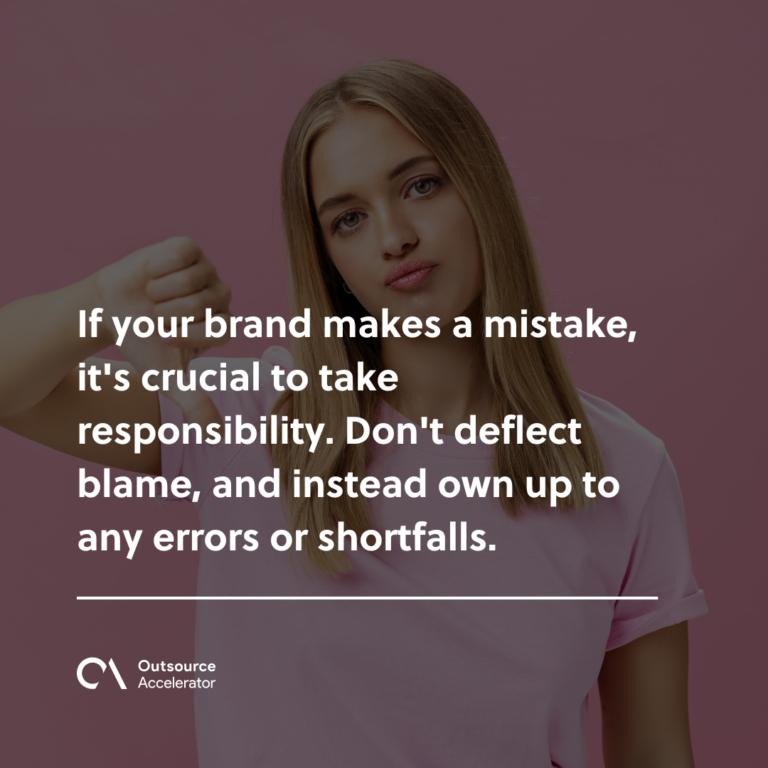 3. Confront negative feedback or criticism head-on
Don't shy away from criticism or negative feedback. Instead, confront it head-on by addressing the issue directly.
Use the opportunity to showcase your brand's strengths and how you are working to address any areas for improvement.
Nike announced a partnership with Colin Kaepernick in 2018. The NFL player had drawn controversy after kneeling during the national anthem to protest racial injustice in the US.
The announcement received significant backlash from some conservative consumers, who threatened to boycott the brand. Rather than shying away from the criticism or attempting to avoid controversy, Nike confronted the negative feedback head-on. 
The brand launched a new ad campaign featuring Kaepernick, messaging about personal empowerment and overcoming adversity. 
By doubling down on its association with Kaepernick and taking a strong stance on social issues, Nike was able to appeal to its core demographic. All the while, it won over new customers who saw the brand as a champion for social change.
4. Monitor and control your search results
SEO plays a crucial role in online reputation management. Ensure that your business' website ranks highly in search engine results and that any negative content is pushed down the page. 
Use targeted keywords and link-building tactics to establish your brand as a leader in your space.
There was an instance in 2011 when JCPenney dealt with negative publicity after several media outlets reported links between the company's website and spammy SEO tactics. 
Articles about the controversy began appearing at the top of search engine results for the brand. In response, JCPenney hired a team of SEO professionals for search engine reputation management.
They focused on pushing the negative articles down the page and elevating positive content about the company. 
Using targeted keywords and link-building tactics, JCPenney regained control of its search engine results and mitigated the impact of negative publicity.
5. Automate ORM
Many ORM tools and services are available to monitor and control your online reputation. These tools can efficiently manage your online presence. So you don't have to worry about potential negative reviews or feedback. 
Consider using an ORM tool to automate your ORM efforts and stay on top of any mentions or reviews.