Hire offshore data analysts to transform data for your business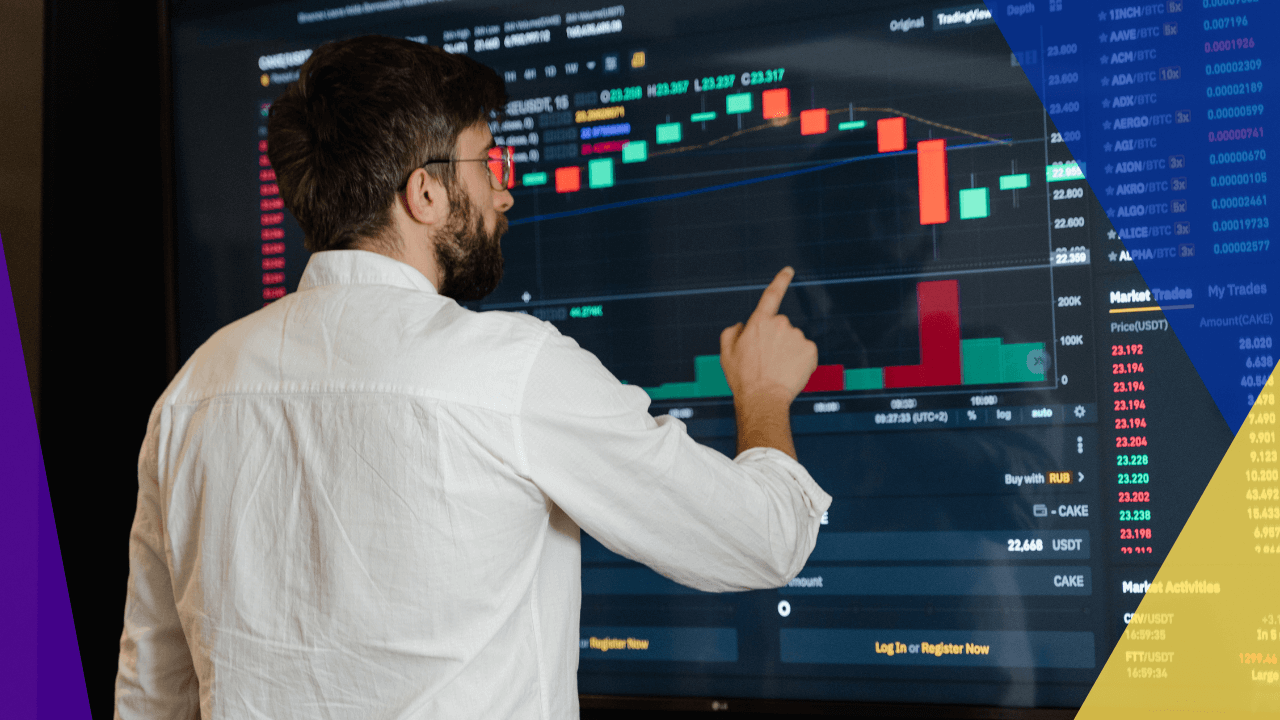 Hire offshore data analysts to transform data for your business
With the rise of big data, numerous organizations aim to incorporate analytics into their business processes. It gives them a chance to gain new insights and provides opportunities for strategic planning. 
But sadly, not everyone can afford a team of in-house specialists. The good thing is that there is a growing number of data analysts worldwide, and you can get a specialist on board for a completely reasonable price.
A great way to do this is by offshoring your data analysts' needs to one of the many professional companies specializing in this field.
The right data analysts can help you determine the best business strategies and provide solutions and suggestions to maximize your ROI.
Having offshore data analysts can also help get your project done right away. If you're looking for a company that can provide quality work at an affordable price, Outsourced is the right place.
What data analysts do
Data analysts are responsible for collecting, processing, and analyzing data to help organizations make decisions.
Most often, they use data and statistics to interpret, analyze and present information. 
These experts may work with any type of data, and they are most often tasked with analyzing large volumes of data from surveys, market research, or other sources. 
Using the right tools, they can uncover patterns and trends in data that would otherwise be hidden from view. This allows organizations to gain insights into their customer's needs, which helps them develop new products and services that appeal to these consumers.
Nowadays, offshore data analysts have become increasingly important as businesses look for ways to improve efficiency, productivity, and profits through big data. 
In fact, Acumen Research and Consulting's latest study revealed that the global data analytics market size is projected to reach a market size of USD 329.8 Billion by 2030. This includes a CAGR of 29.9% from 2022 to 2030.
Some larger firms employ teams of analysts working together on projects related to specific areas of their business, such as marketing or finance.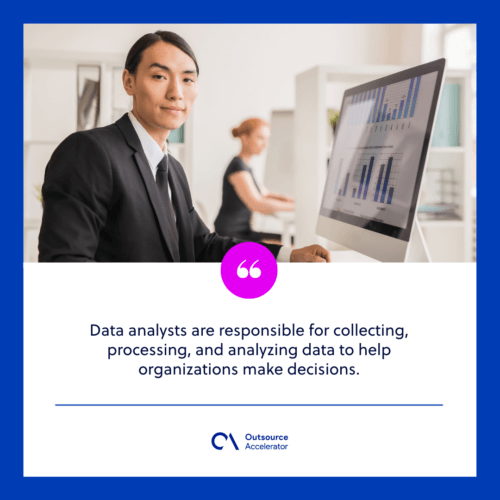 Essential skills of data analysts 
As the demand for offshore data analysts continues to grow, so as the level of competence that is expected of them. 
The following skills are essential for a data analyst:
SQL skills 
A good understanding of Structured Query Language (SQL) is essential for analyzing large amounts of data. SQL is a useful language for programming queries directly into software applications. 
It is a must-have skill that you should look for in hiring offshore data analysts. SQL will help in querying databases, creating reports, and making critical decisions. 
Fluent in programming languages 
Data analysts often need to write codes in order to manipulate large datasets or create visualizations from scratch. It is important that they're familiar with at least one programming language. 
One example is when they need to program their own solutions if the existing software can't cover the task at hand.
Knowing at least one programming language can help them write efficient codes quickly without having to spend hours. 
Domain knowledge 
A good data analyst must have extensive knowledge about their industry to fully understand what they are analyzing and how it applies to their client's needs. 
In-depth domain familiarity is essential because it helps them determine what kind of data is available, where it can be found, and when it was collected.
These pieces of information allow them to decide which tools/techniques will work best for their project.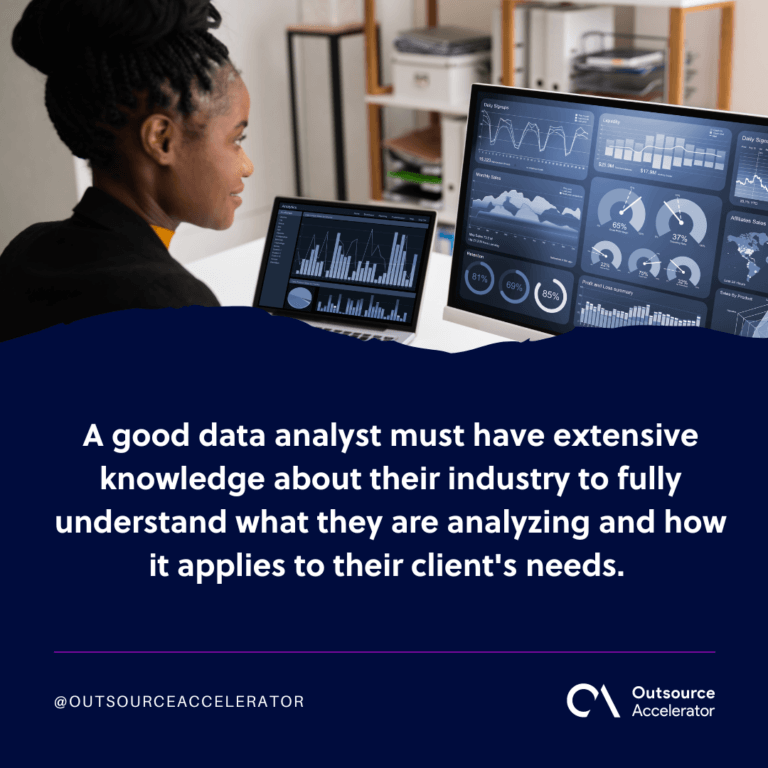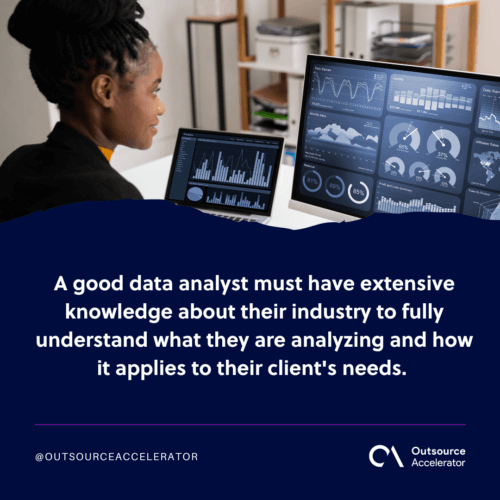 Excellent problem-solving skills 
Data analysts use statistical analysis methods to help them develop solutions to problems within their organization or industry.
Offshore data analysts usually have experience working with clients from various industries, handling different projects, and handling different unforeseen circumstances. 
With their experience, they are able to think creatively and look at problems from different angles so that they can be solved effectively and efficiently. 
Key benefits of hiring offshore data analysts 
Hiring offshore data analysts is a wise investment that will enhance your company's performance. Here are some of the key benefits you can expect from this business move:
Cost-saving 
The cost of hiring an offshore data analyst is significantly lower than what it would cost to hire a local one. This is mainly because of the difference in living standards and living costs between developed countries and developing countries. 
As an outsourcing solution, hiring offshore data analysts means you don't have to worry about office space, equipment, or other overhead costs. 
Moreover, you have the option of hiring freelancers instead of full-time employees, which means you can scale up or down as needed.
Boost output and quality levels 
Offshore data analysts have gained significant experience over time and honed their skills in dealing with challenging projects. 
They have proven track records when it comes to delivering high-quality work within deadlines, which is why they are highly sought after by businesses across different sectors. 
Working with offshore data analysts can lead to increased productivity and better results for your business.
Highly-skilled professionals
Hiring offshore data analysts means you can take full advantage of their expertise without having to relocate them to your country.
This will save you both time and money, as well as allow you to focus on other aspects of your business. 
They can handle complex data sets and develop innovative solutions for your problems.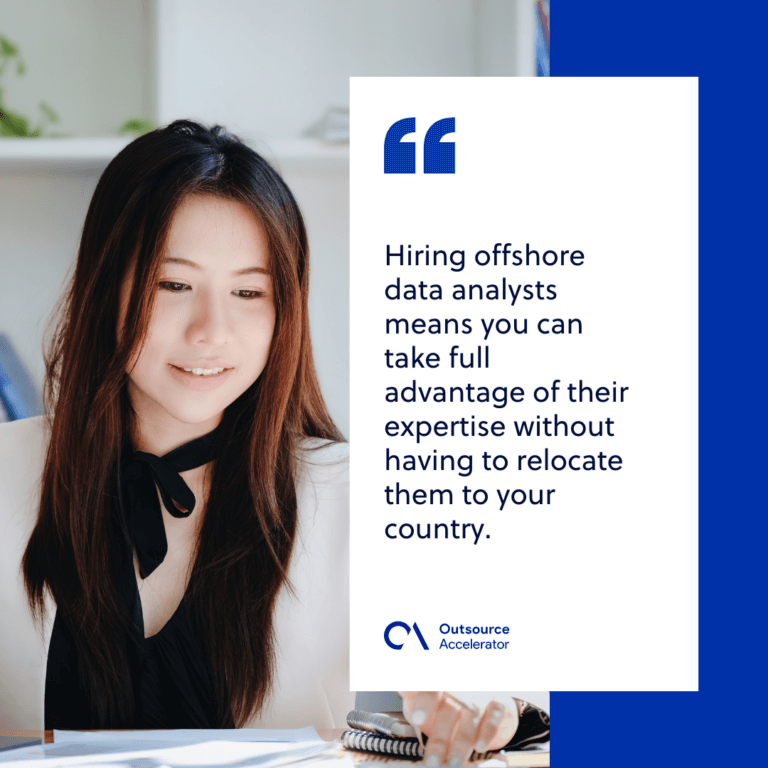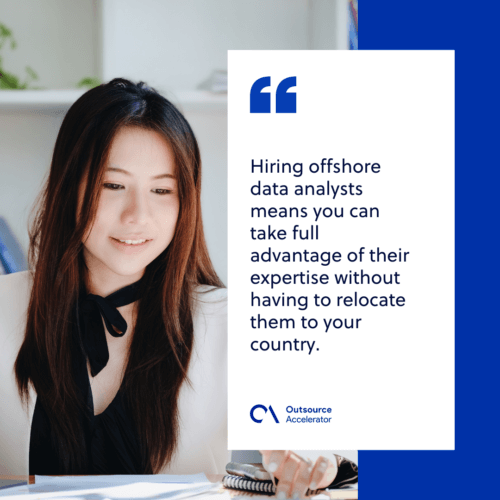 Competitive advantage 
Offshore data analysts are employed by companies for many different purposes. In today's competitive market conditions, every firm aims to be ahead of its competitors to stay afloat in the market.
And this is where offshoring comes into play; it gives you access to highly-skilled professionals who can help you make better strategic business decisions. 
You'll be able to scale up your operations quickly by acquiring offshore data analysts without having to invest in training new employees or purchasing expensive equipment.
Offshore the best data analysts through Outsourced 
Outsourced helps clients scale their businesses by providing highly-skilled professionals from the Philippines.  
Partnering with Outsourced means working with offshore data analysts who are well-equipped with in-depth knowledge, experience, and top-of-the-line technology. 
Contact Outsourced today to hire the right talent you require!