6 offshore construction services you can delegate today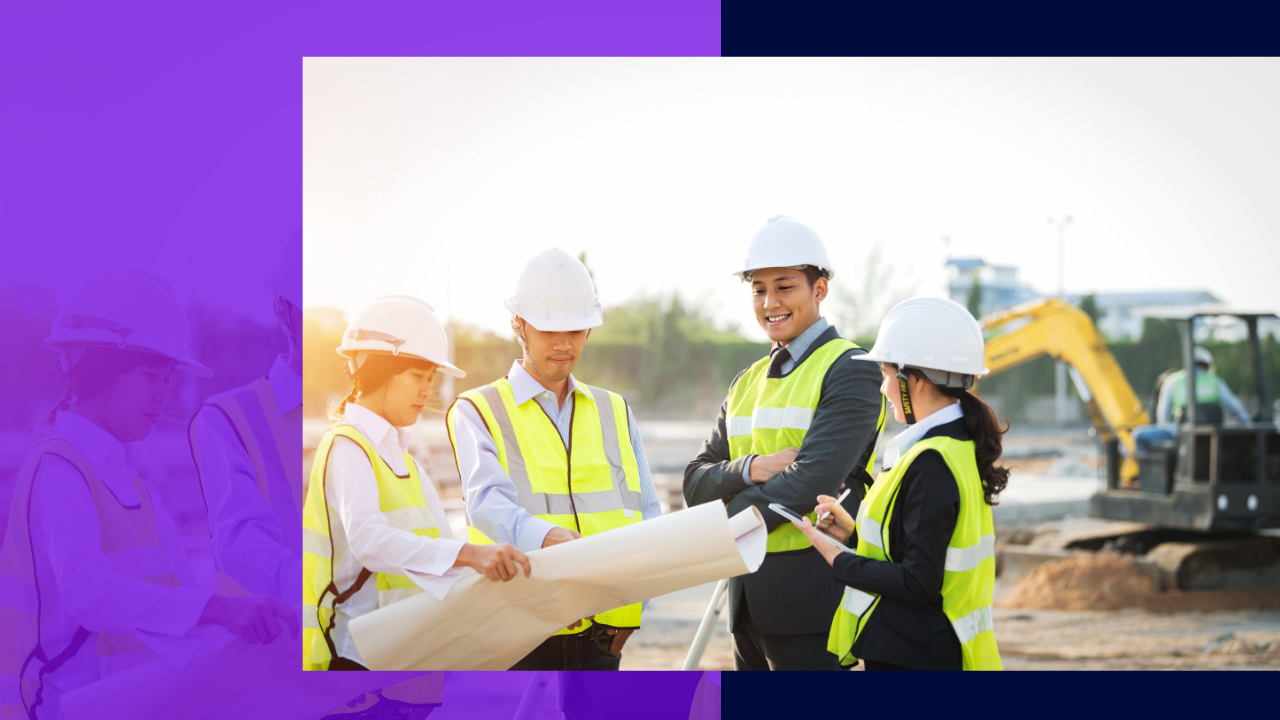 Engineering and construction is a demanding yet highly vulnerable industry. 
The sector requires complex procedures, multiple teams, and immense coordination to deliver quality projects on time. However, factors such as economic crises, labor shortages, and political instability can affect how they operate and take on projects.
According to a report by Deloitte, while engineering and construction receive strong 8% growth in construction spending, this rate can be more differentiated for the years to come.
This is why even large firms consider offshoring their functions to various destinations as possible. Offshore construction services enable businesses to streamline operations, reduce costs, and expand their market reach.
Consider offshoring construction tasks to providers such as ConnectOS to improve your business operations and enhance your competitive edge.
Find out the six offshore construction services you can delegate today.
Why should you consider offshore construction services?
Offshore construction services provide a range of advantages for businesses looking to optimize their operations. 
Let's delve into the top three reasons why you should consider offshore construction services:
Access to cost-efficient talent
One of the most significant benefits of offshore construction services is access to a vast talent pool of skilled professionals at a fraction of the cost compared to hiring locally.
This substantial reduction in labor costs allows businesses to allocate their resources more effectively and invest in other crucial areas of their operations.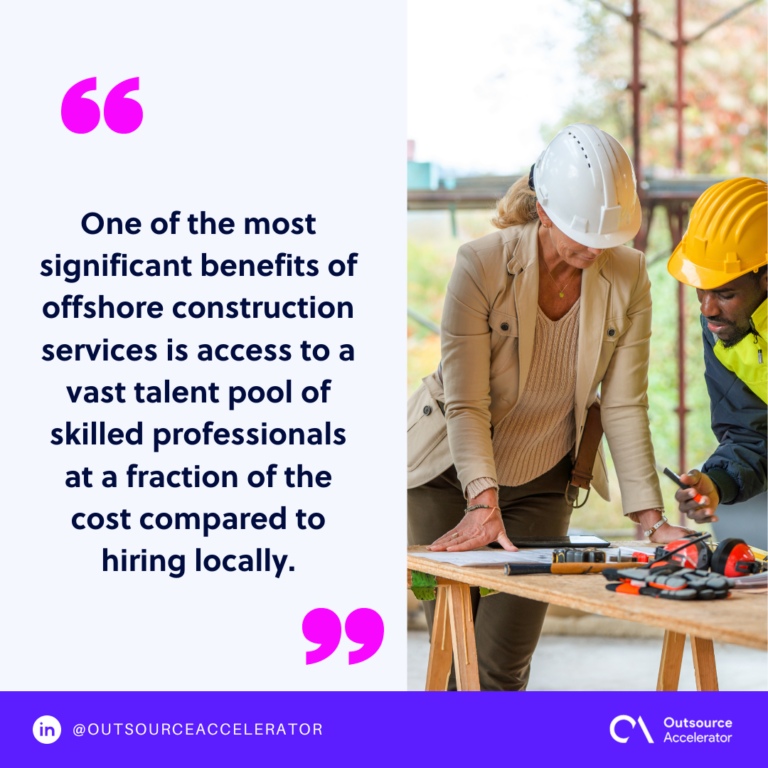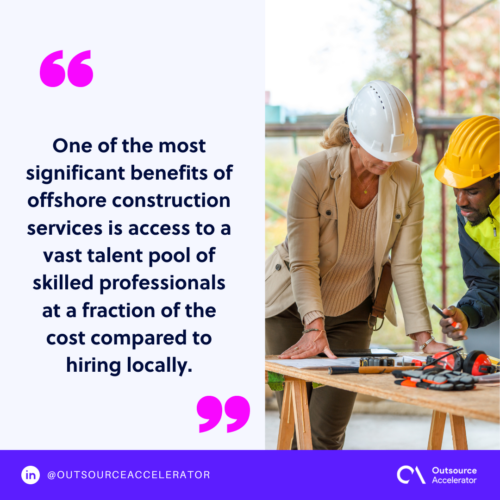 Increased operational flexibility
Construction services are flexible. They can fluctuate depending on the demand and as soon as a project ends. Once this happens, firms may experience redundancy in the workforce, which can cost them more long-term.
Offshoring construction services can help them prevent this redundancy and increase organizational flexibility.
Clients can scale their workforce depending on their needs or retain them at a better rate.
Expanded market reach
Offshore construction services allow organizations to expand their market reach by leveraging global expertise.
Partnering with professionals in offshore locations enhances cross-cultural understanding and enables businesses to seamlessly adapt to international market trends and requirements.
With offshore construction services, businesses can tap into new markets and gain a competitive edge.
6 offshore construction services to delegate
Offshoring construction services deal more with simply administrative, workforce management, and other office-related tasks.
 High-performing offshore teams can shoulder the following offshore construction services to enhance their operations:
1. Architectural design and planning
Delegate the creation of innovative and aesthetically appealing design concepts to offshore architects and designers.
With their advanced software and expertise, they can offer cost-effective solutions tailored to your project specifications.
2. Structural engineering
Offshore structural engineers possess vast knowledge and experience in designing and analyzing various structures. They can help develop comprehensive structural plans, ensuring the safety and stability of construction projects.
3. Project management
Delegating construction project management tasks to offshore professionals ensures smooth coordination, effective resource allocation, and timely project delivery.
Offshore project managers are experienced in handling diverse construction projects and can keep processes on track.
4. Quantity surveying
Outsource quantity surveying tasks to offshore professionals who specialize in accurately estimating the quantities and costs of materials and resources for construction projects. 
This ensures better cost control and budget planning.
5. Construction documentation
Offshored specialists can assist in preparing detailed construction documentation, including blueprints, technical specifications, and permits.
Their expertise ensures compliance with local regulations and industry standards, such as the US code compliances for mechanical, electrical, and plumbing.
6. Quality assurance and inspection
Delegate quality assurance and inspection tasks to offshore professionals who provide comprehensive quality control procedures. 
They conduct regular inspections to ensure construction projects meet all necessary specifications and standards.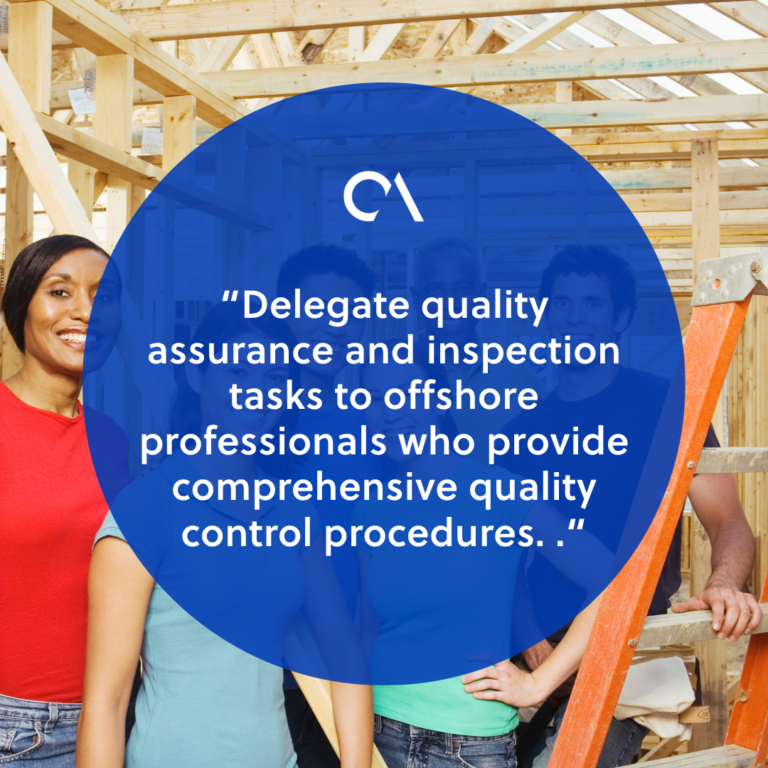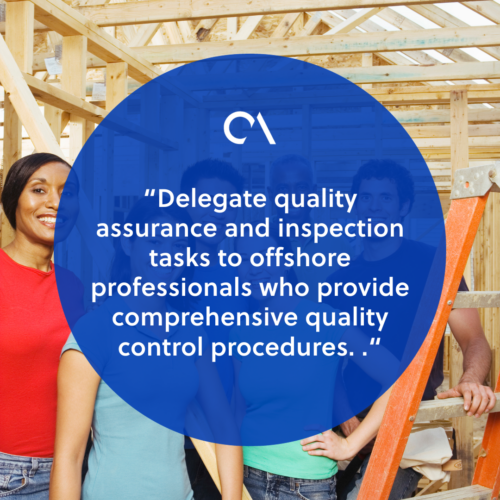 Effective quality offshoring with ConnectOS
Smart companies choose offshoring as their strategy for expanding their companies. For offshore construction, ConnectOS is a reliable partner to tap into.
As a top-rated employer of choice, ConnectOS connects businesses globally with ready-to-work talent across various industries and functions, including offshore construction. Its integrated resourcing solutions allow you to easily find the right talent, boost productivity, and reduce costs.
The firm's services adhere to international privacy and security standards, including ISO 27001 and the EU General Data Protection Regulation (GDPR).
With ConnectOS, you can confidently establish an offshore team at speed, leveraging their local expertise, broad experience, and high levels of accreditation.
To learn more about ConnectOS and how its integrated resourcing solutions can transform your business, visit ConnectOS's website.