10 benefits of Booth and Partners' office rental services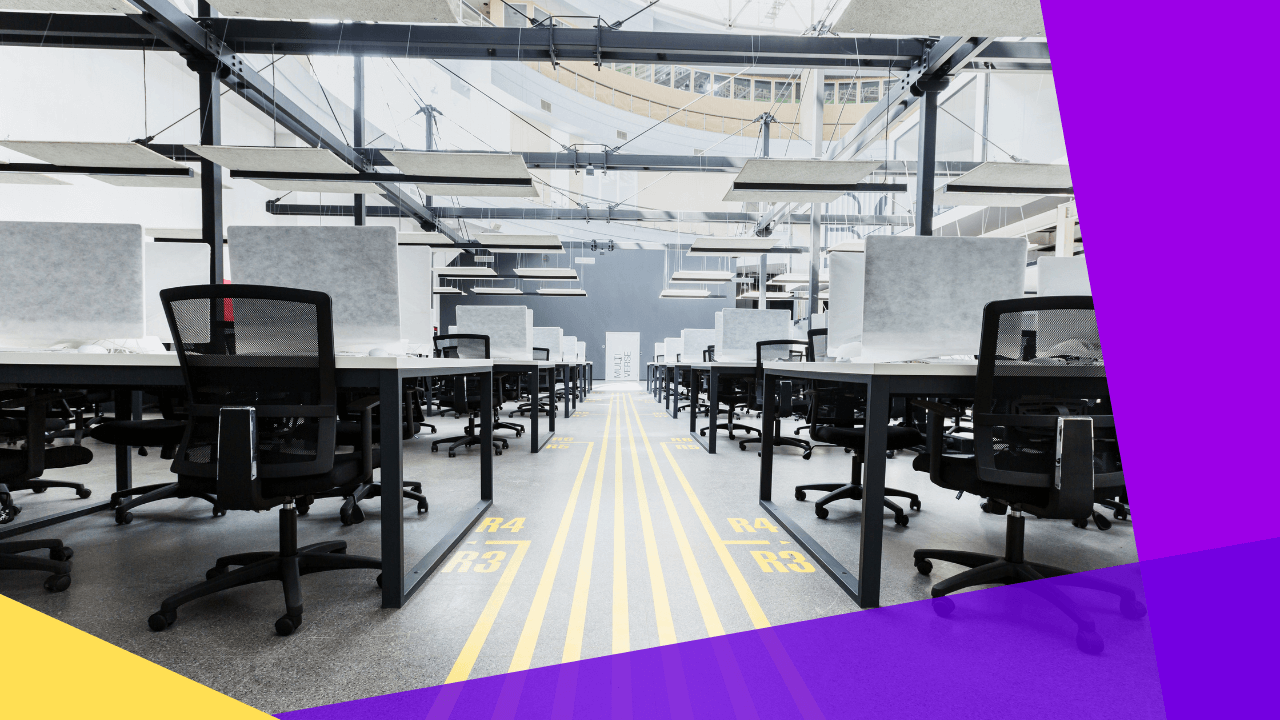 Creating a successful business requires the right office space. However, finding and maintaining an office can be tough. That's where Booth and Partners come in. 
The firm offers great office rental services with different options for your business needs. This article presents ten benefits of choosing Booth and Partners' office rental services.
What are office rental services?
Before we jump into the benefits, it's essential to understand what office rental services entail. 
Simply put, office rental services provide businesses with fully-equipped workspaces that cater to their unique requirements. 
Rather than spending time and effort searching for office space, leasing, and managing it, you can choose from Booth and Partners offerings.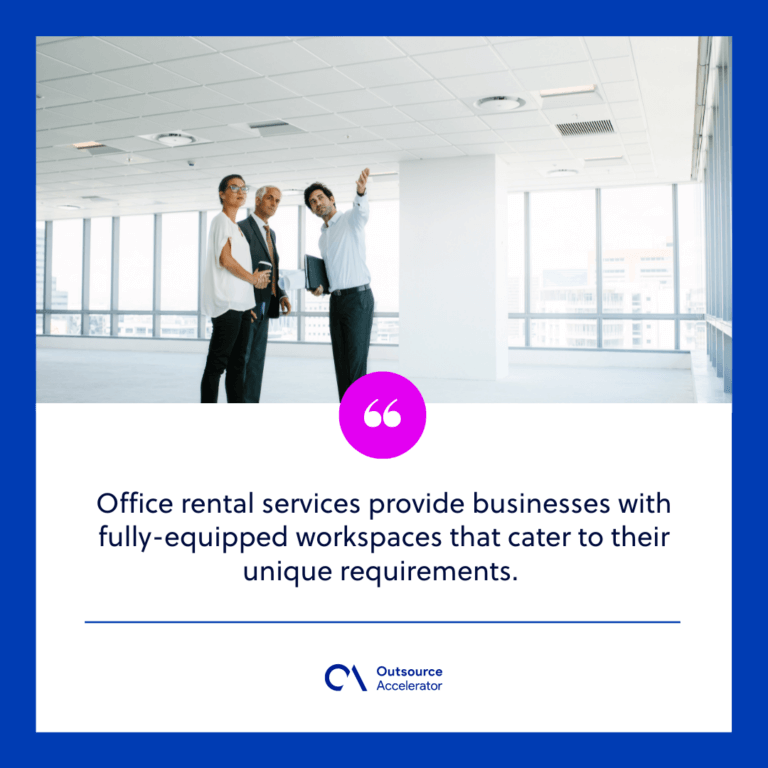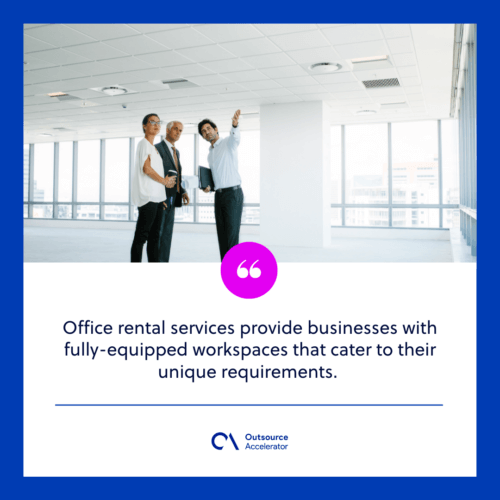 Office rental services offered by Booth and Partners
Booth and Partners is an expert in delivering outstanding office rental services. This outsourcing firm provides various workspace solutions.
Let's take a closer look at each of these choices:

Coworking space
Booth and Partners offers a flexible and cost-efficient co-working space solution for professionals needing workspace. 
Its co-working space is designed to provide a productive work environment and is equipped with: 
Internet-enabled workstations

Fully-furnished conference rooms

Pantry access

Amenities to support work 
Booth and Partners co-working space lies in a premier location in Makati CBD and pricing starts at 1000 php per day. 
Private offices
Booth and Partners offers private office solutions for startups and small to medium-sized businesses. These private offices come fully furnished and lockable with customizable options to fit unique needs and company culture. 
Additional amenities include:
Coffee and alkaline water

Pantry access

Interview pods

Sanitizing stations

Meeting rooms with TV monitors

LAN cables

Wi-Fi and projectors

High-security access with biometric scan

Concierge and

IT support

Cleaning services
The private offices are designed to improve productivity and collaboration. Its affordable pricing options start at PHP 13,500 per monthly seat.
Meeting rooms
Booth and Partners also has meeting room rental services in Makati. It provides fully-equipped meeting spaces and offers amenities such as:

Concierge and IT support

Super-fast internet connection

Access to work zones and common areas

Inclusive utilities

Cleaning services
The company also has additional perks such as coffee, alkaline water, pantry access, and interview pods. Pricing starts at 8,000 php per day + VAT.
Virtual offices
A virtual office allows startups and SMEs to have a premium business address in Makati, Philippines, without needing a physical office space. 
This service is designed for those who work remotely or in different countries and cities, providing cost savings and flexibility.
Virtual offices by Booth and Partners are environmentally friendly and offer spaces for focus and collaboration, providing top-notch amenities to support productivity. 
The pricing starts at 2,500 php monthly for 6-month and 1-year plans, excluding VAT.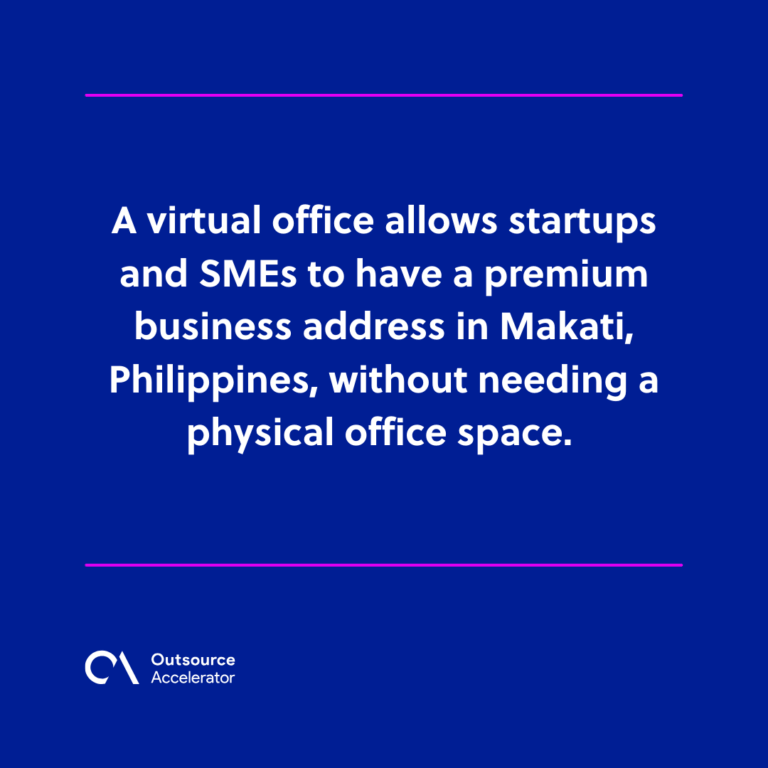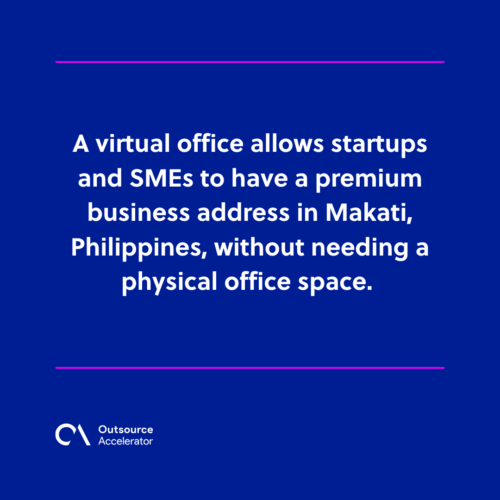 10 benefits of opting for office rental services
Now that we know what office rental services are and the options Booth and Partners provide, let's dive into the ten benefits they offer:
1. Flexibility in office space sizes
The advantage of flexible office sizes is that you only pay for what you require. This practical strategy avoids spending on big, unused office areas that can save you money.
Flexible office spaces are usually kept in good condition and have modern facilities. This supports businesses in presenting a professional impression to clients, partners, and employees.
2. Customizable office layouts
Personalizing the office layout lets companies showcase their brand identity and corporate culture. A unified and motivating workspace is formed by adding brand colors, artwork, and design elements
3. Access to premium amenities
Opting for office rental services offers a range of benefits that can significantly enhance your working environment and overall business operations. 
These services offer more than just a physical space; they provide a comprehensive package tailored to meet your professional needs. 
Premium amenities may include access to well-equipped and aesthetically pleasing meeting rooms, enhancing the professionalism of client interactions.
4. Strategic city-center locations
City centers are known for their diverse range of amenities, such as restaurants, cafes, gyms, cultural venues, and shopping centers. This provides employees with convenient options for meals, breaks, and after-work activities.
Thus, being in a city center enhances opportunities for networking and collaboration with other businesses, industry events, and professionals. This can open doors to potential partnerships, acquiring clients, and growth prospects.
5. Proximity to transportation hubs
Companies can conveniently accommodate clients, partners, and customers who use public transportation. This accessibility nurtures favorable client relationships and business interactions.
Staff members can maximize cultural and entertainment options near transportation centers during breaks or after work.
6. Enhanced business visibility
Being visible to a broader audience increases the likelihood of attracting new customers. Prospective clients tend to connect with a brand they recognize and have encountered in different settings.
7. Competitive rental rates
Booth and Partners provide competitive rental rates. This allows businesses to have consistent monthly costs, simplifying their budgeting and financial forecasts. 
With reduced rental expenses, businesses can allocate resources toward areas that enhance growth, innovation, and customer satisfaction.
They can redirect funds from high rental costs to employee benefits, training, and development, increasing employee satisfaction and retention.

8. Inclusive pricing options
Inclusive pricing options are a valuable feature provided by Booth and Partners, offering simplicity and transparency in pricing structures. Companies can save time by reducing the administrative work to handle multiple invoices and payments.
As businesses grow and require more space or services, inclusive pricing options make scaling easier without facing complex financial negotiations.
9. Savings on setup and maintenance costs
Businesses can save significantly on initial setup costs, including furniture, fixtures, equipment, and technology infrastructure, which can be a substantial financial burden.
Offices that include maintenance services can lead to substantial cost savings over time, as businesses are relieved of handling repairs, upkeep, and utilities.
10. Modern and ergonomic office furniture
Modern and ergonomic office furniture plays a pivotal role in creating a comfortable, productive, and aesthetically pleasing workspace. 
Comfortable employees are more productive. Ergonomic chairs with proper lumbar support and adjustable desks allow workers to focus on their tasks without being distracted by discomfort. This boosts efficiency and concentration.
Booth and Partners office spaces are designed with the latest trends and user well-being in mind, contributing to a positive work environment.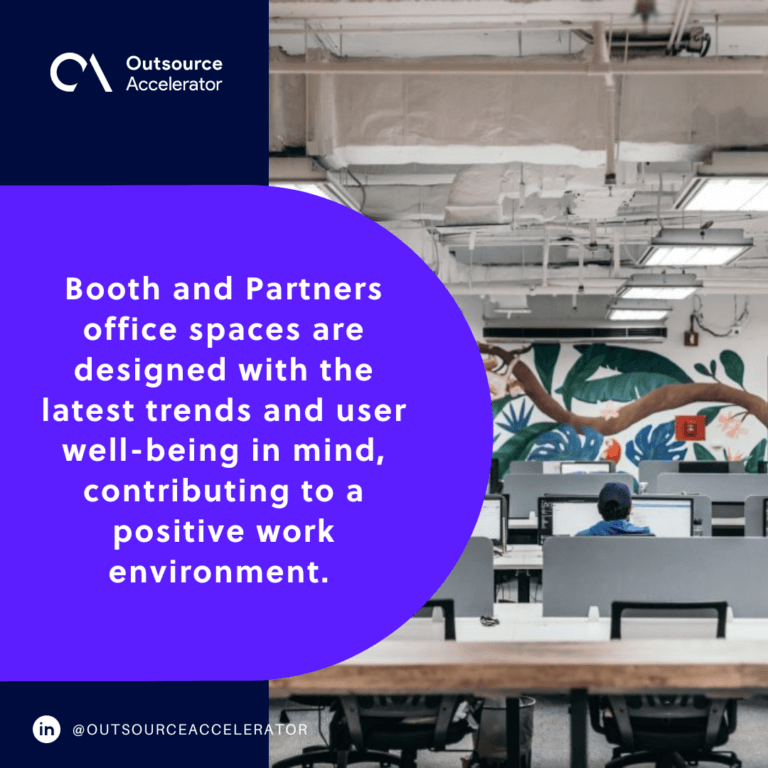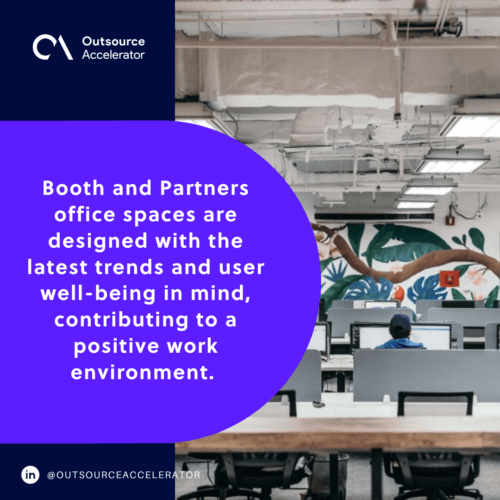 Elevate your business with Booth and Partners' office rental services
Booth and Partners provide office rental services that bring multiple advantages to enhance your business. Whether you require coworking, private offices, meeting rooms, or virtual offices, it has the ideal office space. 
Its adaptable choices, top-notch facilities, and well-placed sites let you concentrate on business growth while it handles office matters. 
Opt for Booth and Partners for your office rental needs and witness the positive impact on your business. 
Contact Booth and Partners today to learn more about its featured offerings!