6 tasks to delegate to your nonprofit virtual assistant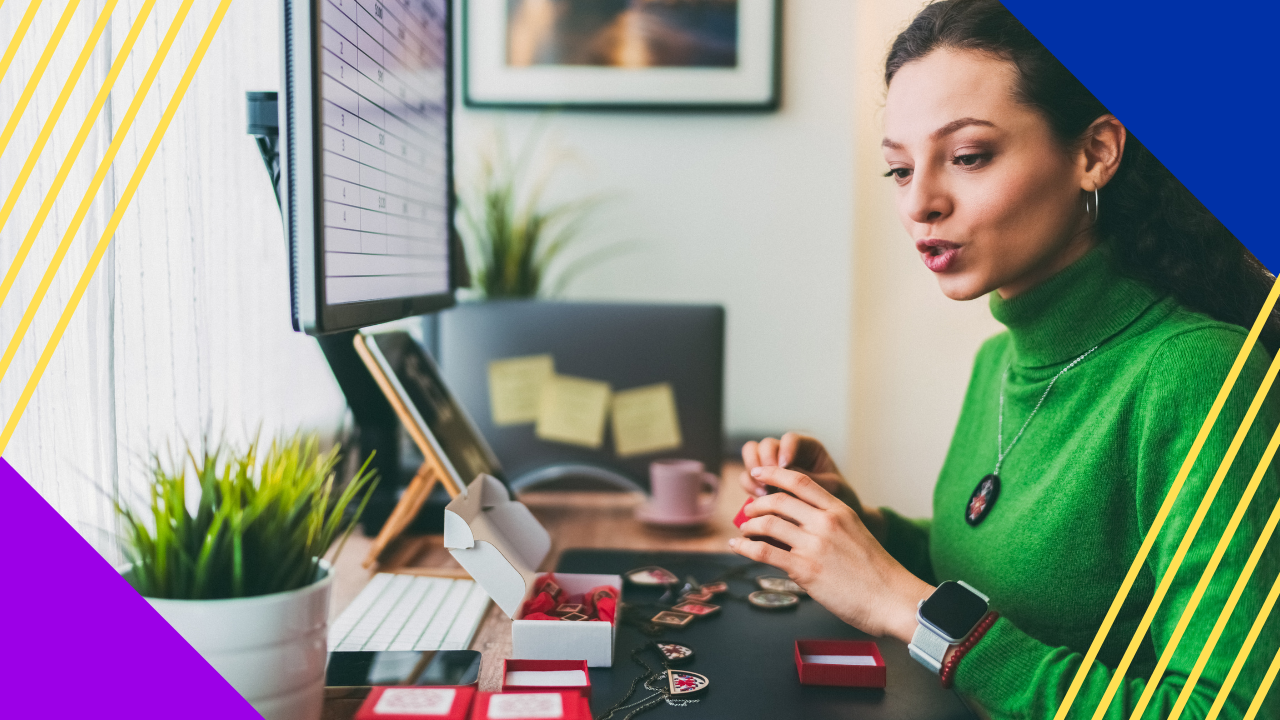 Running a nonprofit organization poses different challenges and struggles.
Funding and operational expenses are among their main struggles. Unlike profitable businesses, they obtain funding by other means. This includes donations and partnerships with funders.
There's no legal requirement for the actual percentage of overhead spending in nonprofits. However, they still have to ensure their expenses do not cost much in their budget.
In times like this, hiring a nonprofit virtual assistant is most recommended for them.
Nonprofit virtual assistants can do various tasks to help these organizations stay operational without spending much. This article discusses the functions that nonprofit virtual assistants can take on.
What is a nonprofit virtual assistant?
A nonprofit virtual assistant is a skilled professional who provides remote administrative, creative, and technical support to nonprofit organizations. 
Nonprofit virtual assistants offer their services on a contract or project basis, though they can stay in an organization long-term if needed.
Employing a nonprofit VA helps nonprofits access the help they need without the costs and commitment of hiring a full-time employee.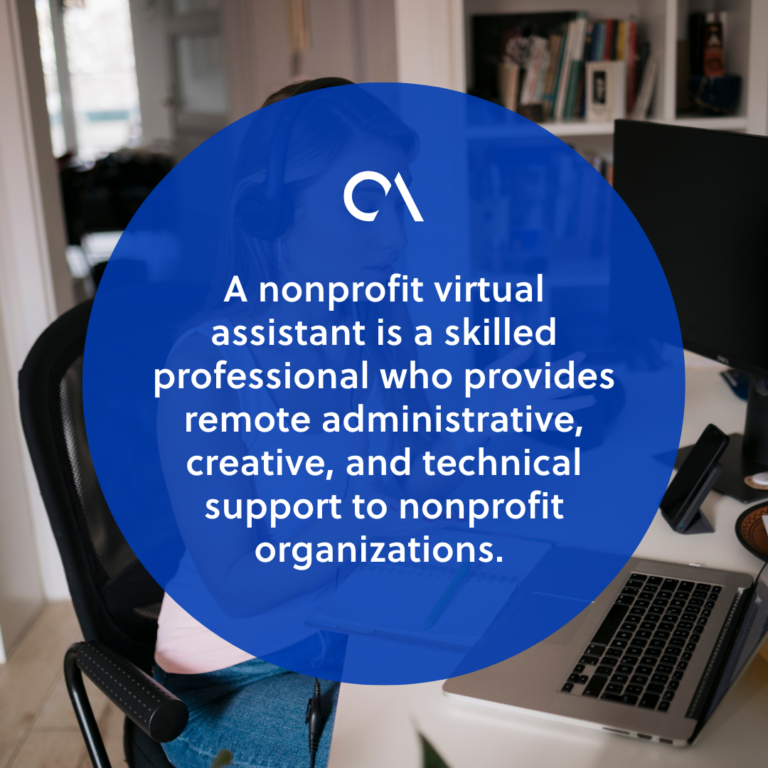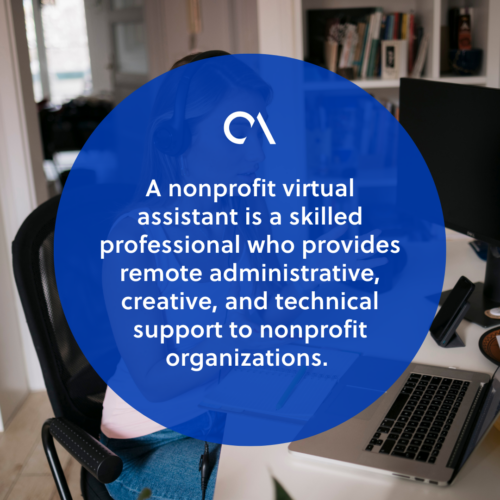 When should you hire a nonprofit virtual assistant?
Service providers such as Wing Assistant open their services to nonprofits, charities, and social enterprises looking to hire their staff without breaking the bank.
Hiring a nonprofit virtual assistant can be beneficial in various situations. Here are some scenarios where delegating tasks to a VA makes sense:
Limited staff
Nonprofit organizations usually maintain a small core group that wears multiple hats. A virtual assistant can help alleviate the burden when the workload becomes overwhelming.
Seasonal projects
Nonprofits may have specific projects that require additional assistance for a limited time. Apart from temporary employees, a virtual assistant can provide the necessary support during these busy periods.
Expertise gap
Nonprofits may lack in-house expertise in certain areas, such as social media management. Specialized virtual assistants can fill those gaps and ensure the organization maintains a strong online presence.
6 tasks to delegate to your nonprofit virtual assistant
Nonprofit virtual assistants can take functions beyond generalist tasks. For one, they are great project managers who can be assigned to coordinate with volunteers in terms of scheduling, assigning tasks, and other related activities.
Here are other tasks that you can delegate to nonprofit virtual assistants.
1. Administrative support
Administrative tasks are vital in running any nonprofit organization. You can free up valuable time for yourself and your team by delegating administrative support to a VA. 
Your nonprofit virtual assistant can take over the following tasks:
Managing emails, calendars, and appointments

Drafting and formatting documents

Conducting

grant research

Organizing events

Responding to customer inquiries
2. Fundraising assistance
Fundraising can be time-consuming and require meticulous planning. You must curate and plan your steps according to what type of fundraising fits your event or vision.
A virtual assistant can assist you with your fundraising and management needs. They can do the following activities on your part:
Creating fundraising campaigns

Managing donor databases and contributions

Sending thank-you notes to funders and individuals

Assisting with grant writing and proposals
3. Social media management
As a nonprofit organization, social media helps you connect with your audience, garner support, and raise awareness about your cause.
A nonprofit virtual assistant also helps with social media management by taking over the following tasks:
Creating and scheduling posts

Responding to comments and messages

Analyzing social media metrics and insights

Managing social media advertising campaigns

Developing boosting strategies
4. Website moderation
A nonprofit's website is often the first point of contact for potential supporters and donors. It needs to be well-maintained to make it presentable and relevant.
A nonprofit virtual assistant can do the following for website moderation:
Regular website maintenance

Managing content

Optimizing the website for SEO

Monitoring website analytics and user experience

Implementing website security measures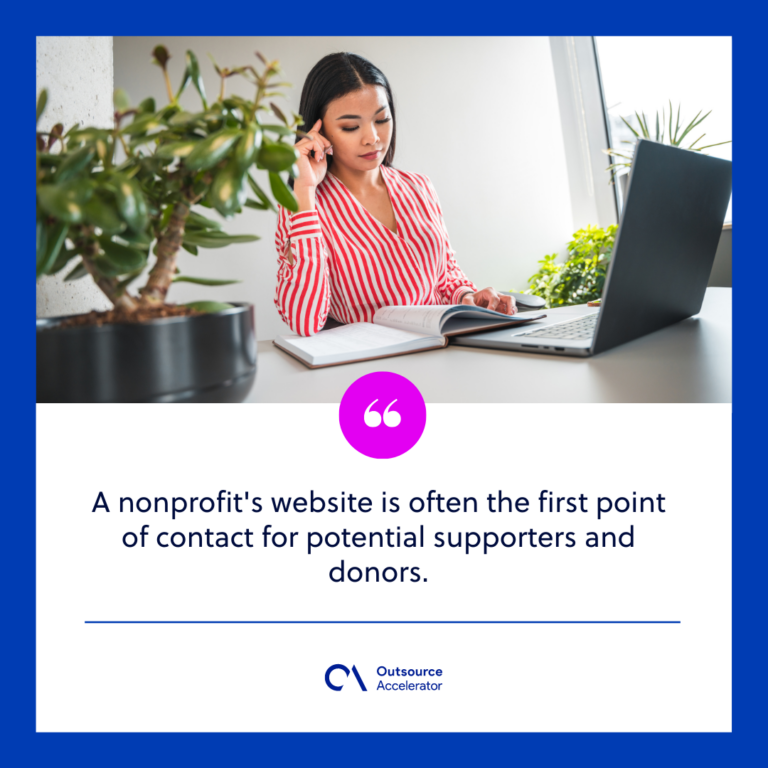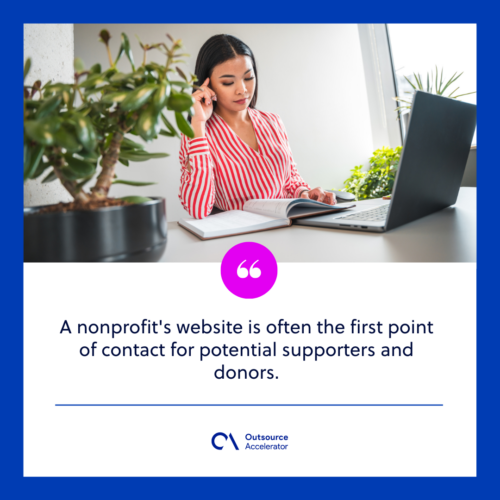 5. Content creation
Compelling content effectively tells your nonprofit's story and advocacy. Your content can be your selling point to funders.
With this, you need a nonprofit VA with excellent content creation skills to help you with the following:
Writing and editing blog posts, articles, and newsletters

Creating engaging social media posts

Developing promotional materials

Crafting compelling email campaigns
6. Data management
Lastly, nonprofits deal with significant and sensitive data, from donor information to program outcomes.
A nonprofit VA can assist with handling data and formulating data management strategies for your organization. Moreover, they can be assigned the following tasks:
Creating databases

Data entry

Generating reports and data visualizations

Identifying trends and insights

Ensuring data privacy and security compliance
Hiring a nonprofit virtual assistant made easy
Finding and hiring the right virtual assistant for your nonprofit can be straightforward with the help of reliable partners offshore.
Wing Assistant, a premier VA company, aims to provide the best offshoring solutions for your firm based on the role you need to fill. You can get dedicated staffing in the Philippines specializing in various roles, such as writing and digital marketing.
Through this, you won't have to worry about having everything on your team's plate in every campaign.
Visit their website to learn more about how Wing Assistant can support your nonprofit's goals and mission.