Mortgage process outsourcing in the US mortgage industry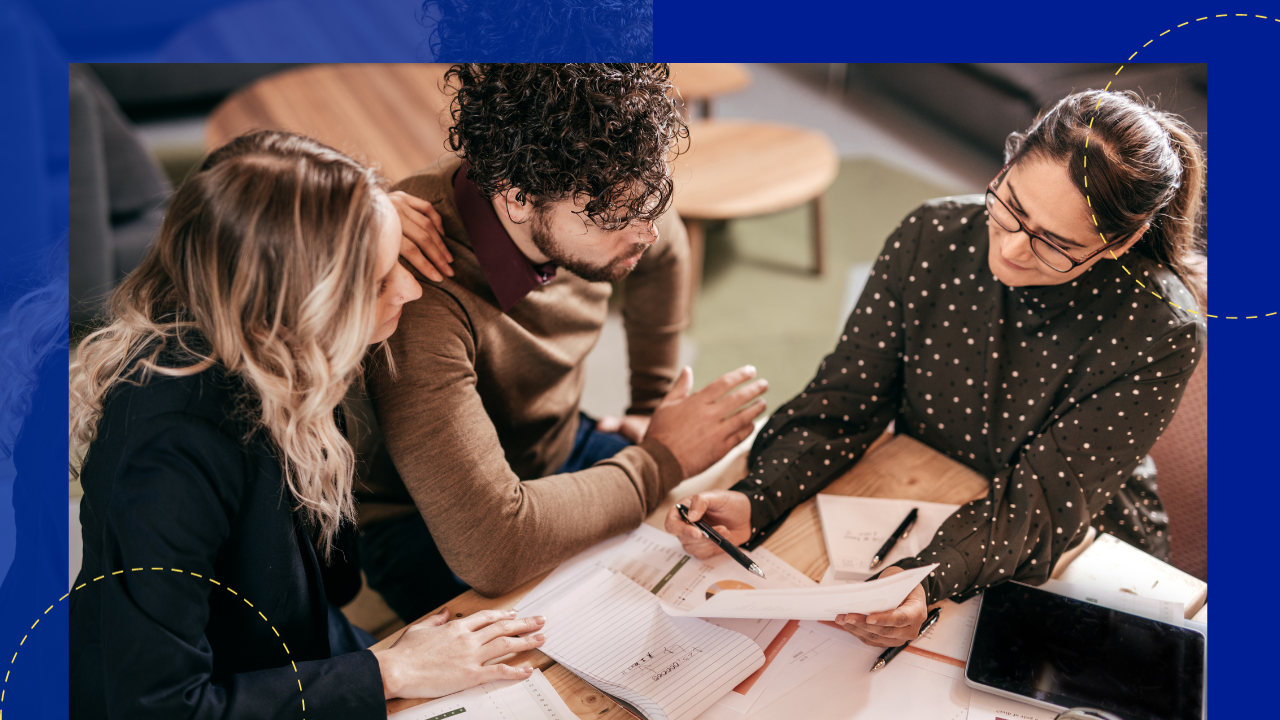 This article is a submission by Aritas Mortgage Solutions. Aritas Mortgage Solutions is a people-first KPO specializing in simplifying mortgage processing for its customers.
Outsourcing has emerged as a transformative force in various industries, and the mortgage sector is no exception.
The global outsourcing market has reached US$261.9 billion in 2022 and will continue to rise at a rate of 9.4% by 2030. As businesses seek innovative ways to streamline operations, reduce costs, and enhance their customer experiences, it will likely remain a popular choice.
Small to mid-sized mortgage lenders and brokers can especially benefit from outsourcing as it can free up their valuable time and allow them to focus on building client relationships.  
As we navigate mortgage process outsourcing, we'll explore how the right partner can elevate your organization's efficiency, compliance, and customer satisfaction.
Understanding the mortgage process outsourcing landscape 
Mortgage process outsourcing (MPO) is the strategic delegation of specific tasks within the mortgage origination and servicing process to specialized third-party service providers.
This practice has gained prominence due to its ability to streamline operations within the mortgage industry significantly. It offers many benefits, like minimized costs, greater efficiency, and improved compliance. 
The growth of outsourcing in the mortgage sector is not a mere coincidence; it reflects its proven impact. An increasing number of mortgage lenders and financial institutions have turned to outsourcing.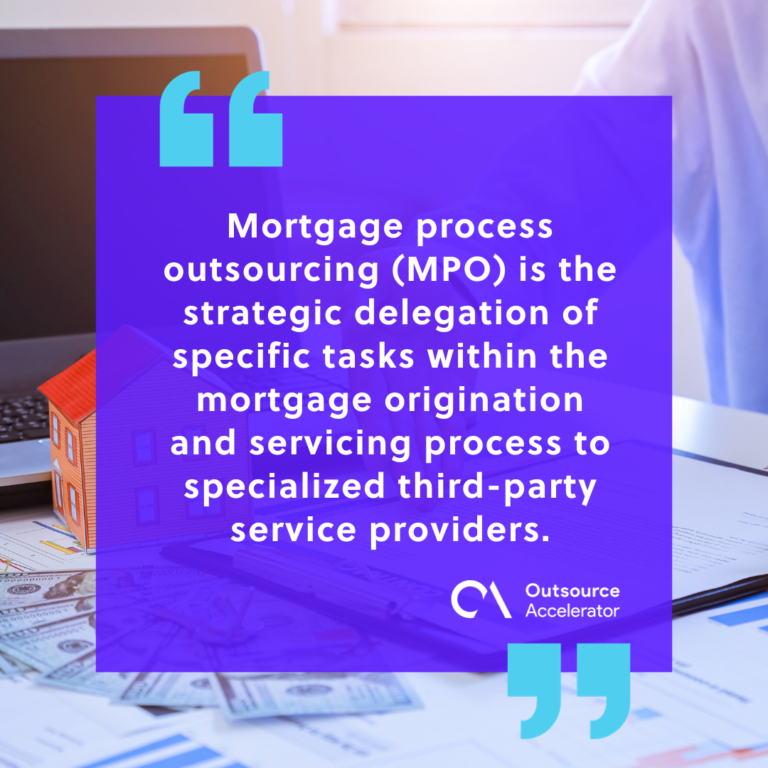 According to a survey by Altisource Portfolio Solution in 2021, 41% of the respondents said they were looking to increase efficiency by outsourcing.
A McKinsey report indicates that the shift has been driven by higher regulatory scrutiny and the challenge of default servicing, costing five times as much as servicing a performing loan.
A dedicated team to manage client information and take charge of the application process can empower your business. 
The impact of choosing the right mortgage process outsourcing partner
The selection of a mortgage process outsourcing partner holds the power to redefine the trajectory of a mortgage business. This crucial decision can catalyze transformative change within the organization.
Here's how the right partner can impact your operations: 
Enhanced efficiency
A seasoned outsourcing partner brings specialized expertise and the latest tools. This synergy translates into streamlined processes, quicker turnaround times, and improved workflow efficiency.
Tasks that once consumed excessive time and resources can now be executed precisely and quickly. 
Cost reduction
Significant cost savings often accompany efficiency gains. Outsourcing partners can leverage economies of scale and eliminate the need for substantial in-house investments. 
Mortgage lenders can redirect these cost savings towards strategic initiatives, driving growth and innovation. 
Heightened compliance
The mortgage industry operates in a highly regulated environment. A reputable outsourcing partner will be well-versed in compliance requirements and maintain stringent adherence to industry standards.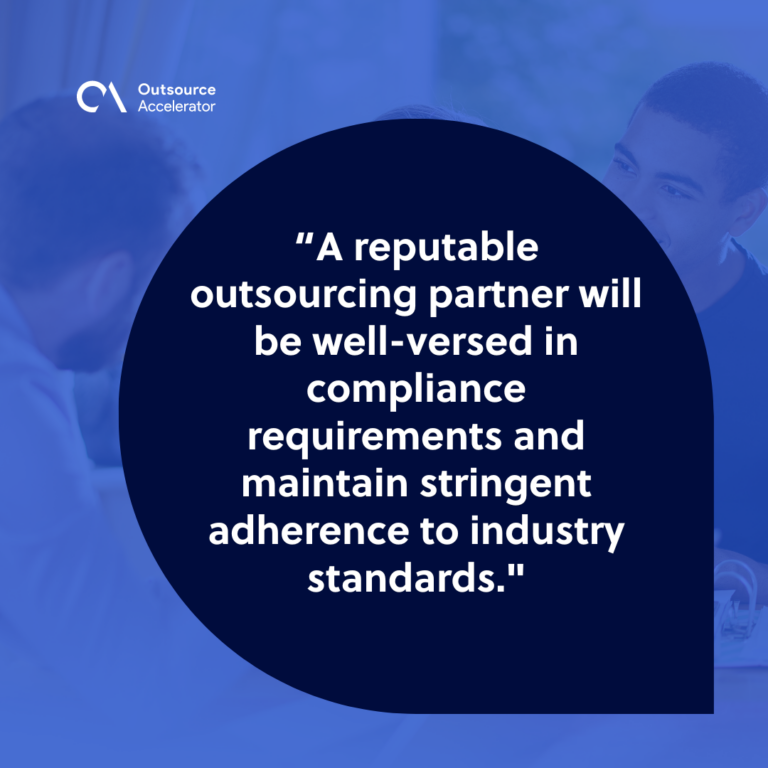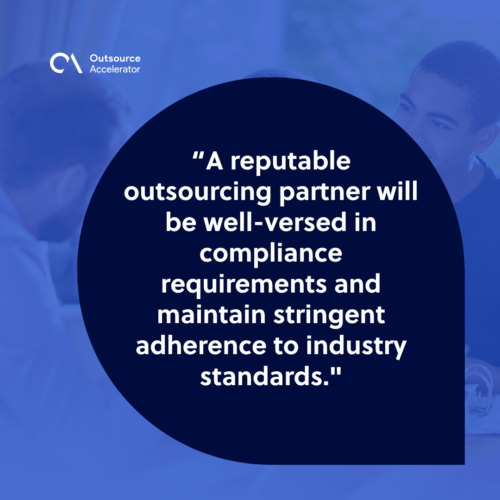 Factors to consider when selecting a mortgage process outsourcing partner 
Several key factors demand careful consideration to ensure a seamless partnership that aligns with your business goals. Let's look at some of them.
1. Partner's expertise 
Seasoned expertise is the cornerstone of a reliable MPO partner.
Look for a provider with a proven track record in the mortgage industry, possessing comprehensive knowledge of the complexities involved.
An experienced partner understands the nuances of loan origination, underwriting, loan servicing, and other vital processes. 
2. Reputation as a partner 
The reputation of your chosen partner can be a testament to their reliability. Actively look for references and testimonials from their existing clients. Scrutinize online reviews and industry rankings.
A partner with a stellar reputation is more likely to deliver on their promises. 
3. Flexibility 
The mortgage industry is subject to fluctuating demands and interest rates.
A flexible partner can seamlessly adapt to your changing needs. They should possess the infrastructure and workforce to accommodate growth and contraction without compromising service quality. 
You should look for a business partner who is empathetic to your needs and can customize their solutions to meet your requirements.  
4. Regulatory compliance 
Mortgage data is highly sensitive, and regulatory compliance is non-negotiable.
A reliable mortgage process outsourcing partner should adhere to stringent data security measures and maintain a spotless compliance record.
Look for ISO 27001-certified and SOC 2-compliant providers and verify their protocols for handling confidential information.
Additionally, your outsourcing partner must be able to conduct regular audits to ensure your operations are aligned with the latest industry regulations. 
5. Constant communication 
Ensure that your chosen MPO partner offers transparent communication channels and responsive support. You should have direct access to key contacts who can address your concerns promptly.
Additionally, they should be providing regular updates about the applications' progress so you can keep your customers informed.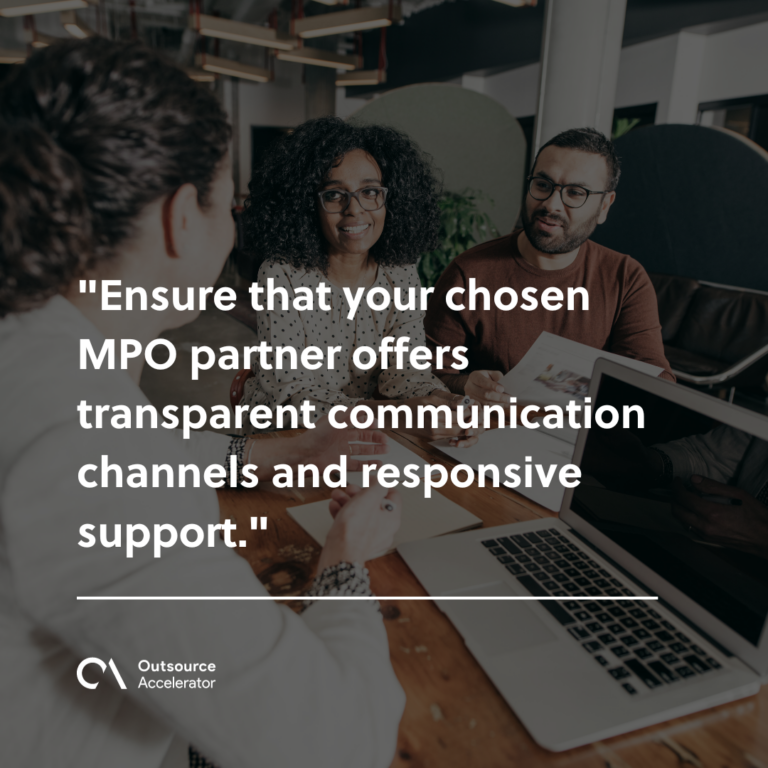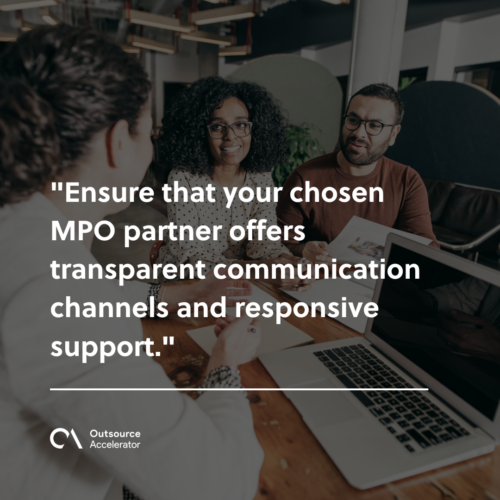 6. Case studies and success stories
An MPO partner's success stories and case studies provide valuable insights into their capabilities. Analyze these resources to gauge their ability to deliver results and drive positive outcomes.
Case studies are also effective in assessing whether a particular outsourcing partner's approach aligns with your organization's goals and expectations.  
The key to successful mortgage process outsourcing
Choosing the right mortgage process outsourcing partner is a pivotal decision that demands thorough consideration.
Your partner should not only possess expertise and experience but also uphold a sterling reputation and a commitment to data security, compliance, and client support.
Scalability and flexibility are essential to accommodate your evolving needs, while case studies and success stories should provide evidence of their capabilities. 
Don't compromise on the quality of your MPO partner, as the right choice can be the catalyst for your organization's growth and excellence in the mortgage industry. Make an informed decision and reap the benefits of a strategic MPO partnership with confidence.